How Many Gifts to Put on Baby Registry
WhatToGetMy Instructional Article
How many gifts to put on baby registry is a tough question. Yes we know, it can even ruin all the fun in planning the most amazing baby shower. Gifts are a large part of this party, so that's why you're worrying. It's completely normal to stress about these things! Not necessary, but still, you can't command yourself not to think about invitations, food, music, gifts, and all other stuff that can go wrong in a matter of seconds. Everything has to be perfect, right? Well, with our guidance, that's how it's going to be. You are looking at one wonderful baby shower, that's for sure!
You already know that you have so many options when planning this incredible party. You can host a themed party, such as  Safari or Nautical, or even opt for Hosting A Fall Baby Shower. The possibilities are endless, which makes everything even more exciting. Planning can be so much fun for some people, but not when you get preoccupied with things like gift registries. The gifts are number one priority, so the sooner you "deal" with that, the sooner you'll get to the fun parts. That's exactly why we'll stick to gift-giving; we know that's what bothers you the most.
Before you get to the actual suggestions on the topic, let us just point something out:
Don't wait too long to make a list. You should have a

complete baby registry list

before you sent out invitations. Give your guests plenty of time to get ready for your party.

Send invitations four weeks prior to the party, and try not to put your baby shower registry on the invitations. You can tell your guests about it in person or they'll ask you themselves.

Prioritize: first add the essentials to the list (crib, car seat, baby monitor, etc.) and then think about extras, something you might want but is not urgent.

Think about the price range: the list should contain less expensive stuff. Variety is important for the guests who are on the lower end of the pay scale.
How does a baby registry list work anyway?
Baby registry checklist is a list of items that soon-to-be-parents would like to get as presents. This list makes sure that you, as future parents, get everything you need to welcome your bundle of joy into the family. Usually, baby registries are organized by one store, but some registries allow you to combine the lists from multiple retailers.
You might want to do a little research there because some baby registry providers also offer additional perks such as a welcome box for the baby or a discount on selected items. There are also different online features such as gift tracker that helps  you monitor your registry progress.
Make a modest medium length list
You need so much stuff for the baby, but you can't put them all on the list. Even if you do, the chances to get everything off the list are slim. Some people might see big lists as selfish and other people see small lists as rude (because they don't offer choices). The best thing to do is to find balance and make your list somewhere in between. Offer your guests choices, less expensive ones also. Try not to overdo with the choices though. Not only that you won't get everything you have on the list, but people will be confused about what to get you.
The number of items to put on baby registry usually depends on the number of guests. Just double the number of guests and you'll have your optimal registry length. Variety is important, and some people, especially your closest family and friends might even get you two gifts. That's why it's better to have a few  extra gifts on the list. You might not get all the stuff off the list, but that's better than leaving your guests, late shoppers, with nothing, right?
Get the essentials first
With so many options available for babies these days, you might even get lost! You should always categorize your needs and then choose the most important within a particular category. The organization is always easier when you put everything in the right place. After putting the most important things on the list, you can add the thing you want, but not necessarily need. We suggest these categories to make things easier for you:
Clothing

Feeding

Diapering

Bathing

Bedding

Medical must-haves

Nursery furniture and gear

Playtime

Travel items.
We listed what are the baby registry must haves but remember that every parent is different and need different things. For example, you might not need a baby monitor if your baby will be sleeping in your room. So, here are the things most parents see as necessary , but feel free to add items to the list and make your own at your will: baby crib, baby bottles, diapers (there's never enough of those), bodysuits, sleepwear, car seat, stroller, baby monitor, bathtub and bath supplies, baby first aid kit.
We can give you a hand and help you choose the most important items for you!
Crib:
Baby crib is necessary if you don't want your precious one to sleep in the same bed as you and your spouse. You will also need a mattress of course (better if waterproof) and a few sets of crib sheets.
Bottles:
Baby bottles come in many shapes and sizes, so choose wisely which ones you think will be best for you. Try getting at least eight to ten bottles (and nipples) because you might not have the time to wash them every four hours. Smaller bottles are needed in the beginning, so you don't need a lot of them, while larger bottles (10 oz) are the ones you'll need the most. You should check reviews online of different brands so you know you made the right choice. It's worth saying that breastfed babies also need just as much as those fed with formula. You just need to choose the brand which is compatible with your breast pump. In case you  you don't have one yet, register them both.
Diapers and clothes:
There's no need to say anything more about the diapers. Even if you are a first-time mom (or dad?) you know how important it is to have plenty of diapers in reserve. The opposite is true for baby clothes. Most parents go overboard with that on the list and they end up with a lot of unused clothes. Your baby will grow grow so quickly that you won't get a chance to try out all the cute stuff you register for. So, leave the place on the list for something more important and choose only a few, let's say ten to twenty, bodysuits and other sleepwear items. That will be just enough for the beginning, and  you can easily buy more if needed.
Traveling stuff:
Car seats and strollers are essential for traveling, but if you are not planning on going anywhere, or you don't have a car, you can scratch one of these from the list. A bathtub is very convenient, so you can bathe your baby in the nursery instead of the bathroom. First aid kit is non-negotiable; every parent should have it in the house. Now, it's up to you to think about what you need the most. After making sure you have all the essentials, you can start choosing the things you like and would be nice to have.
What not to put on the list?
Short answer: don't put things you won't use. We know it's tempting to put, let's say, fancy clothes but be realistic. Would you dress your baby in beautiful clothes when you know that spit-ups and diaper mess are a regular thing? Even if you have an important formal event coming, you don't need to put formal wear on the list. We also suggest that you shouldn't put tons of toys on the list either. Babies only need a couple of teething toys and maybe a few stuffed animals. You don't want to overcrowd the nursery, right?
All you really need is to think a few months ahead. What do you see lying in the corner of the room, unused? Is it the baby wipe warmer? The one you heard was amazing and desperately wanted to try out? Or did the diaper bag stayed unused? After some thinking, you might conclude that you prefer throwing diapers directly in the thrash. Bottle warmers, fancy nursing capes, and pacifier holders are the things most moms (and dads) regret getting, so don't make that mistake! Rule of thumb is: Don't register for items you think you might need, because you probably won't need them.
Here are a few extra suggestions: don't insist on getting everything new, straight from the store. If you have friends who are willing to give you their (usually unused) stuff, why not take them? You can't imagine how much money that will save you! We should also add: don't register for too much infant clothes. As we already mentioned, you don't need a lot of clothes for a newborn. Although it will always happen that someone will buy you a gift which was not on the registry. That's why it's better to wait out the baby shower and get the things missing after you go through all the received stuff.
Oh, one more thing. Try not to register for gender-exclusive colors. This might not be your only child, so there's no need to get everything, let's say, in pink and then regret it two years later when you'll need all those things for your baby boy. That's why it's best to opt for neutral tones.
Conclusion
After all our suggestions, you must have a clear picture of how many gifts to put on baby registry now! Are we right? If not, we hope you were at least able to get a grasp of the topic, so you can build up a list easier. We tried to include all the stuff that parents-to-become might need to welcome their baby in the house. Hopefully, we covered all the basics as well as some extras to help you out when it comes to baby shower planning. Putting items on a registry can be quite challenging as well as asking for gifts. Still, the most important thing is that you have a choice! Yes, you do, and don't ever forget that. You can opt for different things, you don't have to stick with traditions and old-fashioned rules. Maybe you even heard that some people are opting for gift cards instead of gifts. We say, why not? We even have a few things to say on the matter! Check out our article on How to Ask for Gift Cards Instead of Gifts for a Baby Shower for more info.
We saved the last tip for the end! Don't forget to have fun while planning and enjoy your own party too! We get so occupied with planning that we often forget the initial purpose of the event. Don't let that happen to you. Take joy in spending time with your friends and family, because that's what a baby shower is all about. Relax, take a sip or two of that delicious OJ and enjoy the sweet anticipation. Even if you missed a few things from the list, it's not the end of the world!
ESTIMATED TIME DESIGNING AND UPLOADING THIS ARTICLE
ESTIMATED TIME RESEARCHING AND WRITING THIS ARTICLE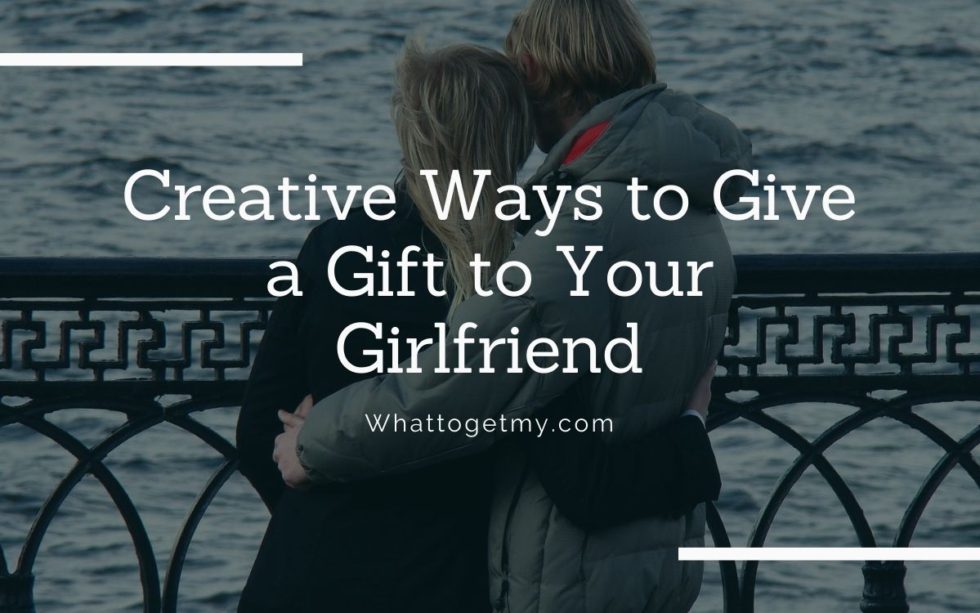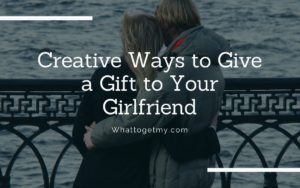 Creative Ways to Give a Gift to Your Girlfriend
Creative Ways to Give a Gift to Your Girlfriend WhatToGetMy Instructional Article You know that there are creative ways to give a gift to your girlfriend, but you can't think of any at the moment? Don't worry, we are here to help you out! Sometimes,
Read More »