DO GUYS LIKE GETTING GIFTS?
WhatToGetMy Instructional Article
So many women find themselves constantly on the hunt to find out the answers to very important questions when it comes to getting their guy a gift and the questions are, "Do guys like getting gifts?" and if they do " What are the best gifts that they enjoy getting?".
When it comes to buying the perfect gift for the guy in their lives, they seem to feel like they go above and beyond and still miss the mark because they are always looking for gifts that will surprise and impress them but in the wrong places and maybe for the wrong reasons.
When they ask their guy directly about what gifts they would like, most of the time the response they get is that they do not want anything but in actual fact they do, why do you think that is?
Our research has found that most men secretly prefer to be perceived by others as the givers and providers and receiving gifts rather than giving them can often make them feel awkward and uncomfortable. This does not mean that they don't want any gifts at all.
It does make it really confusing for a women to know, exactly what goes on inside a man's head so they land up complicating things and by doing so,  they find it really difficult to buy gifts for the guy in her life that he will really enjoy getting.
But in actual fact guys are super easy to buy gifts for, they are simple and straightforward in what they like and don't like and typically have many hobbies that they spend most of their time doing. For guys it is not really about what the gift is that you buy him, it is how you present it to him that makes the gift more interesting, so with a little research and creativity you can make gift giving fun and exciting for him and in return he will love and appreciate almost anything that you give him.
What about surprise gifts?
Some guys love surprises, especially surprise gifts for no particular reason at all because they see it as a way for you to express that you care, love and are thinking about them. On the other side of the scale some guys tend to panic when they get an unexpected gift because surprises make them feel uncomfortable so they become suspicious and immediately start asking themselves a million questions. Questions like:
Did I forget our anniversary or birthday?

Is she trying to be sarcastic?

What did she do wrong?

Is this the end of our relationship?

Does she want me to do something that I don't want to do?

How should I react? Should I be excited or play it cool? 

Does she expect to get a gift from me?

What if I don't like this gift? How am I supposed to respond?
And of course the list will go on and while this battle is going on inside them, you will find that they will never utter a word of it but if you watch these types of guys very closely. You will notice how uncomfortable they seem to feel with signs like them suddenly becoming restless and fidgety.
To avoid this unpleasant awkwardness it is best that before you start giving your guy gifts make sure that he is the type of guy who likes getting gifts, especially surprise gifts.
How often should gifts be given?
The purpose of giving gifts is to help develop and maintain a relationship, they are a way to celebrate special occasions, show affection, or apologize for a wrong doing. Gifts can be gestures, from washing the car, going on a romantic dinner or arranging a weekend of adventures. But sometimes depending on how often gifts are given it can have a positive or negative effect on a relationship.
If gifts are given too often or not often enough, negative feelings tend to rise and could ruin a relationship so the best thing to do for you to have a positive effect on a relationship is to give gifts to your guy in moderation.
So how do you know what would be in moderation and when to give your guy a gift? This will depend on the stage you are in, in your relationship.
Gift giving in a new relationship is a bit of a balancing act because if you spend too much, too early in the relationship, you risk coming off as being clingy and desperate. On the other hand, if you spend too little then you look like you don't care at all. The best is to keep gifts simple but thoughtful and if you want to take the relationship to the next level, then do it by arranging a fun activity that you can do together.
The longer you are together, the easier it becomes because you are able to focus your gifts on his interests and hobbies but you can still keep your gifts small but thoughtful or invest in a larger gift with a larger price tag but make sure that the gift is actually something your guy will want.
If guys like getting gifts, then what are the best gifts that you can get him?
Guys seem to like practical gifts that will contribute to either their personal or professional life.  If you are in a new relationship then they will appreciate gifts that show them that you have put a lot of thought and effort into them by taking the time to know what their likes and interests are.
If you have been together for a number of years, you should know him pretty well by now, you should know the things that make him happy, what he likes and what he doesn't like. If you are looking to try something new, by all means try it and see how he will react. As long as you make the gift about him and his interests, you should be fine.
Here are a few things that you can consider for a new relationship:
Determine how he likes to spend his spare time
Take the time to observe your guy by considering the following:
What type of person is he? Is he the adventurous type and loves the outdoors or is he more the indoors type that loves gaming and gadgets?

If he is the outdoor type person, then what type of things does he like do? Is it hiking, mounting climbing, kayaking, dirt bike riding?

If he is the indoors type of person and

loves gaming

, then what type of games does he like to play?

If he enjoys the newest and greatest gadgets then what type gadgets?
Consider items that will help him get to the next level with his hobby.
Now that you know what his interests and hobbies are. Think about what will help him enjoy his hobby even more than he already does, items that he may need to take his hobby to the next level.
Follow the sports he enjoys watching
Another great gift idea that he would like is any merchandise relating to his favorite sport and favorite team, items like a team jersey or game tickets.
Consider items that will help him perform better at work.
Consider the nature of the work that he does. A sales manager, a doctor, a lawyer, and a health and fitness trainer all have different wants and needs.

Think about items that will help him achieve his career goals or become more efficient. Maybe something to help him do his job more easily or quickly.
Observe the things that he likes to buy himself.
When the two of you are out doing some shopping, take note of the things that he buys himself that are out of the norm or the things that he mentions that he would like to get.
Consider items that he might actually need and use
If he lives in his own apartment take note of items that he has that are old and may not work anymore, items like:
A new coffee machine.

A new and updated vacuum cleaner.

Something for himself like a nice bottle of cologne.

Something to freshen up his apartment, yes some men do like nice smelling candles and things, or

A women's touch to brighten up his place.
If your guy enjoys looking after his body and likes to spend time at the gym
Think about things he might want to use at the gym like a water bottle, a new towel, a protein shake bottle or a fitness tracker.

You can even find him information about a new workout routine.

Eating and diet plans that he can follow.
It is true that the best way to a man's heart is through his stomach
Apart from delicious food and his favourite drink, most guys enjoy their treats too. Treats like baked goodies of some sort like brownies, salty snacks and chocolates make great gifts. You can order or make your own broquet which is basically a gift basket for men and with this idea, the variety of goodies that you can fill the basket with are endless.
Consider Non–Materialistic Gift items
Sometimes the most creative and memorable gifts that you can give a guy is the gift of experiences. Experiences can bring more happiness than possessions can because looking forward to an exciting event will actually make him happier than receiving a gift that he doesn't actually like or want.
To give the gift of experience you can plan adventures or activities for either him to take his buddies with or for just the two of you to enjoy together which will help bring the two of you closer together.
Experiences like:
Driving Experience where he can race a certain make of car or a drive thrill around a driving track.

A Adventure experience like a zip line adventure or white water rafting.

A cruise adventure, it can be a scenic, sunset or dinner cruise.

A flying adventure of hang gliding, hot air balloon or a helicopter ride.
For more intimate non-materialistic gifts you can arrange a fun weekend away for the two of you that is filled with lots of fun activities like bungee jumping, sky diving or nature hikes. You can plan a nice romantic dinner on a yacht, on the beach or even next to the camp fire at your accommodation.
Don't forget the simple things that count like:
Complimenting him. Men love and thrive off of compliments given especially from the girl they love.

Giving him a enjoyable massage, it can be a back rub or a shoulder rub to help him relax.

A simple kiss on the cheek and a random hug will melt his heart.
Heartfelt and Homemade gifts
Many women seem to forget that guys do like getting gifts that are from the heart and are homemade because they show and remind them of your feelings for them.
These gifts would include things like:
Hand written letter or open when letters to remind him how much you love him.

Love Notes or handmade cards with special messages written in them for him.

Poems.

Gift baskets made up of all his favourite things.

A mixed CD that you made with all his favourite songs on it.

Games that you have organized for a little fun, like a treasure hunt game with a prize waiting for him at the end of it.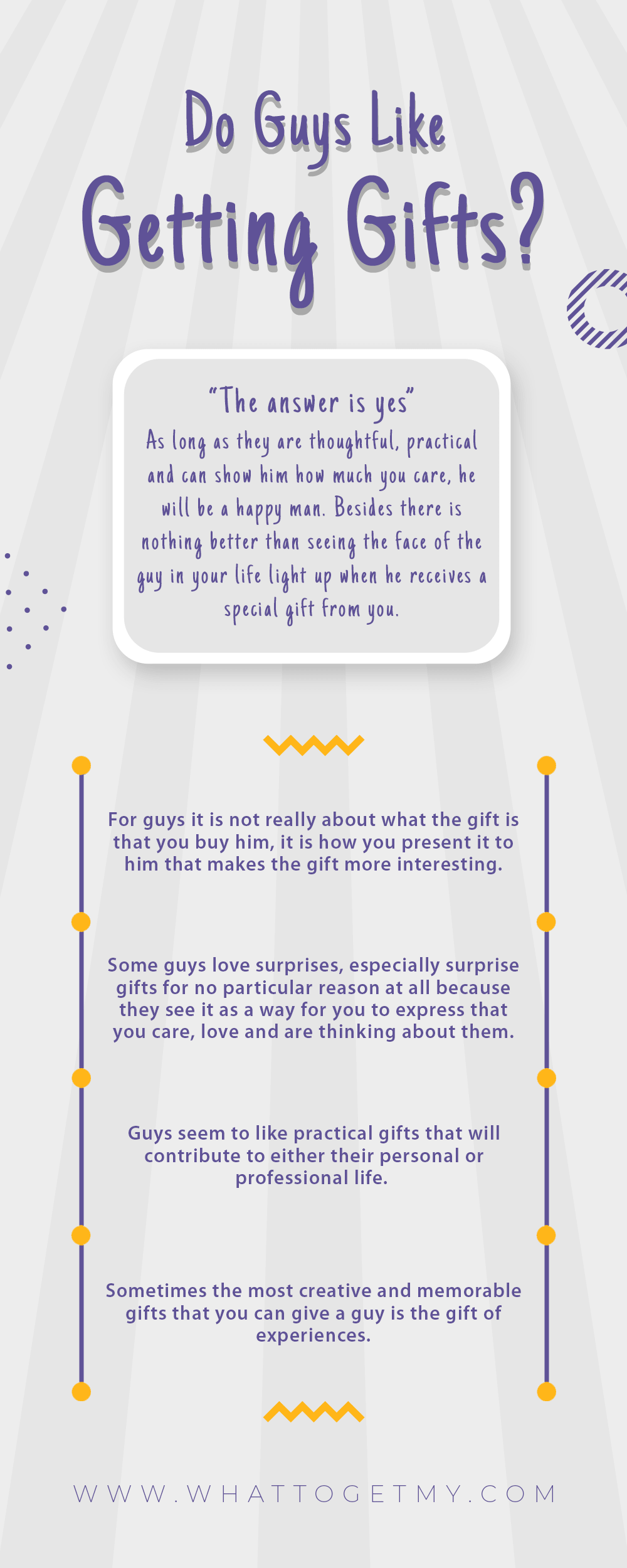 Source Link: https://whattogetmy.com/do-guys-like-getting-gifts/
To answer your question, "Do guys like getting gifts?" the answer is yes, as long as they are thoughtful, practical and can show him how much you care, he will be a happy man. Besides there is nothing better than seeing the face of the guy in your life light up when he receives a special gift from you.
ESTIMATED TIME DESIGNING AND UPLOADING THIS ARTICLE
ESTIMATED TIME RESEARCHING AND WRITING THIS ARTICLE
Try our AMAZING GIFT FINDER TOOL! Find GIFTS with 1 CLICK!