How to Send a Gift Anonymously
WhatToGetMy Instructional Article
Since AC when the three wise men took gifts of Frankincense and Myrrh to the new-born Jesus, gift giving has been a fundamental part of our lives. Sharing gifts is a way to show that you deeply care about another person and a way to strengthen your connection to others in relationships. It's a love language. Giving gifts can either be to express gratitude or part of one's cultural practices. Additionally,  gifts are often shared to celebrate special occasions such as:
Weddings

Birthdays

Office parties

Baby showers

Anniversaries

Graduations

Promotions
But how about sending an anonymous gift? A gift is anonymous when the recipient is not
able to tell who the sender is. The gift only contains the details of the recipient. Not only is sending a gift anonymously exciting, but it also shows the recipient that you have put in the extra effort to make it a memorable gesture.
So why should you gift someone anonymously?
It's a beautiful gesture that shows the receiver that you have them on your mind and it automatically makes them feel special.

It is unconditional as the sender expects nothing in return. It stems from a purer motivation with no expectations of getting something in return by the sender.

Some also argue that gifting someone anonymously reduces the chances of them feeling that they are indebted to you and need to return the favor.

Furthermore, for the simple reason of putting a smile on someone's face and making their day.

You may be a public figure, influential or work in an industry that requires utmost confidentiality. Sending a gift anonymously helps you maintain your privacy.

It makes the sender feel good about doing something worthwhile.

An anonymous gift is irresistible and hard for someone to turn down.
There is no limit to when you can send an anonymous gift. Whether you are celebrating an occasion or simply want to remind someone that they are on your mind, send away!
There are numerous ways to send a gift anonymously that include both traditional and modern methods. In recent years, gift giving has moved online, with websites such as Amazon and EBay simplifying the process and making it more efficient and reliable.
To get the best out of this experience, it is vital to always exercise caution when sending gifts
anonymously by making sure that the recipient's address and contact details are
captured correctly. It is highly advisable that you counter check these details before proceeding.
If you are considering attaching a note to the anonymous gift, you need to maintain an air of mystery and give away just enough information. Avoid using a handwritten note – especially if you are known to the person you are sending the gift to – as this will take away from the element of surprise.
This is not the case if someone else is doing the writing. You can commission someone to do some beautiful calligraphy work, type and print out a note yourself or have a specially designed gift card attached to the gift.
So, how can you send an anonymous gift via Amazon? The process is quite simple, as outlined below:
First things first, purchase a gift card from the website. You can select from the three options of an electronic, mailable or printable card. The benefit of a gift card is that it gives the person receiving the gift the freedom to choose what they want. It also relieves the sender of the extra effort that comes with trying to get the ideal gift for the recipient.

Once you have selected your gift card, you can give it a personal touch with a design of choice, including details on the occasion, then proceed to make the payment at the checkout.
Gift cards also help you save on costs since it is up to you to determine the amount of money you wish to spend. There is also the added benefit of personalizing your gift card with a design template of choice provided on the website. Find out more here on how to purchase a gift card on Amazon.
Alternatively, you may choose to send a package anonymously via a courier company of your choice. Most courier companies require that you provide a sender postal address. Since you want the gift to remain anonymous, you may opt to use a different sender address of someone you know, that way, the gift is not traced back to you.
According to a survey, gift cards are the most popular gift that people prefer to send anonymously, as per the chart below.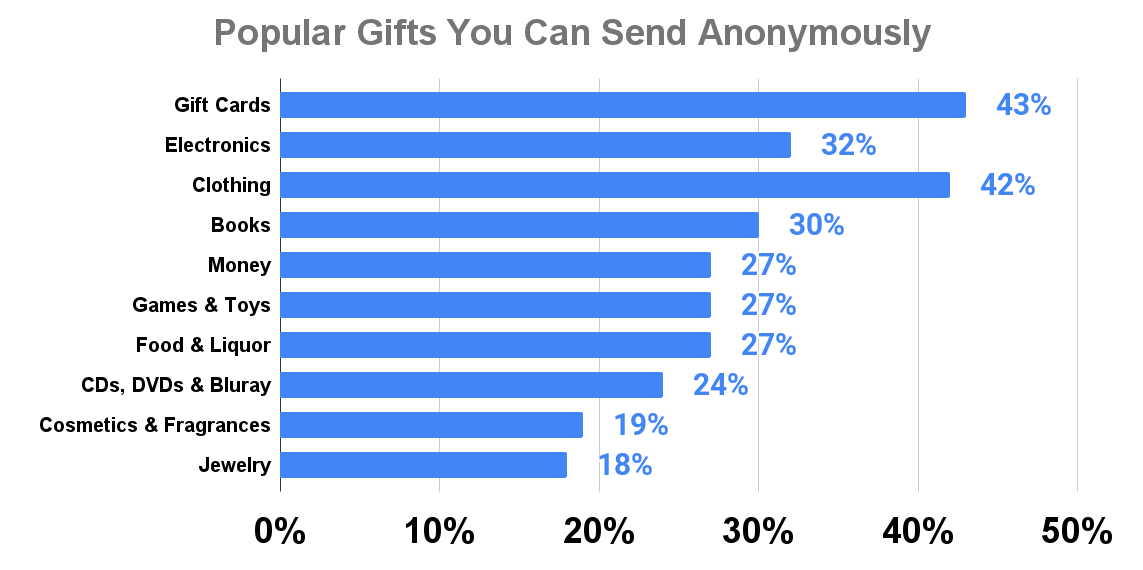 Below are some examples of gifts you can send anonymously:
Chocolate: Nothing speaks romance more than a box of good chocolates to chase the blues away or simply to satisfy a craving.
Redeemable shopping vouchers: who can resist the chance to shop on a budget that is not yours? This is a perfect anonymous gift to send

to a loved one. It is simple and allows the receiver to purchase items of their choice, just like a gift card would allow.

A care package: The beauty of a care package is that you can personalize it to the taste of the person receiving the gift. There is the option of purchasing one that has already been packed or you may buy the items and pack them yourself.
A utility item: small utility items such as a blender or a toaster are ideal gifts to send anonymously. They are also easy to handle.
A meal voucher: We all like to eat out now and then. A meal voucher will save you the hassle of having to cook after a long day or commemorate a special occasion.
So you have found yourself on the receiving end of an anonymous gift but you do not want to keep it. That's highly understandable as this kind of gesture is not everyone's cup of tea. Some would prefer to know exactly who sent the gift and for what purpose.
What are the options then if you wish to return the anonymous gift? It's quite simple. If you used Amazon, visit the Amazon "Gift Returns" page. Enter the seventeen digit number that appears on the packing slip that comes with the package. Once you have selected the item you are returning, click on "continue" and confirm you want a refund then click "submit."
Find out more via this link on how to return a gift to Amazon.
If you sent the gift via a courier company, chances are there is a return policy attached to each item that will guide you on the steps to follow. Most courier companies have a return policy while others do not allow for gifts to be sent anonymously.
Some people would still prefer to know who has sent them a gift anonymously. The process is quite simple. If you are an Amazon user, it is possible to search who has sent a gift to you. Simply visit the Online Returns centre on their website and key in the order number of the gift, after which, it will search for the details.
Does anonymous gift giving have its disadvantages?
So far, we have looked at the advantages of anonymous gift giving and some gift ideas for that special someone in your life. However, not all is rosy as there are the down sides of gifting someone anonymously.
For starters, most people with a negative agenda misuse the anonymity to settle scores with someone they do not like or create disharmony.
There is the possibility of your anonymous gift getting lost, especially where one is relying on a courier service to deliver the same. With the sender information missing, it becomes difficult to trace the gift back to them.
A recipient of an anonymous gift may not be as open and trusting to receiving the gift. The world we live in now is very technological and very easy for strangers to collect information on us on the internet. This may cause some people not to trust easily.
Ultimately, the pros of sending a gift anonymously cannot be overlooked and they definitely outweigh the cons.
Frequently Asked Questions
1. How can I send a gift anonymously on Amazon?
Once you have selected an item for purchase on the website, check the "this is a gift box". Click on add to cart and proceed to check out  Thereafter, select a shipping address from your address book or you may enter a new one. Then confirm the address selected and voila! You are good to go.
2. How can I return an anonymous gift that I do not want?
Often, an anonymous gift will have the details of the third party that has facilitated its delivery to you. In the event you want to return this gift, you may use the third-party address who will then give it back to the sender.
3. What kind of gift should I send anonymously?
While there is no limit on the kind of gifts you can send without someone knowing, it is essential that you buy a gift that is suited to the personality of the receiver. This will increase the odds of them appreciating it more.
4. Is it possible to hide my name on an Amazon gift?
The best possible way to go about this is to send a gift card from the website. Put your own e-mail address as the recipient so that you may receive a gift code that you will use when sending the gift.
5. What do I do if someone finds out that I am the sender of an anonymous gift?
Don't fret. This happens and is especially true for two people who have known each other for quite some time. They usually have strong hunches about each other that are often correct. If the person finds out, simply re-assure them that it is a gift that they are most deserving of.
6. What do I do if I do not like the gift that I have received anonymously?
It is always better to live honestly. If a gift has been sent via Amazon, you may return the item via the shipping address provided. Alternatively, you can gift someone else who you feel would appreciate the item more.
7. What steps can I take if I have received an anonymous gift that is unpleasant?
An unpleasant gift can be anything ranging from pornography to crime related material. It is important that you immediately report this item to the company from which you received the item to allow them the opportunity to get to the bottom of things.
8. Why do some people hate anonymous gifts?
It is a matter of preference. It is said that the world doesn't move to the beat of just one drum, to mean that everyone is unique and has their taste when it comes to gifts. It is essential that you know the person to whom you are sending a gift to save you the trouble of an unpleasant surprise.
9. What are some creative ways that I can gift someone anonymously?
There are many options to choose from. The gift need not be tangible as it can be an expression of gratitude. For example, you may decide to settle a hospital bill for someone. You may also pay for someone's dinner at a restaurant. Another option is to donate to a cause that resonates with you on websites such as Go Fund Me. Moreover, if you are in a queue at a food truck, you may pay for the meal for the rest of the people in line.
You may also like this article on Gifts For Someone You Don't Know.
ESTIMATED TIME DESIGNING AND UPLOADING THIS ARTICLE
ESTIMATED TIME RESEARCHING AND WRITING THIS ARTICLE