21 Signs He Finds You Irresistible
WhatToGetMy Instructional Article
The dating scene is unpredictable. People date for various reasons, including looking for companionship or a simple fling. Sometimes, we get lucky and find love. However, most times, we have to deal with a string of disappointments. With all the setbacks, it is easy to lose hope. That will be a thing of the past. Below, we look at some of the signs that he finds you irresistible. Knowing these signs will help increase your chances of scoring that second date or that relationship you have always desired.
So what exactly are some of the qualities a man finds attractive about a woman? Physical attraction plays a key role. It is what propels us to speak to someone for the first time. It could also be their dressing or how they carry themselves.
01. Physical contact or closeness.
It is no secret that men are physical beings. They express their love or interest through physical contact. One sure way to tell if he thinks you are hot is that he will find reasons to touch you. He will either reach out to embrace your hand or hold you by the waist while walking down the street.
02. Eye contact.
There is just something alluring about a man looking deep into your eyes. Eye contact is significant. On top of improving our concentration, it shows that we are actively listening to a person. Eye contact is also a sign of respect and will compel the other person to engage with what you are saying. When a man finds you attractive, he will establish and maintain eye contact with you. He will also ask personal questions about you in a bid to get to know you better. Even when you are in a group of friends,
03. He wants to be the hero in your story.
A problem shared is a problem half solved. The next time you find yourself facing a challenge at work or have something that needs fixing, why not call up that guy you have been seeing? He will try his best to stop what he is doing to be by your side, helping you tackle the problem. Men like to feel needed and are also problem-solvers by nature. Allow him to be the hero in your story by reaching out to him for help the next time you need it.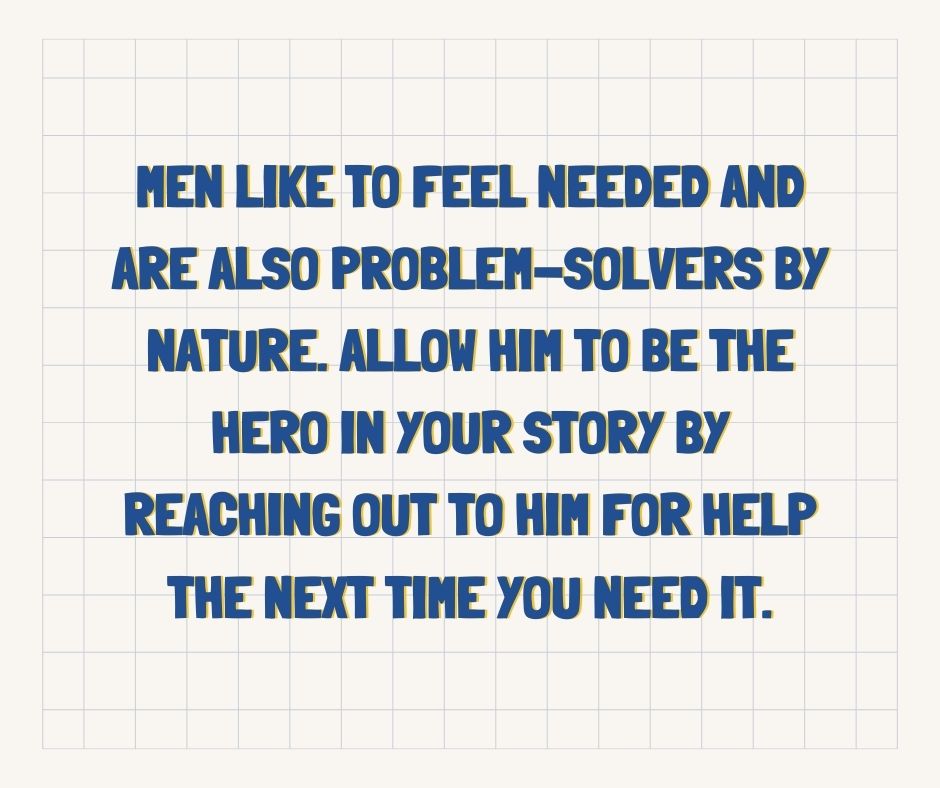 04. Compliments or re-assurance.
When a man finds you hot, he will express his admiration by saying nice things to you. He will acknowledge the effort you put into your sense of style and your personality. He will also recognize your intelligence, a recent achievement, or a kind gesture. He finds you alluring when he can compliment you beyond your looks.
05. He can't stop talking to his friends about you.
It often brings us great joy to introduce our significant other or new partner to our friends and family. When a man finds you attractive, he will introduce you to his close circle of friends. He also cannot stop bragging about you to anyone who cares to listen. It is his way of showing the world that he is proud to be with you and call you his girlfriend.
06. He takes the initiative to plan dates.
More often than not, when dating or in a relationship, women are the ones who plan elaborate yet memorable dates and trips they will go on with their significant other. However, when he finds you irresistible, he will go the extra mile and plan fun dates based on your interests.
07. He opens up to you.
Men and women are raised with different ideologies when it comes to their personalities. Women are encouraged to open up and speak about their feelings. On the other hand, men are discouraged from displaying vulnerability. He will open up and share his inner thoughts and deepest desires. A man finds you irresistible when he is comfortable enough in confiding in you. He will always seek your opinion on things he wants to achieve. By this, he has built his trust in you and is confident that you will offer sound advice.
08. He offers you gifts.
A man wants to be able to provide for you the things that you do not have. If you have noticed that lately, he has been buying you gifts, it is a gesture that shows that he finds you attractive. It is also how he shows that you are always on his mind and wants to be the one who puts a smile on your face.
09. He will go all out to dress up.
Although some men take personal grooming seriously, most men don't attempt to look the part. However, when a man finds you irresistible, he wants to make sure he leaves a lasting impression. He will take the time to choose a great outfit and make sure his grooming is on point.
10. He wants to be with you.
Does he mention you in his plans? Do you hear him talking about the two of you settling down and building a life together? It might be a tell-tale sign that he finds you very irresistible. He is not afraid to commit to you and be your partner.
11. He is very protective.
Picture this. You are out on a group date with friends when suddenly, someone makes a rash comment about you that ends up being offensive. A guy who finds you irresistible will jump in and aggressively defend your honor.
12. He wants to explore your interests.
By the time two people are dating, they have interests in common that brought them together. However, when a guy finds you irresistible, he will put his best foot forward and take a keen interest in your favorite hobbies.
13. He actively communicates with you.
Whether it's through calls or text messages, a guy keeps you on his radar when he finds you enchanting. He will reply to your text messages within a few minutes. If he is busy, he will be courteous enough to let you know the same but reassures you that he will be in touch.
14. He will cook your favorite meal.
Another sure sign he finds you irresistible is when he goes out of his way to cook a meal that is close to your heart. He will make it one for the books. He will carry out his research and treat you to decadent cuisine, complete with some fine wine.
15. He is excited by your physicality.
Men are very visual creatures. What draws them to you at first instance is your physicality and appearance. A guy will find you irresistible when he is captivated by your presence. You can make it exciting by bringing out your best qualities. If you have nice legs, do not be afraid to flaunt in that gorgeous dress. If your eyes are your asset, invest in good eye products to help you with an enticing makeup look.
16. He posts you frequently on social media.
The majority of us love to post photos and videos of ourselves having a good time on our social media accounts. One way to tell that he cannot hold back his attraction to you is by posting you frequently on his social media platforms. He will always like your posts and engage with the content that you post.
17. He introduces you to his family.
You have swept him off his feet. He will let you meet his family to show you his origins. It is highly likely that before this introduction, he will have bragged to his family all about you and how amazing you are.
18. He wants to help you build your dreams.
We all have dreams and ambitions that we actively pursue every day. The pursuit becomes worthwhile when we have the support of our partner. When a guy finds you attractive, he will be present in your life and help you achieve your goals. Whether you have always wanted to start a business or need a helping hand with a project you are working on, a guy with a keen interest in you will assist you every step of the way.
19. He makes you a playlist.
A guy who finds you irresistible will take his time to curate a playlist of all the songs you love. He will also include love songs that communicate in-depth how he feels about you and the songs that you love together.
20. He notices nuances about you.
We all have quirky actions we make when we are in our element. From nervously biting our lips to creasing our noses, these actions don't go unnoticed when a man is attracted to you. He may mention these quirks now and then because he cares.
21. He proposes to you.
Now, this is among the ultimate signs that a guy finds you irresistible. He is ready and willing to advance your relationship to the next level.
If you are on the dating scene regularly, chances are you have already experienced some – if not all – of the abovementioned signs. In the end, what counts is your confidence and being the best version of yourself.
Confidence should not be confused with cockiness. Believing in yourself and your capabilities is essential, and being respectful towards others.
According to one survey as seen on Way Too Social, body language, social value, energy, humour and honesty are also qualities that men find irresistible in women. See the chart below.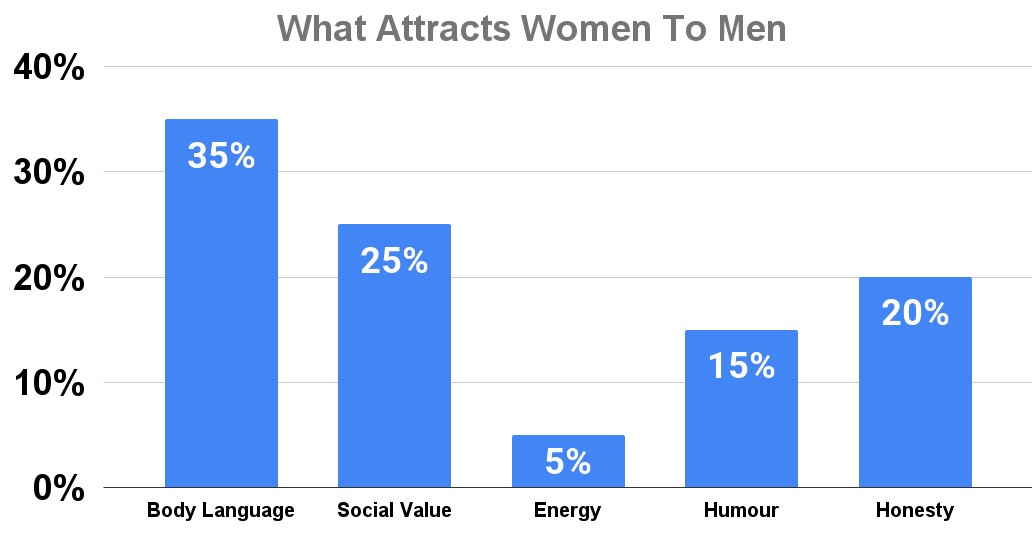 Frequently Asked Questions
1. How can I tell if a guy is interested in me?
You can tell a guy is interested in you by the extra effort he puts in. Beyond talking to you on the phone, he will always want to meet up with you.
2. What can I do to attract an irresistible woman?
To attract an irresistible woman, you must groom yourself well and have a great personality. A woman worth your while will look beyond physical attraction to see what you have to offer.
3. What is the most obvious sign a guy is interested in me?
The most obvious sign that a guy is interested in you is that he wants to spend time with you. He will always look for reasons to talk to you.
4. What quality will make me irresistible and stand out in the dating scene?
One quality that is a sure bet to stand out in the dating scene is to have a great personality. In addition to looking presentable, you must be someone worth hanging around. Work on having some personality and practice good conversation skills to help you engage better with potential partners.
5. What are the signs he wants to approach you?
When a man wants to approach you, he first tries to catch your attention through eye contact. Once established, he will make his way across the room and strike up a conversation.
6. How do I know if he thinks I am the one?
One way to tell if a guy thinks you are the one is to pay attention to what he says to you. During your conversations, he has probably talked about his future; and it includes you. He will also show you off to his friends and family at every turn and speak highly of you.
7. How do I know if a guy is thinking about me a lot?
A guy who thinks about you a lot will send you random messages during the day to check up on you. He will also make sure you are the first person he talks to in the morning and will conclude his day by calling you to check up on you.
8. What makes a woman intriguing to a man?
The qualities that make a woman intriguing to a man include confidence, self-respect, a sense of self, and the boldness to express her thoughts and opinions.
9. How do I make him crazy about me?
You can try by first always holding eye contact whenever you are speaking. Eye contact communicates confidence and shows that you are actively listening to what he has to say. If you have met his inner circle of friends, make an effort to get along with them.
You may also like this article on Signs A Man Is Emotionally Connected To You.
ESTIMATED TIME DESIGNING AND UPLOADING THIS ARTICLE
ESTIMATED TIME RESEARCHING AND WRITING THIS ARTICLE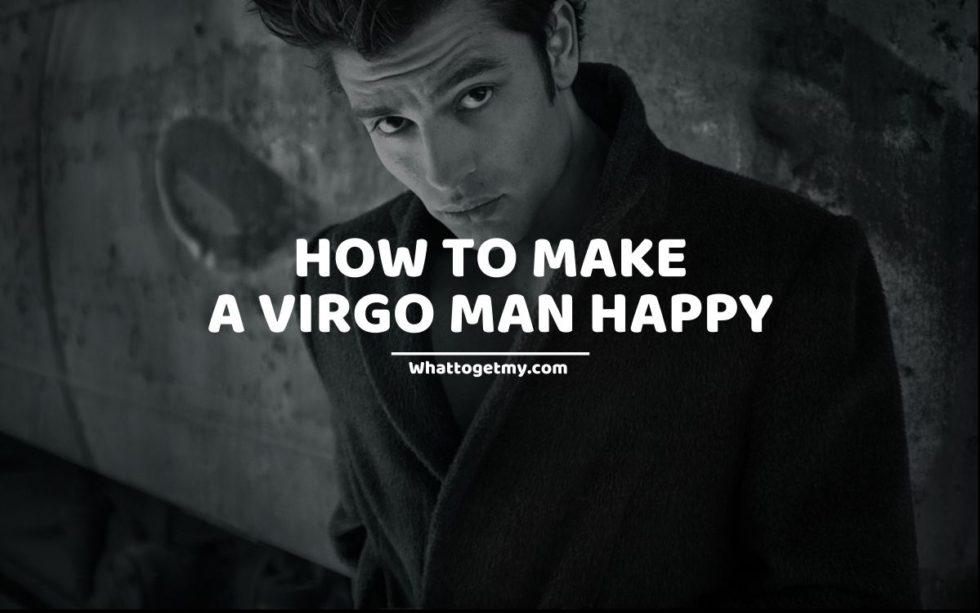 How to Make a Virgo Man Happy WhatToGetMy Instructional Article Making a Virgo man happy may seem like a big ask. After all they are perhaps the most complicated of zodiac signs. But since it takes two happy people to be in any healthy relationship
Read More »