Shopping for a 20-year-old man may seem like an impossible task especially if you don't know him that well and he is nonchalant about getting presents.
We have come up with a list of some clever, thoughtful, and useful gifts for a 20-year-old man in your life.
COOL GIFTS FOR 20-YEAR-OLD GUYS
If you're shopping for a 20-year-old man, you may want to get him something that he will find cool and useful. We have come up with this list of some of the most clever gifts ranging from tech gear to thoughtful gifts he may like for keepsake. These gifts are best for 20-year-old men for their birthdays, Christmas holidays, and other moments that require gift-giving.
As an Amazon Associate we earn from qualifying purchases. We may earn a small commission for our endorsement, recommendation, testimonial and/or link to any products or services from this website. Thank you, your qualifying purchases help support our work in bringing you real daily gift ideas.
1. 

GLASSES
The best gifts for guys in their 20s who have just moved into their own place and need kitchenware. This set is beautifully crafted and perfect for bachelors, and although they are designed for whiskey drinkers, they can be used for any other (non-alcoholic) liquid.
This set comes with two glasses, two ice cubes, two coasters, a pair of tongs, and a freezer pad. It is a good gift idea for men in their 20s who want to look elegant in their new home.
2. 

BOSE HEADPHONES
This is a great gift for a 20-year-old male who likes privacy and listening to music. Headphones are a great item to have because they can just plug in their favorite music and drown out the external world.
Pros.
They have access to Alexa, Siri, and Google Assistant

They are wireless and have a Bluetooth connection

They are beautifully designed

They are noise canceling
Cons.
They cannot be folded which makes storing them hard especially when out in public

They heat up sometimes especially when in the noise-canceling mode
These Bose headsets are the best quality when it comes to wireless headphones. They come with extraordinary features that are useful in today's tech growing world.
3.

CUSTOM GRILL TOOLS: BBQ KIT
This is the perfect gift for 20-year-old men who enjoy barbecuing be it professionally or an amateur. They can use this to practice their hobby and hone their skills.
This set of grilling tools comes with all the essential needs to make you the next grill master.
20TH BIRTHDAY GIFTS FOR HIM
4. 

DIGITAL CAMERA (GO PRO)
This is a great present for a 20-year-old male for their birthday. It is a high-tech camera that many people rave about and it would make the perfect gift for a 20 something guy who is into photography – whether it is still or motion pictures.
This GoPro camera is perfect for both day and night time shooting with either still or motion pictures. It even lets you playback your videos and pictures at a pace that you are comfortable with. Additionally, it lets you save or delete pictures in the camera before transferring them to a third party.
5. 

PERSONALIZED WALLET
Every man needs a wallet and a personalized wallet is just the best birthday gift for a 20-year-old boy especially when it comes from his parents or close family members.
This wallet comes in 11 different colors to choose from. It is 100% leather and has 8 card slots excluding the clear slot and card pockets. This is a good gift for 20 something men because of the personalized message(s) it may carry.
GIFTS FOR MEN IN THEIR 20s
6. 

HEATED BLANKET
This soft and comfortable blanket will make the perfect gift for your 20-year-old brother because of its heat qualities which are known to improve sleep quality. The blanket has heat settings that can be turned up or down depending on preference.
Although this heated blanket is made for people who need heat therapy for pain management, it can easily be used by anyone who likes to stay warm during winter or someone who lives in predominantly cold areas. It is warm and snuggly and has up to 10 dial heat settings so that you can set it for your comfort.
7. 

SHAVING SET
This is an amazing gift for a 20-year-old son from his parents because it sends the message about good hygiene, subtly. This set is amazingly packed and easy to gift so you don't have to worry about wrapping it.
Pros.
It is high quality

It is sturdy

It is easy to use
Cons.
The razor shave might require some getting used to

Some of the items were missing from some packages. We suggest that you make your order weeks before the wedding so that if your order comes with missing items, you will have more than enough time to have them sent to you.
This shaving set comes with a razor blade, shaving cream, and aftershave that smell like sandalwood.
WHAT TO GET A 20-YEAR-OLD BOY FOR CHRISTMAS
8. 

AIR FRYER
An air fryer is a cool Christmas gift for guys in their 20s because it is easy to use, quick, and provides a healthy way to fry foods.
Pros.
It is very easy to operate and equally easy to clean

It produces crisp fried foods and works as intended

It comes with a recipe book to help and teach you new ways of making new foods

It is a sturdy product and also durable
Cons.
There were customers who complained about how the fryer stopped working after one use and even though the seller replaced these defective items, it was still an inconvenience to customers.
This air fryer fry food without using any type of oil. It is the perfect Christmas gift for a health-conscious 20-year-old male in your life.
9. 

CARDS AGAINST HUMANITY
The self-acclaimed "game for horrible people" is a great Christmas gift for a 20-year-old who can play it with his friends and family alike in an all clean fun game.
Cards Against Humanity is a card game that is fun to play with adults of all ages. It comes with an instruction manual to tell you how to play and maximize the game with over 500 cards.
FREQUENTLY ASKED QUESTIONS
What should I get my boyfriend for his 20th birthday?
This depends on how long you have been with your boyfriend and how well you know him. A birthday present doesn't always have to be a surprise, sometimes the thought counts more than the present itself, so asking him what he would like for his birthday will give you a clear insight on what he wants.
You may also take a look at all the things he already has to get an idea of what he could possibly enjoy as a birthday present. For example, if he has a lot of sci-fi collections in his room or house, then you know that he will enjoy an Avengers-themed gift. Check out this article for other priceless gifts for boyfriend you can get for your boyfriend.
Do guys like getting gifts?
Yes, guys like getting gifts too. It is important to remember that gifts look differently for different people. Some people count spending time together or acts of service as a gift while others like physical items for gifts. The trick is to find out which gift the guy in your life prefers and give them that instead of the generic presents you think they would like by societal standards and definitions of manhood/manliness. Take a look at our article for more insight on whether or not guys like getting gifts.
CONCLUSION
Whenever getting a gift for someone, it is important to keep their hobbies and likes in mind. It will help you get them the best gift possible for them. Alternatively, you can look up on trends that are popular with people in their age group and find suitable gifts for them.
ESTIMATED TIME DESIGNING AND UPLOADING THIS ARTICLE
ESTIMATED TIME RESEARCHING AND WRITING THIS ARTICLE
Try our AMAZING GIFT FINDER TOOL! Find GIFTS with 1 CLICK!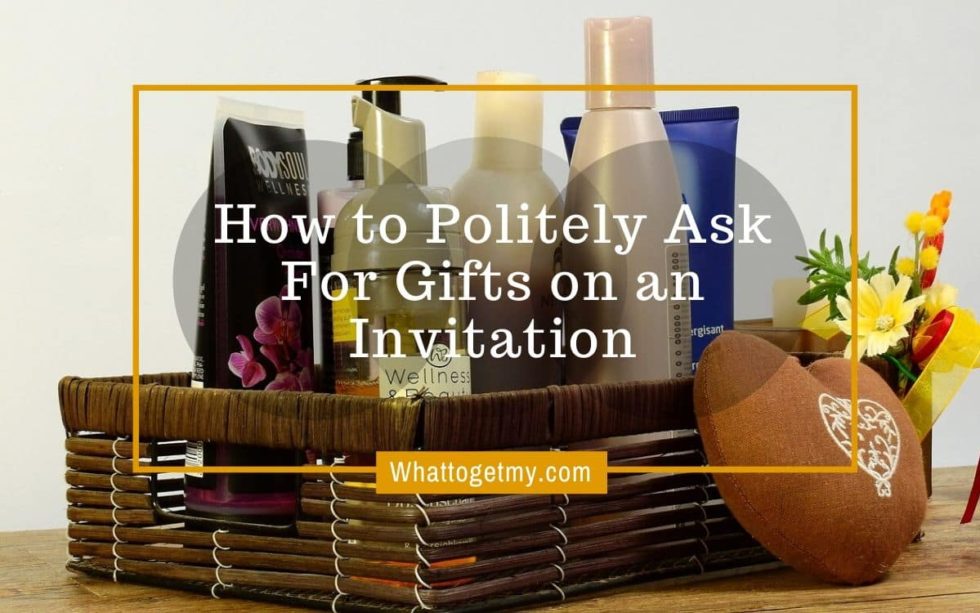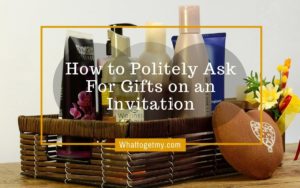 How to Politely Ask For Gifts on an Invitation
3 creative ways to How to politely ask for gifts on an invitation WhatToGetMy Instructional Article Asking your guests for gifts on an invitation is a situation that needs to be treated carefully.  Although, most of the time it is not necessary to ask people
Read More »