The loss of a child hurts unimaginably. It is a grief that seems almost impossible to console. The hurt lingers for years and without the right support, some parents take extreme measures to relieve themselves of it. If you know a bereaved parent personally or otherwise, try to show as much support as you can because they are often not vocal about their struggle.
There are many ways you can show support and one way is by sending them gifts. We all love gifts, it shows us that someone cares. Sending them random gifts to check up on them when you are unable to visit them is a lovely gesture.
In case you are wondering what memorial gifts you can get for bereaved parents, we have identified 24 you can choose from. Let's get to it.
As an Amazon Associate we earn from qualifying purchases. We may earn a small commission for our endorsement, recommendation, testimonial and/or link to any products or services from this website. Thank you, your qualifying purchases help support our work in bringing you real daily gift ideas.
Quick Overview: CHILD LOSS SYMPATHY GIFTS
CHILD LOSS SYMPATHY GIFTS
1. BABY FEET NECKLACE
If you are looking for memorial gifts for a mom who had a miscarriage, stillborn baby or lost a new born baby, this sterling silver baby feet necklace is a good gift. A baby's feet are placed in between a heart pendant which is a good depiction of a mother's love for her baby. It is also a perfect way of saying "you'll always live in my heart".
This neckpiece was considered perfect, stunning and giftable by customers that bought it.
2. BABY FEET URN NECKLACE
You may be looking for memorial gifts for bereaved dads mourning the loss of their babies at a tender age, we think this gorgeous stainless steel baby feet urn necklace is an amazing gift. He can open up the urn and insert a tiny sentimental item he has of his baby.
It is well-loved by customers.
3. MEMORIAL ORNAMENT
A lovely item such as this Baby in Heaven memorial ornament is a comforting gift. The poem card is well written and the message is lovely. The metal angel comes with a satin ribbon which allows a person to hang it in a lot of places; in the car, on doors, office or anywhere they choose to.
At the back of the card, space has been created to insert the baby's name and date and also a blank space for a personal message. This is a lasting memorial gift.
Customers considered this ornament to be a good memorial gift.
4. MUMMY DADDY KEYRING
This stainless steel mummy daddy keyring set is lovely. The engraved feet are beautiful; a bigfoot and a small one. It depicts the close bond between a parent and their child. The words on the pendant are clearly written too. This is a good gift for parents mourning a miscarriage, stillborn or loss of a baby at a tender age.
It is a stunning set and customers love it.
5. MEMORIAL CANDLE HOLDER
If you are making a child loss sympathy gift box, a memorial candle wax holder will be a good addition to your gift items. We think that a pair of this Pavilion ceramic candle wax holder is worth getting. The message on the ceramic holder is lovely and the candle also has a soothing scent.
Most customers were impressed with their purchase.
6. STONE CHIME FIGURINE
In case you were unable to make it for their child's funeral, and you are wondering what to get as a sympathy gift, you can get this stone chime figurine by OakiWay. Stone figurines are a good gift to give those that mourn their loved ones, especially if you are close to them. It makes the gift of sentimental value. This stone chime figurine by OakiWay is really beautiful and can be placed anywhere around the house. The solar LED light quote is a lovely addition to this chime figurine. A bereaved parent will love it.
Although a few customers were not happy with their chime, a lot of customers that bought the figurine loved it. They rated it high for features such as; sturdiness, giftable, sheerness and value for money.
7. BEAR ANGEL
Charlie Bear Angel is such a cute memorial gift for child loss. The teardrop eyes are so adorable and comforting. A grieving mom will love to have this. The bear is fluffy, soft and cuddly.
Well made and loved by customers.
8. MEMORIAL BRACELETS
Another memorial jewelry you can get a grieving mom is this bracelet. The quote on it is very comforting. It is made with high-quality copper and it is lead-free and Nickel free; hypoallergenic and built to last. It also has an adjustable chain for proper fitting.
This jewelry is highly rated by customers that have purchased it.
9. SYMPATHY PHOTO FRAME
A good wake/remembrance gift for parents will be this silver metal frame. The poem on the left side of the frame is emotional and yet comforting; it is beautifully written. On the right side of the frame, a standard 4×6 photo of the deceased can be inserted.
Most customers were happy with their purchase. They loved the poem.
10. SON MEMORIAL KEYCHAIN
This stainless steel keychain is a good memorial gift for the loss of a son. It has a comforting quote written on it and the two extra pendants on it makes it a stunning piece.
Customers that have bought this key chain are satisfied with their purchase.
11. HEALING THOUGHT BLANKET
A comfort blanket is always a great item to send to someone grieving. This BlankieGram healing blanket is filled with positive words for someone facing a difficult time. Sending this blanket to a grieving parent is one way of reassuring them that they are not alone.
This blanket has a high rating for features such as giftable, lightweight, softness, durability and easy to clean.
12. PERSONALIZED MEMORIAL WIND CHIME
Wind chimes are comforting and are generally a good sympathy gift. This personalized memorial wind chime is stunning. The name of the deceased can be engraved on the wooden component of the chime. The aluminium pipes are built to last and they are firmly held by strings. Perfect for gardens.
This is a stunning item, a lot of customers will love it.
13. PERSONALIZED BRACELET
Another piece of jewelry to get for a bereaved is this personalized bracelet. What's so great about this bracelet is that everything written on it is determined by you. Words can be written in lower or upper case and in different font sizes (small ofcourse). They can also engrave symbols on it too. These bracelets are not coated. They are made with pure metal (aluminum, brass bronze, nikel, copper and sterling silver). It is guaranteed to last.
A quality product.
14. MEMORIAL FLOWER VASE
Flowers are a great sympathy gift to get and you need a lovely flower vase for it. We think that you should get this themed memorial flower vase by Lillian Rose. It communicates the right mood and it is perfect for burials, wake or any condolence activity.
Customers have had only positive reviews about the vase. They love it.
15. MEMORIAL LAMPS
Carson Memorial lamps are stunning. They are a great remembrance gift.
The few customers that have bought the lamp love it.
16. SYMPATHY GIFT BASKET
Send gift baskets as a sympathy/condolence gift. It is a good way of expressing how much you care. It will brighten their day. Wine Country gift baskets come with assorted goodies; caramel popcorn, walnut cookies, English tea, pomegranate candy, cinnamon candy and many more. It is a full basket.
A common theme in some customers' reviews was "good sympathy gift".
17. ANGEL WING BROOCH PIN
A beautiful piece of jewelry like this Hiddleston Guardian Angel brooch is a lovely memorial gift for a grieving mom. It is one way of  reminding her that she is not alone.
It is a gorgeous brooch, beautifully designed and well loved by most customers.
18. LOLA BELLA HUMMINIG BIRD SYMPATHY GIFT
This gift set is beautiful,warm and comforting, especially for someone who misses a loved one. It comes with a mug and a card with a lovely poem. The hummingbird and pink azalea flower design on this set is absolutely stunning. It is a good sympathy gift.
This is a good sympathy gift, beautifully designed.
19. LOSS OF SON SYMPATHY MUG
Another item for a parent who lost a son will be this sympathy mug. The design on the mug is simple but beautiful; a dad or mom will love it.
It is a nice mug and will make a good gift
20. LOSS OF DAUGHTER SYMPATHY MUG
A sympathy gift for the loss of a daughter will be this Mug. The Kingfisher's bird design on the mug is stunning and the quote, comforting.
This will make a good sympathy gift for a grieving parent.
21. PERSONALIZED PENDANT ENGRAVING
If you are looking for personalized pendants/dog tags to give as a memorial gift, Dogtags4less can help you. All you have to do is to send a quality photo of the deceased if you wish to use a photo or send a good design and quote to them for engraving.  Gifts like these are sentimental.
This tag is highly recommended by customers.
22. SYMPATHY CARD
Sending a sympathy card with flowers is lovely. Aside from the beautifully written quotes on these cards, scribbling down a few words of encouragement will go a long way for someone grieving. We think that this Canopy Street sympathy card pack is worth getting. They will appreciate it.
Most customers were happy with their purchase. They rated this card high on features such as values for money, thickness and sturdiness
23. MEMORIAL MARBLE HEART TRAY
You can get this marble heart try will make a good sympathy gift. The quote on it is lovely and the design is beautiful.
This is a unique gift and customers are happy with their purchase
24. SYMPATHY THROW PILLOW
A cuddly and comforting item will be this Gawekiqe 18" sympathy pillow. It bears the quote "You may no longer be by my side but now I've gained a Guardian Angel in Heaven" beautifully written on it.
This is a unique gift and customers will love it.
You can check out other family related articles of ours, such as;
FREQUENTLY ASKED QUESTIONS
What memorial gift ideas can I get for the loss of a child?
There are a lot of memorial gifts you can get for grieving parents and we have mentioned 23. We think these gifts are warm, beautiful, comforting and lasting. They are also of sentimental value.
What are some gift items I can get for the loss of a son?
Loss of son mug, personalized bracelets, son memorial keychain, wine country sympathy gift baskets are some of the items we've listed. They are many more.
What gift items can I get for the loss of a daughter?
Personalized bracelets, Bear angel, personalized memorial chime, loss of daughter mug, Angel wing brooch are some of the gift items we have listed and there are many gift items.
CONCLUSION
The loss of a child can be emotionally wrecking. It takes the right support for parents going through such experience to help. One way of showing support to someone who lost a child is by getting them memorial gifts. Gifts are comforting; they give assurance that we are not alone. We have carefully selected 23 gifts you can give to grieving parents in honor of their child. We hope our gift ideas will help you select the good sympathy/memorial gift.
ESTIMATED TIME DESIGNING AND UPLOADING THIS ARTICLE
ESTIMATED TIME RESEARCHING AND WRITING THIS ARTICLE
Try our AMAZING GIFT FINDER TOOL! Find GIFTS with 1 CLICK!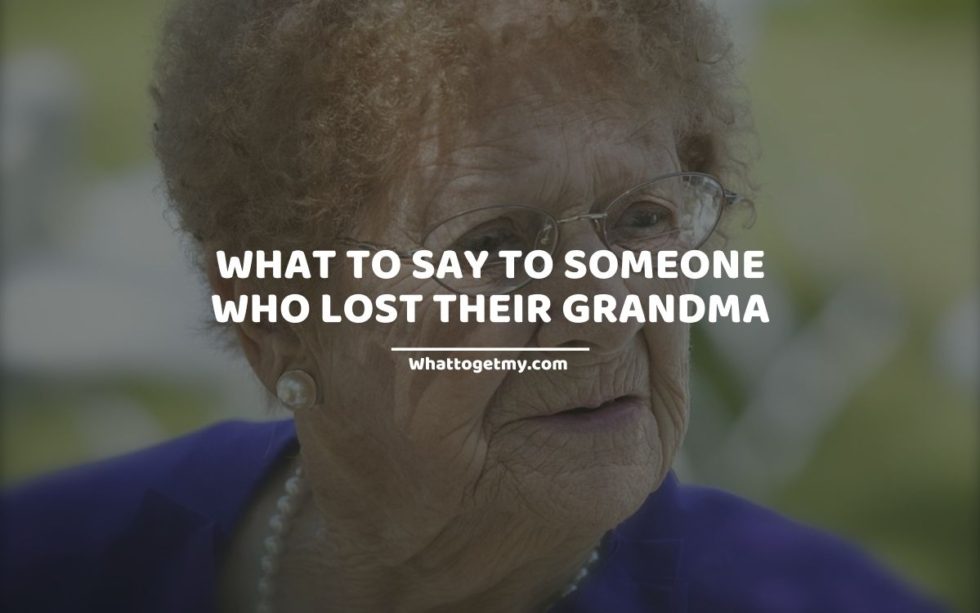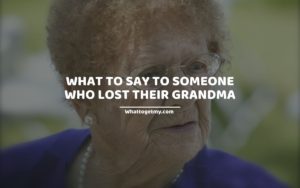 What to Say to Someone Who Lost Their Grandma
What to Say to Someone Who Lost Their Grandma WhatToGetMy Instructional Article Losing a grandma is one of the saddest and hardest times in a person's life. When your friend has lost their grandma, you will want to do and say something that will make
Read More »