33 Exciting 40th Birthday Trip Ideas For Couples
WhatToGetMy Instructional Article
We offer you exciting 40th birthday travel destination ideas both for couples or specifically just to celebrate your husband or wife's 40th birthday or if you feel like taking the whole family along. Whatever your preference, you will find the best place to celebrate your 40th birthday that suits your tastes.
Watch the video version of this article: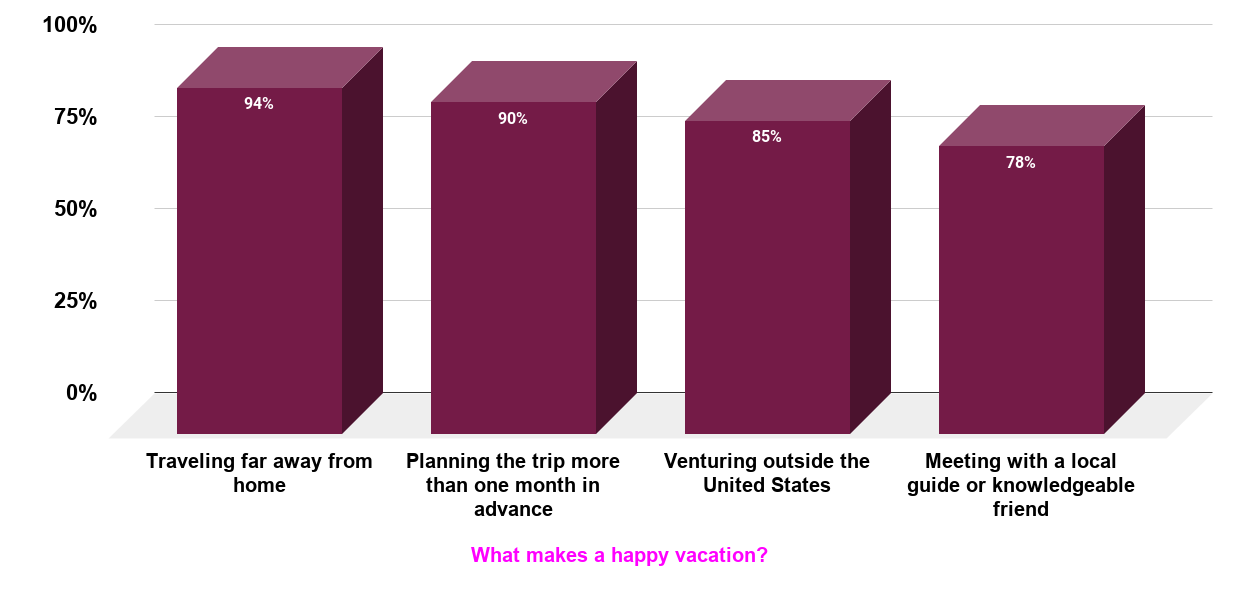 Turning 40 is another exciting milestone deserving of a grand celebration in style, even if you wanted a low-key celebration or a 40th birthday on a budget. And there's no cooler celebration than with your significant other and/or members of your family.
Taking a trip or vacation gives the best birthday experience. And as the chart above gotten from Statista shows, most Americans believe, and we agree, that the happiest holidays are those enjoyed as far away from home as possible And we have just the right round-up of 40th birthday trip ideas for you.
Another related article you would also like: 11 Beautiful Places to go for 50th birthday.
15 Magical 40th Birthday Destination Ideas For Couples.
Most popular vacation destination types among adults in the United States as of January 2015. Source: Statista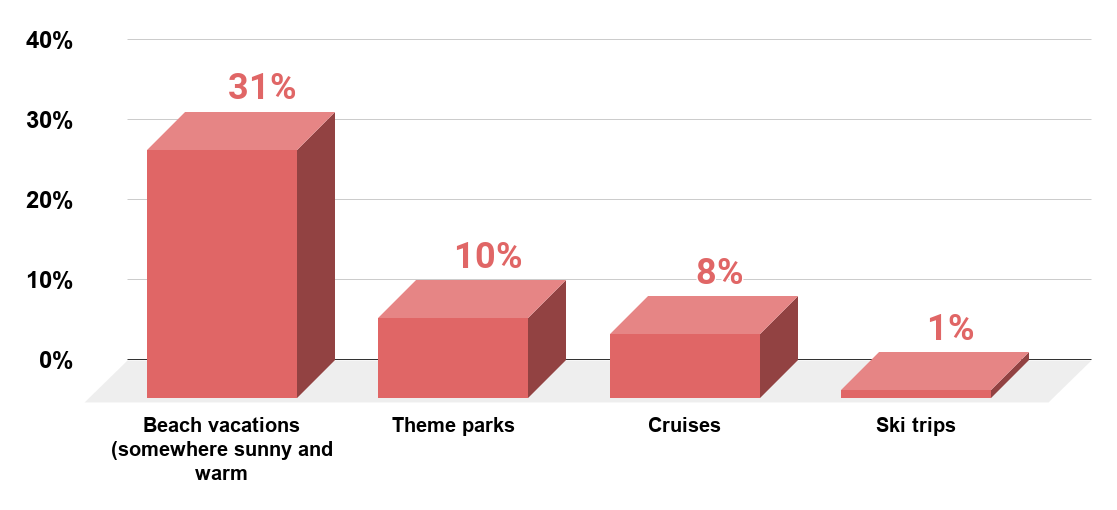 You have decided that the way you want to celebrate your 40th birthday is by taking a couple's romantic vacation with your bae/spouse. You have made a very good choice. Now pack your bags and have a fun 40th birthday baecation at any of these 15 magical destinations for a couple's romantic getaway. And almost all these locations have beaches for you to lay back and enjoy your holiday.
1.

The Maldives.
The Maldives has to be number 1 on every couple's romantic getaway list. Granted that it is not exactly for the budget-constrained, but it is a worthwhile and enjoyable investment. And since you only turn 40 once, you have earned the splurging rights to splurge and spoil yourself, especially if you didn't vacation in the Maldives for your 30th birthday.
And if you don't have an idea of what to do at the Maldives to spice up your 40th birthday getaway, these are some of the top exciting vacation activities to indulge in while at the Maldives:
The Atoll of the Maldives is a place you must check out. It has so many exciting islands and activities that are sure to keep you busy and happy during your vacation. You will also find lovely resorts to make your 40th birthday celebration truly unforgettable;

Go surfing on the Thulusdhoo which is one of the Atoll islands and famous for its amazing surfing experience, the Kaafu Atoll to be precise;

Check out the National Museum and learn about ancient Maldive history and other interesting things;

If seeing Buddhist ruins is your forte, check out the Buddhist ruins on the island of Thoddoo; and

The Island Hideaway at Dhonakulhi is apparently the best for a truly romantic honeymoon experience.
And for your romantic nights together, check out our very helpful articles on Ideas for a romantic night in a hotel and Romantic evening ideas for married couples.
2.

Cape Town, South Africa.
This quaint city in South Africa is one of the best tourist sites in the world. Cape Town offers you the following in terms of a one-of-a-kind 40th birthday experience:
A cable ride over Table Mountain and other excursion activities in the Table Mountain area;

A one-of-a-kind shopping experience at the massive V&A Waterfront;

An overwhelming encounter with penguins at the penguin colony at Boulders Penguin Colony;

A bitter-sweet historic visit to Robben Island which was a former prison site, and now a museum;

Wine-tasting in some of the best wine vineyards in the world;

Hiking on the famous Platteklip Gorge or Skeleton Gorge;

Surfing on the Bikini Beach;

A hot air balloon ride;

A time to enjoy both African and European art at the South African National Gallery;

A visit to the Seals Island to be captivated with the sight of many seals in one place; and

Playing with the big cats aka cheetahs and tigers, at the Cheetah Outreach.
A trip to this beautiful South African city will leave you rejuvenated and energized on your return.
3.

Santorini, Greece.
Santorini is another city of love that all hopeless romantics must indulge in. This romantic city has enough beaches to fill your vacation days with. Take a lazy walk along beautiful beaches like Perivolos, Perissa, or the Red or White Beach. And not forgetting to take unforgettable pictures at the Byzantine Castle Ruins. Enjoy an evening of wine tasting at the Boutari vineyard and get wowed by the Karavolades Stairs museum.
4.

Thailand.
Thailand has two romantic destinations that are another must-see. Take your pick between Phuket or Krabi, or you can still indulge in both if you want to splurge. In Phuket, get blown away by the Phuket 3D Museum with art that comes alive. Tantalize your taste buds with Thai cuisine at the Phuket Weekend Night Market and enjoy Thai-themed folklore shows at the Tribhum Theme Park.
Krabi offers more dreamy beaches that are the stuff of movies and dreamlands. Get blown away by the Koh Poda beach where you can also enjoy snorkeling or the Bamboo Island with its beautiful beaches and coral reefs. Or you could try rock-climbing at Railay Beach. Then settle for another on-of-a-kind Thai dining experience at the Krabi Town Night Market. And whatever you do, don't forget to have a Tarzan-like adventure at the Tree Top Adventure Park. Oh, and you can enjoy an elephant ride at the Nosey Parker's Elephant Camp.
5.

Buenos Aires, Argentina.
This beautiful city is called the "Paris of the South" by some. It is famous for the famous tango dance. If you've always dreamed of tangoing with your lover, well here's your chance. Visit the city of love of the South and tango away. And it is not only tango. The city is also famous for its great cuisine and magnificent architectural works and street art. You can never have a dull moment celebrating your 40th birthday with your significant other in this city.
Some cool sights to see include the iconic steel flower sculpture at Floralis Generica, the Plaza Dorrego with cool cafes and a Sunday market, the Buenos Aires Museum of Modern Art, and the technology park at Tecnopolis.
6.

Palm Springs, California.
And at home here, we have our own romantic getaway in Palm Springs where you are sure to have an awesome romantic getaway without having to travel outside the U.S. Enjoy horseback riding and hiking at the Indian Canyons. And for the paleontology inclined, an outing to the Cabazon Dinosaurs is a must. Other cool activities to indulge in are:
A romantic picnic and outing at Victoria Park;

If you are still into skateboarding, then enjoy skateboarding at Palm Springs SkatePark;

Go hiking on the several hiking trails like the Fuller Ridge Trailhead, and Earl Henderson Trail;

Check out the Coachella Valley Vista Point;

Check out the waterfall at the Tahquitz Canyon; and

The Palm Springs Aerial Tramway Mountain Station is another must-see before you leave.
7.

Willemstad, Curaçao.
This beautiful capital city in the Curaçao island is in the southern Caribbean sea and is another beautiful romantic getaway destination where you can enjoy the following:
An enjoyable flamingo show at the Curaçao Sea Aquarium or watching dolphins swim at the Dolphin Academy Curaçao;

Go snorkeling and diving at the Caracas Bay;

Go surfing at the Playa Kanoa; and

Enjoy an outing at the Queen Wilhelmina Park.
8.

Phu Quoc Island, Vietnam.
Phu Quoc is another dreamy island with beaches that you would not want to leave like Sao Beach. Enjoy a cable car in Thom Island and have the time of your life at the Aquatopia Water Park. A scenic cable ride at Sun world Hon Thom Nature Park will also take your breath away. And finally, enjoy a jaw-dropping museum expedition at the Martyrs Monument Phu Quoc Prison.
9.

Hakone, Japan.
Hakone offers you the following exciting adventurous experiences:
Hiking at the forest waterfall at Chisuji Falls; and

A walk on the pedestrian suspension bridge at Mishima SkyWalk that isn't for the fainthearted;
Check out this related article on 43 Adventurous things to do with your girlfriend.
10.

Dalmatian Coast, Croatia.
The Dalmatian Coast is one of Croatia's best-kept secrets and promises a different and exciting holiday experience. It is on this coast that you will find the rather eccentric Sea Organ in Zadar where the marble steps create a melodious tune from the waves and winds. You can also count on an enjoyable kayaking experience in Dubrovnik. And of course not forgetting to explore all the beautiful Croatian islands by way of a ferry. You are sure to enjoy your holiday to the Dalmatian Coast.
11.

Amalfi Coast, Italy.
Italy is another famous romantic getaway location. The places that readily come to mind in Italy are Venice and Rome, but forget them for a minute and get mesmerized with this beautiful romantic coast. Amalfi has this beautiful scenic trail called the Path of Gods that you must walk with your beloved. Take a cable ride on the Monte Faito and a truly enjoyable dining experience at the Arienzo Beach Club. And don't forget to check out as many of its beautiful beaches as you can.
Related article: Sailing vacations for couples.
12.

Tulum, Mexico.
Mexico has many beautiful vacation spots. Tulum stands out because it has some of the most beautiful beaches in Mexico. While having fun at the beaches, check out the Mayan ruins at the Parque Nacional Tulum and the Archeological Zone of Tulum – Mayan Port. You should also try out diving and swimming at Cenote Calavera and enjoy the dizzying view from the top at the Tulum Tower.
13.

Maui, Hawaii.
Maui is another hidden gem we have here in the U.S. This beautiful Hawaiian island boasts some of the best beaches in the world. Enjoy a one-of-a-kind enjoyable birthday vacation with the following enjoyable activities:
Enjoy snorkeling and surfing at the Honolua Bay or the Makena Beach;

Go for a daring hike at the steep Waimoku WaterFalls;

Check out the Maui Historical Society;

Enjoy ziplining at the Piiholo Ranch Zipline; and

Enjoy whale watching at the Pacific Whale Foundation.
14.

The Berkshires, Western Massachusetts.
This popular holiday destination offers you tub skiing at the Ski Butternut Tubing Center. You can also check out the Ski Blandford ski resort and the historic Bridge of Flowers. If you are a lover of poetry and Emily Dickens, pop over to the Emily Dickens Museum. And if you are looking for a cocktail of adventures such as ziplining, kayaking, and the works, the Zoar Outdoor Adventure Resort has all the right mix and packages for you.
15.

Paris, France.
Paris is another famous city of love. A trip to Paris promises to be filled with not just fun but a shopping spree especially on the popular shopping street, Champs-Elysees. And of course, you can't go to Paris and not go to the Eiffel Tower and the Louvre Museum. Other less obvious places you can check out and things to do are:
See the Palace of Versailles;

Check out the Catacombs of Paris to get creeped out with the millions of skeletons on display;

Check out the 59-storey skyscraper at Montparnasse Tower;

Check out the massive Jardin des Plantes botanical garden; and

Take a walk (and possibly have a picnic) at the Parc Monceau.
7 Enjoyable 40th Birthday Trip Ideas For Husband.
Perhaps you want to surprise your husband on his 40th birthday with a 40th birthday getaway. That is one sure way to make your husband feel appreciated by you. And we have you covered. Give him an unforgettable 40th birthday surprise with these 7 enjoyable 40th birthday trip ideas.
Be sure to check out our other related articles on What Do Husbands Want for their Birthday and How to celebrate husband birthday differently for more ideas of what to do for him on his birthday on your surprise birthday trip.
16.

A canyon expedition to Utah, Arizona, and Wyoming.
This is one hobby your husband probably enjoys already. And America is home to the best canyons to be seen in the world. Organize a canyon expedition for him stretching between Utah, Arizona, and Wyoming, to see these top 10 must-see canyons in the U.S:
The Grand Canyon, Arizona. This is the first one on the list because of how magnificent and big it is;

The Antelope Canyon, Arizona. This is one of the best canyons to take awesome pictures at. You will both have a great time here;

Horseshoe Bend, Arizona;

Glen Canyon, Arizona;

Canyon de Chelley, Arizona;

Nine Mile Canyon, Utah;

Bryce Canyon, Utah;

Zion Canyon, Utah;

Buckskin Gulch, Paria Canyon, Utah;

Bighorn Canyon, Wyoming.
And the beauty of all these cool canyon sites is that you can combine other fun activities like hiking and camping to the itinerary. Your husband will love this 40th birthday trip very much. Remember to surprise him at least a month in advance so that he can make out time for the expedition from his schedule.
17.

Take a cruise to the Galapagos Islands.
Share of U.S. travelers who prefer cruise or land-based vacations from 2011 to 2014. Source: Statista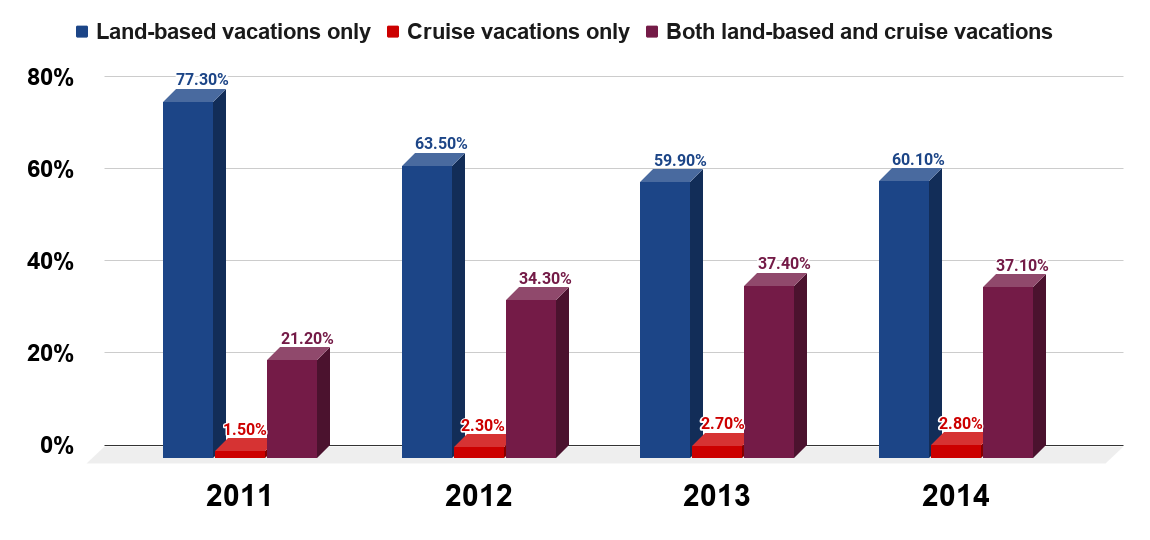 The Galapagos Islands is a dream vacation getaway spot, just like the Maldives. With this island, you can enjoy both a cruise and other land-based fun activities. Why not toast to your beloved's 40th overlooking the Galapagos on a breathtaking cruise. And while there, check out the sea lions at Mosquera Island (or Isla Lobos) and iguanas at Cerro Dragon. And if that's not enough, pop by the Charles Darwin Research Station to be wowed by the amazing scientist's discoveries while he was on the island. Oh, and check out the curious feature of a "mail in a barrel" at the Post Office Bay.
18.

Take him snorkeling to Komodo Island, Indonesia.
This Indonesian island is better known for being home to those giant lizards called the komodo. But what you may not also know is that it has one of the best snorkeling spot(s) in the world. Add that to the thrill of checking out the komodos at the Loh Liang Komodo National Park. The island also has the Pink Beach with pink beach sand and the fun Taka Makassar park where you can chill out and relax after snorkeling.
19.

Have a magical and daring hiking experience on the West Coast Trail, Vancouver Island, Canada.
The West Coast Trail in Vancouver Island is not your typical hiking trail. It is a scenic trail that stretches for 75-kilometers in the forest, past beaches, rivers, and streams on a suspension bridge. This is one exciting challenge to surprise your husband with for his 40th birthday.
20.

Have a blissful weekend getaway of wildlife safaris, camping in the wild, and a paddle or boat cruise on the Okavango Delta, Botswana.
The Okavango Delta in the African country of Botswana is one of UNESCO's protected sites. It is a rare delta that doesn't flow out into a sea or ocean, and a true dream location to explore. Your hubby will be blown away by the magical African safari experience this trip idea will give him. You can camp out with him in the wild, and take a canoe trip across the delta. And if you want, you can also include a helicopter ride too.
And after you are done, you can head down to the South of the country to the rhinoceros sanctuary, the Khama Rhino Sanctuary to view endangered rhinoceros species and other desert animals.
21.

Safari hot air balloon ride in Tanzania.
The Serengeti National Park in Tanzania offers you this exciting one-of-a-kind lifetime experience. Imagine how cool it will be flying over the wildlife and safari in a hot air balloon taking it all in. This is another 40th birthday trip idea that will melt your husband's heart.
6 Fabulous 40th Birthday Trip Ideas For Wife.
And if it is your wife on the other hand turning the big 4-0, you know spoiling her will be easy. Give her the following 6 fabulous vacation treats. And don't forget to check out our article on How to make your wife's birthday special for more secrets on making her birthday celebration at your destination even more fun.
22.

Take her on a shopping spree to Milan, Italy, or Dubai.
Both cities are not exactly budget-friendly but it is an investment into the love of your life and you will bring a smile to her face. In Italy, you can take her to the Galleria Vittorio Emanuele II Mall. But if Milan is way above your budget, she will still love a shopping spree at the more versatile Dubai Mall and it won't break your bank too much.
23.

If you want to keep it local, spoil her to a shopping spree and a good spoiling on New York's Fifth Avenue.
And you don't have to worry about expensive flights and the likes. New York's Fifth Avenue is also another one of the best shopping locations in the world. You can be sure that your wife will still have a ball and be beaming from ear-to-ear.
You can treat yourselves to a nice relaxing spa and fine 40th birthday celebration dining in any of New York's fine restaurants afterward.
24.

Give her a taste of the fine cuisines of the world in Italy.
Italy is said to offer the best cuisine experiences at least according to the survey in the above chart. In addition to other fun activities to do in Italy, let her take her pick of where in Italy she's been dying to go to and try their food. Whether it's Venice, Rome, Amalfi Coast, or anywhere else she desires, let her have a great time sampling the foods of the world. You will also love it.
25.

Go geocaching in São Paulo, Brazil.
Geocaching is this new craze that is like a cool type of treasure hunt at an international scale where you use your GPS and pack your bags to go treasure hunting with other geocachers. So what happens is, you sign up you and your wife on the official geocaching website and then you get coordinates and instructions of what to do at the location. We have picked Sao Paulo because it has many geocaching points, according to the geocaching website.
This fun hobby is a relaxing way to spend your wife's 40th and she'll love it because it's a good excuse to travel and meet other people at the same time.
26.

Take her for a swim and relaxing time in the Dead Sea.
You may wonder if she will love this, and trust us she will. The Dead Sea is known to have a rejuvenating and healing effect on the skin and who does not want to stay forever young or forever looking 20 years younger. And hey you can also enjoy this rejuvenating swim by joining her.
27.

Take her on a vineyard vacation filled with wine tasting and other goodies in Sonoma Valley, California.
Sonoma Valley is California's best-kept secret when it comes to world-class wine vineyards. Women love wine tasting and your wife will love this vineyard vacation for her 40th birthday.
6 Fun 40th Birthday Travel Ideas With Family.
And if you want to make your 40th birthday celebration trip a family affair, and not just one with your wife, why not. Take the whole family and enjoy your 40th birthday at any of these 6 dream vacation locations in the U.S.
28.

Sanibel Island, Florida.
This beautiful island is also known for its beautiful beaches and you can make it a beach birthday vacation with the whole family at any of its beautiful beaches like Captiva Island. And not forgetting to check out the J.N. "Ding" Darling National Wildlife Refuge with its wide selection of birds.
Don't forget to read our helpful articles on Things to bring on vacation to the beach for your beach vacation essentials to pack, and Best beach games for families for fun games to play with the family on the beach vaca.
29.

Honolulu, Hawaii.
Another dream location for the whole family. Have fun with the family at any of its beautiful beaches like the Waikiki beach. Check out Pearl Harbor's WWII memorial and the animals at the Honolulu Zoo. The whole family will also enjoy an outing at the Sea Life Park where they can swim with dolphins and see penguins.
30.

Walt Disney World, Orlando.
A family holiday without a visit to the Walt Disney World in Orlando is not complete. And Walt Disney World has something for everyone of all ages. This is one trip that will be loved by the whole family.
31.

San Diego, California.
San Diego with its warm temperature is the perfect summer 40th birthday trip with the family. Have an enjoyable time at the San Diego Zoo with its diverse wildlife and safari experience and the SeaWorld San Diego aqua theme park. And don't miss the unforgettable roller coaster ride at the Giant Dipper Roller Coaster.
32.

Denali National Park, Alaska.
This park is home to the Denali, which is North America's tallest mountain. In this park, you also get to enjoy glacier climbing if you and the family enjoy glacier climbing. Also, check out the Veterans Memorial and the Husky Homestead.
33.

Myrtle Beach, South Carolina.
One of the biggest vacation resorts with larger than life rides and attractions. The family will love Myrtle Beach.  Check out the Broadway at the Beach, SkyWheel Myrtle Beach, and Ripley's Aquarium amongst others.
You may also like this related article on Anniversary celebration ideas with family.
Frequently Asked Questions.
Where is the best place to celebrate your 40th birthday?
This article gives you 33 of the best places to go for your 40th birthday.
What is the best vacation for couples?
A getaway at any of the locations in the first three sections of this article will give any couple the best romantic vacation experience.
How do you celebrate your 40th?
You can take a trip to any of the locations listed in this article, or you can have a budget 40th birthday party. You can check out our article on 25 Tips and Ideas on How to celebrate 40th birthday on a budget for helpful tips on how to have a budget 40th birthday celebration.
What are the top 10 romantic getaways?
All the locations in the first three sections are great romantic getaways but our 10 favorites would be:
The Maldives,

Galapagos Island,

Dalmatian Coast in Croatia,

Amalfi Coast in Italy,

Paris in France,

Maui in Hawaii,

Phu Quoc Island in Vietnam,

Santorini in Greece,

Krabi in Thailand, and

Buenos Aires in Argentina.
What are some 40th birthday getaway ideas you can suggest?
You can go to any of the destinations in this article and you will have a great time.
What Next?
Now that you have all the info on how to make your 40th birthday trip a ball, the next step will be to plan your trip. Don't forget to check out all the useful link resources we have referred to for helpful tips and insights for planning a truly unforgettable 40th birthday holiday. Have fun and a happy 40th birthday.
ESTIMATED TIME DESIGNING AND UPLOADING THIS ARTICLE
ESTIMATED TIME RESEARCHING AND WRITING THIS ARTICLE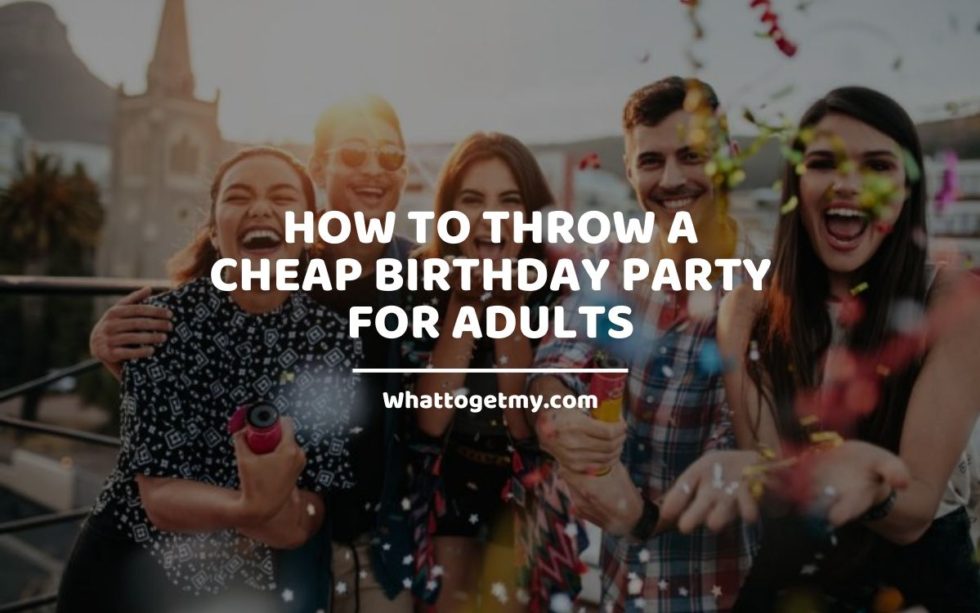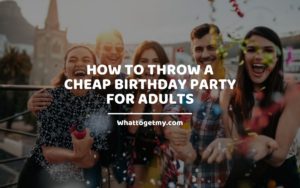 How to Throw a Cheap Birthday Party for Adults
11 fun ideas for how to throw a cheap birthday party for adults WhatToGetMy Instructional Article Birthdays are meant to be celebrated by having fun with friends and family. But throwing a birthday party can be very expensive. So how do you throw a cheap
Read More »