51 Magnificent Places To Go For 30th Birthday
WhatToGetMy Instructional Article
Watch the video version of this article:
In our related article on Places to go for 50th birthday, we offer you exciting insights on top 50th birthday vacation spots. Be sure to check it out.
Being a Millennial is fun, and even more exciting is turning the big 3-0. 30 is another milestone age. And what makes it even more fun and exciting is the fact that it marks one's leaving the twenties which is usually seen as the age where we are considered young and reckless. Once you turn 30 it does seem like the proverbial hat of deeper maturity comes on you.
In this article, we offer you all the gist on the coolest places to travel for your 30th birthday and the best places to celebrate your 30th birthday, both here in America and the rest of the world.
How To Spend Your 30th Birthday.
One can do many things to mark turning 30, but nothing beats taking a vacation and celebrating the big 3-0 in a grand style somewhere else outside your locale. And you don't even have to spend a ridiculous amount to enjoy your 30th birthday vacation.
Whether you are a big spender or on a budget, you will find 30th birthday vacation destinations in the next section to suit your needs and your pocket. And even if you wanted to have a 30th birthday party, we offer you insights into great 30th birthday party locations outside your locale for an awesome 30th birthday party experience.
Other 30th birthday related articles that you might like – 30th birthday gift ideas for best friend and 30 small gifts for 30th birthday.
Where Are The Best Places To Celebrate 30th Birthdays? Best Places To Celebrate Your 30th Birthday.
At the age of 30, you probably don't have the same energy or patience for the "party until you drop" type of celebration you enjoyed in your twenties. And this is why the best places to celebrate your 30th birthday are places where you can unwind and relax with as little noise as possible. Often these type of places end up being:
Natural habitats like nature parks/national parks, game reserves, and nature resorts; and
Calm, scenic, and serene natural environment and places like island beach sides, mountains, and other natural sites like them.
Or if you decide to have a party, a more mature and laid-back atmosphere like a lounge, a gentlemen's club, or places of fine dining.
And for all these types of best places, we make the best recommendations in the next sections.
Best 30th Birthday Trip Ideas – 33 Best 30th Birthday Vacation Destinations And Ideas.
When it comes to the best 30th birthday vacation spots both here in America and the world, this 2015 survey seen on Statista which shows where other 30-year-olds vacationed pretty much summarizes the places in the world where you can have the best 30th birthday trip.
Popular destinations U.S. travel agents book for clients 30 years and younger 2015. Source: Statista​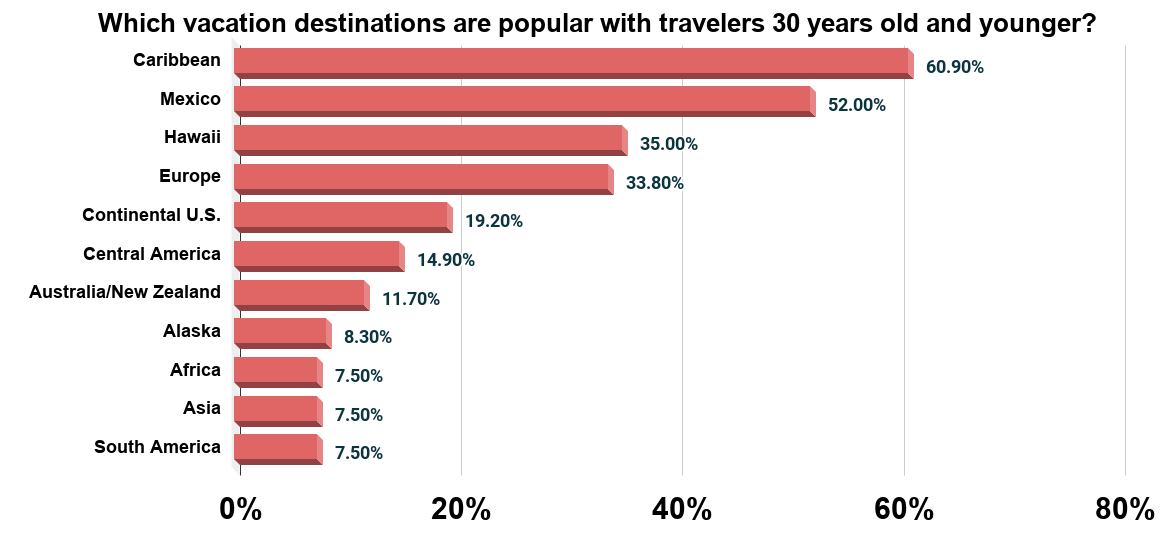 Here are specific 30th birthday vacation spots in each of the places identified on the chart, whether you want to make it a 5-day trip or as long as a 7-day trip.
30th Birthday Vacation Destinations In The United States.
When it comes to birthday vacation destinations in the U.S., you are spoilt for choice and you may not even need to travel outside the U.S., especially if you have budgetary constraints.
When it comes to celebrating 30, these 5 cities offer the best 30th birthday vacation spots in the U.S:
1. Hawaii.
Hawaii is a beautiful island that has some very beautiful beaches and historic sights to visit and explore. You can check out the following non-exhaustive top sights and sounds in Hawaii while vacationing for your 30th birthday:
Pearl Harbour, including the Pearl Harbour National Memorial;

The Kaanapali Beach;

The Polynesian Cultural Center;

 Kualoa Ranch;

Lanikai Beach;

Waikiki Beach and Aquarium;

Bishop Museum; and

Pipiwai Trail.
You may like this related article on Gifts for someone living in Hawaii.
2. Key West, Florida.
Key West is an island city in Florida that is another top vacationing destination. It also boasts its share of top sights and attractions to make any vacation truly enjoyable. Some of the top sights and attractions to check out while vacationing here are (this list is not exhaustive):
Duval Street. Your trip will not be complete without dining in one of the fine restaurants on this eccentric street;

Fort Zachary Taylor Historic State Park and Fort Zachary Taylor State Park Beach;

Smathers Beach;

Higgs Beach Pier;

Mallory Square;

The Key West Shipwreck Museum and Aquarium;

Take the Key West Express which offers an enjoyable ferry experience on a beautiful ship;

Key West Cruise Terminal; and

Bayview Park.
3. Napa Valley, California.
Napa Valley is famous for its wine vineyards. Enjoy wine tasting in several wine vineyards in the city. You can also enjoy the following fun activities in Napa Valley:
A bike tour of the city and wine gardens;

Try out the Napa Valley wine train;

Take a hot air balloon ride;

Check out the Napa Valley Museum;

Check out the Napa Valley Performing Arts Center and Conservatory Theater; and

The Calistoga Art Center and Pottery.
4. Grand Canyon National Park, Arizona.
This is a very beautiful national park with canyons that are a must-see. These are some fun activities you can enjoy in the Canyon:
Camping. Have a great outdoor experience with your camp tent pitched in the perfect spot to give you the best views of the Canyon at sunrise and sunset;

You can enjoy an exciting rafting trip on the Colorado River. It also allows you to see other exciting sides to the National Park;

 A bike tour of the Canyon;

A helicopter excursion of the Canyon to have a better view from the top;

Check out the Grand Canyon Skywalk which is a one-of-a-kind horseshoe-shaped walkway built above the Canyon;

Try a desert jeep tour of the Canyon; and

Take a train ride in the Canyon.
5. Alaska.
If you're thinking thick glaciers, high peak mountains, and polar bears then Alaska is where you should have your eyes set on. Must-do vacation activities in Alaska that should not be missing from your 30th birthday vacation to Alaska are the following:
Take one of the famous Alaska boat cruises;

Check out the famous glaciers like the Mendenhall Glacier, the Glacier Bay, and the Matanuska Glacier;

You have to see the famous wildlife and wilderness that Alaska is known for like the polar bear and other types of bears, moose, and whales;

Check out any one or more of the 8 national parks in the State like the Denali National Park and the Glacier National Park;

Juneau, Brooks Fall, and the Aleutian Islands are some pretty amazing locations/towns to also check out while in Alaska. They offer beautiful sights and attractions.
30th Birthday Vacation Destinations In Other Places In North America.
Outside the U.S., there are other cool 30th birthday vacation destination ideas that you must try if you can make your 30th birthday vacation outside the U.S. And the good thing is that since they are within the same continent as the U.S, you don't need to be too worried about visa restrictions and the likes.
6. Canada.
Canada is another home of dream and beautiful vacation spots. Dream 30th birthday vacation destinations to check out in Canada are (this list is not exhaustive) –
Victoria, Vancouver Island;

Tofino;

Banff. This is home to the historic Banff National Park;

Niagara Falls;

Whistler;

Peyto Lake;

Sunshine Village;

Churchill;

Jasper. Also home to the historic Jasper National Park; and

Prince Edward Island.
7. Mexico.
Mexico boasts of beautiful vacation destinations like Cabo San Lucas, Cozumel, and Cancun where you can enjoy scuba diving and snorkeling. You can also check out the archeological sites in Uxmal and if you want a night outing, places like Tijuana, Acapulco, and Playa del Carmen are cities/towns to have your vacation.
The beauty of Mexico is that whatever your tastes and preferences, there are several options to choose from apart from those we have listed here. Other interesting places you might like are San Miguel de Allende known for its rich art culture and festivals and Puerto Morelos known for its beaches and dive sites.
8. San Juan, Puerto Rico.
San Juan, which is both the capital of Puerto Rico and its largest city is a vacation destination where you can play and party hard. It also has exciting beaches, sights, and attractions to check out such as (this list is not exhaustive):
The Condado Beach;

The Castillo San Felipe del Morro;

La Fortaleza;

Casa Blanca;

Playa Isla Verde;

Isla Verde Beach;

The Holocaust Memorial Monument;

Walkway of the Presidents;

Museum of Art and History; and

Bahia de San Juan.
30th Birthday Vacation Destinations In The Caribbeans.
Even though the Caribbeans are also in North America, they get a special category of their own because they have islands that are home to the finest beaches in the world. And what's a 30th birthday without relaxation on a beautiful island beach in the Caribbeans.
9. Barbados.
Barbados is a beautiful island that has its fair share of beautiful beaches. Some exciting vacation activities that make a trip to Barbados truly enjoyable are the following (also a non-exhaustive list):
The Jacobean plantation of St. Nicholas Abbey;

The Andromeda Botanic Gardens;

The Barbados Wildlife Reserve;

Paynes Bay Beach;

Hunte's Gardens; and

Harrison's Cave.
10. The Cayman Islands.
Lush and beautiful, the Cayman Islands is a must-see Island in the Caribbean. And you cannot leave the Cayman Islands without doing the following:
A visit to the Cayman Turtle Center;

The Seven Mile Beach is another must;

Cayman Crystal Caves;

Cayman Islands National Museum;

Kittiwake Shipwreck and artificial reef; and

Dolphin Cove, Cayman.
11. The Bahamas.
And the final Caribbean island destination is The Bahamas. You should definitely check out the following places if you decide the Bahamas is where you want to take your 30th birthday vacation:
Paradise Island;

Pig Beach;

Harbor Island;

Nassau Straw Market; and

Dean's Blue Hole.
Don't forget to check out our helpful article on Things to bring on vacation to the beach to help you in packing all your vacation essentials for a birthday vacation at any of these island vacation destinations.
30th Birthday Vacation Destinations In South America.
12. Brazil.
The must-see places on any birthday vacation to Brazil are:
Take a cable ride along the Sugarloaf Mountain;

Check out the iconic Escadaria Selaron;

Check out the historic and iconic Christ the Redeemer statue;

Visit the Beach park; and

Check out the Inhotim Museum.
30th Birthday Vacation Destinations In Australia And New Zealand.
These two places in Australia promises a great 30th birthday experience:
13. Queenstown, New Zealand.
Queenstown is a beautiful quaint city in New Zealand that will offer you the following enjoyable vacation experiences:
Bungee jumping;

Cable rides;

Skiing and snowboarding; and

Bike tours.
Be sure to check out the Kawarau Gorge Suspension Bridge, the Moke Lake, the Queenstown Gardens, and the AJ Hackett Ledge Bungy and Swing.
14. Sydney, Australia.
If you love harbor fronts and sailing destinations, you will love Sydney for your 30th birthday vacation destination. Check out the following exciting places to make your Sydney vacation a truly memorable one (this list is not exhaustive):
Check out the famous iconic Sydney Opera House and Sydney Harbour Bridge;

The massive Taronga Zoo;

The Manly Beach where you can also try out surfing;

Check out Hyde Park which is Australia's oldest park; and

Try out exotic seafood at the Sydney Fish Market.
30th Birthday Vacation Destinations In Asia.
Asia is another beautiful continent with beautiful places to explore in celebrating your 30th birthday. These 4 places are a must-see for your 30th birthday celebration:
15. The Maldives.
If you haven't been to this beautiful island in South Asia, then this should be the number 1 30th birthday vacation destination on your list. The Maldives is one of the most beautiful Island State in the world and boasts of the following must-see sights and vacation destinations:
Enjoy any water sport in Maafushi;

Check out the man-made residential island of Hulhumale;

Check our Meeru Island which also has a resort that is to-die-for;

Go surfing at Thulusdhoo; and

Check out all that the Atolls of the Maldives have to offer.
16. Bali, Indonesia.
Beautiful Bali is so serene and calm that you may not want to come back from your vacation once you set foot there. While in Bali, it will be a travesty not to indulge in any or all of the following:
Visit as many of its beaches as possible for surfing experiences. Some beaches to check out are Blue Point Beach, Kuta Beach, and Petitenget Beach;

Check out the famous Masceti Temple;

Check out Amed Street;

Check out the Sacred Monkey Forest Sanctuary; and

Visit the wide and expansive Bali Botanical Garden.
17. Sri Lanka.
Sri Lanka is another beautiful island country in South Asia where you can have the following enjoyable vacation experiences:
See massive and beautiful elephants and other wildlife in places like the Yala National Park, Udawalawe National Park safari, Elephant Orphanage, and Minneriya National Park;

Go bird-viewing for rare migratory birds at the Bundala National Park;

See the beautiful Ramboda Waterfalls;

Have an enjoyable beach experience in the several beaches like the Unawatuna Beach, the Nilaveli Beach, and the Hikkaduwa Beach; and

Check out the ancient ruins of the Sigiriya Fortress.
18. Oman.
Oman is a quiet quaint desert country in Western Asia that tends to go unnoticed but yet has some of the exciting vacation attractions in the world. You can see and enjoy the following in Oman should you have your 30th birthday vacation there:
Desert exploration at the Bar al Hickman;

A fun time at the Marah Land Amusement Park;

Enjoy Dolphin watching with the Oman-Muscat;

Check out the ancient Khasab Castle; and

Visit the beautiful Hawana Aqua Park.
30th Birthday Vacation Destinations In Africa.
If you're thinking of beautiful safaris, laid back beaches, and waterfalls for your 30th birthday, then Africa is the place for your 30th birthday vacation destination. These 6 countries in Africa offer the best in terms of best birthday vacation experiences:
19. Mozambique.
Mozambique is home to some of the finest beaches in Africa. Have a one-of-a-kind beach vacation filled with the following fun activities:
Have a blast at the Benguerra island;

Explore the Island of Mozambique and all it has to offer;

Enjoy truly enjoyable wildlife and safari experience at the Maputo Elephant Reserve West Gate;

Check out rare wildlife at Bazaruto Archipelago National Marine Park; and

Go scuba diving at Diversity Scuba and/or Odyssea Dive.
20. Madagascar.
When you hear Madagascar, you're probably thinking of the classic animations, Madagascar and Lion King, and the utopian worlds portrayed in them. But that utopia is not too far-off in this beautiful African island country. Madagascar promises to give you an enjoyable 30th birthday vacation experience that includes:
A rare opportunity to see the famous stretch of roadside baobab trees in Avenue of the Baobabs;

Different kind of rock formations in the several national parks they have such as the Isalo National Park and the Tsingy de Bemaraha National Park; and

Kitesurfing and windsurfing at the Mer d'Emeraude.
21. Seychelles.
Seychelles is another island country in Africa with beautiful beaches and several small islands. Enjoy the many beaches and islands it offers and some of these enjoyable vacation experiences:
Visit the high-end resorts on the island of Ile du Nord;

Check out the reefs and turtles of Saint-Anne National Park; and

Hike the Anse Major Trail.
22. South Africa.
South Africa is one of the hottest tourist vacation destinations in Africa with countless vacation sights and attractions. The places to see on vacation in South Africa are the following vacation hot spots (this list is not exhaustive):
The Kruger National Park for the ultimate safari experience;

Table Mountain in Cape Town;

The Apartheid Museum;

Gold Reef City;

Sun City;

The V&A Waterfront; and

uShaka Marine World.
You may not want to leave after having a great time in these and other fun destinations in South Africa.
23. Tanzania.
Tanzania is home to Zanzibar, another famous tourist destination in Africa. Tanzania is also home to the legendary Mount Kilimanjaro and other wildlife-rich national parks such as the Arusha National Park and the Lake Manyara National Park. Be sure to check out the beautiful Changu Island with its big tortoises.
24. Egypt.
Egypt is famous for its pyramids as well as being the birthplace of civilization. Be sure to check out the famous pyramid of Giza, the Great Sphinx of Giza, and the Valley of the Kings.
30th Birthday Vacation Destinations In The United Kingdom.
England has beautiful ancient landmarks and sights that make for a calm 30th birthday exploration. Check out these top 3 vacation destinations in England.
25. Windsor, England.
Windsor is home to Windsor Castle, which is the residence of the British royal family. And because of this, the city is largely made up of ancient and historic buildings and attractions like the Windsor Castle itself, the Windsor Great Park, Savill Garden, and St. George's Chapel.
26. Cambridge, England.
If you are a fan of the Harry Potter franchise you will love Cambridge. Cambridge is another quaint and quiet city that is home to the famous Ivy Cambridge University. Its colleges and their buildings are also one of the oldest in England, and that is what makes this university city a must-see on any birthday vacation.
You have the chance to spend the night in one of the old college residential facilities and can enjoy a pint of British beer in one of the rustic pubs around the city. Check out the Fitzwilliam Museum, the Mathematical Bridge, King's College Chapel, take a punt on the Cambridge Backs, and if you are fortunate to travel during the college May Ball festivals, attend a fancy Ball gala in one of the colleges.
27. Edinburgh, Scotland.
Edinburgh is Scotland's top vacation destination where you can check out the ancient Edinburgh Castle, the St Giles' Cathedral, and several arts and culture festivals. If you are a lover of art, you will enjoy a vacation in Edinburgh.
30th Birthday Vacation Destinations In Europe.
Europe is home to some of the most beautiful vacation destinations in the world. Spoil yourself to a 30th birthday trip at these beautiful 30th birthday vacation spots.
28. France.
Check out the following famous and beautiful vacation destinations in France:
The Verdon Gorge;

The Eiffel Tower;

The Louvre Museum;

The Palace of Versailles; and

The Luxembourg Gardens.
29. Copenhagen, Denmark.
A vacation to Copenhagen is a chance to see the famous Tivoli Amusement Park, the one-of-a-kind Little Mermaid bronze statue, and the famous pedestrian street of Stroget. You can also pop over to the Copenhagen Zoo for a chance to see polar bears, tigers, and elephants.
30. Ibiza, Spain.
Check out the scenic island of Es Vedra and other beautiful island beaches in Ibiza. And if you are looking to party hard in kissing away the twenties, you will find some of the best nightlife spots in Ibiza.
31. Plitvice Lakes National Park, Croatia.
This beautiful lake cum national park is one of Europe's best-kept secrets. Don't miss out on the chance to experience a calm and tranquil holiday. Visit the Great Waterfall and other beautiful lakes in this beautiful national park for a truly breathtaking 30th birthday vacation experience.
32. Bora Bora, French Polynesia.
Bora Bora is a beautiful island in French Polynesia where you can enjoy snorkeling in the blue lagoon and some of the best beach experiences you can think of.
33. Italy
A birthday vacation list without Italy is incomplete. If you haven't been to the ancient cities of Venice and Rome then you are missing out. Make your 30th birthday vacation the time to check out these two ancient cities in Italy.
Check out our related articles on 10 most affordable places to live in Europe and Gift for someone traveling to Europe.
Where To Go For 30th Birthday Weekend Getaways – 13 Awesome Locations in the U.S.
If your preference for a 30th birthday celebration is a relaxed (long) weekend getaway not too far away, then you will love the following awesome weekend getaway spots in the U.S. with beautiful resorts, attractions, and fine dining.
34. Miami Beach, Florida.
On your weekend getaway be sure to check out the south Pointe Park pier, Lincoln Road for an exciting shopping experience, Lummus Park, and the Miami Botanical Gardens.
35. Savannah, Georgia.
Savannah is home to some pretty cool pre-Civil-War historic squares and landmarks that will make any weekend getaway very exciting. Relaxing spots to check out on your weekend getaway are Forsyth Park, East River Street, Old Fort Jackson, and the Savannah Historic District.
36. Portland, Oregon.
Beautiful Portland in Oregon is famous for its lush greenery and pretty parks and trails. Which means your weekend getaway promises to be a calm and serene getaway. Enjoy the following places on your weekend getaway – the Lan Su Chinese Garden, Pittock Mansion, Portland Art Museum, and Washington Park.
37. New Orleans, Louisiana.
In New Orleans, check out Jackson Square, Bourbon Street, Mardi Gras World, and the Audubon Zoo.
38. Gulf Shore, Alabama.
You can see the famous Gulf State Park and its Pier, The Amusement Park at OWA, and consider lodging at the West Beach Boulevard. Oh and not forgetting to go ziplining at The Hummingbird Zipline Course.
39. Bahia Honda State Park, Big Pine Key, Florida.
At this very beautiful island, you can camp out at Ohio Key or Little Duck Key, check out the beautiful State Park, and enjoy scuba diving at the Hall's Diving Center and Career Institute.
40. San Antonio.
This beautiful Texan city is home to the legendary Alamo, a historic Texan battle site. You can also see SeaWorld San Antonio, one of the coolest aquatic theme parks with exciting rides and shows. And don't forget to have a dizzying culinary experience at the revolving eatery called Tower of the Americas.
41. Wisconsin Dells, Wisconsin.
If you're looking for a city with more theme parks than you can be able to explore, Wisconsin Dells is the place for your weekend getaway. Check out The Dells, The Ripleys Believe It Or Not Museum. And not forgetting ziplining at the Vertical Illusions Zipline, Kayak and Rock.
42. Tupelo, Mississippi.
If you are an Elvis Presley fan you will love a weekend getaway to his birthplace that is also home to a must-see Buffalo Park and Zoo. You can also check out Elvis's guitar trail in the town as part of your fun weekend getaway activities.
43. Olympic National Park, Washington.
If you're a lover of Greek mythology you would know of the famous Mount Olympus. Yup, you guessed right! You can see the real life Mount Olympus (maybe not as depicted in the mythology), at the Olympic National Park. and for a relaxing cycling, camping, and mountain biking experience, head out on the Olympic Discovery Trail.
44. Zion National Park, Utah.
This Park is home to the famous Zion canyon and other exciting canyons. Have a one-of-a-kind relaxing weekend by lodging at the famous Zion National Park Lodge.
45. Jumbo Rocks Campground, Joshua Tree National Park, California.
This site is one of the best camping sites in the U.S. If your weekend getaway is all about camping it out and seeing exciting views, this is the destination for you.
46. Gros Ventre Wilderness, Wyoming.
Enjoy biking on the Creek Mountain bike trail and check out the Grand Teton National Park.
5 Exciting 30th Birthday Party Locations.
For your 30th birthday party, think luxurious fine dining in beautiful bourgeois places where you start to give yourself a feeling for the finer things in life which is what the entry into 30 usually signifies. And when it comes to bourgeois fine dining, you can't get any better than these 5 cities both here in the U.S. and abroad.
47. New York.
New York is home to some of the best fine dining places and lounges in the U.S. Granted that they will be pricey, but you only turn 30 once so why not splurge on yourself. You only live once after all. Your 30th birthday party does not have to involve many people. A small and quiet celebration with your closest friends and family will make it easy to spoil yourself to fine dining on your 30th birthday while having a low-key birthday party.
48. Las Vegas.
If you're thinking of using your birthday party as a way to close the symbolic door to the casino outings that characterized your twenties birthday parties, why not head over to Las Vegas with your squad and enjoy one last casino birthday party.
49. Memphis, Tennessee.
Memphis is another beautiful city known for its eccentric spots of fine dining.
50. London, England.
If you want to go big, you can have a big birthday party in London which boasts of some of the finest restaurants, lounges and gentlemen's clubs.
51. Dubai.
Dubai is where big spenders go shopping. If you want a 30th birthday party that is one big shopping spree filled with fun and excitement, then Dubai is your destination.
Frequently Asked Questions.
Where should I go for my 30th birthday?
Our list of 51 magnificent places leaves you spoilt for choice. Whether it is a vacation you are looking to take, or a quiet weekend getaway, or a birthday party, our list has a place for you to go for your 30th birthday.
How can I make my 30th birthday special?
30 is a big deal and you are most likely feeling like having a relaxed and laid-back celebration. You can still make it special even when it is relaxed and laid back. You can start by giving yourself a weekend getaway and enjoying beautiful sights and sounds outside your locale. Or taking a vacation to somewhere exotic on our list. After that, you can come back and have a nice low-key birthday party celebration with a few of your friends at fine dining restaurants or lounges in any of the 30th birthday party location cities listed in this article. If you are feeling like going all out and spending then Dubai or London is the place to have a rather extraordinary 30th birthday party celebration.
What are good ideas for a 30th birthday party?
You can go with the following adult themes such as:
Why is 30 a special birthday?
It is a special birthday because it officially marks your stepping out of your twenties.
What is the 30th birthday called?
There isn't a known special name for the 30th birthday.
Is 30th birthday a milestone?
Yes, it is.
Is 30th birthday a big deal?
Yes, indeed it is a big deal because you are officially out of your twenties and hopefully more mature. A lot more is expected of you and you have the chance to do a whole lot more than you probably were constrained to do in your twenties.
Never Forget!
30 is an exciting milestone and is a big deal. Make your 30th birthday count by enjoying either a vacation, a weekend getaway, or a chilled 30th birthday party at any of our 51 magnificent places to go for your 30th birthday.
Our list gives you a very helpful and exciting itinerary of places and things to do in each destination. All that is left for you to do is to pack your vacation bags and jet off to any of these exciting and exotic destinations.
ESTIMATED TIME DESIGNING AND UPLOADING THIS ARTICLE
ESTIMATED TIME RESEARCHING AND WRITING THIS ARTICLE