43 Adventurous Things To Do With Your Girlfriend
WhatToGetMy Instructional Article
Adventurous activities are a guaranteed fun way to keep the fire of love burning in any relationship. This article lists all the fun, crazy, and exciting things to do with your girlfriend to keep the fire of love and romance burning stronger and stronger in your relationship.
According to a 2014 survey seen on Statista, the top three adventure activities among some Americans surveyed at the time, was bungee-jumping or skydiving, visiting all 7 continents, and hiking. And a year later, in one 2015 survey also seen on Statista, adventure activities remained top of the list of preferred activities among American travelers.
Popularity of selected adventure activities with United States travelers as of March 2014, by age group. Source: Statista​
Which type of trip is popular with travelers 30 years old and younger? (U.S., 2015). Source: Statista​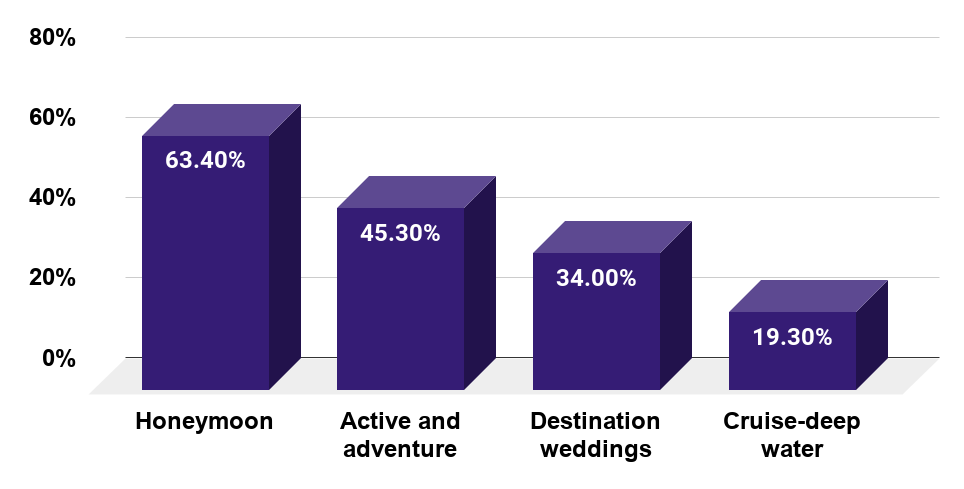 Everyone loves adventure. It brings out the creative and on the edge juices in us that gets us excited. And this is no different in a relationship. Engaging in adventurous activities with your girlfriend is one of the things a good boyfriend does. When you make adventurous activities an important part of your relationship, it strengthens the bond of love in your relationship even more.
This article provides you with a one of a kind list of all exciting and adventurous things to do with your girlfriend.
And in case you are looking for other ways to make your girlfriend happy, check out our related articles on Things a girl wants to hear from her boyfriend and How to make your girlfriend smile.
3 Romantic Adventure Ideas.
Who says romance and adventure can't go together. Romance with a touch of adventure is a sure-fire way to keep your girlfriend smitten with you. Try out any of these 3 romantic adventure ideas with her.
1.

A romantic adventure getaway trip to an African safari destination.
Safari destinations in Africa, especially countries like Botswana, Namibia, South Africa, Tanzania, and Kenya, are amazing adventurous romantic getaway destinations.
Book for a romantic safari adventure in must-see African safari destinations like Kasane and the Okavango Delta in Botswana, Zanzibar in Tanzania, The Kruger National Park in South Africa, Tsavo East National Park in Kenya, or a desert ride on camelback in the deserts of Swakopmund in Namibia.
At such safari destinations you can enjoy the following adventurous activities for couples:
A boat cruise on the Okavango Delta where you can see elephants, rhinoceros, crocodiles, lions, among other wildlife animals also known as the

African Big 5

.

Desert adventure activities in the Namib desert in Swakopmund such as camelback riding, quad-biking in the desert, and desert animal hunt.

An outing to taste a local dish/delicacy.

Game drives; and

Bird watching.
This type of romantic getaway promises to be loads of fun and will stoke your fire of love. And if in doubt, ask Prince Harry who took his wife Meghan on a romantic getaway to Botswana when they were dating (you can read more on it here).
Related article: Gifts for outdoorsy couple.
2.

A romantic adventure getaway to an exotic island.
Beautiful exotic islands are another dream romantic adventure idea for a couple. From exotic islands like the Maldives to beautiful serene islands in Africa like Seychelles and Mauritius, you are guaranteed to have an amazing and unforgettable romantic experience with your girlfriend.
You will also like our related article on Sailing vacations for couples.
3.

A hot air balloon ride.
Hot air balloon rides are another fun romantic adventure idea to try out with your girlfriend. The view of the world is always beautiful from a hot air balloon. And remember to take tons of pictures to keep as memories.
5 Adventurous Date Ideas.
Break your usual date routines with spiced up adventurous date ideas. Any of these 5 adventurous date ideas will dazzle your girlfriend.
4.

Smash rooms.
This is another craze like escape rooms only this time you get to break things as a way of releasing pent-up energy. Make it a fun adventure date outing with breaking and smashing things. You will be amazed at the amount of thrill, excitement, and kick that you and your girlfriend will get out of it.
5.

Escape rooms.
Escape rooms are fun adventure activities that can be enjoyed by everyone. For your next date, why not try a fun adventure outing at an escape room. You'll both feel very energized after the outing.
6.

Paintballing.
Number of participants in paintball in the United States from 2010 to 2017 (in millions). Source: Statista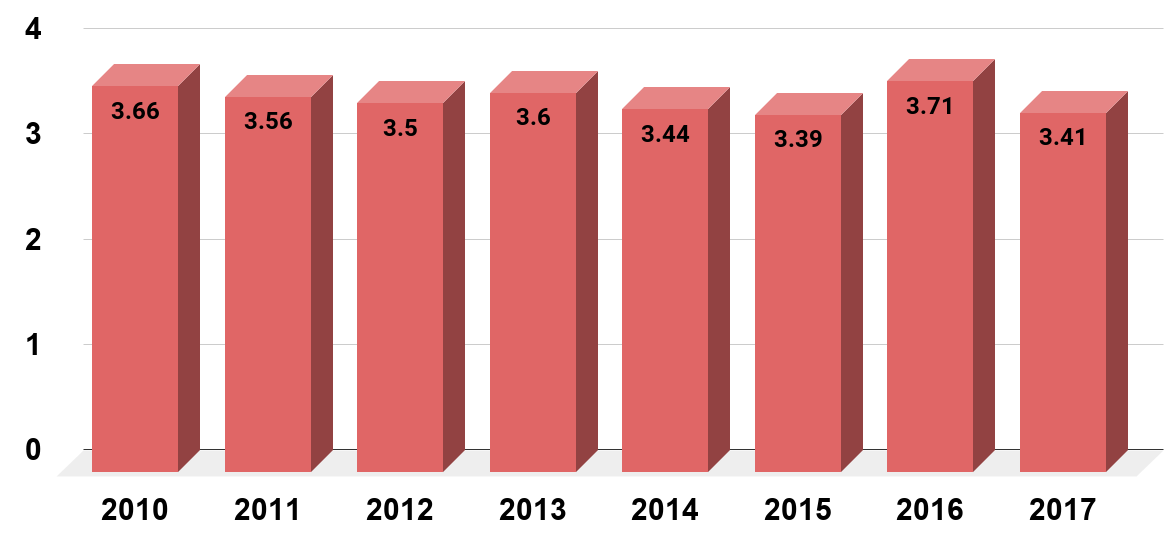 Paintballing is a fun recreational and adventure activity where you pretty much play James Bond with a paint gun and dye-filled gelatin capsules called paintballs. Join the millions of Americans who get a kick out of this fun adventure activity by gunning each other down on your next date with paintballing.
7.

Visit a karaoke bar.
Karaoke bars have this romantic ambiance and atmosphere around them that make them perfect for any romantic date. Make it an adventurous one by taking to the mic and singing your girlfriend a beautiful karaoke love song even if you think you have a terrible voice. It's all part of the fun and excitement.
8.

Go laser tagging.
And if infrared lasers are your preference for shooting for fun instead of paintballs, then laser tagging is the activity for you and your girlfriend.
Check out our article on Fun things to do in the summer with your boyfriend for more fun date ideas with your partner.
3 Adventurous Things To Do On A Date.
You may want to keep your traditional date ideas. But that does not mean you cannot add a touch of adventure to your traditional date outings with your girlfriend. Why not do some of these adventurous things with her while out on your usual date.
9.

Play truth or dare.
Your date outing is the perfect place and time for a truth or dare game. Give each other very bold and daring questions to make it more adventurous and exciting.
Related article: Fun games to play with two people.
10.

Play betting games.
Your date can be a good time to make that bet you've been dying to make with your girlfriend. And if you want some couples betting game ideas, why not check out our article on Good bets to make with your boyfriend for fun betting games to play with your girlfriend.
11.

Guess that flavor blindfolded.
This is a great game to play if you're both really hungry and your date is going out for a meal. Rather than having your usual uneventful meal, make it adventurous and exciting. Each picks out one or two items from the menu and order it, without telling each other what you ordered. Maybe spread it over two courses. Take turns blindfolding each other for each course and feeding your partner. He/she has to guess the meal they've been fed and if they guess it right, you can decide on what the prize or reward should be.
6 Adventurous Activities For Couples.
And even when it's not a date, you can still have adventurous fun with these 6 adventurous activities for couples, some of which appear in this chart of bucket-list activities of a 2014 survey of some American travelers.
12.

Hiking.
Hiking is a lot more enjoyable when you're two or more people. Pick out a hiking trail and set out on the hike with your girlfriend. You can make it more adventurous and fun by agreeing to pick and collect some nature items on your hiking trail.
13.

Gardening together.
This is a good adventurous activity for couples, especially if you're both plant lovers. Planting and tending to a garden together creates a closeness and bond that is hard to explain except by you experiencing it yourself.
Why not read our related article on Gifts for people who love plants for items you can buy for your gardening activity.
14.

Camping.
Outdoor camping is another adventurous activity for couples. Pack your camping bag and gear and enjoy a romantic adventure outdoor camping with your girlfriend. You can make it a double outdoor camping date with your best friend and his girlfriend or your other squad and their girlfriends.
Related article: Gifts for summer campers.
15.

Adrenaline activities.
Indulge in these fun adventurous and adrenaline-filled activities with your girlfriend:
Ziplining;

Bungee jumping;

Skydiving;

Cliff jumping; and

Paragliding.
Related articles: Skydiving gifts for him and Gifts for paragliders.
16.

Rock and/or mountain climbing.
Rock and/or mountain climbing is a fun adventurous activity for couples. You can find an indoor rock climbing facility, or find a scalable mountain near you and bring out your adventurous side with your girlfriend.
17.

Fossil digging expedition.
Digging for fossils is a fun-activity especially if you and your girlfriend are into paleontology and dinosaurs. Some companies provide the service. This Google search list provides good options for companies in the U.S that offer such services. Sign you and your girlfriend up for an afternoon of fun fossil digging.
Related articles: Gifts for paleontologists and Fossil watch gift set for couple.
7 Exciting Things To Do With Your Girlfriend.
Having an exciting hobby with your girlfriend is a necessity for any relationship that will stand the test of time. Here are some more 7 exciting things to do with your girlfriend, which you can add to the list of hobbies you may have with her. And if you don't have a hobby or hobbies with her, these are good ones to start with.
18.

Water sports.
Water sports like surfing, kayaking, and jet skiing are fun and exciting activities to do with your girlfriend, whether on a normal day or as one of your beach vacation activities.
Check out our related article on Things to bring on vacation to the beach if you're planning on a beach vacation to play one or more of these fun water sports.
19.

Dance lessons together.
Salsa and Rumba are fun romantic dances that every couple should try out in their relationship. Even if you think you have two left feet, you will be amazed and surprised at how quickly you will catch up at a dance lesson. Plus learning together is all part of the adventure and fun. Not to mention the laughs you will get out of making mistakes the first two or three lessons you go for.
20.

Couple's competitions.
Challenge yourselves to fun exciting couples competitions. You can find out if any fun ones are going on in your area that you can sign up for.
21.

Give each other a massage.
Your girlfriend may tell you that you have horrible hands when it comes to giving a massage, and you'll both have a good laugh from it. But the only way you'll know is if you try it. It's a fun and exciting bonding activity for couples.
22.

Indoor picnic.
Who says you can only have a picnic outdoors. Indoor picnics are exciting because you get to play pretend outdoor picnic by the fireplace and gaze longingly into each other's eyes. To make it fun, recreate an entire picnic set-up by your fireplace with a soft lullaby playing in the background.
Check out our related articles on Games to play with your girlfriend at home and Activities for couples to do at home.
23.

Backyard camping.
Forget outdoor camping, your backyard can still work the same trick. Okay maybe not exactly as the outdoor camping in the wild, but it is close enough. Set up your camping tent outside in your backyard and get cozy. A different setting is always good for keeping the fire of love alive.
24.

Sign up for a language class together.
And not just any language but romantic languages like Spanish and French. These two languages are the language of love. And with language apps like Duolingo at the tip of your fingers, you may not even need to go to any class, you can teach yourselves.
And if you want to make your learning process quicker, learn all the terms of endearment in those languages and use them to address each other and then try forming short sentences like "I love you" or "Te Amo" in Spanish or "Je t'aime" in French.
You may not go far with learning the languages, but learning how to profess your love for each other in a different language always adds a special kind of spark to every relationship. You can even text or sext in these languages for extra fun and excitement in your love life.
7 Spontaneous Things To Do With Your Girlfriend.
Who wants to always be monotonous and routine? The answer is, no one. Your girlfriend wants spontaneity and any of these spontaneous things to do with your girlfriend will keep her hooked to you in a good way of course.
25.

Playing in the rain.
Aah, don't we all love getting wet and wild? The rain is a perfect excuse to get wet and wild, and because you never know when it would rain, that is what makes it so spontaneous because it is unplanned. If you are at home or together next time it begins to rain, get each other outside, and have a spur of the moment fun in the rain. Our articles on Things to do on a rainy day with your boyfriend and Fun things to do in the rain outside has excellent ideas of games to play in the rain.
26.

Have a "Get messy" day.
Get yourself and your girlfriend to let down your hair with a "get messy" day where you just bring out your inner child and get each other messy while having a ball at it. Some ideas of what you can do on such a day include:
paint each other;

throw food at each other;

splash water at each other; and/or

play in the mud.
27.

Night games.
You can make your evenings fun and exciting with fun night games. You can start with these two and add others:
Pillow-fights. Start a pillow fight when she least expects it;

drinking games. Turn your normal dinner into a drinking game to see who passes out first.
28.

Fun DIY activities.
Why not paint your apartment together or maybe putting together a couple's scrapbook of your fun and adventure activities as a couple.
29.

Travel to a random location.
This spontaneous activity is loads of fun because it is impromptu yet exciting. Bring your map of the world and ask your girlfriend to close her eyes and point to any random place on the map. After she's done this, tell her to pack her bags because you're both taking a trip to that place. And if the destination happens to be somewhere in Europe, be sure to check out our helpful article on Gift for someone traveling to Europe on essential items to pack and helpful tips for your European rendezvous.
30.

Take a road trip to the most random U.S city or town on the US map.
You will be amazed at how many towns and cities we have in this incredible country. Why not take out your map of the United States and choose the most random city or town that neither of you knew about and take a fun road trip.
Read our related article on Fun things for couples to do on a road trip to make the road trip with your girlfriend an unforgettable and exciting one.
31.

Prepare a random meal together.
This is both spontaneous and fun. The beauty of doing this as a couple is that it often ends up being the prelude for getting hot and heavy in between the sheets depending on the level of your creativity. If you want it to be a prelude to other things, you can decide to prepare the meal half-clothed and see where it all leads.
3 Crazy Things To Do With Your Girlfriend.
When you get crazy with your girlfriend, you can be sure that this will make you guys best friends, which is another important essential for a long-lasting relationship. Here is a good list of crazy things to do with your girlfriend.
32.

Crash a party.
How crazy is this? So here's how it works. You both get dressed for a night out and just walk about aimlessly until you find a party that you have not been invited to, and invite yourselves. And don't even act out of place and then have a good laugh at how well you pulled it off afterward.
33.

Prank total strangers (and have it on camera).
Okay so this one is not for the faint of heart, and you should be prepared to have strangers who may not find it funny, shout at you. But have your girlfriend pull up behind a total stranger and scare the whiskers out of them, with you behind the camera capturing it all. Of course, be sure to come out of your hiding to assure the stranger it was all a prank,
34.

Fear factor.
So this one is themed along the lines of the classic popular American reality show, Fear Factor. How this works is that you each list your worst fears and you challenge each other on your worst fears, almost similar to how it was done on that TV show.
9 Fun Things To Do With Your Girlfriend.
Everything listed in this article is fun, fun, and more fun. To top all of it off, here are additional fun things to do with your girlfriend.
35.

Going to water parks.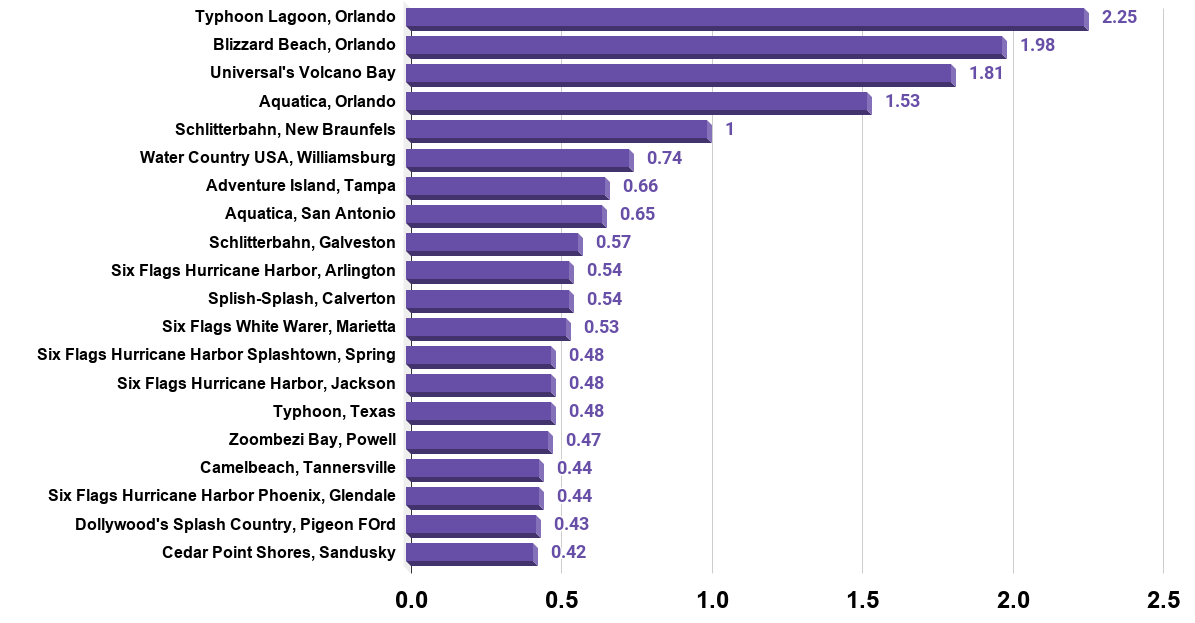 Water parks are fun exciting places for hanging out and just chilling out. Why not take your girlfriend to any of the famous water parks shown in the above chart, and have fun.
36.

Amusement parks and Disneyland.
Amusement parks are like water parks but with a more diverse set of fun rides like your rollercoasters and the likes. Make it a romantic park outing by spending the weekend at Disneyland with your girlfriend.
37.

Skinny dipping.
Everyone loves and enjoys skinny dipping. Take your girlfriend skinny dipping and have fun.
38.

Sky-gazing.
On a beautiful night with all the stars out, bring out your mat and lie back and enjoy the beauty and majesty of the stars by sky-gazing. You will be amazed at how much you pick up on star constellations just by sky-gazing.
39.

Skating.
Whether you enjoy ice skating or roller skating, this is another fun and enjoyable activity to enjoy with your girlfriend.
40.

Visit a place in every time zone.
Time zones are interesting things because even in America, we have different time zones. And that is what makes this activity fun and exciting. You can decide to start by visiting a place in all the time zones in America and then expanding it to other time zones in other parts of the world. The opportunities are many and will keep you both busy for a little while. This is a fun activity for couples who love to travel a lot.
41.

Travel to at least one place on all 7 continents.
There are about 7 continents in the whole world with a total of 195 countries. That is a lot of countries to cover in one's lifetime. But picking one from each continent is a good place to start, and what's better than doing it with your girlfriend.
42.

Go go-kart racing.
Go-kart racing is a fun indoor adventure activity that is sure to bring fun and excitement to your outing with your girlfriend.
43.

Visit the museum and town exploration.
Combine your next visit to your local museum with an exploration of your town for a fun and exciting outing. You can make this more exciting by playing a game like how many streets starts with the letter "A" or any other letter of your choosing. Another game could be how many men wore red or women wore mustard. In that way, you get to pay closer attention to the smaller details in your town that you may ordinarily overlook.
Related article: Fun things to do in a small town with friends.
Frequently Asked Questions.
What activities do couples do together?
Fun activities are always the way to go when it comes to doing activities together as a couple. And this article gives you a good list to choose from.
What activities can I do with my girlfriend?
You can do any or all of the activities listed in this article. You can also check out our other relationship activities referred to in this article for more activity ideas.
What can you do with your girlfriend when you're bored?
With any of the activities listed in this article, you are sure that it will never be a dull moment with your girlfriend.
Conclusion.
Having fun and doing adventurous things with your girlfriend infuses your relationship with a different kind of passion and excitement. Have a ball with your girlfriend with any or all of the 43 adventurous things listed in this article.
ESTIMATED TIME DESIGNING AND UPLOADING THIS ARTICLE
ESTIMATED TIME RESEARCHING AND WRITING THIS ARTICLE