Finding gifts for a couple that has a long list that is filled with exciting and fun adventures can be difficult. Not only are outdoor lovers unimpressed when receiving traditional gifts of everyday life but they are also extremely particular about the type of gear they use while out on one of their adventures.
The gear that they would use can range from the totally practical like a tent to shelter them from the elements to something that would add a little extra fun to their trips like unusual cooking gear like a Panini press or a portable Expresso maker for those nights that they spend camping around the fire.
When you think about the outdoorsy couple that the intended gift is for you can't help but wonder to yourself, they also seem to be so happy, healthy, and very friendly.
You ask yourself why?
Many different studies over many years have shown that spending time outdoors has many benefits. It can improve your physical, mental, and emotional wellbeing, and naturally, when you feel good, you tend to be a much happier person.
Some of the many benefits of spending time outdoors are:
It relaxes you

It reduces your stress levels

Improves your short term memory

Increases your Vitamin D levels

You sleep better

It strengthens your immune system

You feel happier

Being outdoors reduces inflammation

Improves your vision

Inspires you to be more creative 
An outdoorsy couple never seems to have devastating arguments, they seem to be so well connected with each other. Their relationships seem to be healthy, strong, and seem to be built to last forever.
Why do you think that is?
If you sit back and think about it for a while, you will realize that outdoorsy couples are always together while outdoors and they experience some of the following:
Have the opportunity to bond with each other without any distractions by communicating better with each other while hiking, camping, kayaking, or doing any other fun activity

They get to learn or see a whole other side of each other that is less worked up and stressed from what everyday life may bring.

They learn to work better together because they plan the adventures together, encourage each other while out in the wilderness, cook together, and entertain each other.

There is never a shortage of places to explore or things to do while outdoors so there is no chance of ever being bored

Having date nights next to a campfire with beautiful scenery all around them never gets stale.

Every outdoor adventure they go on creates long-lasting memories that are happy, fun, and exciting.
Now you know why they love the outdoors so much, the benefits thereof, and why they always seem to be such happy people with the bare minimum.
Things to consider when before finding some gift ideas for outdoorsy couples
First, look at the type of activities that they enjoy doing outdoors or take a look at hobbies for couples in their 20s for more options. But some of the favorite ones are:
Hiking

Camping

Kayaking or canoeing

Climbing

Tubing down a river

Exploring nature itself like birds, plants, trees, and other animals
Then think about the lengths of their trips they like to take more often. Do they enjoy day trips or enjoy taking longer trips?
Deciding on the best gifts for outdoorsy couples would also depend on the length of their trips and the type of activities that they intend on doing. You could choose to go with some of the most common and basic items that an outdoorsy couple would need. But chances are that they already have those items.
Some of these things are:
A tent

Sleeping bags

Ground pads

A good quality backpack

Daypacks

A lightweight but warm blanket

Hammocks

Water bladder

Amazing cooler

Hydro flask bottles

Portable water purification systems

Trekking poles

Headlamps

Compacted camera and camera gear

Binoculars as

gifts for the wildlife enthusiasts

Portable stove or gas grill

Portable solar panels and charges

And many other items
But don't stress we have narrowed it down for and have a few amazing gifts for outdoorsy couples ideas that would be perfect gifts for outdoor adventurers that they will love.
For starters, you could choose something that is common but very useful when out in the great outdoors. For instance, if the couple you have in mind each has their own sleeping bag, you could think about buying them a new double one so that they can cuddle even closer together at night. You could also maybe get a great hammock with a mosquito net which will definitely come in handy in the warmer months.
If you are looking for gifts for outdoor lovers that will assist them when it comes to making tasty meals. An idea would be to look at a great propane gas grill that heats up and cooks food extremely fast.
If they enjoy floating down a river on tubes or lazing around on a nearby lake. A great gift idea would be a floatable cooler that they can keep close by to keep their beverages cold.
An idea for a couple who loves to also relax outdoors alongside their own pool or in their own backyard in style. A wonderful idea would be to get them a pool cooler table which also transforms into a bar table when required.
If you are looking to really spoil a couple and have the funds then a great idea for unique outdoors gifts for couples who enjoy kayaking or canoeing is a canoe that is perfect for a couple.
As an Amazon Associate we earn from qualifying purchases. We may earn a small commission for our endorsement, recommendation, testimonial and/or link to any products or services from this website. Thank you, your qualifying purchases help support our work in bringing you real daily gift ideas.
Quick Overview: Gifts for outdoorsy couple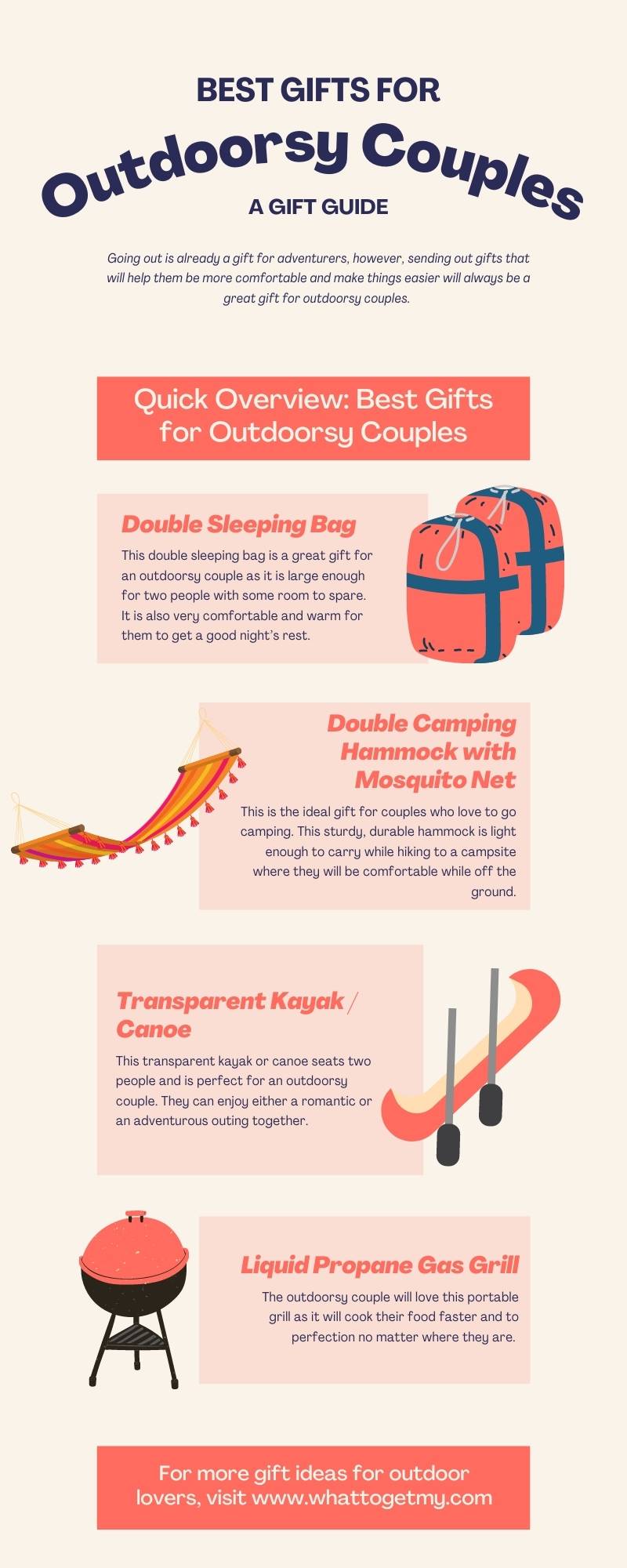 Source Link: https://whattogetmy.com/gifts-for-outdoorsy-couples-adventurer/
Something that is common gear but very useful
⓵ Double Sleeping Bag
This double sleeping bag is a great gift for an outdoorsy couple as it is large enough for two people with some room to spare. It is also very comfortable and warm for them to get a good night's rest. A couple can easily take it with them while hiking, camping, or even backpacking across the country as it is light and easy to roll up and pack away in its included carrying bag.
The majority of customers that have purchased this double sleeping bag find it to be soft and warm. It is big enough for a couple and is lightweight and easy to take with on outdoor adventures.
⓶ Double Camping Hammock with Mosquito Net
This is the ideal gift for couples who love to go camping. This sturdy, durable hammock is light enough to carry while hiking to a campsite where they will be comfortable while off the ground. With the included mosquito net they will be able to enjoy their stay while being bug-free.
Those customers that have already purchased this double camping hammock love the idea that a mosquito net is included and find that it is the ideal item for camping that lightweight, comfortable, and easy to use.
Something to assist them in making delicious meals fast
⓷ Portable TRU-Infrared Liquid Propane Gas Grill
The outdoorsy couple will love this portable grill as it will cook their food faster and to perfection no matter where they are. It is lightweight, sturdy, and very convenient for them to take it with them while on any of their outdoor adventures.
Many customers that have purchased this portable propane gas grill are extremely satisfied as it is easy to set up and use as well as easy to clean. They find that it gets hot quickly so cooks your meat quickly which is perfect while you are out enjoying the outdoors.
Something for couples who love the water
⓸ Inflatable Floating Cooler
This floating cooler is the perfect gift for outdoorsy people who love to spend time in the water. It can be used to keep drinks handy and cold for hours while in a pool or while they are floating down a river while they are tubing.
Many customers that have purchased this inflatable floating cooler are extremely satisfied with it. They have found it to be very durable surviving some harsh rapids. It is convenient when in the water to have beverages close by without the need to get in and out of the water.
Poolside style
⓹ 3in1 All-Weather Cool Wicker Bar Table
This handy and attractive bar table and cooler is a great gift for an outdoorsy couple who loves to spend a lot of time outside next to their pool or on their patio entertaining each other or others. It will keep their drinks cold while under the tabletop inside the cooler for hours and when they are done all they need to do is remove the built-in drainage plug for easy cleanup.
Customers who have purchased this outdoor bar table have found it to be a great addition to their poolside. It looks classy and is a great and functional item to have while relaxing or entertaining while outdoors.
Kayaking or canoeing lovers
⓺ Transparent Kayak/Canoe
This transparent kayak or canoe seats two people and is perfect for an outdoorsy couple. They can enjoy either a romantic or an adventurous outing together. It exposes the wonders of the underwater world below giving them a whole new experience for them to enjoy together.
Customers that have purchased this Crystal Kayak Crystal Explorer love it as they find that it is fun and amazing to experience the ocean or river life from the safety of it.
A Bonus Idea
Outdoorsy couples may love the outdoors and could teach you many skills of their own. They may love to take photos of their experiences but might also seem to battle with capturing the perfect picture for the perfect moment as they don't know much about photography. An idea would be to give them gifts for amateur photographers. Those gifts are also suitable as wedding gift ideas for outdoorsy couple because they can capture all their special moments and adventures from their wedding day.
Frequently asked questions
What are the things outdoorsy couples don't want?
Outdoorsy couples would not like gifts such as fancy house decorations or expensive gears for gadgets they don't have because it is most likely to be useless and would not contribute much to their outdoors adventures.
Is an experience gift a good idea for outdoorsy couples?
Yes it is. Regardless of how many places outdoorsy couples have been to, they will always be excited to explore a new place.
Conclusion
The best way to choose the perfect gifts for outdoor lovers is to take some time and think about the couple. The types of adventures that they love to go on and the activities that they love to do.
ESTIMATED TIME DESIGNING AND UPLOADING THIS ARTICLE
ESTIMATED TIME RESEARCHING AND WRITING THIS ARTICLE
Try our AMAZING GIFT FINDER TOOL! Find GIFTS with 1 CLICK!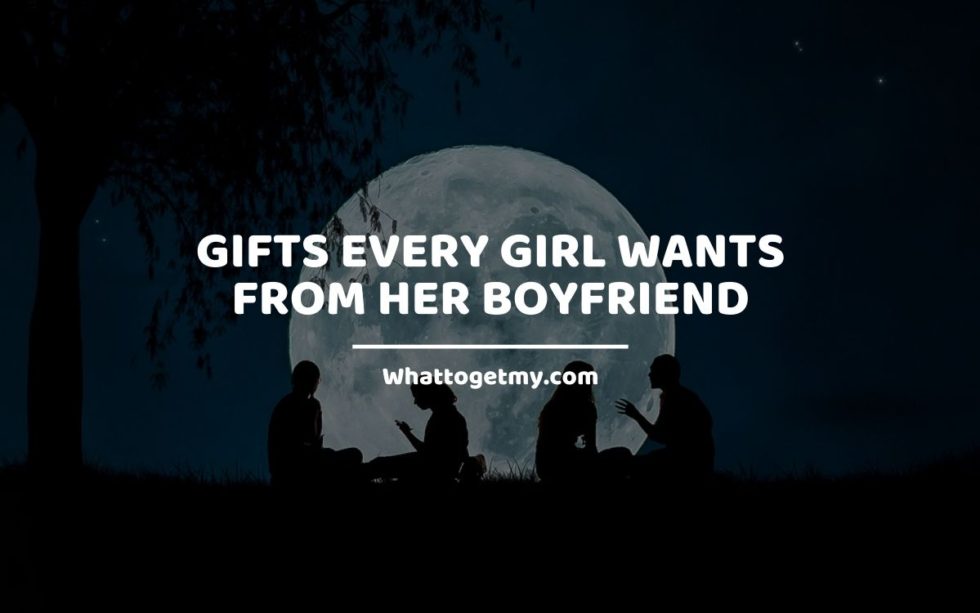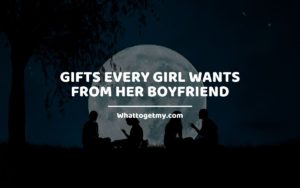 6 Gifts Every Girl Wants From Her Boyfriend
Before you can find gifts every girl wants from her boyfriend, there are a few things that you need to understand and know about your girl. You need to first know what every girl wants from her boyfriend pertaining to their relationship with them. Although
Read More »