Rainy days can be so draft and dearly and can cause feelings of hopelessness.
Most couples who live together and lead an active life find themselves stuck in a rut during the rainy season.
This article will help you find alternatives out of the rut you are in and show you that you can have fun even in wet weather.
Nobody likes a rainy day – let alone the rainy season. It is always wet, there is thunder and lightning, and your movement is limited because the roads aren't as safe. You have very limited options to have fun and do things that you would normally do because your movement is restricted. For couples, this can take a toll on the relationship as it may begin to feel like you are stuck in a rut doing the same things day in and day out.
Depending on which part – and State – of the US where you reside, you may be experiencing wet weather more frequently than others. According to a survey conducted by National Oceanic and Atmospheric Administration (NOAA) between 1981 and 2010, the following major U.S. cities have the days with the most rainfall: Rochester, NY., Buffalo, NY., Portland, OR., Cleveland, OH., Pittsburgh, PA., Seattle, WA., Columbus, OH., Cincinnati, OH., Miami, FL., and Detroit, MI.
Major U.S. cities with the most days of more than 0.01 inches of rainfall per year between 1981 and 2010 | Source: www.currentresults.com
WHAT TO DO ON A RAINY DAY WITH YOUR BOYFRIEND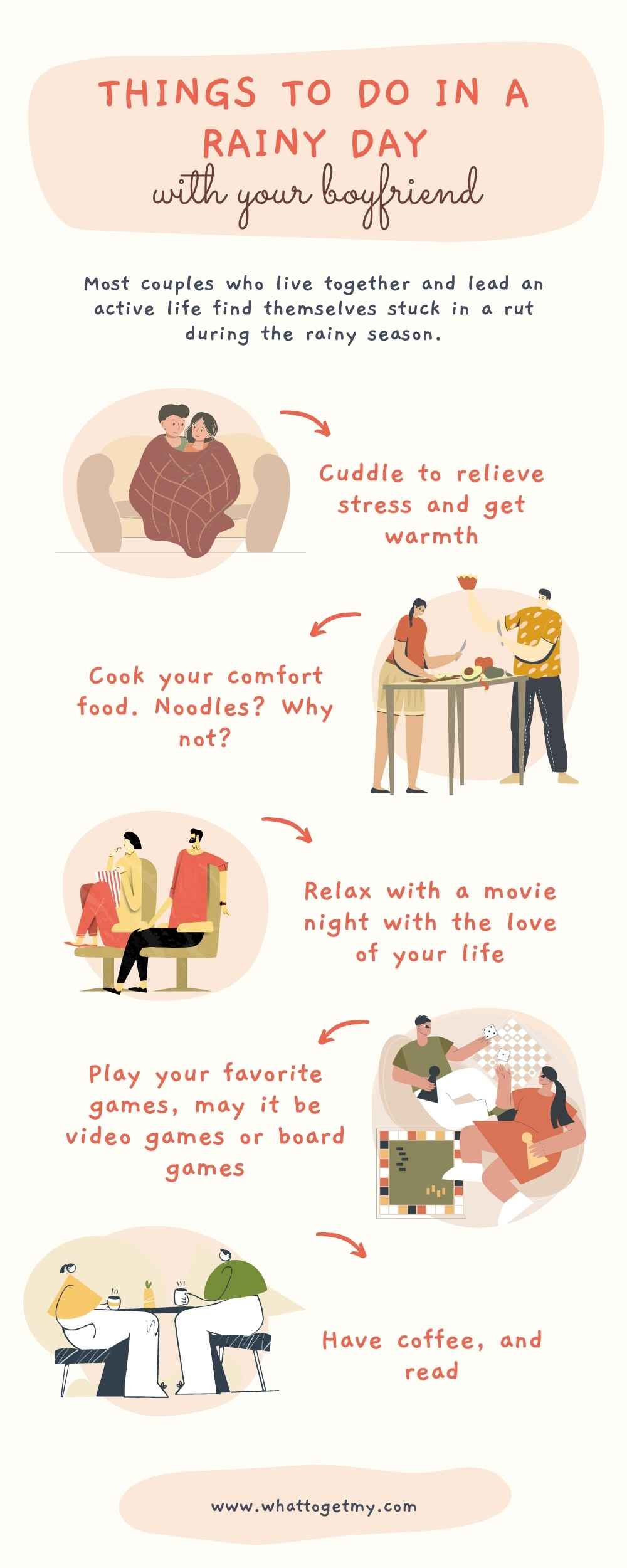 Source Link: https://whattogetmy.com/things-to-do-on-rainy-day-with-boyfriend/
The wet season has a way of turning everything dull and draggy and if you are an active couple, you might find that the weather is putting a damper in your relationship and making it feel stale and boring. Looking for fun things to do when it's raining with your boyfriend when at home can prove a bit hectic especially when you are looking for adventure – we have compiled a couple of fun indoor things to do with your boyfriend to keep your relationship interesting even in the dreariest of weathers.
1. Cuddle:
Cuddling is a form of intimacy that allows you to hold your partner and just exist with them within the moment. It has been proven to relieve stress and create intimacy among partners. It also keeps you warm so really; it is the perfect thing to do on a rainy night with your boyfriend!
2. Get Sexy:
There is a reason people call rainy weather "baby-making weather". It is the perfect time to try out all the sexy fantasies that you haven't yet tried in your relationship, explore you and your partner's bodies, and figure out what you like doing and what you would prefer not to do in the bedroom. This will spice up your love life and bring you closer together as a couple. Of course, remember to set boundaries and have safe words for when either one of you gets uncomfortable with what is going on. Other than that, have fun exploring under the soothing sound of rainfall.
3. Build a Fort

:
Because who doesn't like a fort?? Forts are timeless and fun for people of all ages. You can build a simple fort or an elaborate fort with mazes and rooms. This activity is fun and a great way to 
4. Cook Together

:
Cooking together is a form of shared intimacy. You get to see how you and your partner can collaborate and work together. Not only is cooking fun but it is also a way to see how compatible you are with your partner when it comes to collaborative work.
5. Watch a Movie

:
Nothing is more relaxing than a movie night with the love of your life. You could each pick one movie that you would like to see and watch them back to back. To make the experience even more enjoyable, you can get snacks and make popcorn, and use a projector for the movie to give it a more "movie theatre" feel. You can also cuddle and watch the movies of your choice, killing two birds with one stone.
6. Listen to Music and Dance

:
There is nothing more freeing in this world than dancing to your favorite music that's blasting through the speakers. Something about dancing silly with your partner that's liberating and shows that you can be yourself authentically around them.
7. Clean Your Apartment

:
If you and your boyfriend live together, you could use this opportunity to clean up your apartment. This would be a great time for you to sort out your belongings; keep what you need and donate what you no longer use to those less fortunate.
8. Tell Scary Stories:
Another fun thing to do on a rainy day for couples is to take turns and tell your favorite stories in the dark. Think of the stories from your childhood that gave you the heebie-jeebies and had you looking over your shoulder every 5 seconds. Not only will the retelling of these stories be fun for both parties, but it will also allow for you to open up and talk about your childhood to your boyfriend, strengthening your bond even more.
9. Play Board Games

:
If you like board games then this activity will be great for you and your boyfriend to pass time when it is raining. You can choose to put together puzzles or play popular board games such as monopoly, the game of life, pandemic, and scrabble.
10. Play Video Games

:
If you and your boyfriend like playing video games, then use your time indoors on a rainy day to indulge in some friendly matches of your favorite games. You can even decide to team up and battle against other people online. It is a great way to bond and it will improve your communication skills.
11. Read Together

:
Reading is such a great activity because it is something you and your boyfriend can do together while keeping distance for personal space. It is a personal activity that can be shared and 
12. Workout:
If you are an active couple and are wondering what you can do on a rainy day as a couple, there are a lot of home workout routines that you can try. Find videos on YouTube or download apps that let you keep track of your home workouts. Also, check out this article to see the benefits of working out together.
13. Nurture Your Indoor Garden:
If you have a green thumb and have a garden or plants in your home, a rainy day allows you to take care of your plant babies especially the ones that aren't getting any of the rainwater. This could be a great chance to teach your boyfriend how to take care of [your] plants. If they are your boyfriend's plants, then this would be a great opportunity for you to learn how to take care of them properly. Check out this article to see what gifts you can get for your plant-loving boyfriend to nurture them even more.
14. Create a Vision Board

:
This is a great rainy day idea for couples who are serious and are planning on growing together. Write down all your dreams and what you wish to accomplish in the next year, five years, and ten years. This exercise is a great way to find out if you and your partner want the same things out of life and also how you can align your goals to accommodate and complement each other.
PLACES TO GO ON A RAINY DAY WITH YOUR BOYFRIEND
Staying indoors can get to you especially on the days when it has been raining consecutively non-stop. As much as you enjoy each other's company, it is healthy to take a break from all the fun you have been having in your house and go out and interact with other people, even just get some fresh air. Here are some rainy day plans for dates for couples.
15. Have Coffee Dates

:
A warm beverage on a cold wet day? Could there be any other rainy day date activity more perfect? Go out to you or your partner's favorite coffee shop and talk, or just people watch – with your hot beverage, of course – whatever you do you will be interacting with other people other than your boyfriend and you will be spending quality time with him, too!
16. Have a Photoshoot

:
As corny as it sounds, have a silly photoshoot in the rain. Have you seen those pictures? They look amazing and even if they don't come out as the professional ones do, you will have spent the day having fun with your person in the rain no less.
17. Go to a Spa

:
Get you and your boyfriend a day at the spa to get pampered. Take the time to relax and find serenity.
18. Romantic Stroll in The Rain

:
Take the time and walk in the rain to feel the rain glide down your skin. There is something about the rain that is refreshing and healing. However, make sure that it is not raining heavily when you decide to go out for a stroll, this is something you do on a rainy summer day when the sun is shining and the rain is drizzling.
19. Dancing in the Rain:
Perhaps the only other freeing thing aside from dancing in your house is dancing in the rain. There is a freedom and silliness that comes with letting go of all inhibitions and just letting yourself be taken over by the rhythm and melodies of songs and expressing yourself through dance. The rain has healing powers and this dance can be freeing both physically and emotionally for you and your boyfriend – and let's be honest, if your boyfriend is free to be weird with you and dance in the rain with you then he is definitely a keeper!
20. Volunteer at a Soup Kitchen

:
This is a great rainy day date idea for couples who like giving back to their community. It is a great way to spend the weekend, by bringing and serving people hot food on a cold day. It can be such a humbling and fulfilling experience for both you and your boyfriend.
RAINY DAY FIRST DATE IDEAS
So you have met a guy and you really hit it off, he finally asks you out on a date and you are excited but don't know where to go on a rainy day that can be fun, safe, and also comfortable for your first date? Worry not, we have you covered on this front too. Here are some fun places to go on a rainy day for your first date:
21. An Arcade

:
Arcades are fun places to go on a rainy day and would make for a fun first date. They usually have a lot of people in them and so they are a safe venue for a first date. they also provide multiple activities that are not just talking and this way you get to know your date on multiple fronts and not just based on what he tells you.
22. A Karaoke Bar

:
Because singing in the rain is actually up there on the list of fun things to do when it rains – just ask Gene Kelly! A karaoke bar date is a fun experience for a first date and, not that it's important but, you get to find out if your gentleman can hold a tone or not. They also typically serve alcohol at Karaoke Bars so that will help loosen up both of you and take away the first date anxiety. Just remember to drink responsibly and don't drink and drive – safety first!
23. A Restaurant

:
If you are feeling more traditional, a restaurant is a good place to go on a rainy first date. Choose somewhere cozy, warm, and quiet where you can hear each other talk – but nowhere too secluded.
24. A Movie Theatre

:
This is a more relaxed setting for a first date. It is probably the oldest form of dating and it allows you to see your date's emotional response to situations. How a person reacts to fictitious events in a movie tells you a lot about their emotional range and capacity.
25. Take an Art Class:
If you are Artsy (and honestly, even if you are not) take an art class for a day and invite your date. This is such a fun experience and you will be sharing with your date something that you care about and that's unique to you.
26. Bowling

:
Bowling is a fun activity for couples who are trying to get to know each other. You can either choose to go bowling with a group of both of your friends on a group date, or you can opt for a solo date. Either way, you should have fun with your potential partner on your first date.
27. An Ice Rink

:
Ice skating in the rain is probably one of the best fun things to do when it's raining outside. It provides an opportunity for you to test out the physical chemistry with your date. Ice skating allows for innocent and flirtatious touches that will definitely let you know if there is an attraction there without being too forward about it.
FUN STUFF TO DO WHEN IT'S RAINING
28. Have a Lazy Day

:
It is quite okay to not do anything on a rainy day. Stay in your pajamas all day and do nothing but eat and sleep and binge-watch your favorite shows on a streaming service of your choice. A "do-nothing-day" is a form of self-care. Take the time off and just chill under the soothing pattering of rain on your roof, you deserve it.
29. Have a Self-Care Day:
You can also actively organize a self-care day when it is raining. Since you are most likely stuck indoors, use this time to give yourself a manicure and pedicure, wash your hair, drink some wine, and order in from your favorite restaurant.
30. Snuggle with Your Pets

:
Your little furry friends also need some loving when it is raining outside. Cuddle with your pet especially if it is raining hard outside – thunder, lightning, and all. They need to feel protected and the cuddling is also good for you.
Related Articles:
FREQUENTLY ASKED QUESTIONS
What else can I do on a rainy day when I'm bored?
If you are alone, you can try to entertain yourself with activities that only require one person. You can play online computer games like solitaire or scrabble. If you are not in the mood for any games, you can listen to soothing folk music and just relax on your bed or a comfortable couch and let the music carry you away. However, if you are looking for more engaging activities we suggest looking for things to do near you on a rainy day by turning on your location and using a search engine to help you find fun listed activities that you may enjoy that are happening around your area.
CONCLUSION
We hope that this list has inspired you to do something interesting and fun with your boyfriend the next time you are stuck in the house on a rainy day. Even the small things can help bring you and your partner together – spend this quality time you have been given with them.
ESTIMATED TIME DESIGNING AND UPLOADING THIS ARTICLE
ESTIMATED TIME RESEARCHING AND WRITING THIS ARTICLE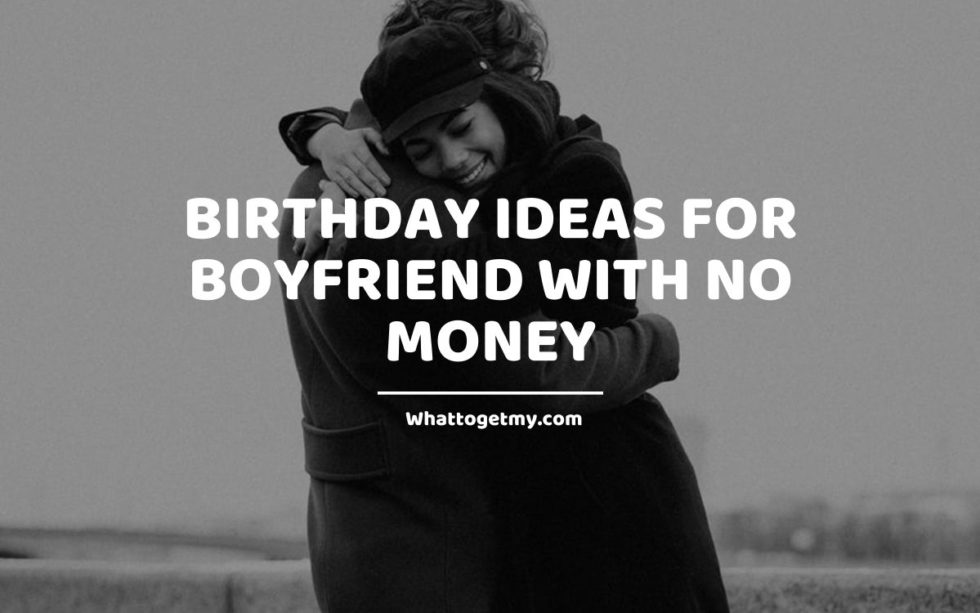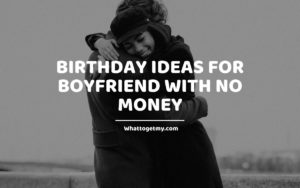 Birthday Ideas for Boyfriend with no Money
Birthday Ideas for Boyfriend with no Money WhatToGetMy Instructional Article Sometimes, you have to be more creative when celebrating someone's birthday, especially on a low budget. Organizing a big event is quite easy and it doesn't demand extra creativity. On a low budget, however, you
Read More »