Fun Things To Do In The Rain Outside
WhatToGetMy Instructional Article
If you are looking for some fun things to do in the rain outside because not all people believe that they need to be cooped up inside or want to be, especially your children. They don't want to feel that the only things they have to do all day when it rains are to watch movies, play video games, board games or read a book or two.
They want to go outside and have a little fun in the rain where they can explore with water, mud and other things nature has to offer them. They want to play some games that they wouldn't usually play when the weather is warm and dry.
Although most adults despise getting wet when it rains, there are some that like to enjoy certain things about the outdoors while it is raining like going for a hike, a swim, capturing some awesome photos or even having some fun with some kiddies activities that we all know and used to love.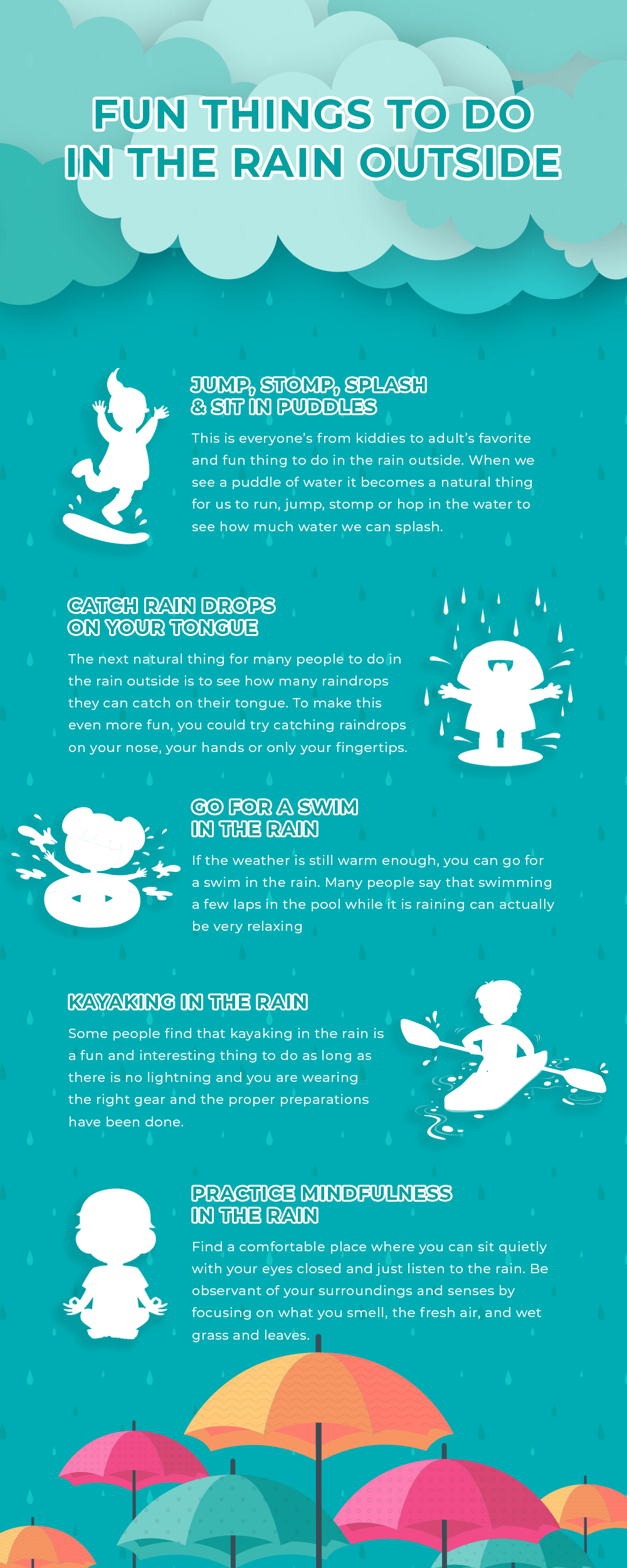 Source Link: https://whattogetmy.com/fun-things-to-do-in-the-rain-outside/
Fun things to do in the rain outside for children
Jump, stomp, splash and sit in Puddles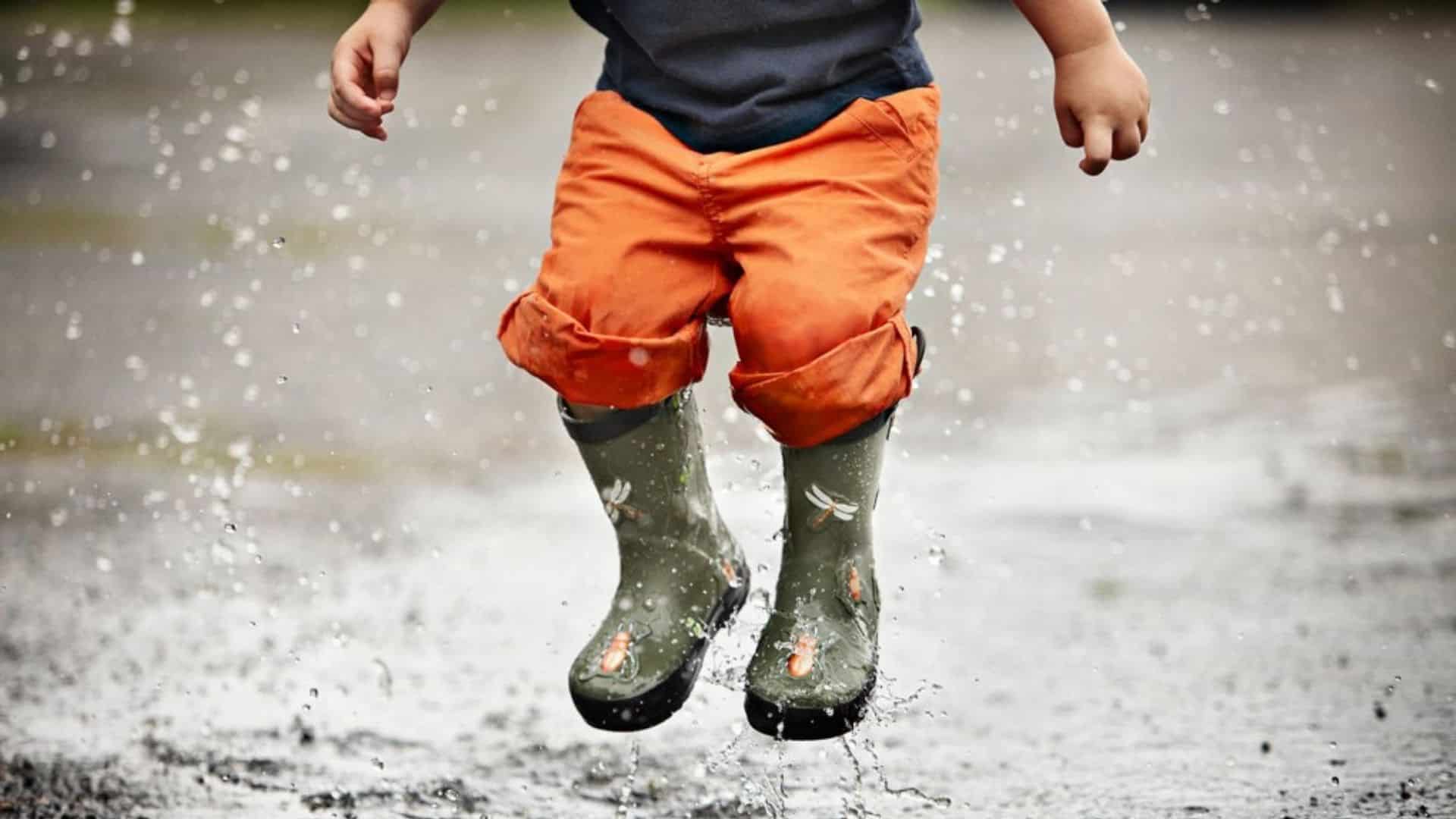 This is everyone's from kiddies to adult's favorite and fun thing to do in the rain outside. When we see a puddle of water it becomes a natural thing for us to run, jump, stomp or hop in the water to see how much water we can splash. 
Catch Rain Drops on Your Tongue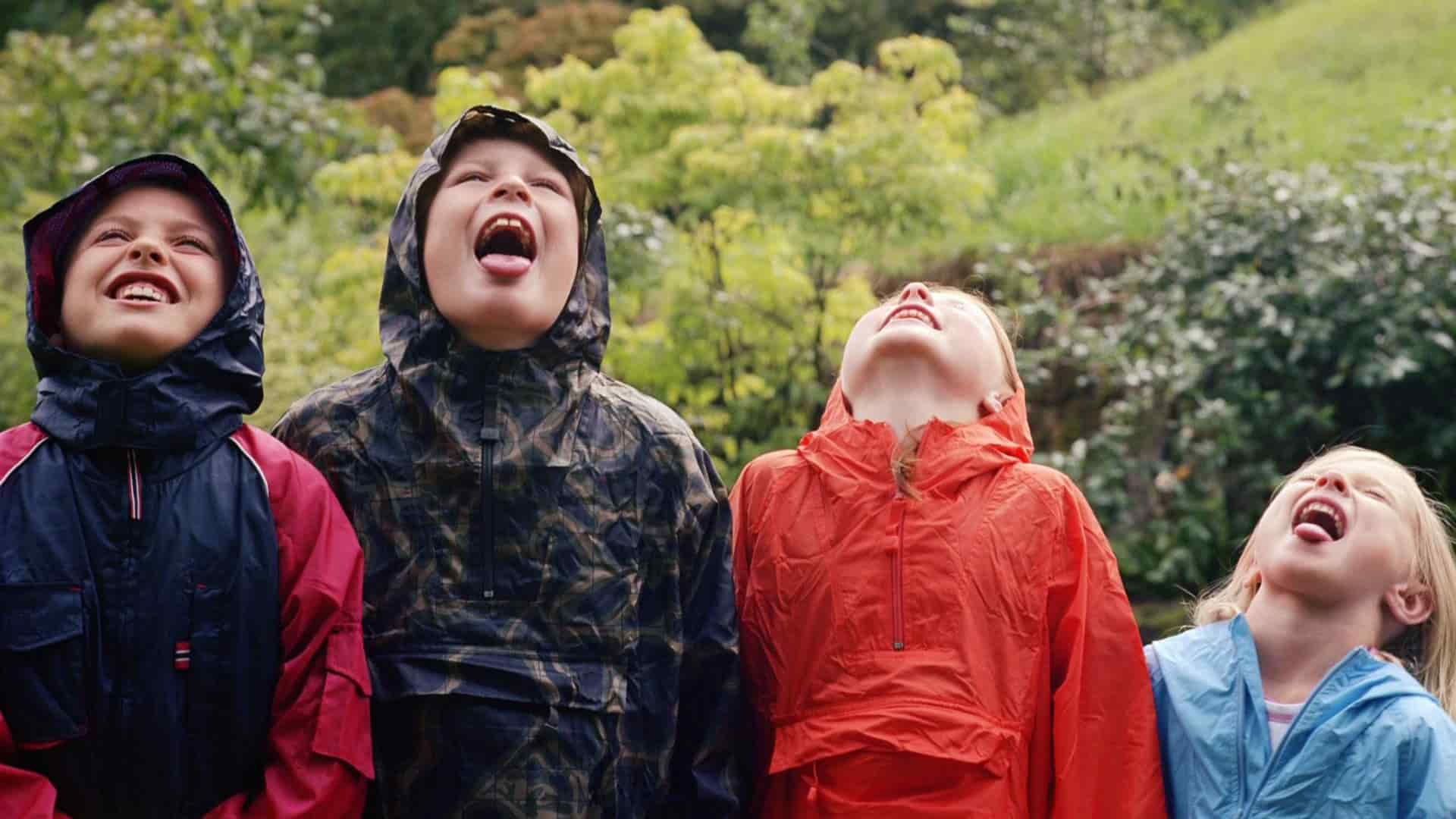 The next natural thing for many people to do in the rain outside is to see how many raindrops they can catch on their tongue. To make this even more fun, you could try catching raindrops on your nose, your hands or only your fingertips.
Sing and Dance in the rain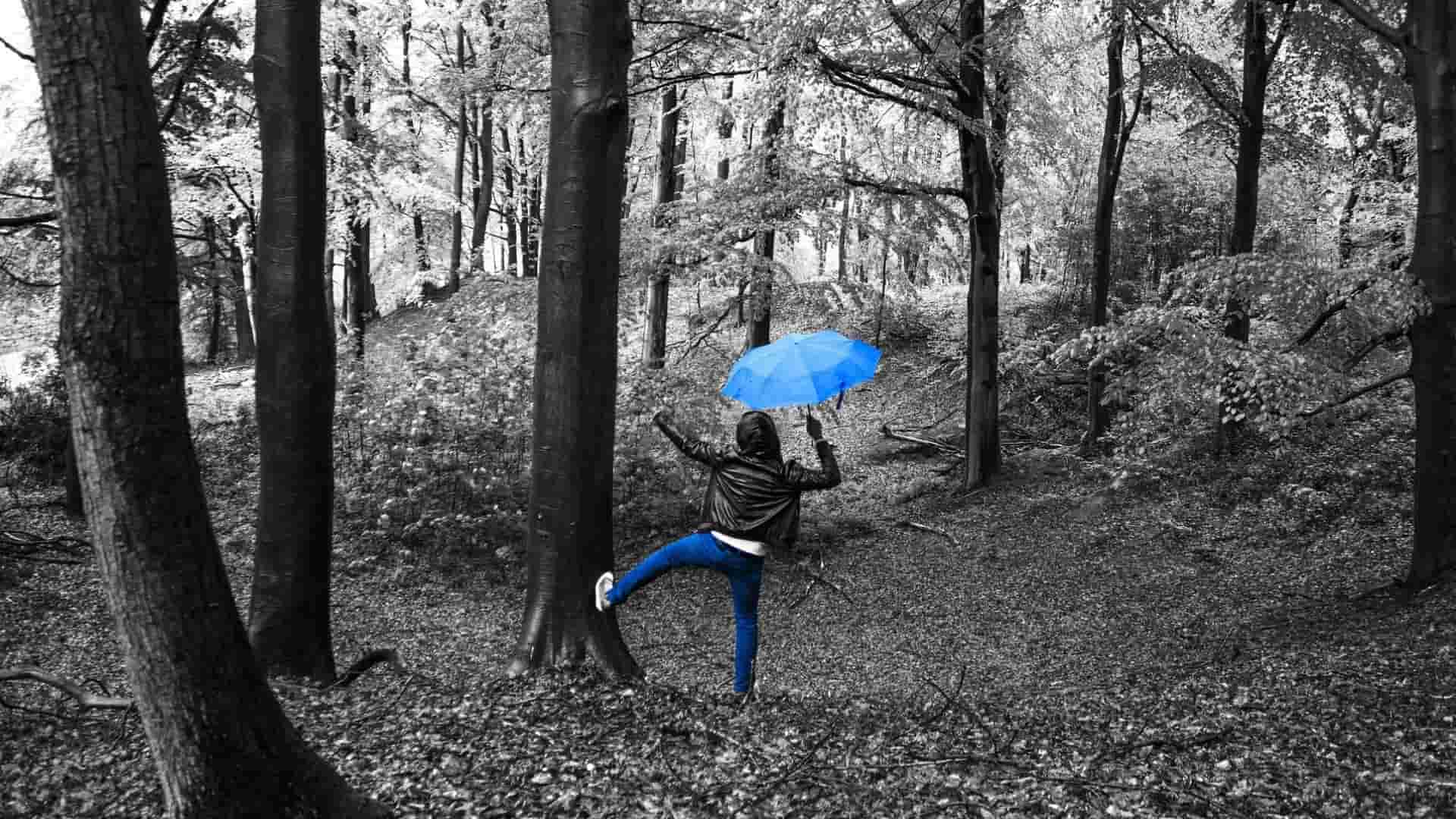 Singing and dancing in the rain can be done in two different ways which are both a lot of fun. You can either, play any type of dance music and dance your heart out or you can see how many songs you can think of that have something to do with the rain and sing them out loud while dancing and splashing in the puddles. You can use all-time favorites like "Singing in the Rain or "Raindrops keep falling" and don't forget to use the umbrella for twirling.
Play with Water Toys in Puddles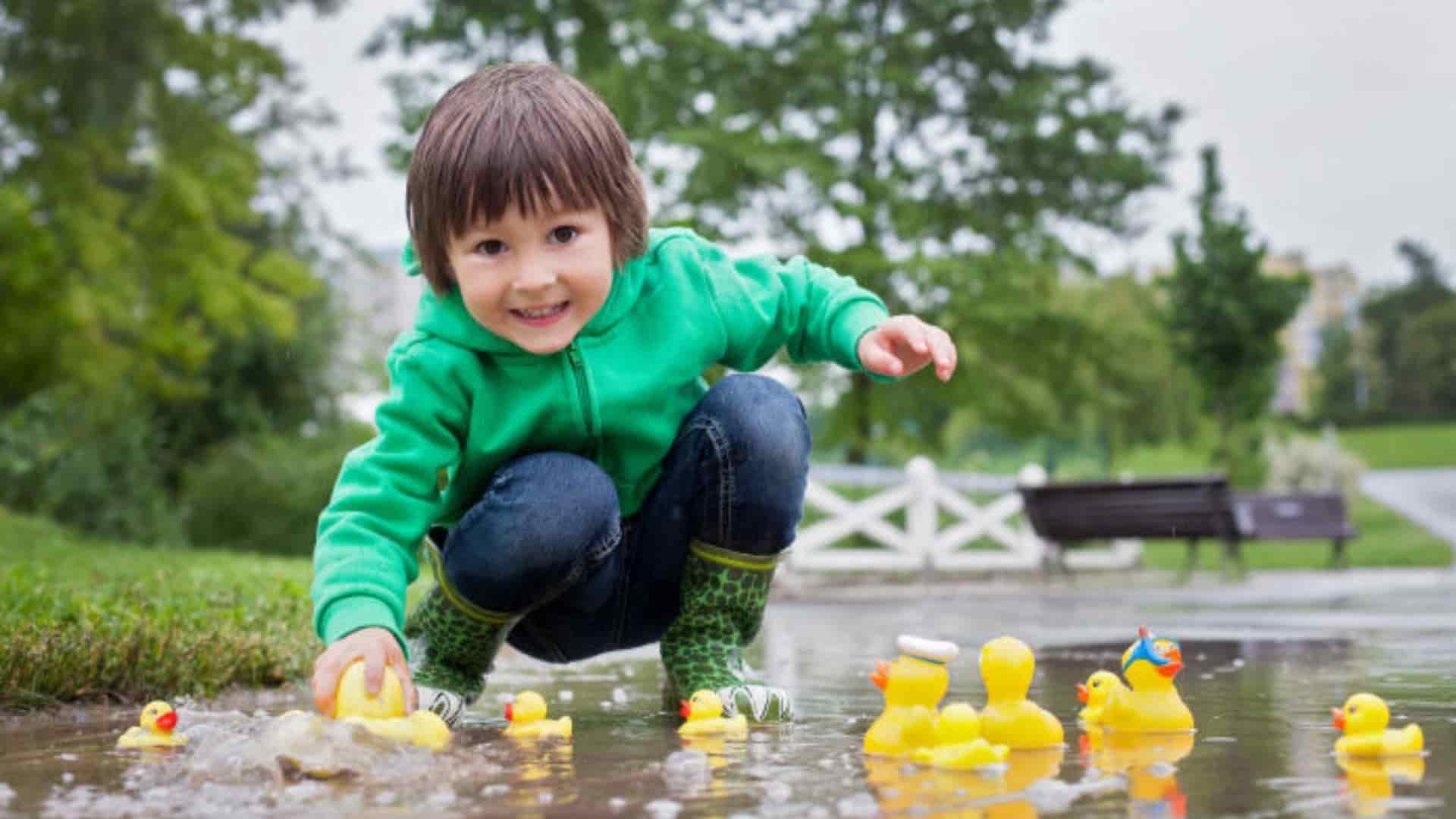 Take bath toys or any toy that is plastic and can maybe float and let your kids play with them outside in the mud puddles. If you don't have or do not want to use bath toys, let your kids do some experimenting of their own by finding certain items around them outside like sticks, leaves and even small stones and see which of them float and which of them will sink.
Make some Mud Pies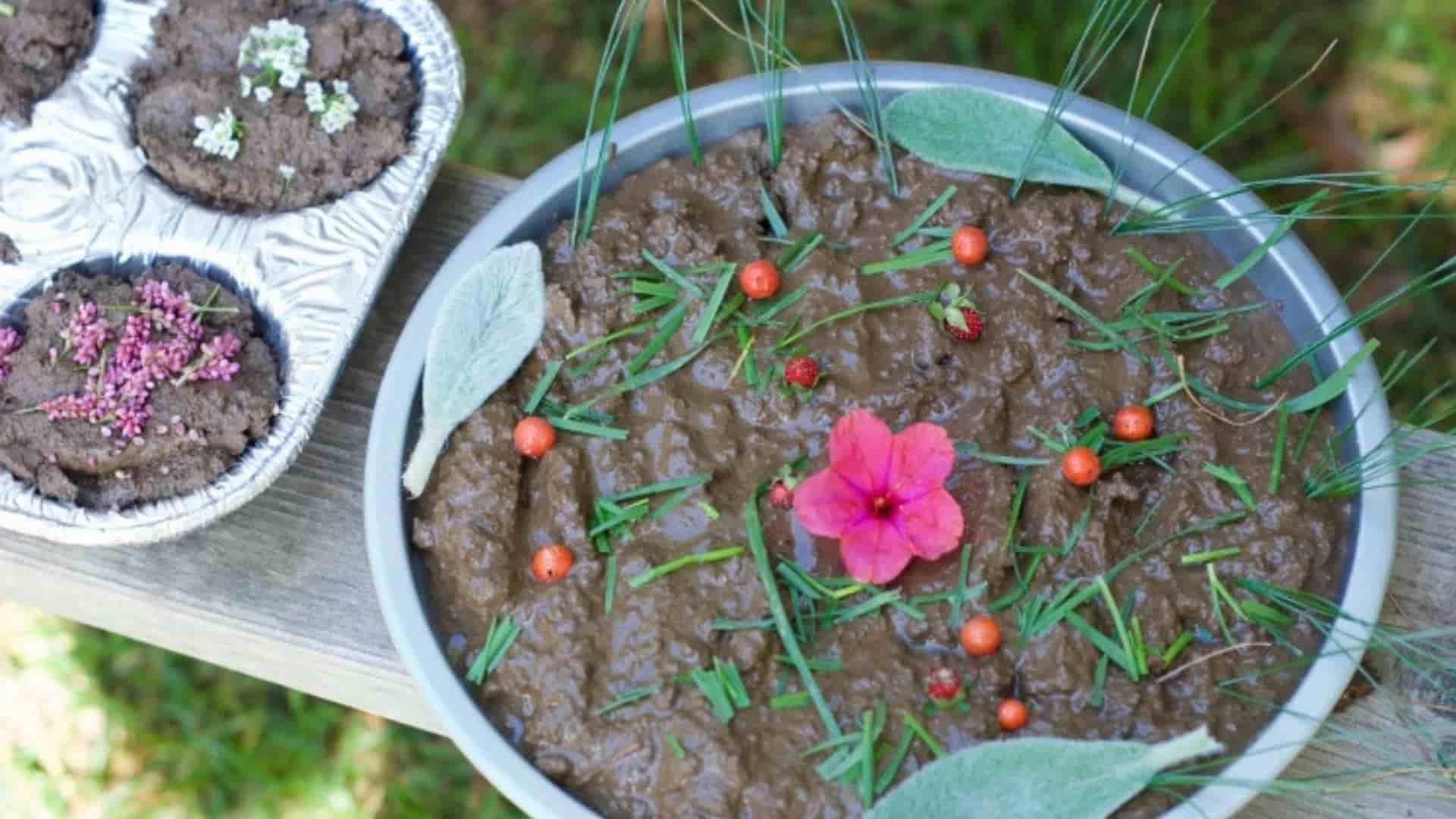 If you have plenty of sand around that has now turned to mud, there is no better thing to do that to make some mud pies. Your kids can decorate them by using flowers, sticks, leaves and small stones.
Build a Dam or River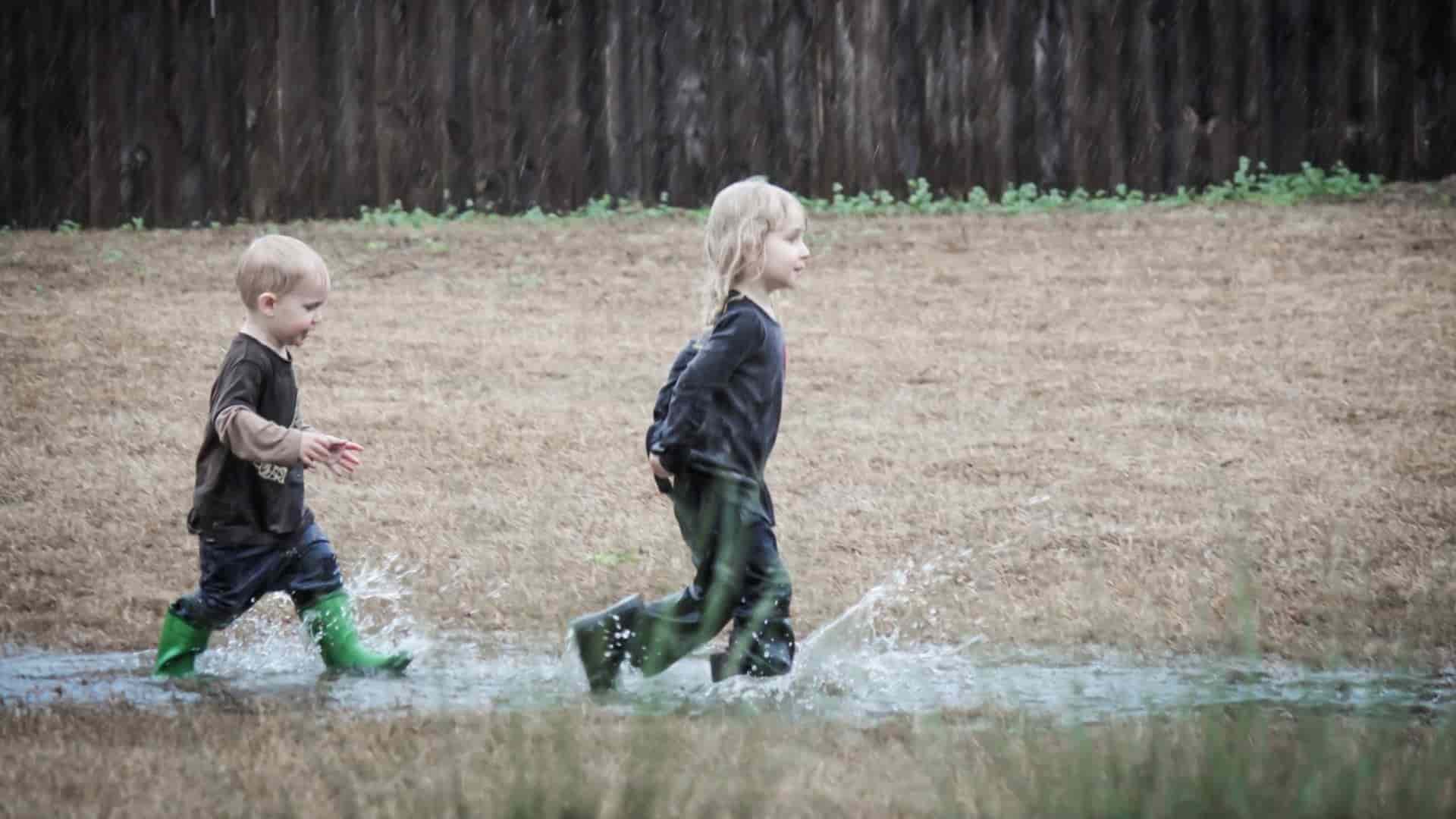 When the rain calms down enough, look outside around your house on a slope for a small stream that could be running downhill or make your own rivers and dams by digging your own course. Then block a section with your hands or some stones to make a small dam. Your kiddies can then experiment with it by using it as a tidal pool and place leaves in it and watch what happens with the currents that they create.
Race Leaves made into Boats
You can make your own boats by using natural material like big dried leaves with a stick through the middle and smaller leaves as sails. Place them in a trickling creek or overflowing gutter and watch them float and race along with the moving water.
Get creative by making Rain Art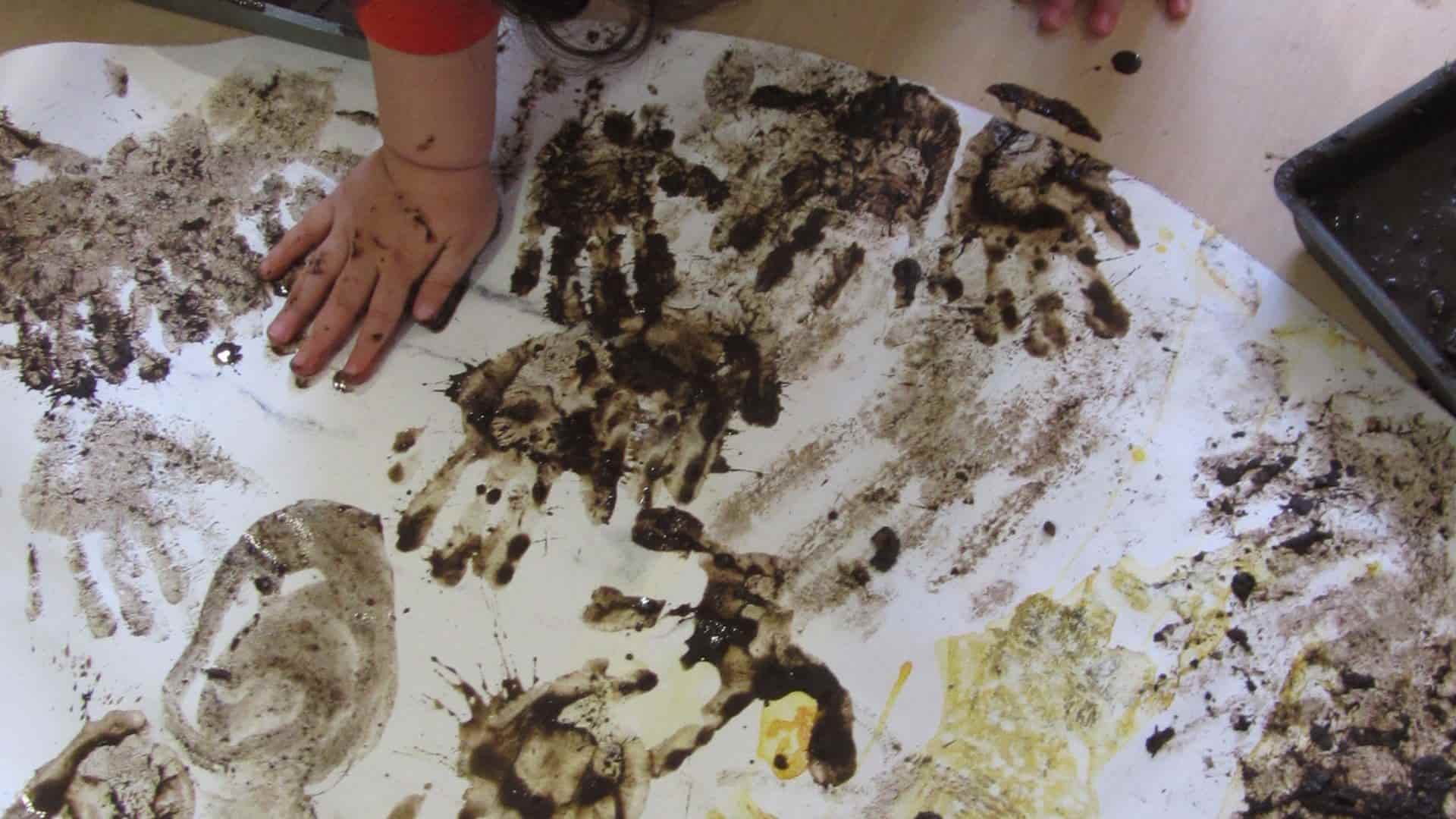 Creating rain art can be done in so many different ways by using different items, for instance, you can paint with mud using different colored sand if you have or you can make mud prints with your hands and feet. 
You can write or draw on the driveway using different types of rocks or you can do some chalk drawings as they become easier to draw with when wet and the colors are a lot more vibrant. 
You could also draw a picture on paper or cardboard using washable markers, food dye, and powder paints. Once done you can put them outside in the rain and watch how the colors run in all different directions.
Go for a Walk and Explore Nature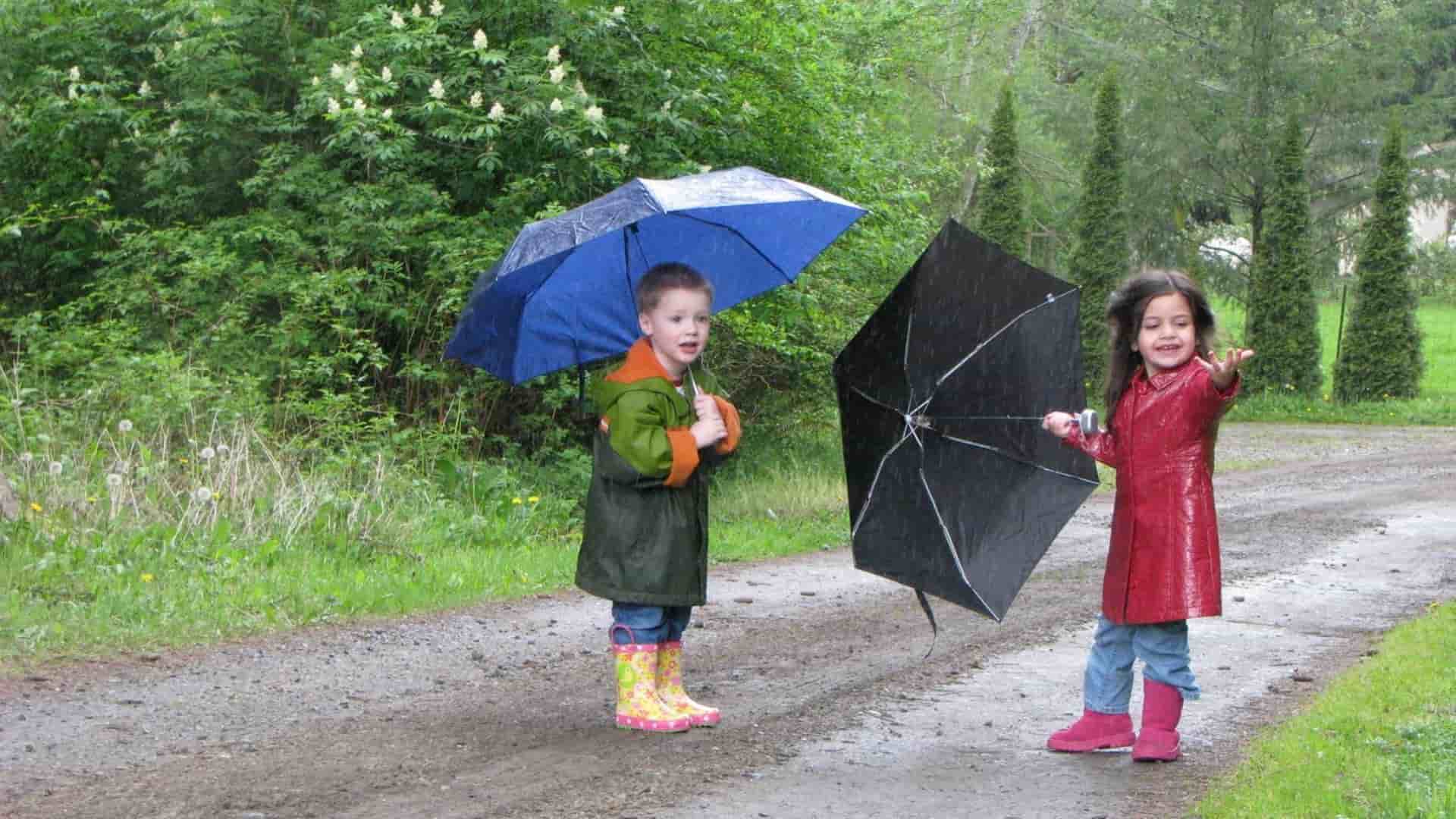 Going for a walk to explore nature is a fun thing to do and it is educational too as you will discover how the rain changes everything from the colors of the leaves on the trees and bushes, different stones to finding animals and insects that only come out either in the rain or immediately after it has rained like snails and earthworms.
Fun Games to Play in the rain outside
You can play some fun games like stuck in the mud, ball games or even have relay races, but do be careful, although it is always fun slipping and sliding in the mud, there is a risk of someone getting injured.
Roll down or body board down small wet grassy hills
Kids love to roll down or body board down a grassy hill on a normal sunny day but when it is wet, it lifts the fun factor even higher.
Have water fights
Water fights are even more fun on rainy days as you will have water coming down from above and will need to watch out for water from in front of you, behind you and next to you.
Slip and slide in the rain
If it is still a warm day there is nothing better than a slip and slide in the rain. So get out a long tarp or plastic sheet, anchor it to the ground and add some mud to make things more interesting and let the fun begin. 
Act like animals
Pretend to be an animal that loves the rain like frogs, ducks, snails, and worms. Make the sounds they make and do as they do, you can even play a couple of games that include these animals, for example, leapfrog or snail races to make it a little more fun.
Remember to take plenty of pictures
When you and your kids are out exploring nature in the rain, remember to take your waterproof camera and take plenty of pictures of the things they find. It is a good idea to take pictures of all the activities they do in the rain outside, especially their rain art, the dam they built and their mud pies as these will be reminders of some awesome memories in the future.
Fun things to do in the rain outside Adults
When it rains, most adults hurry as quick as they can to get to the nearest shelter, not to get wet, but what they should do is learn to embrace the rain and have a little fun. 
Here are some fun things to do in the rain outside:
Take a Hike in the Rain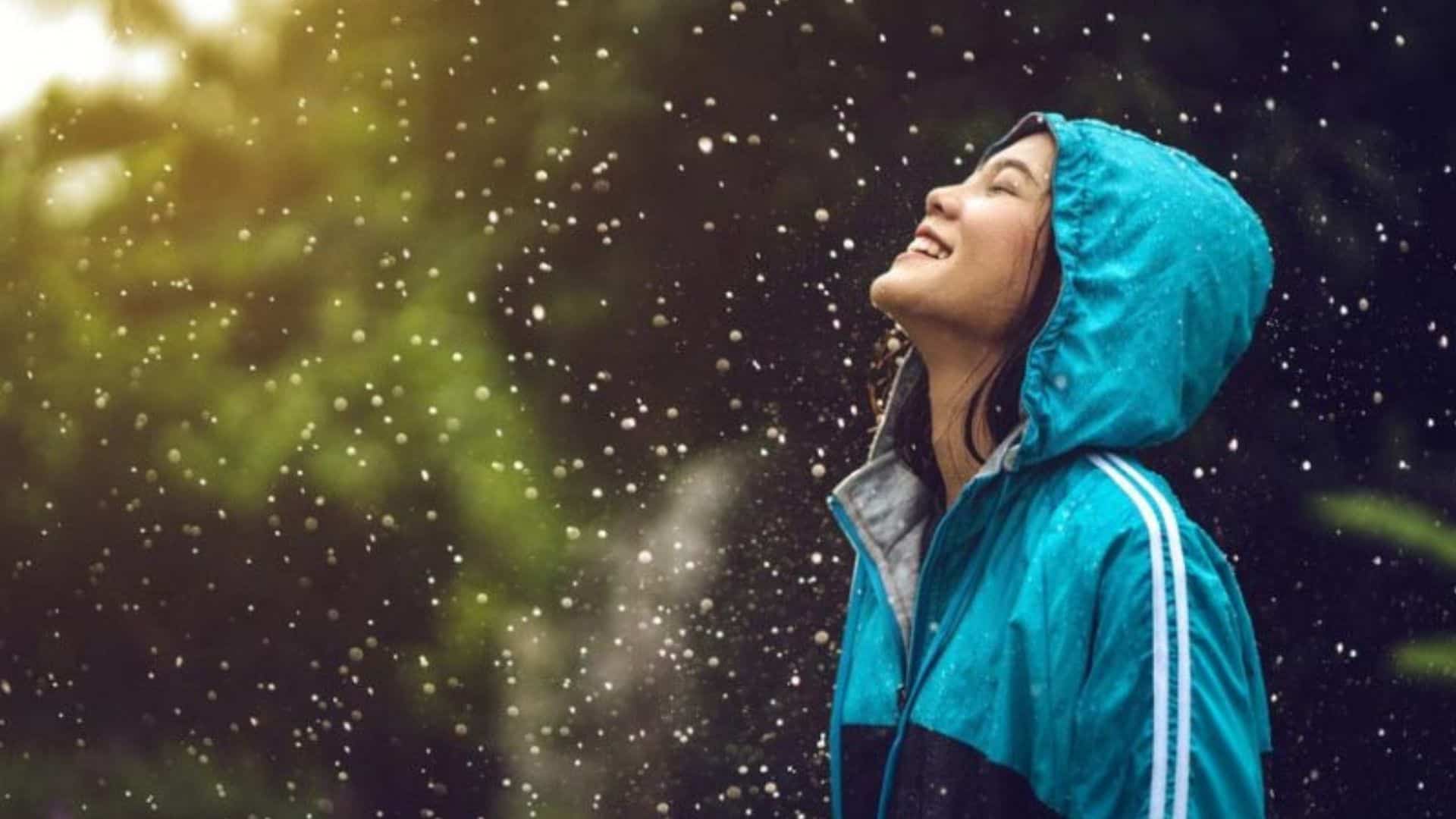 There is absolutely nothing wrong with hiking in the rain, especially if you are properly dressed with enough layers of clothing underneath to stay comfortably warm, a rain jacket and some rubber rain boots. Choose a good trail that is reasonably flat so that you don't slip and slide too much and injure yourself. Hiking in the rain you'll get to experience a whole different side of nature with all the different sounds and smells that aren't around when the sun is shining.
Go for a swim in the rain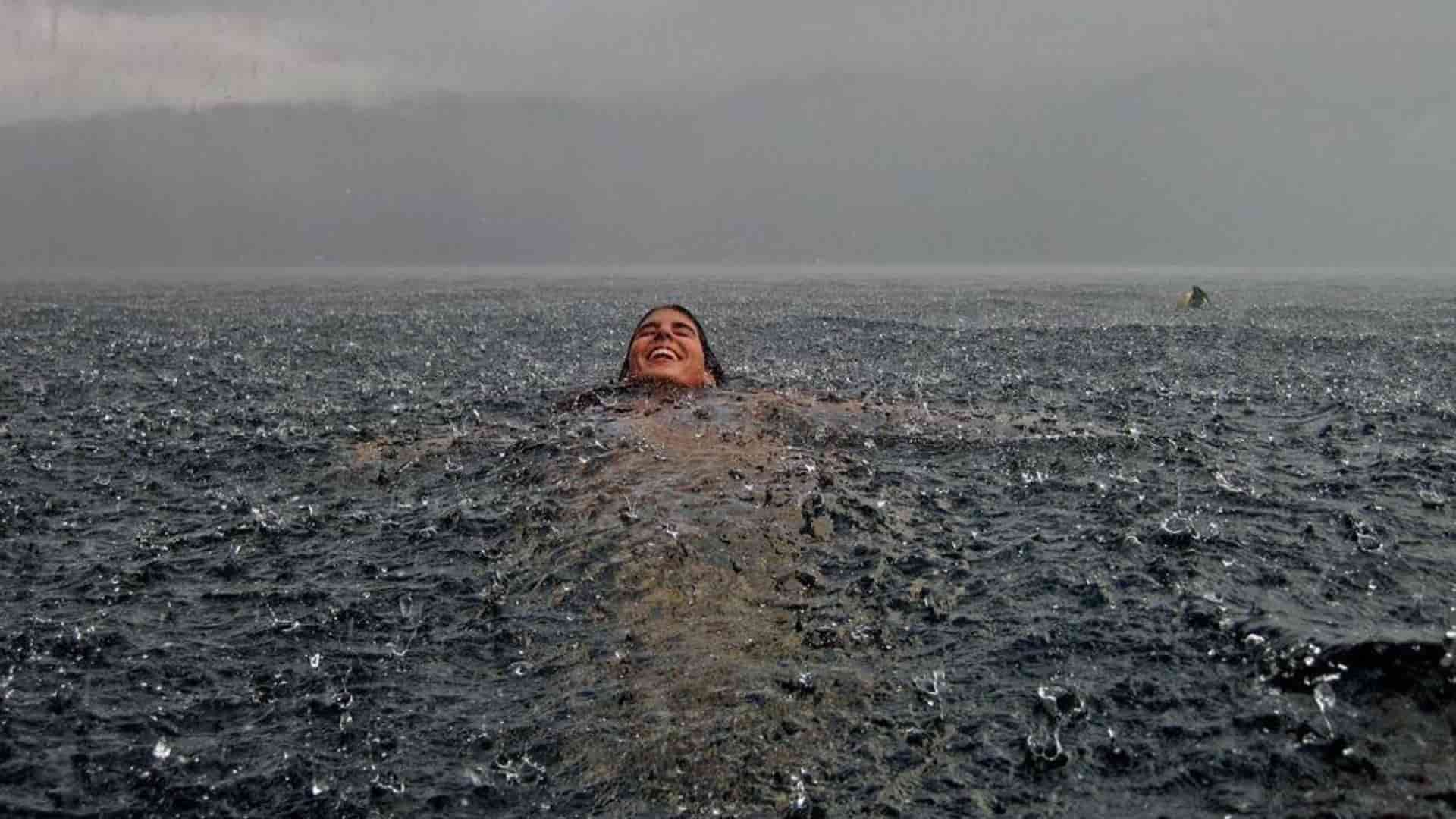 If the weather is still warm enough, you can go for a swim in the rain. Many people say that swimming a few laps in the pool while it is raining can actually be very relaxing and if you don't have your own swimming pool, you can go to a community one where you will have it all to yourself as not many, if any people will be at the pool on a rainy day. Swimming in the rain with someone special can also be quite romantic.
Caution: If the rainy weather picks up and turns into a bad storm, make sure you get out of the pool to avoid being hit by lightning.
Try some rain photography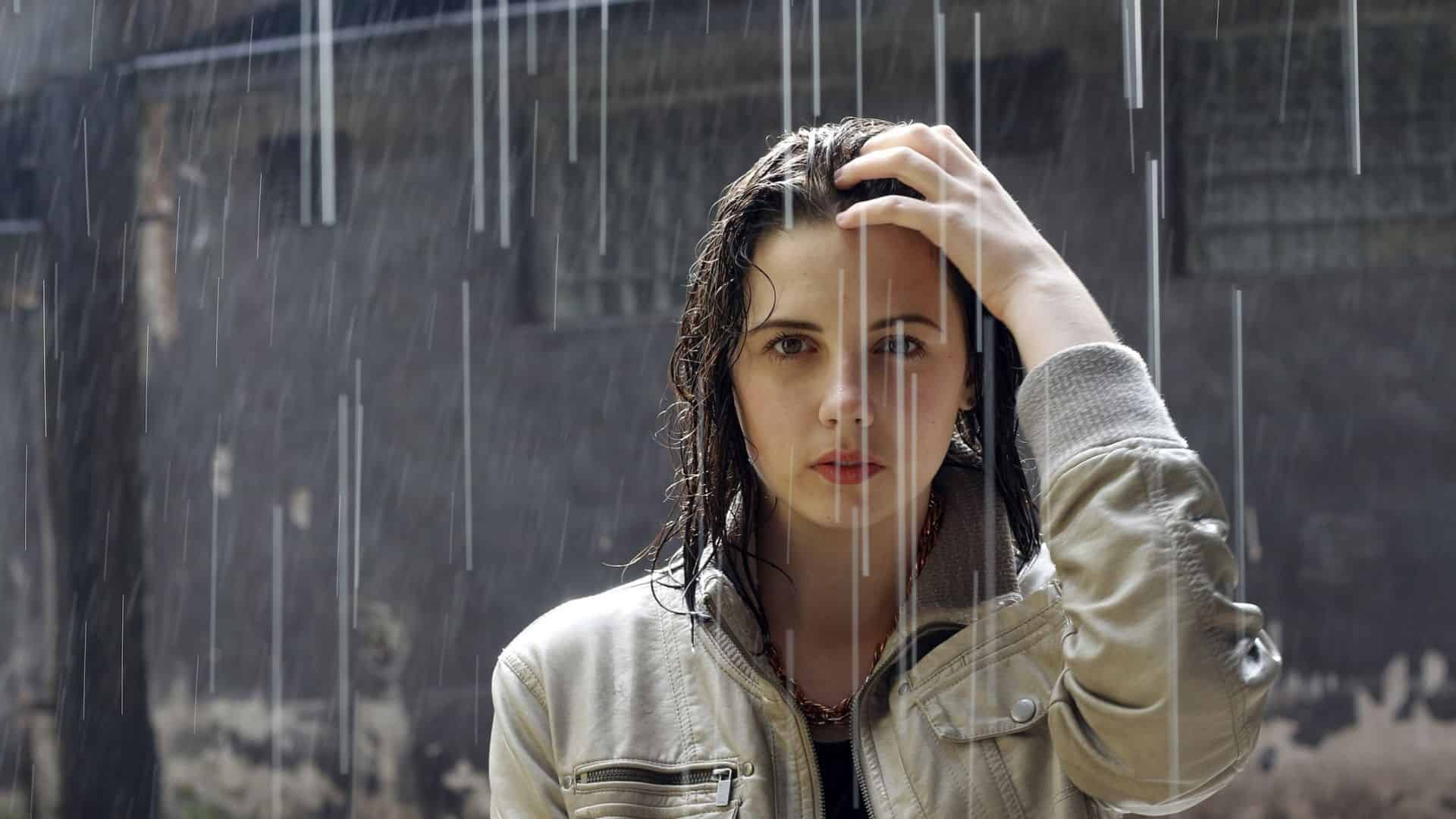 If you have a waterproof camera, then why not try some rain photography. Taking photos in the rain can produce some amazing, unique and creative photos that would be impossible to achieve on a warm and sunny day. Some examples of these could be falling raindrops, reflections in puddles of water and of course children singing, dancing and playing in the rain.
If you don't have a waterproof camera, you can still take some amazing photos from under a porch, awning or even from inside a parked car or you can make sure that you have some sort of rain protection for your camera.
Make your own rain or mud art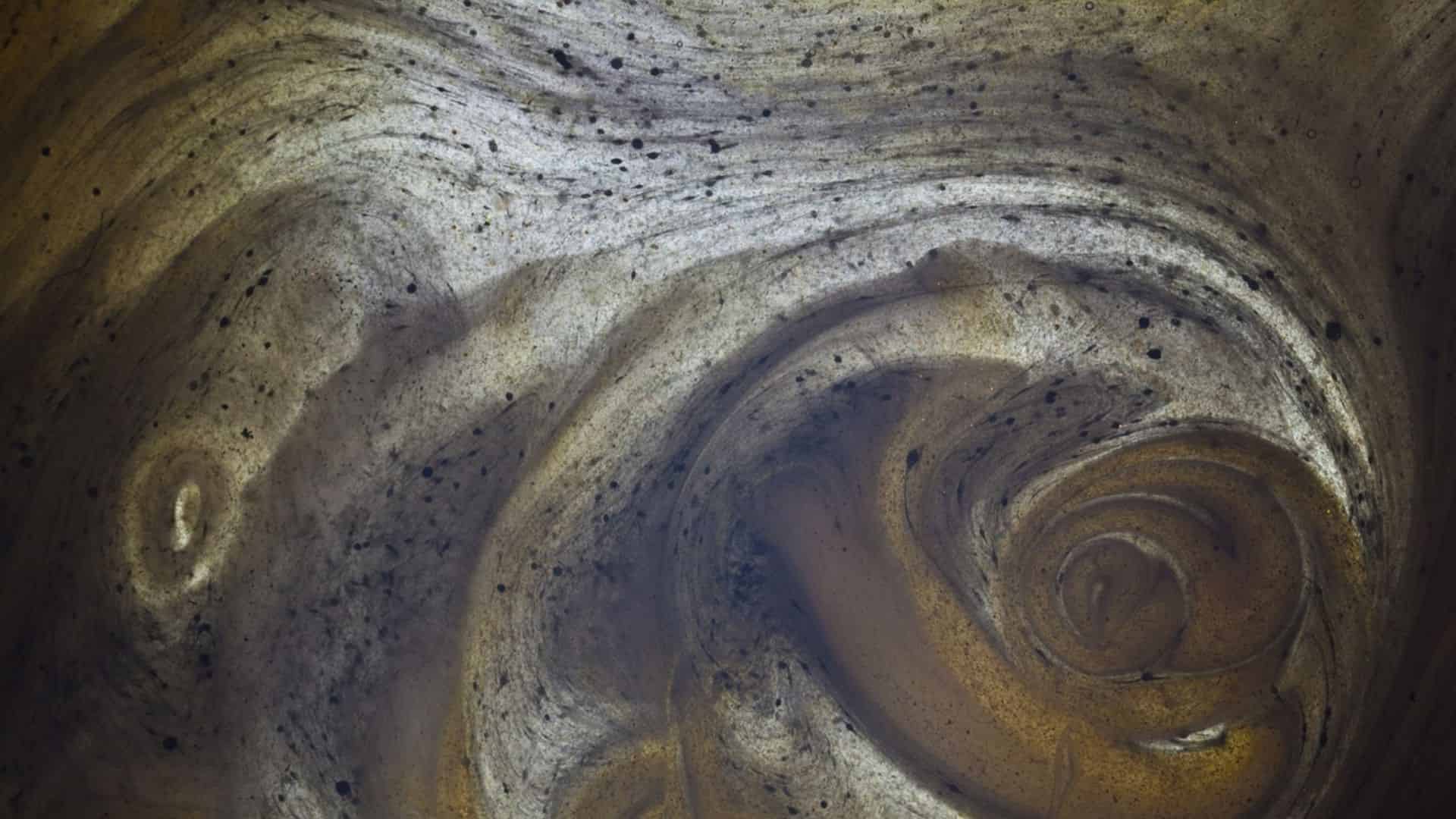 Who says that rain or mud art is just for children? If you are feeling creative then why not find a stick and a good pile of mud, if you would like, try to find mud of different colors and then dip the stick in the mud and draw with it on paving of any sort, like a driveway or sidewalk.
You can even do exactly the same as the kids and draw with different color chalk or use washable markers, food dye and powder paints on paper or cardboard, then place it in the rain and watch what happens to the different colors.
Go mud sliding down a hill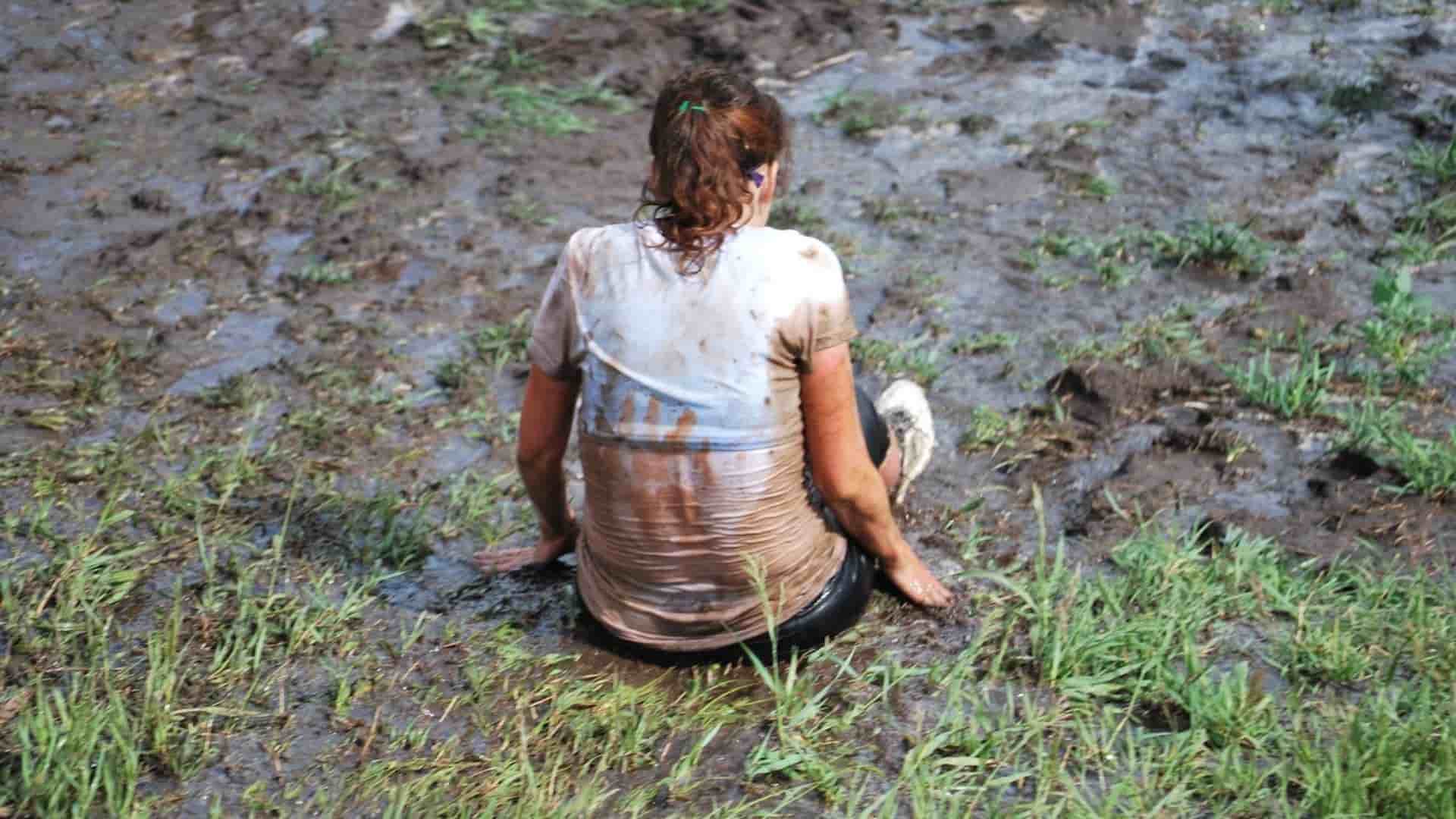 Finding a big muddy hill and going mud sliding is a fun thing to do in the rain outside, it doesn't get any better than this, slipping and sliding while being covered in mud from head to toe, ask yourself "Is it not great to be a kid again?"
If being covered in mud is not quite your thing, then you can still go slipping and sliding either on a body board or by just using your own body down a wet and grassy hill.
Be a "Good Samaritan" and help out some earthworms.
Once the rain has stopped and you take a walk along a pavement and see many earthworms all around, then be a "Good Samaritan" and help return them back to the soil so that they can eat the dead leaves and grass and play their part of being nature's free fertilizer.
Kayaking in the rain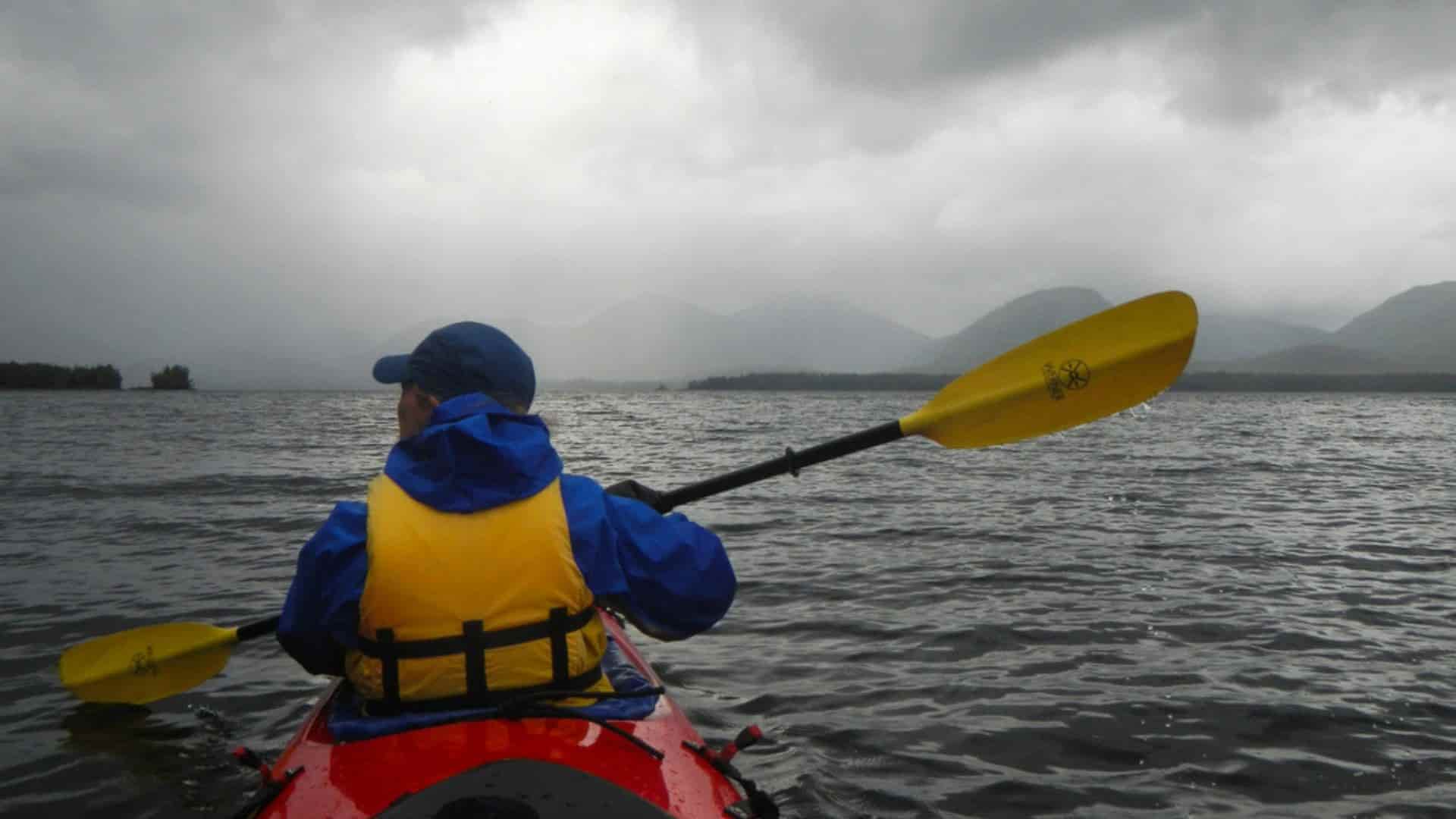 Some people find that kayaking in the rain is a fun and interesting thing to do as long as there is no lightning and you are wearing the right gear and the proper preparations have been done. They find it to be nice, cool and even a little magical when they watch the raindrops bouncing off the water. The rain seems to bring out a lot more wildlife like some birds seem to come out to enjoy the weather, frogs call out and fish jump in and out the water. It is really something to experience.
Cycling in the rain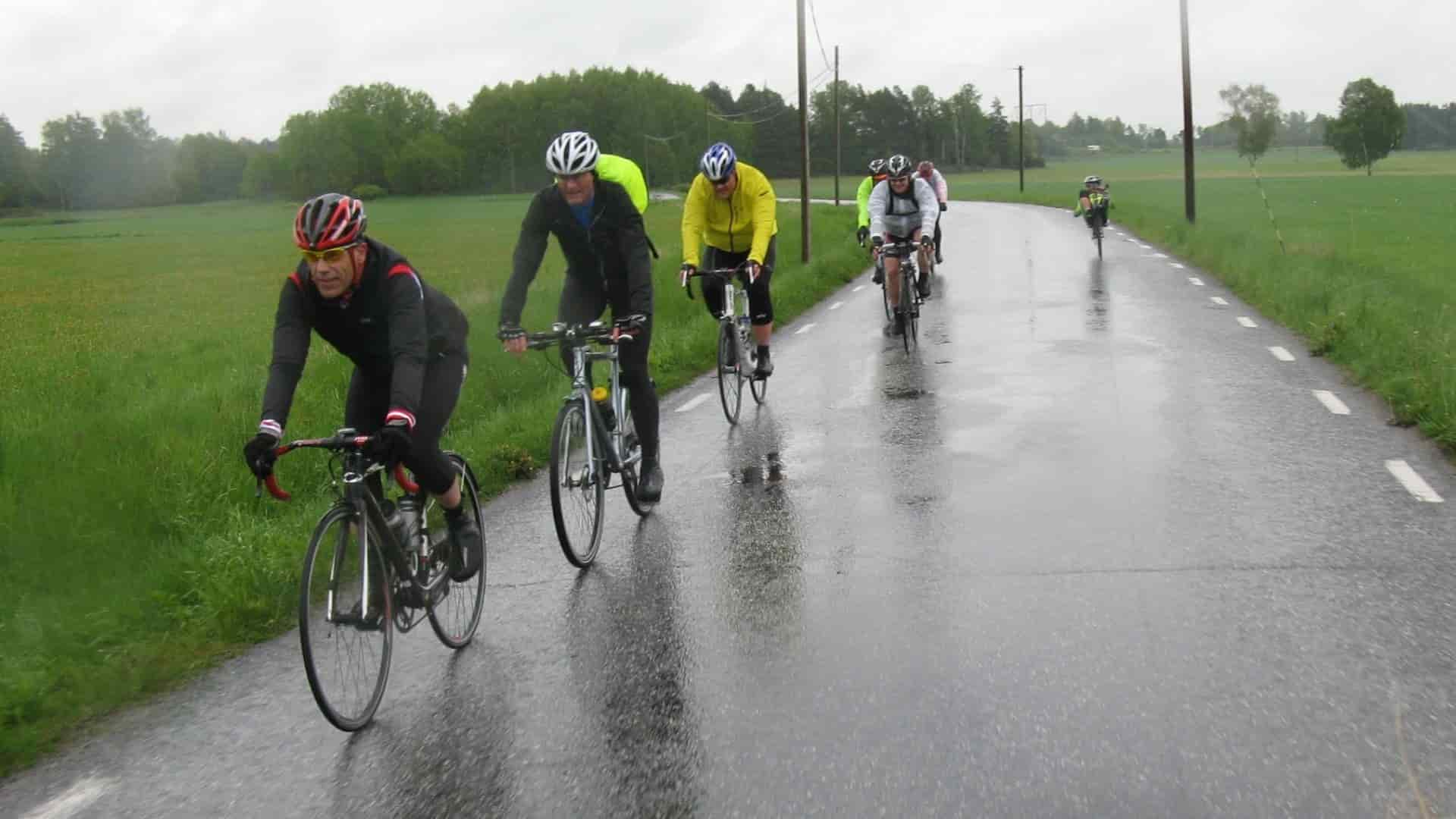 If being on the water in the rain is not something you would like to try then why not try cycling in the rain. With the right gear, it can be a lot of fun and it will make you a much better cyclist because you will learn amazing handling skills and you will have many of the bike trails and roads to yourself.
Practice mindfulness in the rain.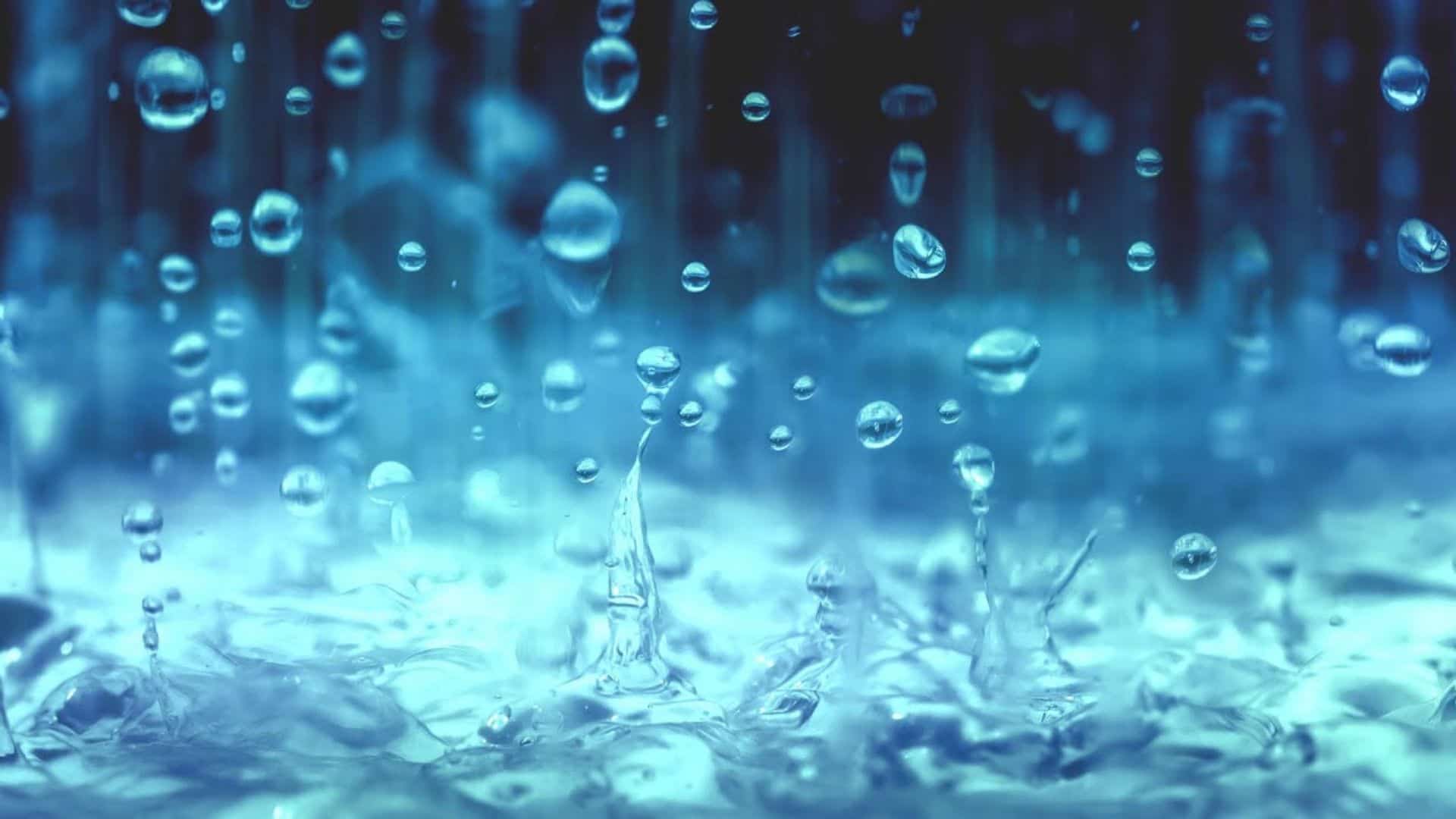 Find a comfortable place where you can sit quietly with your eyes closed and just listen to the rain. Be observant of your surroundings and senses by focusing on what you smell, the fresh air, and wet grass and leaves. How does the rain feel on your face? What are the different noises that the rain makes when falling on different objects? Like the trees, the ground, in a water puddle and even on your waterproof jacket. Take it all in and appreciate how special nature is to the world and to you as a person.
The next time it rains, remember that there are many fun things to do in the rain outside and it does not matter if you are a child or an adult, the only thing that matters is that you get some fresh air, have a little fun and enjoy what nature has to offer you.
ESTIMATED TIME DESIGNING AND UPLOADING THIS ARTICLE
ESTIMATED TIME RESEARCHING AND WRITING THIS ARTICLE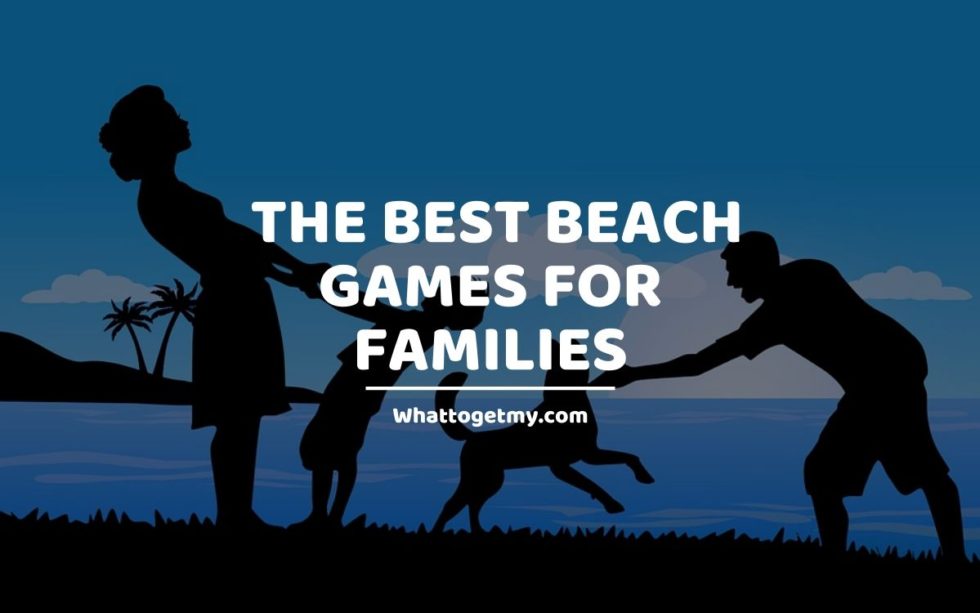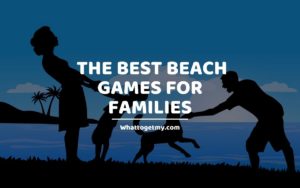 The Best Beach Games for Families
The Best Beach Games for Families WhatToGetMy Instructional Article Lying on the beach all day can get a bit boring for some people. If you don't want to spend the entire day reading magazines or tanning, check out our list of the best beach games
Read More »