25 Fun Things to Do in Your Backyard Alone
WhatToGetMy Instructional Article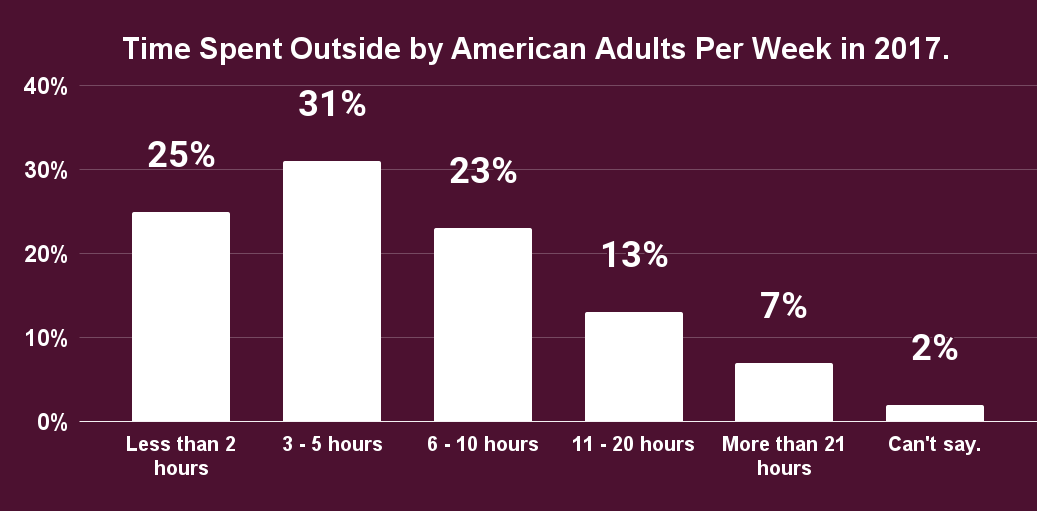 In an increasingly stressful society, we are being forced to make ends meet by working multiple jobs and when we aren't doing that, we are working long hours at the single job we have. There is little time for anything else apart from rest especially during weekdays.
When we do get some time off (or rather create some for ourselves), we find ourselves in front of the screens of our televisions, phones and tablets as we watch an ever increasing catalogue of movies, series, reality shows and anime or, we simply browse the internet till we pass out.
We seem to have forgotten the many hours we used to spend outdoors – especially in our backyards – in times past. Whether it was barbecuing for adults or the exploration of the fauna and flora in the backyard for the kids, the backyard offered an ideal location for many activities.
For all the fun we had, perhaps it is time we bring back those times. The beautiful thing about spending time in your backyard is that you don't have to wait for others to be with you. There are so many activities that you can do alone and still have fun or at the very least, a fulfilling experience.
We've compiled a few of those activities in this article for your convenience that we hope you will engage in like we have begun to.
For activities both indoors and out, here is an article on things to do at home during the holidays.
1. Organize your backyard
You can't really do much of anything if your backyard is not well organized. Take some time, clean up the backyard, trim some of the grass and organize it the way you want.
This will give you the space needed to do other activities in the yard. It may not be fun, but it is definitely fulfilling.
2. Stargazing
The backyard has a clear view of the skyline. You can use this to finally try – if you haven't before – some star gazing.
To make the experience more enjoyable, you should get a telescope. This way you could become an astronomer right in your own backyard by identifying the various constellations and planets in our solar system.
3. Bird watching
There are more than 9,000 species of birds on the planet. Of course it would be impossible to see all of them from your backyard but you would be able to see plenty if you took the time to.
So get yourself a relaxing chair, some binoculars, and try to identify as many species of our avian neighbours as you can, all from your backyard.
4. Read a book
Reading a book in your backyard especially as the sun is setting gives an extra feeling of serenity that those who live in flats wish they had.
You don't believe us? Then go get that novel that you've been meaning to finish and go to your backyard as the sun sets and prove us wrong.
5. Watch the sunrise
The beauty of the sunrise is one for the books and with a backyard, you can start your day by having this beauty all to yourself with a cup of coffee or tea in your hand and a smile on your face.
Let's not forget the vitamin D your body produces when exposed to the sun rising. It really is a win-win situation.
6. Investigate the flora and fauna
Popularly known as a backyard activity for kids, trying to find out the plants and organisms in your backyard can be a fun backyard activity for all ages.
With a magnifying glass and an optimistic attitude, you would be surprised at what you find. You can record your discoveries and if you are unfamiliar with something, you can find out what it is. 
This has the added advantage of familiarizing you with your surroundings so that you can know if you are in any danger.
7. Plant a garden
If you have ever read the book, "Weslandia", you would realize that planting a garden in your backyard can be a very fulfilling experience.
While you probably would not be able to establish a new civilization like Wesley did in the book, it can be quite fulfilling to watch the fruits of your labor, spring from the ground and blossom into full plants.
8. Bury a Time capsule
Whether you are a kid or an adult, burying a time capsule in your backyard can be a fun backyard activity.
Put some things that you feel represent your current stage in life, into a plastic container or any material that won't decay easily, and bury it for it to be dug up in 20 or so years. It is a great way to share memories with yourself across time.
9. Invest in a hammock
Watching Tom and Jerry as a child brought hammocks to my attention. I was amazed by how simple yet relaxing the idea was.
It is therefore no wonder that this is one of the most fun things to do in your backyard. If you can't build one yourself, get professional help so that the hammock is safe.
Once that is done, you could relax on it on a nice summer day, reading a book and sipping a mojito.
10. Rock painting
If your background has some nice looking rocks, you could practice your artistic side by painting on them.
You could paint anything from a cute emoji face to a medley of colors that you could use to decorate your backyard or your house. You could even give them away as gifts.
11. Practice Artistry
The outdoors can provide inspiration to create artworks of various types such as landscape and animal art.
If your backyard has some really nice views and you've wondered what being an artist would be like – if you aren't one already – why not get a canvas, some paint brushes and paint and see where the day takes you.
12. Write a Journal
The serenity provided by your backyard, can help you get in touch with your inner thoughts and feelings and you can document them in a journal.
Doing this can help you reconnect with what you want to do as a person, remove negative feelings that may have been festering and allow you to plan your next couple of moves in life or even for the day.
13. Meditate
Depending on the location of your home, your backyard could offer the quiet and serene environment that is required to meditate.
This will allow you to experience the benefits of meditation such as reduced stress, getting a new perspective on situations troubling you and increased self-awareness.
14. Barbecue and picnic
This list would not be complete without a barbecue or picnic suggestion. Every now and then, we need to treat ourselves and these two activities are a simple way of doing that.
Fire up that grill and make yourself a nice meal which you can then set up as a picnic and enjoy your own company as you enjoy your meal.
15. Camping
To go camping you need an outdoor location. Your backyard is an outdoor location even though it is a domesticated one, so you can go camping in it.
Get yourself a tent and some sleeping material and spend your night under the stars. There is the added advantage of still being close enough to the house that you can raid the fridge at night.
16. Design crafts and furniture
The backyard can be an excellent place to get crafty. You could use some of the materials you find in your backyard to make some useful or decorative items. For instance, you could make an acorn necklace or a floral crown.
You could take it a step further and learn to make some basic furniture by either refurbishing old furniture or making some new ones. This will keep you busy for hours once you become  invested.
17. Jazz up your backyard
As much as there are fun things to do, there are also fun things to put in your backyard to make it look that more alluring.
You can find some really good ideas on Pinterest for such – ranging from cool furniture to floral arrangements that would put some photo studios to shame.
18. Exercise
Your backyard is a great location to lose your carbs and get some toning done. It is an excellent compromise for those who want to exercise outdoors but might be too self-conscious to do so in a more public setting.
Exercises that come to mind include yoga, pilates, aerobics and some high intensity interval exercises.
19. Learn an instrument
If you've been meaning to learn an instrument such as a guitar or the drums, not only does your backyard provide you the space to do so, it can provide you with an outdoor scenery to let loose in.
So, get that instrument and start practicing.
20. Have a listening party
It is very possible to mix outdoor activities with those that you would normally do indoors. For instance, you could break out some speakers and have a listening party right in your background.
Country music comes to mind for this activity but feel free to listen to whatever you like. Doing it whilst the sun is setting will drown you in serenity.
21. Viewing party for one
Another indoor activity that can be done outside. You could set up a television or a projector in the backyard and watch some of your favorite movies or series there. If you're a sports fan and didn't make it to the venue, you could mix this with a barbecue session and get a real feel of the game.
Be sure however, to check the weather forecasts for the day because I don't think insurance covers device backyard rain damage.
22. Tee for one.
Mini Golf is an activity that a person can do alone and still have a lot of fun so why not do this in your backyard.
You could set up a rudimentary minigolf course right in your backyard and have minigolf fun without having to leave the comfort of your home.
23. Fireside chill
You could set up a fireplace in your backyard that you can relax next to, especially in winter. I remember doing this for a couple of nights in 2013 and I can tell you that it is pretty enjoyable.
This can be done as a standalone activity or when you decide to camp outside your house. Regardless of your motivation, it is an unspoken rule that you toast some marshmallows.
24. People Watch
If your backyard is close to the sidewalk or a place you can see people, people-watching can be a fun activity to engage in.
You could play a game with yourself where you try to lip-read what people are saying or come up with backstories for them.
25. Construct a Man-cave or a She-shed
While children have their treehouses, adults can have their man-caves, she-sheds or a mix of both. If you really feel inspired, you can spend some time constructing this for yourself.
If however, you don't think yourself up to the task, you can get someone else to fix one up for you and regularly come out to it to relax and unwind.
For other things to do alone, check out fun things to do without friends and things to do when single and alone.
Frequently Asked Questions
1. How can I have fun outside alone?
Bird watching.

Camping

Mini-golf

Barbecue

Gardening

Go clubbing

Taking yourself out.
2. What can I put in my backyard for fun?
Mini-golf course

Outdoor theatre

Hammock

Treehouse/ Man-cave/ She-shed

Outdoor bar

Swimming pool

Games section e.g. Pool and Ping-pong.
3. What can you do outside when you're bored?
You can go explore your surroundings or the city

Have a barbecue or a picnic

Volunteer at a soup kitchen or another charitable organization

Start a garden

Play with your pet or get a pet.

Exercise
For kids, check out this article on outdoor activities for 3 – 5 year olds.
In Conclusion
The backyard can be what you make of it. It can be an extension of your attic where you dump unwanted things thereby leaving it unattractive, or you could turn it into a fun zone where you could unwind and have a little fun. The choice is yours but we sincerely hope you choose the latter.
ESTIMATED TIME DESIGNING AND UPLOADING THIS ARTICLE
ESTIMATED TIME RESEARCHING AND WRITING THIS ARTICLE