Things to Do When You're Single and Alone
WhatToGetMy Instructional Article
Alone time is very important for personal growth. "Know thyself" is one piece of ancient wisdom that still inspires us. What's a better way to find yourself than spending time doing things you love or discovering new ones? If you want to know what are the best things to do when you're single and alone, just keep reading. We've gathered everyone's favorite activities for "me time" and we're sure you'll find something interesting to do.
Before you get to fun activities, we have some advice for you.
Stay single for a while (at least three months). Even if it seems hard, especially for newly single people, you shouldn't jump into a new relationship. Find out who you are and how you can be happy on your own. Only then you can share happiness with someone else.

Rediscover yourself. People change, so you're probably not the same person from last year. Take the time to explore your preferences and discover your goals. You'll be surprised how much you can learn about yourself.

Get in shape, not because you need to look good, but because you need to feel good. Exercise will keep you healthy, make you happier, and boost your confidence. You don't have to work out endlessly on a treadmill if you despise it. Instead, play tennis, basketball, soccer, etc.

Enjoy the single life. This is a unique period in your life, so try to use the best of it. Take risks, explore the world, challenge yourself. You don't need a company to have a good time. Learn how to enjoy doing fun things by yourself.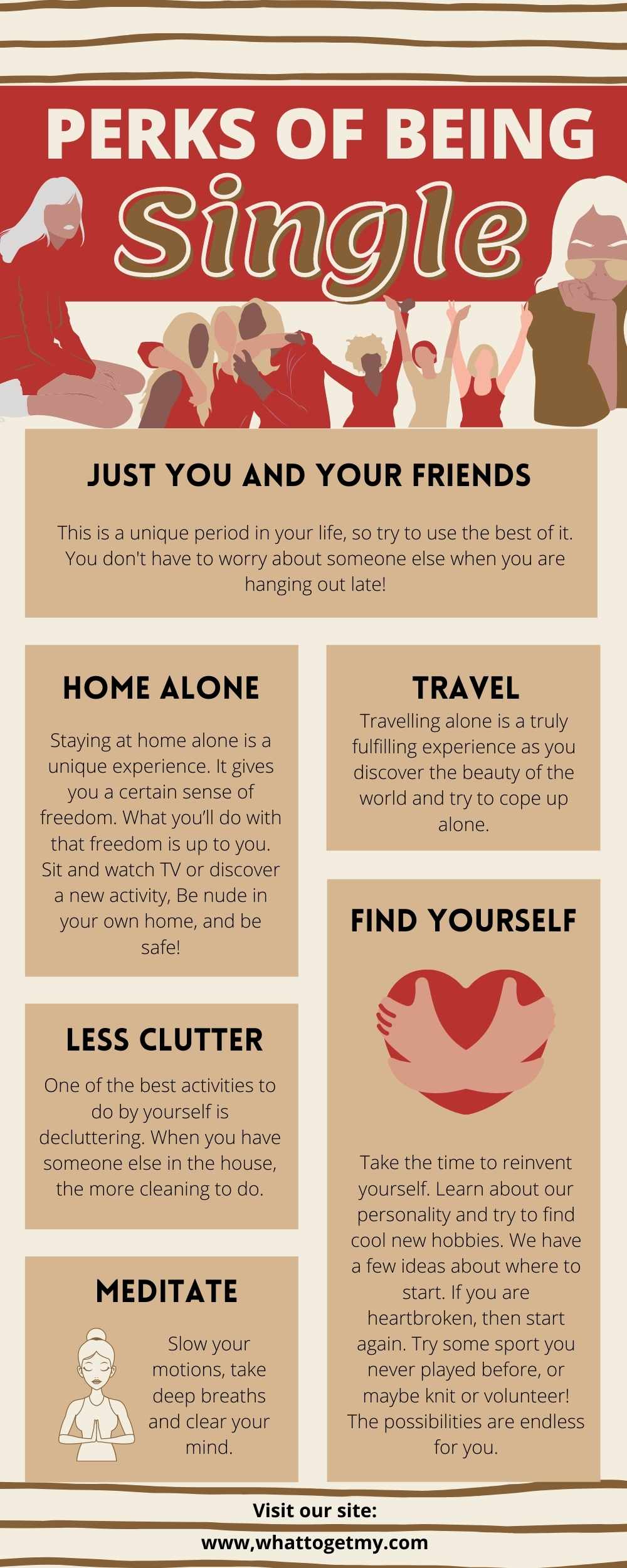 Source Link: https://whattogetmy.com/things-to-do-when-single-and-alone/
Home alone
Some find it exciting, some find it terrifying but we can all agree that staying at home alone is a unique experience. It gives you a certain sense of freedom. What you'll do with that freedom is up to you. Sit and watch TV or discover a new activity, we have a lot of suggestions on how to enjoy being alone in your house.
Play video games
Don't tell us you never tried playing video games. In these modern times, you can find hours and hours of quality virtual fun. There are so many games out there, so you will definitely find the one that would suit you.
Play an RPG with an interesting story or choose a shooter game. We heard that battle royal types of games are quite popular these days. They are very easy to play, so you don't need to be a "hardcore gamer" to have fun.
If you have a game console even better. If you don't, get one. Holding a joystick and playing the game on a big screen, just adds the fun. You can play the games from your childhood like Mario Kart or Crash Bandicoot, or you can check out the latest high-budget games.
Binge a new show
Streaming services can help you to find any film or TV show you want. Check out that awesome new show everyone keeps talking about. Rewatch all seasons of your favorite series too. Stock up on snacks and you'll have a week's worth of entertainment right here.
If you don't have a clue about what to watch, check out IMDB's lists. See what's so special about the series with high ratings or check out what's trending right now. You can definitely find something interesting to fit for your taste.
Read
Find a book that keeps you engaged. Check out ebooks or get yourself a nice hardcover. Choose the genre you're interested in and see what highly recommended these days. You can even catch up on classics. If there's some novel you haven't read but you hear people praise it all the time, now is your chance to explore it. The world of literature awaits you.
Solo karaoke
Who says you need to go out for singing and dancing? Make your own karaoke bar at home! Learn how to have fun by yourself. All you need are loudspeakers and an enthusiastic spirit. You can download karaoke apps or follow lyrics on YouTube. Open a bottle of wine and let the singing begin!
DIY spa treatments
If you need things for a single woman to do alone, check out the nearest spa. If you're staying at home, then treat yourself to some DIY relaxation. You deserve some self-love and this is the best way for it! Take a soothing bath, give yourself a luxury facial, get your nails done. Make a spa atmosphere with scented candles and nice music. Your body (and mind) will thank you.
Start journaling
Writing your thoughts is always a good thing. It can help you sort your feelings while also inspire you to do something new and interesting. Above everything, journals are like time capsules. You can capture moments in time, so you can reimagine your thoughts and experiences in the future.
Cook something interesting
Learn to cook a very complicated dish. Wake up the top chef in you and tackle those recipes you see every day on Pinterest and Instagram. Choose something extra hard to make, like beef wellington, why not? Even if you mess up, there's nobody around to judge you, so you can just order a pizza. However, if you succeed it would be the best-tasting meal ever because you've made it yourself.
Declutter
One of the best activities to do by yourself is decluttering. Face it, you have a lot of useless stuff lying around your house. Now you have the chance to clean up your garage or a messy closet. A lot of people feel amazing after spring cleaning. Getting rid of unnecessary things leaves more room for your important stuff.
If you already finished with spring cleaning, you can do other home improvements. For example, rearrange your bookshelf. You can organize your books based on genre or arrange them based on color, size, alphabet, etc.
Do a puzzle
If you don't know what to do on a day off alone, consider doing a puzzle. There's nothing more relaxing than tackling a 3k piece jigsaw puzzle. Of course, that might take a lot of time to finish, so if you think that might be an overreach you can opt for smaller ones, up to 1000 pieces. Find something with interesting colors and fascinating details and you can get lost in the puzzle for hours.
Going out
If your home becomes too boring, you can always go outside for a while. Don't let being single prevent you from having fun. You don't need a company to have a good time! Explore your city and check out cool restaurants and cafés by yourself or go see the latest blockbuster in the movies.
The cinema
Did you ever go alone to the cinema? Well, now it's time! Grab a bucket of popcorn, get a soda, and watch the movie without interruptions. You can catch the latest films or check out movie theaters that show older ones. Don't wait for someone anymore  when you have the best company in the world – yourself.
Restaurants and coffee shops
It sounds scary to eat alone in a restaurant but in fact, this is a very enjoyable experience. Treat yourself to a good meal – you deserve it. Nobody is judging people who eat alone, that's just a popular myth. Judgemental people will always find something to talk about, but ordinary people just don't care about these things.
For fun things to do outside by yourself, check out local coffee shops or breweries (depending on what kind of beverages you like). You can explore new tastes and maybe you'll find your new favorite drink. You'll never know until you try.
Concerts
Don't miss out on experiencing fun things just because you're afraid to go alone. You're at the concert, a literal crowd of people, so there's really nothing to be afraid about. You'll have more fun seeing your favorite band perform because you can decide what to do. Go to the front row, get the VIP tickets, leave early, stay late – nobody stops you. If you're feeling even more enthusiastic check out music festivals too. You'll meet lots of fun people and have fun experiences on the way.
Museums
Check out the museums you always pass in a hurry on your way to work. Take the time to enjoy exhibits at your own pace. There's no rush, so you can appreciate the artifacts and the artworks all day. Trust us, it will feel amazing.
Arcade
To find fun things for a single man to do alone, check out arcades. Stack up those quarters and head to the nearest game room. Spend everything on enjoying the games from your childhood, from pacman to pinball. You'll be surprised how many adults go to the arcades frequently!
Traveling
Be bold and daring and explore the world on your own. Visit a foreign country or check out the places in your homeland. The logistics of a major trip are so much easier to handle when you're single. Just pack a bag, grab a passport and head to the airport. During your flight check out the Airbnb app or find a room in a hotel. It's liberating and adventurous – truly a once in a lifetime opportunity.
Sightseeing
Get to know the cities you visit. Hire a local guide or see if there are sightseeing tours available. It's better to see "the important stuff" right away from a tourist bus. After that, you can check out local cuisine and just wander around the city.
Hiking
If you're looking for outdoor activities to do alone, you should definitely consider hiking. Walk through beautiful areas and explore nature on foot. You see wonderful landscapes while also relaxing your mind. Take as many pauses as you need, take deep breaths and enjoy nature to the fullest.
Bicycle rides
Hop on your bike and go for a ride. You can explore cities (yes there are bike tours too), or just cycle by the river. It's good for your health and also your mind. Plan your route or be spontaneous and just go where the road takes you.
Finding yourself
Take the time to reinvent yourself. Learn about our personality and try to find cool new hobbies. We have a few ideas about where to start.
New sport
Try some sport you never played before. Take some classes and go. Even if you make mistakes in the beginning, who cares! Look up what archery is all about. Or skateboarding, figure-skating, kayaking – you name it.
When you take new classes you'll meet people who have the same interests. They can even help you fit in. Don't be afraid and just try. If you're very shy but still want to work out, there are plenty of apps that can help you exercise from home. You'll be in a comfortable place, so you can explore yoga, Zumba, etc.
Knitting
This is a fun and relaxing activity, not just for grandmas. You can knit something useful like scarves and sweaters, or you can even make home decorations. Knitting warm and fuzzy things can help you reduce anxiety, so you should definitely consider checking those video tutorials.
Volunteer
When you have a lot of free time, the best thing you can do is a volunteer for the cause you believe in. Visit any place (a shelter, museum, hospitals) and offer help. Nobody will say no, trust us. Generosity activities can help you do good and feel amazing at the same time! If you feel passionate about something, there isn't a reason why you shouldn't try to make a difference.
Learn a new language
It's never too late to learn a new language. Nowadays it's so easy to attend an online course. Instal a language app too. Exercise your brain and have fun in the process. The best way to learn a language? Watching a movie without subtitles. It never fails.
Meditation
To really find yourself, you need to reach out to your inner self. We're talking about meditation of course. Slow your motions, take deep breaths and clear your mind. You can go outside and meditate in nature or you can play relaxing music and concentrate on your couch. Try it, you have nothing to lose.
Conclusion
What are you waiting for? Go and try these amazing things to do when you're single and alone! You surely found something interesting, so check it out ASAP. However, if you need more home activities, you can always scroll through our article Fun things to do in the holidays at home.
ESTIMATED TIME DESIGNING AND UPLOADING THIS ARTICLE
ESTIMATED TIME RESEARCHING AND WRITING THIS ARTICLE