Outdoor Activities for 3-5 Year Olds
WhatToGetMy Instructional Article
Outdoor play and physical activities are good for the healthy development of children, especially as they grow up at the ages of 3, 4, and 5 years old.
The trick is always finding the right mix of outdoor activities that will both fascinate and interest them, are safe, and still have a lot of health benefits to it. And that is what our selection of 28 Fun and Exciting Outdoor Activities for 3 – 5 Year Olds promises to deliver on. You and your 3 to 5-year-old will have a blast with all of the children outdoor activities in this article.
According to a 2014 survey of 69 parents by the Journal of Leisure Survey, a good majority of the parents let their children outdoors to play for at least 1 hour every day.
How Much Time On Average Per Day Does Your Child Spend Outdoors In Free Play At Home (U.S., 2014, 69 Parents). Source: Journal of Leisure Research
This is a good practice that is good for a child's growth and development. Outdoor play is vital and important for early childhood development and extends to adulthood as well. According to a 2019 finding by the Washington Post, persons who spent at least an hour every day in nature, were 35% more likely to be happy and in good health than persons who do not spend any time out in nature.
Increased likelihood of reporting happiness and good health for people who spend time in nature, relative to those who don't spend any time in nature at all (2019). Source: Washington Post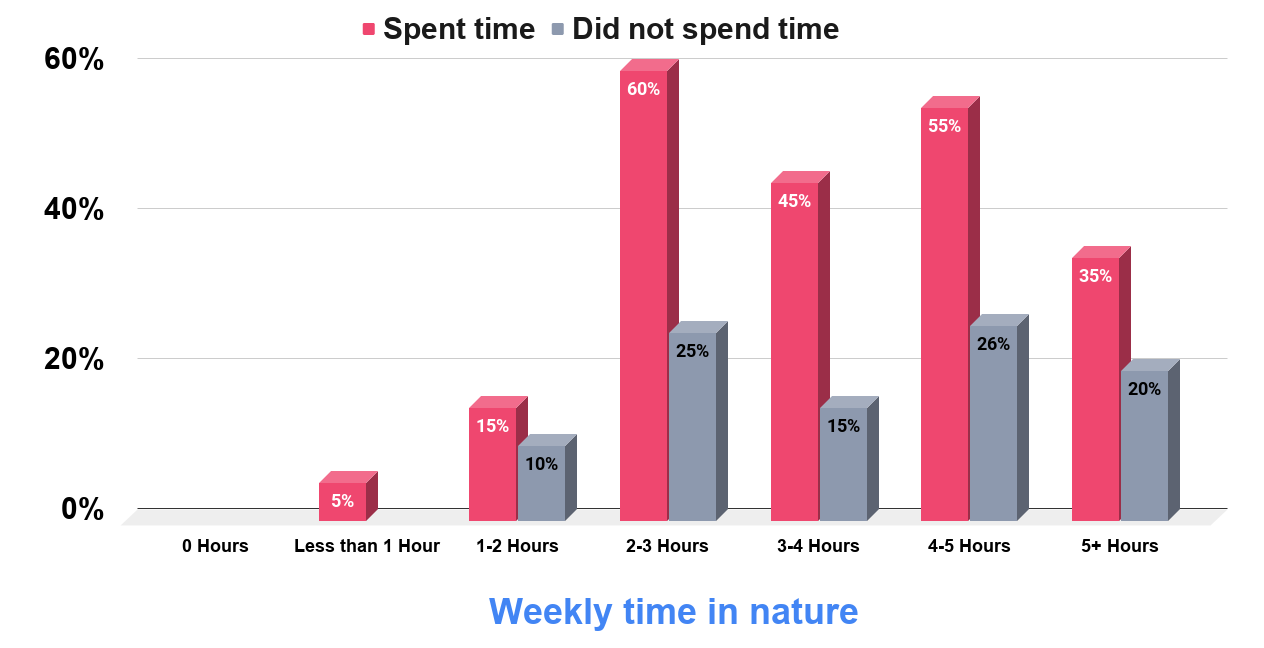 It is therefore important that as much as parents buy toys for their children or allow them screen time in front of the television and smart devices, they also spend quality time with their child engaging in children's outdoor activities with their 3, 4, 5-year-olds. And in this article, we list fun and engaging outdoor activities that you can engage in with your 3 to 5-year-olds. This article will also be useful for caregivers of preschoolers and also lists outdoor physical activities for preschoolers.
Check out our related articles on 
Outdoor Activities For 3, 4, 5 Year Olds.
The right mix of outdoor activities for 3 – 5 year olds is important if they will be motivated to engage in it and reap the health benefits it comes with. According to a 2009 survey by Scholar Works, children enjoyed outdoor activities like playing football and biking.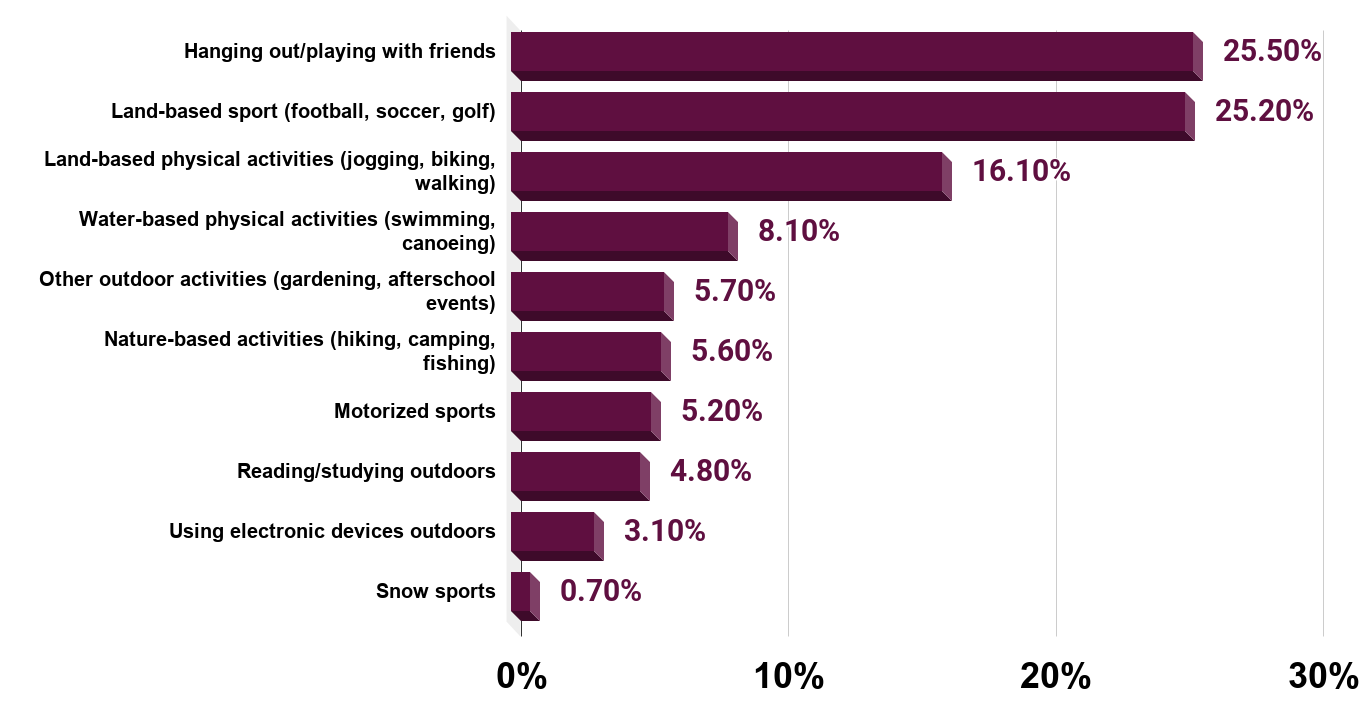 Here are good 3, 4, 5 year old activities that would make for fun outdoor play for 3, 4, 5 year olds. Most of them have been listed in the chart above and will be expanded upon.
Outdoor Activities For (3, 4, 5) Year Olds.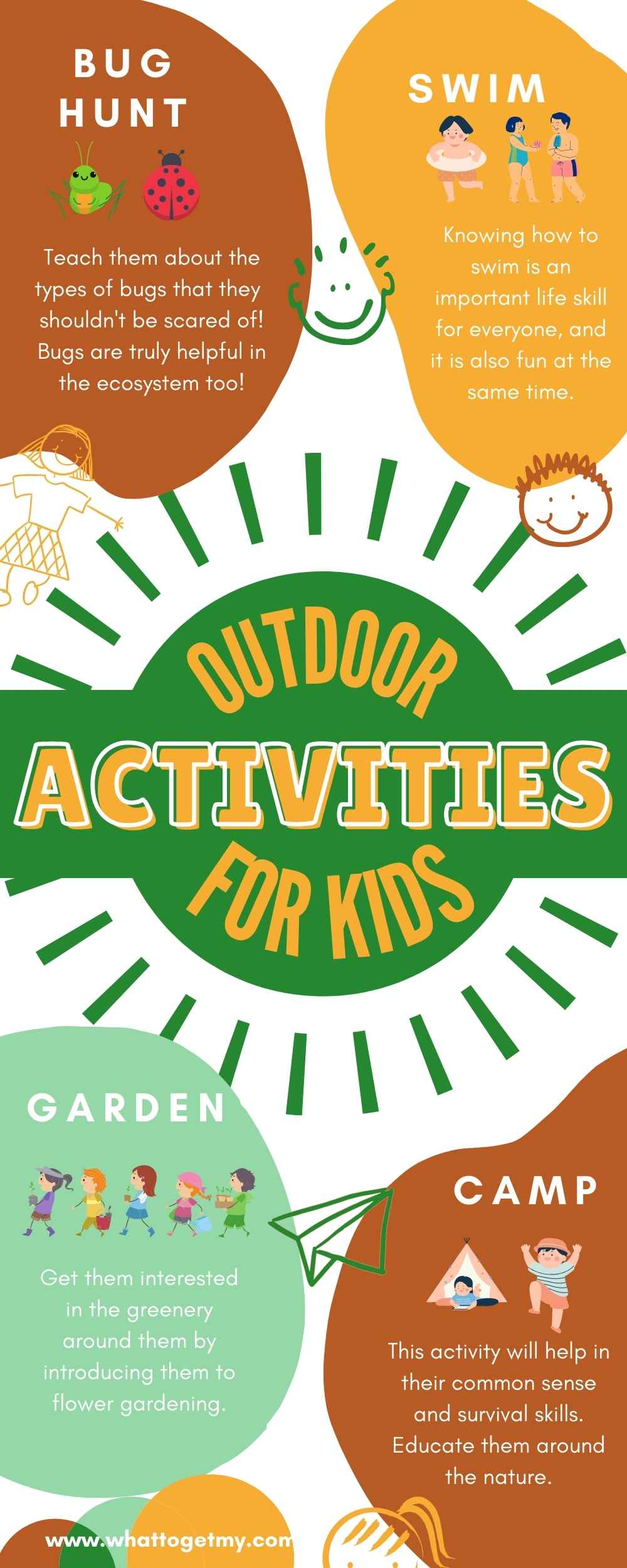 Source Link: https://whattogetmy.com/outdoor-activities-for-3-5-year-olds/
1. Nature Walks.
As the survey by the Washington Post indicated, going out in nature and taking nature walks can promote good health and happiness. To make your nature walk with your 3 – 5 year old even more exciting and something for them to look forward to, you can incorporate the following into your nature walks:
Bug Hunts.
Bug hunts will allow them to learn more about nature and the little guys who live on the soil/ground. Buy them a good Bug Catching Kit for Kids and this National Geographic Little Kids First Big Book of Bugs to teach them about the types of bugs that they should be on the lookout for. You can take this book along on the hunt so that when they catch a bug, you can look for it together in the book and watch how excited they will get that they caught a real-life bug.
Rock Painting.
Intrigue them with stones and rocks by incorporating rock painting into your nature walk. Challenge them to pick as many different sized stones and rocks, as they can, while out on the walk, and then settle down with them once you get home, to paint the rocks with a good Rock Painting Outdoor Activity Kit for Kids. The whole exercise will keep them engaged and intrigued
Biking.
Biking is both a good physical fitness activity and fun activity as well. A good tricycle is a good place to start in getting your 3 – 5 year old to start learning how to ride a bicycle. A tricycle is better because it is safer for them to use without getting injured. As they get older, you can then ease them into bicycles. You can take your nature walks with them on their tricycle while you walk. You can even decide to race them with their tricycle while you are on foot. They'll love it very much.
2. Swimming.
Knowing how to swim is an important life skill for everyone, and it is also fun at the same time. With swimming, it is always good to start as early as possible to teach a child. Why not make it one of their outdoor activities if they haven't started swimming yet. Not only does this help them learn, but it also helps you stay fit and in shape.
You can incorporate some fun into the swimming once they know how to swim, with a Water Blaster Soaker Gun for shooting water at yourselves while in the pool or Reusable Water Balls. This will make it more fun and exciting for both you and them.
3. Flower Gardening.
Get them interested in the greenery around them by introducing them to flower gardening, especially your 3 – 5 year old daughter, or general gardening for both your little boy and girl. Little girls tend to get fascinated with flowers at a very early age in life, and you can be sure that she will be taken by the pretty petals of the different flowers she sees around her.
If you prefer to ease her into it, you can start with an artificial Flower Garden Building Set while she is still 2 – 3 years old. This artificial flower gardening set gives her the chance to start learning how to arrange a flower bed the way she likes. And from there, you can have her start doing the actual thing by buying her a Kids Gardening Set to play with outdoors.
4. Outdoor Camping.
Camping is another exciting outdoor activity that children of all ages love very much. Make the camping extra thrilling and exciting by starting with your 3 – 5 year old setting up their camping tent with this Camping Tent Set Toys.
You can then make it fun outdoor campings to always look forward to by making it a 2 to 3-day outdoor camping experience, with a camping itinerary that looks something like this:
Day 1 – Scavenger Hunts combined with Hide and Seek.
Use this Scavenger Hunt Card Game to plan your scavenger hunt and set up exciting things to find in the hunt. Combine it with an element of hiding and seek for an exciting edge to the scavenger hunt. You can equip them with some cool Kids Walkie Talkies for them to use during the hunt and hide and seek as they try to find the hidden treasures.
Day 2 – Dinosaur Egg Hunt.
Buy them a Dino Egg Dig Kit For Kids to keep them busy in trying to dig for real dinosaurs and dinosaur eggs. Kids are fascinated by dinosaurs, and they will love a dinosaur egg kit that gives them a dinosaur egg hunt experience.
Day 3 – A Tea Party.
This would be especially enjoyed by your 3 – 5 year old princess. Little 3 – 5 year old girls love to have pretend tea parties in pretend high gardens. Buy her a nice Kids Tea Party Set and on the last day of camping, you can make it a picnic/tea party where she brings out her tea garden set and enjoys tea and biscuits with you. This will make her very happy.
5. Beach Activities.
The beach is another fun place where the whole family can have fun. If you live around a beach, you can take beach walks with your 3 – 5 year olds. To make your beach walks exciting, incorporate the following beach activities to your time at the beach:
Beach frisbee game.
Take these kids friendly flying discs when next you're going to the beach and play a good game of catch with your 3 – 5 year old.
Beach animal hunts.
You can hunt for small sea animals that can easily be found on the shores of the beach, like sea turtles who normally have nesting grounds spread out on beach shores, and isopods.
Building sandcastles.
The sands of the beach are great for making tiny cute sand houses or sandcastles as they are called. You can join your 3 – 5 year old in making a beautiful sandcastle. This lets them plug into their creative side.
6. Painting.
Painting is a fun activity that allows your child's imagination and creativity to come out unbounded. You can buy them a good Kids Painting Writing Doodle Board Toy which allows them to paint to their heart's desire. This set is easy to clean and reusable which means that they can use it as many times as you want them to. It keeps them very busy and engaged and is another all-round winner when it comes to outdoor activities for 3 – 5 year olds.
7. Play in the rain.
Playing in the rain is a fun outdoor activity that no child should miss out on when growing up. The next time it is raining, let your 3 – 5 year old out and splash around in the rain with them.
And to make it super exciting, play with water guns while out in the rain. You can run around with your water guns having fun. This Backpack Water Gun for Toddlers is perfect for 3 – 5 year olds. And you can bring your own Adult Water Gun and have the time of your life with your 3 – 5 year old.
And even without the rain, you can create the same fun feeling that comes with playing in the rain with a Sprinkle & Splash Play Mat. Your 3 – 5 year old will enjoy playing on this mat and still feel like they are playing in the rain.
8. Playing Golf.
You can introduce your 3 – 5 year old to golfing with a good golfing toy set. This may get them curious and interested in golf, or they may not like it. The only way you will know for sure is by giving them the golfing toy to play outdoors with.
9. Outdoor Pit Balls And Tunnel And Bean Bag Games.
This is a fun and enjoyable outdoor activity that will need you to have the following toys – an Outdoor Mesh Tunnel, some Pit Balls, and a Bean Bag Toss Set. Set up the entire toy sets and let them have a blast jumping around, throwing bean bags, and hiding out in the mesh tunnel among pit balls. And even better, you can join them too.
10. Bowling.
Bowling is a fun sport that is enjoyed by everyone regardless of age. And with a Kids Bowling Set even 3 – 5 year olds can now enjoy this all-time favorite of everyone. These bowling sets are easy to set up outdoors. To make it even more beneficial by adding an educational element to it, you can buy these Bowling Balls Printed with Numbers to get them bowling and teaching them the basics of numbers at the same time.
Outdoor Games For (3, 4, 5) Year Olds.
11. Sports.
The age of 5 and upwards is a good time to start introducing children to some contact sports like football, baseball, basketball, and hockey. Good playsets for these sports are a good way to get started to get them interested early enough. You can check out these Hoover Football Set, Baseball Set, Basketball Arcade Set or this Adjustable Basketball Hoop Stand, and this Hockey Set.
To make it exciting, have them invite their other friends over and let them make a competition out of it.
12. Water Balloon Game.
Water balloons are fun to play with. Fill up some water balloons and knock them around with some bats until they break and splash the water on you all. Children get a kick out of playing with water balloons.
13. Lawn Games.
This Lawn Bubble Mower for Kids is a fun and exciting outdoor toy to include in their outdoor games. It will also introduce them to lawn mowing too and who knows they may take to mowing the lawn the older they get.
Preschool Outdoor Activities.
Since children spend a great deal of time during school term at their preschools, it would also be good that outdoor activities are also incorporated into their time at preschool. Here is some fun outside activities for preschoolers.
Outdoor Physical Activities For Preschoolers
14. Race You To The Gate.
This is a physical activity that will introduce them to the sport of running. You can make small track-like marks on the school grounds and have them race each other. It is both fun and engaging. Give them small treats as prizes at the end. This will make them look forward to more of these races.
15. Garden Toss and Catch Ball Game.
A good kid's friendly Toss and Catch Racket and Balls Set will make this game fun and exciting. It's a good way to introduce them to table tennis and/or badminton. This is a fun outdoor physical activity for preschoolers.
16. Fishing.
You may wonder how fishing can be part of a preschooler's outdoor activity. However, with this  Magnetic Wooden Fishing Game Toy and Magnetic Fishing Game Water Toy, you don't need to go actual fishing at a pond. You can bring the pond to the preschool while having an educational element to your "fishing expedition" with your preschoolers. This is a good outdoor activity for preschoolers that not only teaches them about fishing and how it is done but also about different types of fish and alphabets too.
17. Egg and Spoon and Potato Sack Race.
Potato sack games and egg and spoon games are fun outdoor activities loved by everyone. This kids-friendly Potato Sack and Egg and Spoon Set also give 3 – 5 year olds a chance to get into this enjoyable game activity quiet early on. It is a good team-building activity and as well as a fun outdoor physical activity for preschoolers.
Outside Play For Preschoolers.
18. Swings and Seesaws.
Every child loves their swings and seesaws. Set up a sturdy swing and a Playground Seesaw in your preschool garden and let them out to play with it. It is one of the outdoor play area toys that children love very much.
19. Color Square Game.
Draw some color squares outdoors for them to play in, hoping in and out of the squares. Kids also love this game very much, and it is a good way of getting them to play together at preschool.
20. Egg Toss and Potato Pass.
This game will only be fun with this Egg Toss Set and Potato Pass Set. The fun with these as outdoor play activities is that while the children are tossing them amongst themselves, the eggs and potatoes have sensors in them that tell the children whether the pass or toss is soft or hard. The kids will get a kick from the talking eggs and potato. They are also fun educational toys to teach kids about how fragile eggs are.
21. Rocket Launching.
Teach them about rockets with these Cool Foam Rocket Launchers that are kids friendly for 3 – 5 year olds and will have them fascinated with rockets.
Frequently Asked Questions.
What are some outdoor games for kids under 5?
All the games listed in this article will be good outdoor games for kids under the age of 5 but above the age of 2 years old. For games and activities for children 2 years and under, check out our articles on 2 year old birthday day out ideas, Activities for 2 year old autistic child, and Activities for babies 12-18 months.
Conclusion.
Outdoor play is vital to a 3 – 5 year old's growth and development. Taking them out in nature is good for them and will help them in their growth, and by engaging them in any of the activities listed in this article, you do just that.
ESTIMATED TIME DESIGNING AND UPLOADING THIS ARTICLE
ESTIMATED TIME RESEARCHING AND WRITING THIS ARTICLE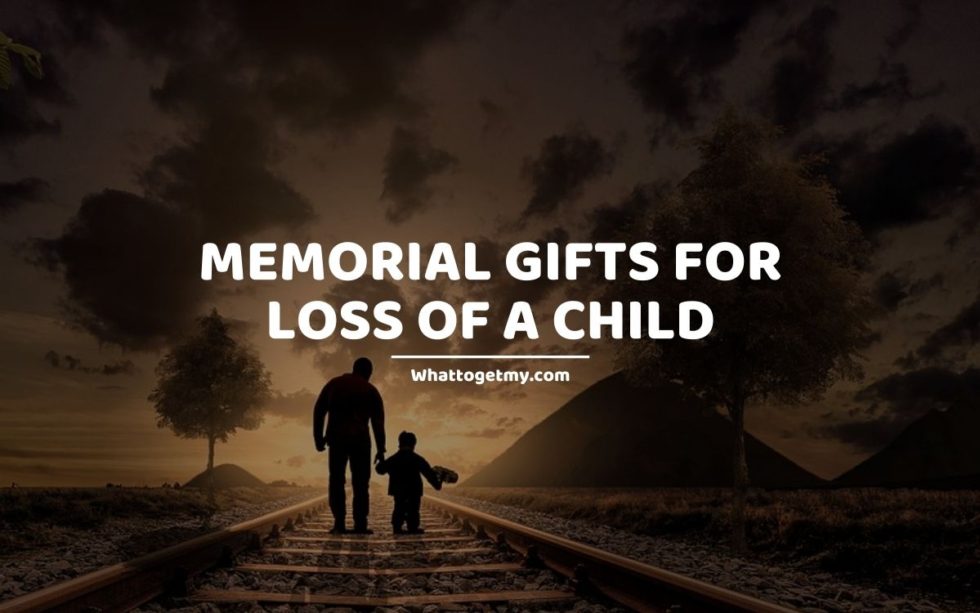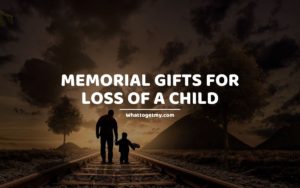 24 Memorial Gifts for Loss of a Child
The loss of a child hurts unimaginably. It is a grief that seems almost impossible to console. The hurt lingers for years and without the right support, some parents take extreme measures to relieve themselves of it. If you know a bereaved parent personally or
Read More »