17 Exciting Ideas for What to Do on Your 18th Birthday Alone
WhatToGetMy Instructional Article
You find that you will be spending your 18th birthday alone. To stop yourself from feeling all depressed and lonely on your special day. You are looking for some exciting and fun ideas for what to do on your 18th birthday alone. 
You want to know how to make your birthday special for yourself, for ways to be entertained and have some fun. You want to spoil yourself because after all, an 18th birthday is not just any birthday. It is a milestone birthday that marks the end of your childhood but also the beginning of adulthood.
Many people think that spending a birthday alone, especially an 18th is sad, depressing and extremely lonely. But there are many things that you can do where you will not feel alone. Because you will be surrounded by many other people. And having so much fun that you will hardly notice that you are alone. 
Yes, these people might be strangers to you at first. But if you strike up a conversation with them, you might find that they have similar interests as you. You could even end up becoming close friends.
Going out and spending the day alone on your birthday has a huge advantage to it. You can spend the day doing everything and anything that you want to. 
You will not need to worry about accommodating other people. By making sure that they are enjoying themselves as well.
All you need to worry about is YOU
To make your 18th birthday special for yourself. First, start off by deciding if you would like to celebrate the actual day of your birthday. Or would you want to celebrate it on the closest weekend?
If you are celebrating your birthday in the middle of the week. Make sure that your day is clear. That you are free to do the things that you want to do, go where you want to go and eat what you want to eat.
But whatever way you decide to spend your special day. Make sure that you do something that is fun. Something that you have been putting off because of the lack of time, energy or money.  And don't spend the day catching up on chores like laundry, cleaning or really anything that is part of your daily routine.
The whole idea is to make your 18th birthday an exciting and fun experience. 
So for some spending birthday alone ideas:
1. Watch the sunrise
Get up early on the day of your 18th birthday, go outside or go to a place that is special to you. Sit and relax and watch the sunrise. There is no other and better way to start off your day. Because watching the sun come up has a couple of really good advantages like:
It is a beautiful view to see first thing in the morning
It relaxes you and puts you in a good mood for the entire day
It gives you hope and makes you feel at peace
2. Have a special breakfast
After you have seen the sunrise, spoil yourself with a special breakfast. If you are at home, prepare your own breakfast with all your favorite things that you like to eat for breakfast. Set a special breakfast table for yourself. Decorate it how you wish and include a creative centerpiece. Add your favorite beverages to have with your meal.
If preparing breakfast yourself is too much work for you. You can go out to a place where you could order something special. Try to get a seat by the window. You can enjoy watching other people rushing around to get to work or where ever they are going to. Spoil yourself with a fancy coffee or tea to drink. Order something that you wouldn't usually order. Like a whole stack of pancakes with your favorite toppings.
3. Make a change
An 18th birthday is the start of a new stage in your life. It is the stage where you enter into adulthood and is a great time to make a change in your life. It could be something as small as getting a completely new hairstyle or haircut. Or something a little more extreme like changing your entire wardrobe to a new stylish you.
Making a change does not only have to be changing something with your appearance. It could even be starting something new, like starting a new tradition for yourself. This could be by making a promise to yourself that you would do something special every year for your birthday.
4. Make yourself something special
If you always wanted to try something creative by making a special keepsake gift.  Let your creative side come out and make yourself something that is special and meaningful to you. It can be anything you like from a pottery bowl, homemade candles to a teddy bear that you make at Build-A-Bear. It will be a great reminder in the future that you made yourself something special on your 18th birthday.
5. Buy yourself a great gift
Just because you are alone on your birthday does not mean that you can't receive any gifts. The majority of the gifts that you receive from other people are usually things that you either don't like or don't want. Spoil yourself and buy yourself a great 18th birthday gift. Because a birthday is never complete without a gift even if it is from yourself. 
Wrap the gift and save it for later for when you are about ready to turn in for the night. Opening a birthday gift just before going to sleep can relax you and make you feel happy.
6. Enjoy the outdoors on your 18th birthday
Spend some time outdoors and connect with nature. Go for a hike on a nearby nature trail or take a walk along the beach or a nearby public park. Bring your dog along with you if you own one as they seem to make exploring new areas so much more interesting and fun. 
Another fun gift idea is to get gifts from dog to owner that's an extra gift for you on your birthday. You can have fun opening the gift together.
Remember to take your camera with you while you are spending some valuable time outdoors. The beautiful and fun pictures that you take will make a great addition to your memory book.
7. Visit a Museum and art gallery
While you are out exploring and want to do something good for yourself. Take the time to visit a museum and an art gallery. The choice of museums is up to you, you could choose specialty museums, history, art, botanic gardens, historic sites, and even aquariums.
Anyone of them will give you an experience that you will remember for many years to come. They will give you not only an experience but according to research, many other benefits too, like:
Relaxes you and makes you feel good
Reduces stress, lowers anxiety and depression
Boosts your critical thinking skills
They give you inspiration
They teach you new things
You can meet new people and make new friends
8. Volunteer
If you would like to spend your 18th birthday doing something good for other people or animals. Offer your service as a volunteer. You could help out at a nearby dog shelter or spend some time at a retirement or nursing home.
A huge advantage of volunteering is that you will not be alone on your birthday and you will get to help others. You could enjoy it so much that you would want to volunteer on a regular basis and even land up making new friends.
9. Go on an adventure
 Plan and go on your own adventure. It can be anything that you want it to be from a road trip to places you've never seen before to an overnight stay in a hotel. You can attempt to do one or a few items on your bucket list and if you don't have one make yourself one.
You can make your adventure about taking risks and trying a new activity or sport. Like rock climbing or zip-lining. Or about exploring a new town or city close to home. Take advantage of everything the town or city has to offer. If you do you can end up making your 18th birthday the best birthday that you have ever had.
10. Attend a live event or show
Another way to entertain yourself on your 18th birthday is to attend a live event or show. Search through your local newspapers or online for an event that is taking place in or near your area that you would be interested in. This could be a music festival or a show for your favorite musicians or bands. 
Another choice would be to attend a comedy show or go to a musical theater. Both are sure to make you laugh until it hurts.
11. Go go-karting
This is something fun that is filled with adrenalin that you can do alone. Go to a go-kart track which could be indoors, outdoors and even off track. Climb in a go-kart, put your foot to the pedal and have the time of your life racing against others on the track.
12. Go watch a movie
If you feel like doing something more relaxing after your wonderful adventure. Go to a movie theater and watch a movie. You can choose to watch a comedy if you feel like laughing out loud.  Make sure to grab yourself some popcorn and a beverage and enjoy it.
If a movie theater is not your style. Then go home and hold your own movie marathon. Watch all the movies that you have been dying to see but haven't had the chance to yet.
13. Go for a picnic
If the weather is nice out go for a picnic in a local park. Pack your favorite snacks, a sweet treat, beverages, picnic blanket, sun protection, and a great book and head off to the park. Lay down the picnic blanket, sit down breathe in the fresh air and admire the beautiful view around you. Then have your snacks, relax and enjoy that book that you've been excited about reading.
14. Enjoy a birthday cake
You have to have a cake on your birthday. Bake yourself a delicious cake or order one from a bakery. Place 18 candles on it and blow them out while making a wish. Sit back and enjoy an extra-large piece of your birthday cake. If you are not a cake type of person, replace it with whatever other treats there is that you really enjoy.
15. Treat yourself to a delicious dinner
Choose a beautiful hidden and unknown restaurant in your area and have a delicious dinner for one. There is something so inviting and comfortable about a family-owned little restaurant that offers home cooking. You can enjoy the meal and maybe even strike up an interesting conversation with the owners.
16. Relax and pamper yourself
To bring the perfect end to your eventful 18th birthday alone, you can take a long soak in the bath. Place some candles alongside the bath and add some bubbles to your water. Climb in and relax for a while.
17. Celebrate some more
If you are still fired up and are not quite ready to turn in for the night. Put on your favorite music and go wild by singing and dancing to the beat. Don't worry no one will be watching you so you can be yourself and do what you want.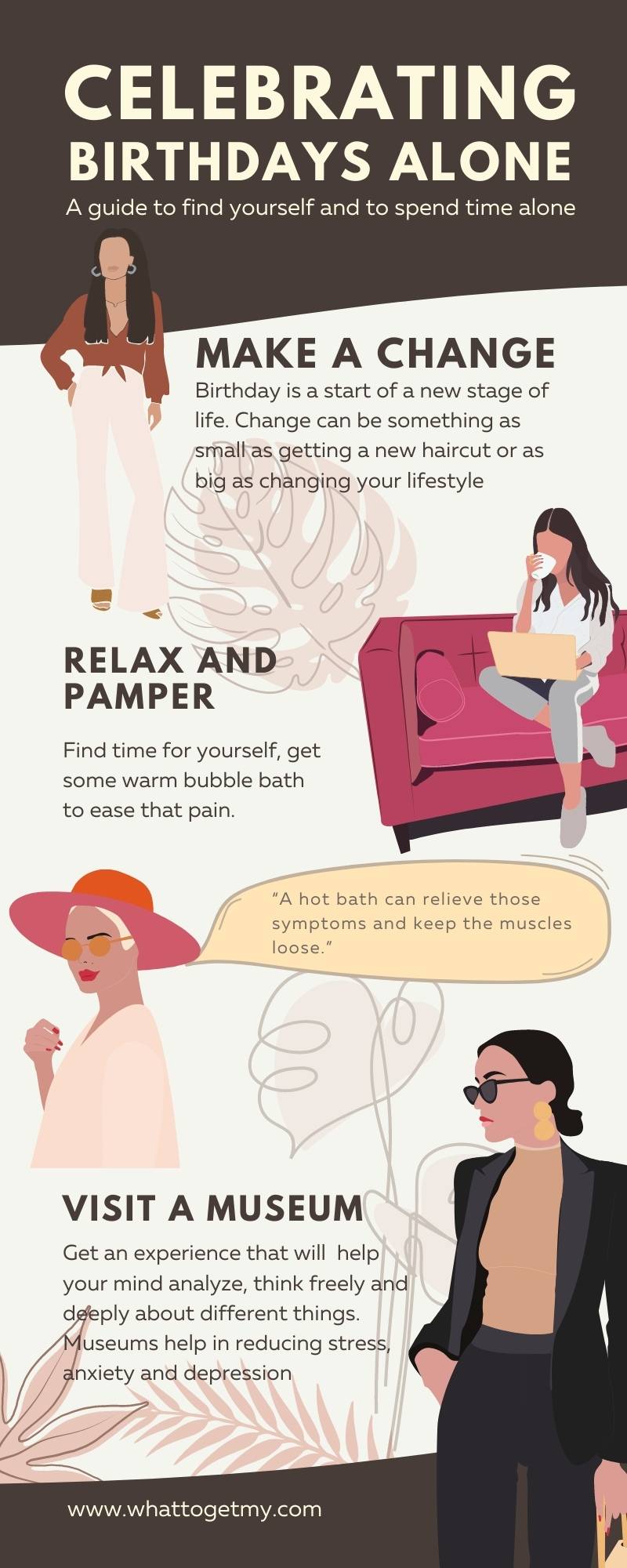 Source Link: https://whattogetmy.com/what-to-do-on-your-18th-birthday-alone/
There you go 17 exciting and great ideas for what to do on your 18th birthday alone. You can do all of them or just a few of your favorites. It is up to you. As long as you have so much fun doing them, it will be a birthday to remember.
ESTIMATED TIME DESIGNING AND UPLOADING THIS ARTICLE
ESTIMATED TIME RESEARCHING AND WRITING THIS ARTICLE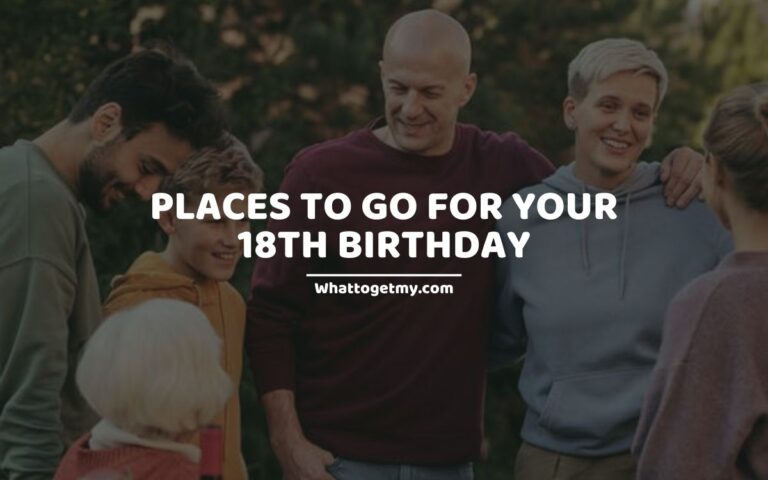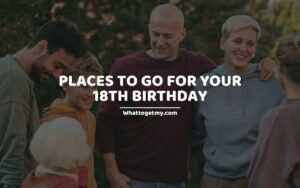 27 Places to Go for Your 18th Birthday
27 Places to Go for Your 18th Birthday WhatToGetMy Instructional Article Well now, look who just became 18, look who just became an adult. First of all, congratulations on reaching this milestone. You have just reached the age of freedom and responsibility and the keys
Read More »