Do You want to surprise someone special in your life who is a huge fan of Musical theaters? If yes, then you must be trying to find ideas for gifts for musical theater lovers. Even if you could never seem to really understand what all the fuss is about and why they love the musical theater so much, so you still want to get them theater related gifts because you are 100% sure that will make them jump with excitement.
Musical theater lovers find that musicals tell a story through singing and dancing that is filled with different emotions and over the top actions, they are able to transport you from reality temporarily into a magical world that makes you feel good, happy and that anything can be possible, even if it is just for a couple of hours.
Most musical theater lovers feel that some of the shows you go see can even relate to a specific and difficult time that you may be going through. They can then help you make an important decision that you have been putting off for some time.
During the course of one musical show, you can experience so many different emotions with the cast and the story that they are telling you. One moment you will be laughing, the next crying, then cheering, singing and dancing. But at the end of it all, you still manage to walk out the show feeling good and ready to take on the world again.
Another reason why they love theater so much is that often it is a fun way to bring families or friends together. If tickets are bought, it tends to get people to attend the show and experience it together, thus building happy memories. A lot of these Broadway musicals get the audience to interact with each other, which encourages you to meet like-minded people and even making new friends.
If you have children that love the theater, a great gift for these little musical theater lovers would be to enroll them into a musical or drama program where they can show off their love for theater, their talent, learn all about the different types of musicals, the history, what goes into the production and build their confidence.
The perfect gift for theater lovers of all ages, of course, would be theater tickets, especially if you know that their favorite show is playing nearby. But if you are unable to get tickets then some other gift for theater geeks/nerds could be a Hamilton hardcover book or t-shirt, a Carole King musical CD, maybe a Broadway Star board game or a 5 panel Broadway wall art painting.
Below is a list of creative gift ideas for theater lovers to choose from!
As an Amazon Associate we earn from qualifying purchases. We may earn a small commission for our endorsement, recommendation, testimonial and/or link to any products or services from this website. Thank you, your qualifying purchases help support our work in bringing you real daily gift ideas.
Our Gift To You:
Find out how to download This 
Free Printable Card
For Musical Theater Lovers at the End of This Article
.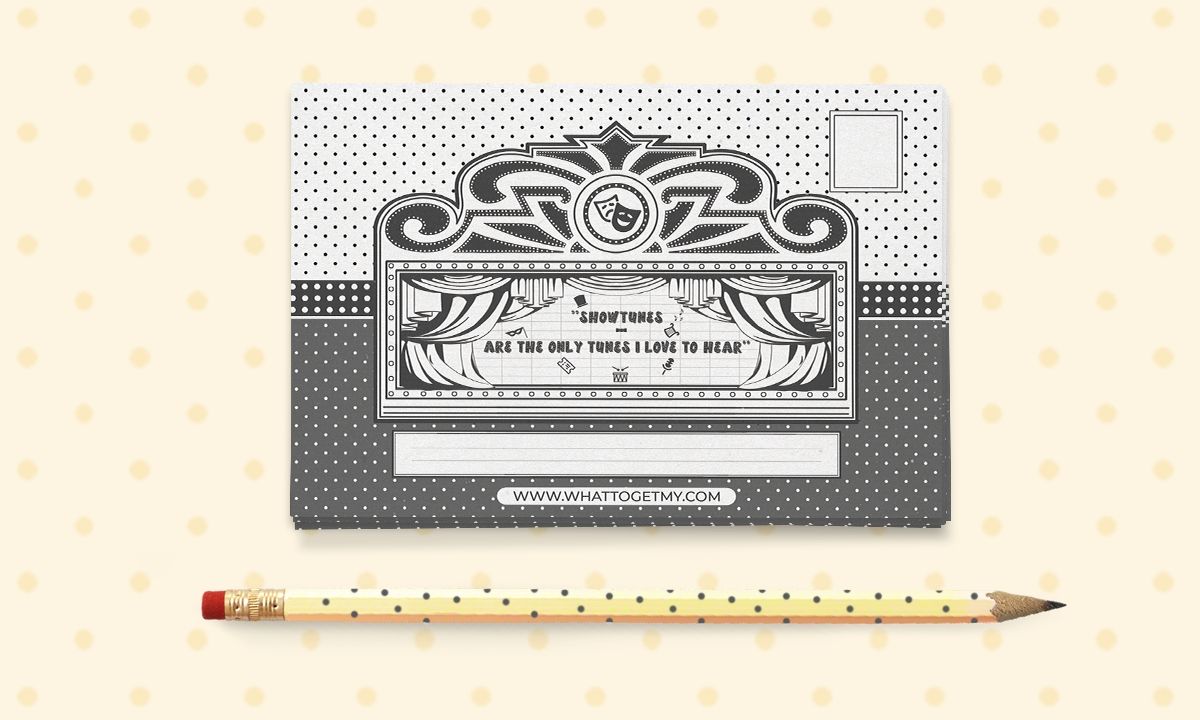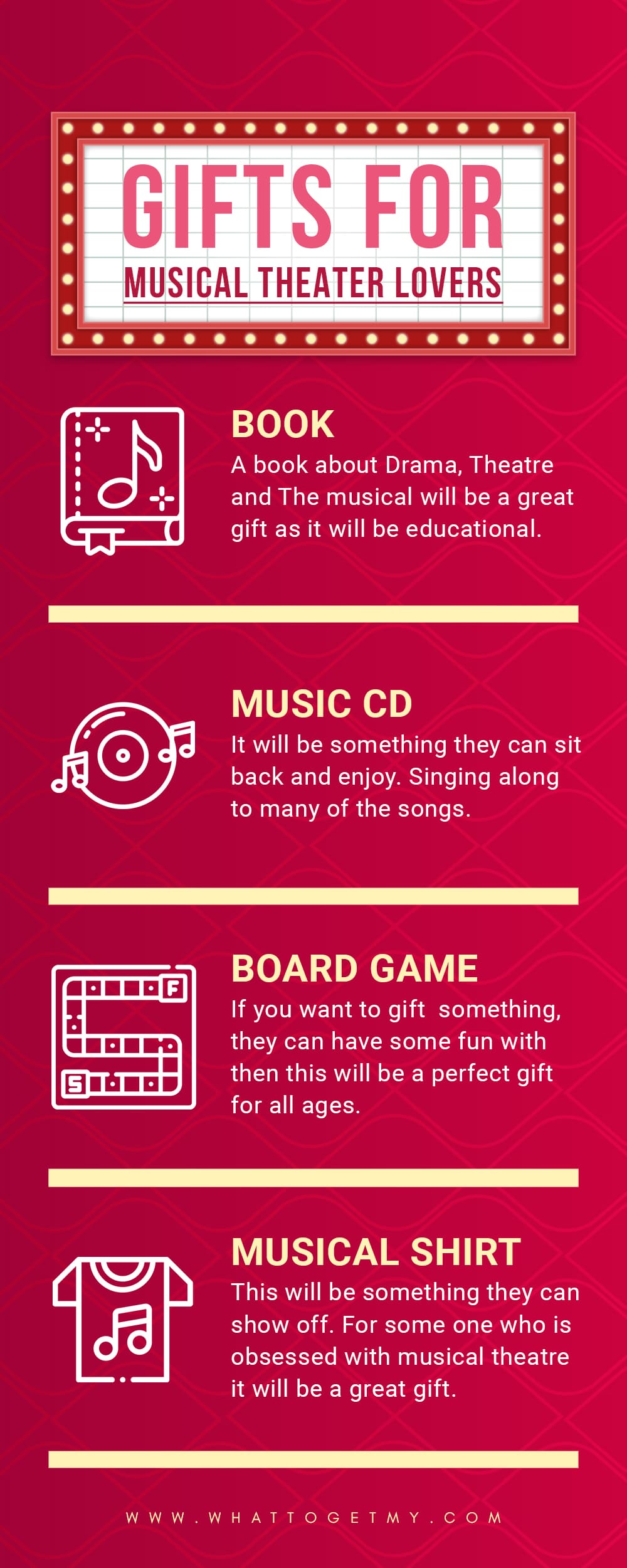 Source Link: https://whattogetmy.com/gifts-for-musical-theater-lovers/
Something To Educate Them With
Book: Hamilton: The Revolution
by Lin-Manuel Miranda  (Author), Jeremy McCarter  (Author)
This book, The Hamilton: The Revolution, tells you the story of how the musical was written and produced from the opening scene right up until the very last scene. It is filled with photographs of the production, the cast, the props that are used, the designing of the set, behind the scenes, and background information. It gives you stories and interviews and includes one of the author's side notes for all of the songs and lyrics used in the show. This book comes with a beautiful cover, giving it a look and feel of the revolutionary war, and it would definitely be a collector's item.
The majority of customers who have purchased the Hamilton: The Revolution absolutely love this book and highly recommend it as a perfect complement to the Cast Recording and live attendance at the show. It gives the reader insight into the details of the creative process by which the show was made. It also includes the full libretto of this sung-through and rapped-through show.
Something They Can Sit Back And Enjoy
Beautiful: The Carole King Musical
Jessie Mueller (Artist), Anika Larsen (Artist), Jake Epstein (Artist)
Audio CD
This audio CD Beautiful: The Carole King Musical is a great gift for the fans of Carole King, although Jessie Mueller performs many of the songs, her voice matches Carole King's voice perfectly and is the exact recording of the Broadway musical. You will find yourself singing along to many of the songs that you may either have forgotten or did not know that Carole King actually wrote them.
Majority of customers that have purchased the Beautiful: The Carole King Musical are delighted with the quality, arrangement, and variety on the CD. They find that it is an excellent representation of the Broadway show and says that Jessie performs Carole King's classic songs wonderfully.
For Something, They Can Have Some Fun With
Game: Be A Broadway Star Board Game
This Be a Broadway Star board game is a great and fun game for anyone who is a musical theater lover. In this game you will have fun acting out different themes, performing a skill, doing some dance moves, and singing some songs. With this game, you do need to have some knowledge and have seen a couple of musicals as it will not be as much fun. The mission of the game is to win or collect fans and whoever has the most at the end wins the game.
Majority of customers that have purchased the "Be a Broadway Star board game" find the game to be a fun broadway theater gift for anyone who enjoys Broadway musicals and says that you will have fun acting out scenes, improvising, making dance moves, and monologues.
Something For Musical Lovers To Admire
5 Panel Wall Art Painting City Night Broadway Street
If you're thinking of getting broadway themed gifts, then this unique 5-panel wall art on high-quality canvas is a great gift idea. It is a  beautiful addition to any room filled with bright colors, and it captures a busy night on Broadway Street perfectly. This wall art painting will excite any musical theater lover and make them feel as if they are standing in the middle of it all with the busy and buzzing streets all around them and the eye-catching billboards of some of their Broadway favorites.
Majority of customers that have purchased the 5 Panel Wall Art Painting City Night Broadway Streets love it and find that it is easy to line up and hang. It is a beautiful piece of art that brings a New York vibe into their house.
Something They Can Show Off With
UGP Campus Apparel My Thoughts Have Been Replaced by Hamilton Lyrics – T-Shirt
If you know someone who is obsessed with musical theater, especially Hamilton, they will love this t-shirt with its high-quality prints on 100% cotton material that is a great fit, soft and comfortable. The white lettering stands out clearly in bold on a black t-shirt and does not peel or crack easily after a couple of washes.
The majority of customers that have purchased this UGP Campus Apparel T-Shirt love it so much as it is a perfect mid-weight thickness, soft, and has crisp lettering. They also find that it suits anyone's Hamilton obsession just perfectly making it one of the best gifts for people who love musicals.
A gift idea for kids that participate in drama programs
There are many benefits for children that participate in drama programs as they experience improved reading comprehension and are more engaged in learning. Drama programs increase their self-confidence, which carries over to all the aspects of their lives. They learn to take risks in rehearsal and trust their ideas and abilities on stage. It encourages them to explore their imagination, makes creative choices, and teaches them to listen, observe, and empathize with those around them.
Drama allows them to express their feelings, explore their imagination, demonstrate their creativity, improve their memory by learning to memorize lines, the dance's physical movements, and have a lot of fun while performing. If you're thinking of buying gifts for theater students consider getting a classical Theater vocal collection.
Kids' Musical Theater Collection, Vol. 1 (Vocal Collection) Paperback
This giant kids' musical theatre collection represents some of the greatest songwriters and artists of all time. This is an excellent collection of Broadway songs from Disney to well-known movie favorites for children up to and including early teens. These songs are ideal and have various levels for kids, both boys and girls, to sing for auditions, to practice, or to perform making it one of the most fun gifts for broadway lovers.
The majority of customers that have purchased this kids' musical theater collection have found that it is perfect for young voice students. It has a great collection of songs with enough variety for all levels of vocal experience. Most of the songs are in a good range for beginners, however, there are a few that get a little too high.
When searching for theater related gifts first try to get some theater tickets of a show that they would like to see and if that is not an option, then make a decision on the gift you will buy them based on their interests, age or hobbies in general. You can choose from educational gifts,practical gifts or even merch of a musical show that the person loves.
Get This and So Many More Free Gifts on Our New Marketplace, Spark Resort!
ESTIMATED TIME DESIGNING AND UPLOADING THIS ARTICLE
ESTIMATED TIME RESEARCHING AND WRITING THIS ARTICLE
Try our AMAZING GIFT FINDER TOOL! Find GIFTS with 1 CLICK!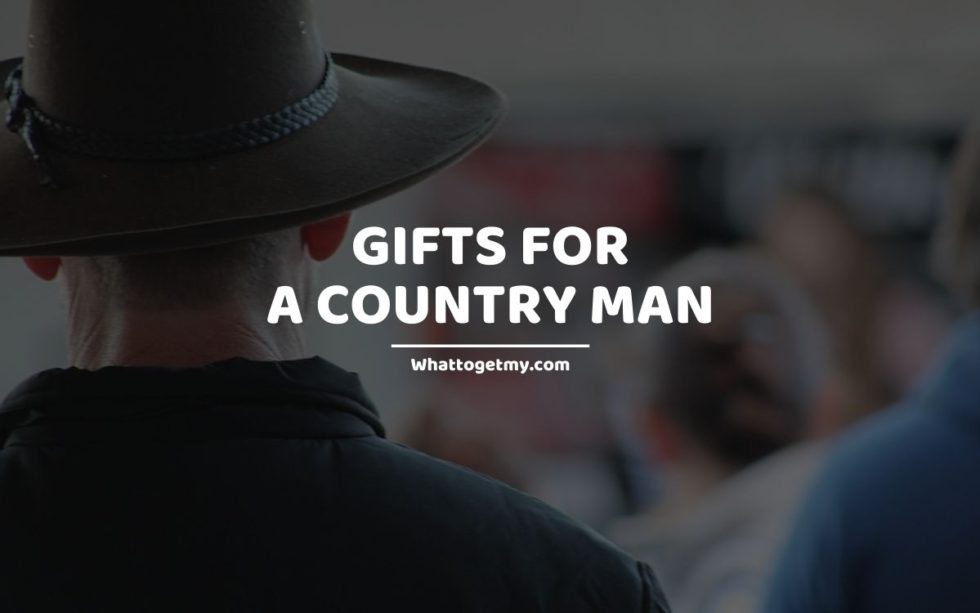 Although getting people gifts can be very difficult, it is made a little bit easier when you know or take the time to learn what the person you are buying a gift for finds interesting and what activities they enjoy doing. Giving people thoughtful gifts
Read More »