Have you ever wondered while you are out with your dog at a park with many other dogs, what if you could just walk up to one of them and ask them if they could get gifts for their owners what would these gifts from dog to owner be?
What do you think their answers would be?
Of course, dogs cannot answer this question for you, but if you think about what having a dog or dogs mean to you and how much they have changed your life for the better, it is a sure thing that some of these things will come to mind.
Dogs have a way of creeping into our hearts by showing us unconditional love.

They do not judge us and do not care about the status or power that we possess.

They become a part of our family and our best friends too.

They want to protect us from any harm, so they stay alert for any dangers.

They have a heightened sense of human body language, emotions, and feelings that make them form an unbreakable bond between them and their owner.

It is a known fact that dogs help us improve our physical and mental wellbeing.

They love to make us happy and laugh all the time. There are never dull moments with them around.
In return, all they want from us is to give them constant love and affection, by playing with them or with toys as dogs love attention!. They want us to look after them by giving them a great place to sleep, feeding them, giving them some treats every now and then when they go out of their way to impress us, and grooming them so that they can feel as good as new to continue on their mission to be the adorable bundle of joy in our lives.
With all this in mind, gifts from dog to owner should be gifts showing them your love in return by making their lives and yours more comfortable and convenient.  Here's a rundown of unique gifts for dog owners:
As an Amazon Associate we earn from qualifying purchases. We may earn a small commission for our endorsement, recommendation, testimonial and/or link to any products or services from this website. Thank you, your qualifying purchases help support our work in bringing you real daily gift ideas.
Quick Overview: Gifts for Dog Lovers
Our Gift To You:
Find out how to download This 
Free Printable Weekly Planner Card
at the End of This Article.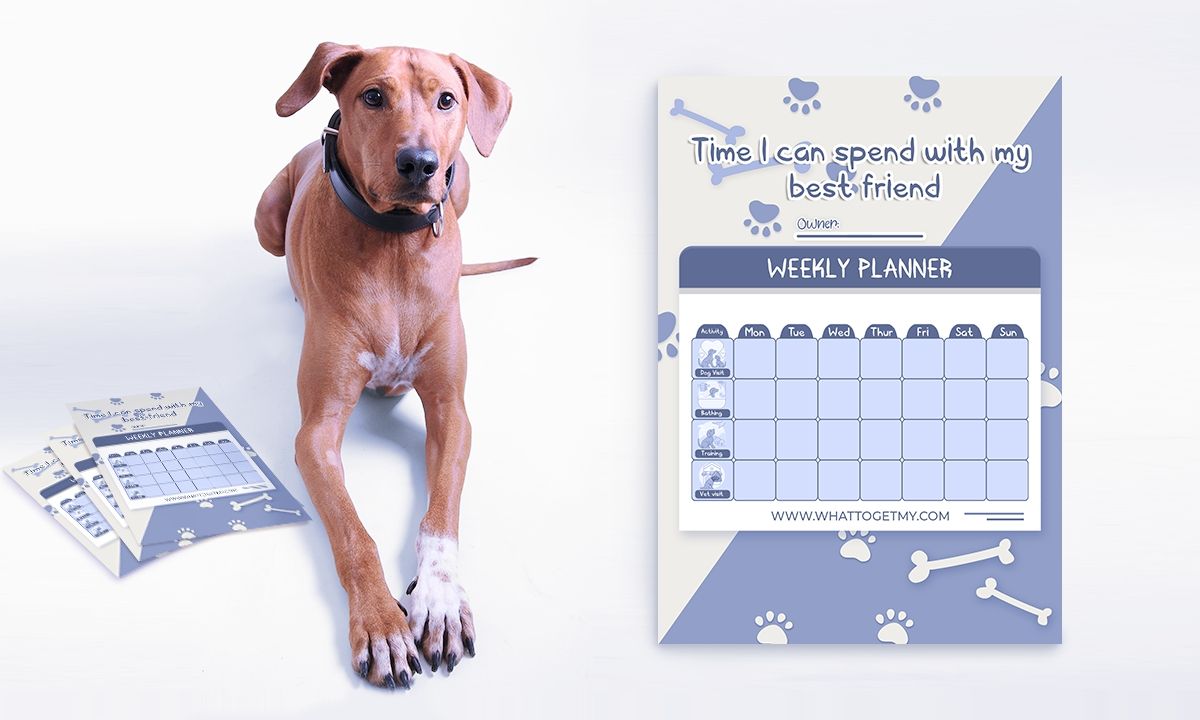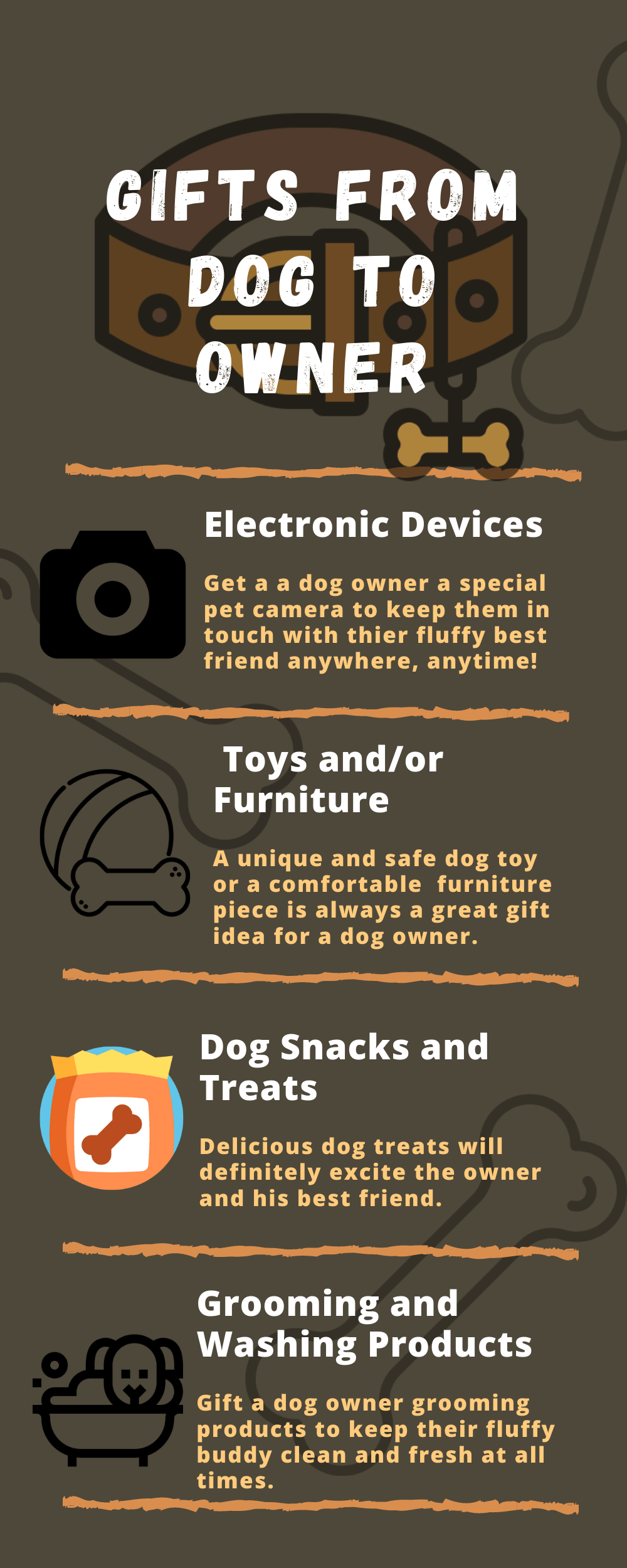 Source Link: https://whattogetmy.com/gifts-from-dog-to-owner/
A great sofa-style bed to sleep on
While you sleep on a nice, comfy bed and sit on a great sofa while watching your favorite shows, why not spoil your adorable four-legged best friend their own 2 in 1 great sofa-style couch bed to sleep on, which they will love and appreciate you even more for it.
FurHaven Pet Dog Bed | Orthopedic Ultra Plush Sofa-Style Couch Pet Bed for Dogs & Cats, Clay, Medium
Your dog will love this FurHaven NAP Plush Faux Fur and Suede Orthopedic Sofa Bed as it is perfect for young pups or your old and trusted friend as it is designed for comfort which is a luxury that they deserve, and it enables them to get a good night's rest after a long day of being the best pet.
Customers that have purchased this FurHaven orthopedic Sofa Bed for pets have had mainly positive things to say as their beloved dogs are extremely happy with their new bed, and because of the comfort that it provides, they adjust to sleeping on it quite quickly.
A way to keep in touch with them when you are out
Most dog owners hate to leave their best friend home alone while they go to work and wish that they can call them like you would call your human children when they want to check up on them to see if they are doing okay and are behaving themselves. With the innovative devices mentioned below, you will be able to check up on your dogs whenever you want, and your dogs will love hearing from you during the day when you are not around.
Furbo Dog Camera, Full HD Wifi Pet Camera
This Furbo Dog Camera will bring joy to both you and your dog while you are away as you can check up on them anytime and from anywhere, giving you some peace of mind. You both will be able to hear each other with two-way audio, and you will receive a notification when your dog is barking.
Customers who have bought the Furbo Dog Camera have had mainly positive things to say as it makes being away from home a lot easier when you have dogs because you can still check up on them and interact with them anytime from anywhere. It is one of the most suitable gifts for new puppy owners who most probably will be panicking about their dogs whereabouts when they're not around.
A gift to keep the house fur-free
One of the biggest challenges any new pet owner faces is the fur that is left around all over your furniture and the carpets. The fur can cause allergic reactions for the owner or any guests that visit. The robot vacuum below is going to clean up after your best friends mess and keep the house clean and fresh.
Efuy quiet, self-charging robotic vacuum cleaner
This quiet robotic cleaner is a must have product for dog lovers. It has been named as one of the best robotic vacuum cleaners in 2019 by tom's guide. It works on different surfaces to catch even the smallest dust particles and keep your surfaces clean.
Reviewers are very satisfied with eufy's robotic cleaners as each model comes back improved, with better features and design.Reviewers are also happy with the price as it is reasonable considering all the benefits this quiet robotic cleaner has.
Toys for them to play with
Your dogs will love something to do while you are either out or busy with something else, so give them some out of the ordinary toys to play with, and in most cases, they will leave other household items alone while they play.
ZippyPaws – Skinny Peltz No Stuffing Squeaky Plush Dog Toy, Fox, Raccoon, and Squirrel
If your dog loves to play with toys, which most dogs do, then this would be the perfect gift for them as it comes in a package of three different animals, each with their own high-quality round squeakers and no stuffing for them to make a mess with but will keep them entertained for hours.
Those that have already purchased this Skinny Peltz No Stuffing Squeaky Plush Dog Toys have had mainly positive things to say as dogs love them, and so do the owners as there is no leaked stuffing mess to clean up.
Some tasty treats to reward them with
All dogs love to be rewarded with treats, especially when they have gone out of their way to behave or do a trick or two correctly! These treats are one of the most delicious pet gifts for owners and will definitely keep their dogs excited to perfect every trick they are thought to keep the treats coming.
Milk-Bone MaroSnacks Dog Treats for All Sizes
No matter the occasion, say 'I love you' in your own special way to your best friend with these wholesome and healthy treats. They will love doing any trick or task if they know that these Milk-bone MaroSnacks Dog Treats are waiting for them as a reward.
Many customers that have purchased this Milk-Bone MaroSnacks Dog Treats have had positive things to say as dogs everywhere love them, and owners feel great because they are a little healthier than other treats in the market.
Claudia Canine Peanut Butter Cup treats
Nothing is better than these delicious dog treats made with100% human-grade ingredients for your best friend. You will have them do all types of fascinating tricks to win these irresistible treats!
Reviewers are very pleased with this product as the dogs genuinely enjoy their quality treats, and the ingredients are clearly listed in the packaging to avoid any confusion for the owner making it one of the best gifts for dog owners.
Great grooming products that make bath time easier
Bath time can be very stressful for both you and your dog, especially if they hate being washed, and you are left trying to juggle soap, a hose, and your dog that seems to have become possessed all of a sudden. Make bath time for them easier and more comfortable by getting great grooming tools they will love.
Pet Hair Remover Glove – Gentle Pet Grooming Glove Brush Perfect for Dogs & Cats with Long & Short Fur – 1 Pack
Your dog will not be able to contain their excitement when they see you slip on this Delomo pet grooming glove because not only will they love the feeling of having their fur brushed and cleaned at the same time, but you will also reduce the amount of hair being scattered all around the house at. This hair remover glove is one of the ultimate gifts for people who love their dogs.
Join the many satisfied customers that have purchased this Pet Hair Remover Glove and have had mainly positive things to say as their dogs enjoy you using it and it is easy to remove the hair on the intended side of the glove.
Waterpik Pet Wand Pro Dog Shower Attachment System for Fast and Easy Dog Bathing
By using this Waterpik pet wand Pro dog shower, which can be used for dogs of all shapes and sizes. This device  will make bath time for you and your dog much faster and easier. This dog shower can be attached to a standard shower head pipe indoors or a garden hose outdoors. It is perfect for rinsing dogs with thick fur and for the hard-to-reach or sensitive areas making it a very functional gift for a pet owner.
Customers that have purchased this Waterpik pet wand Pro dog shower have had mainly positive things to say as it really makes washing dogs so much easier with no water sprays all over the place.
So many dog owners wish that their dogs could speak to them to abolish the communication barrier and take their opinion on the most thoughtful gifts for dog owners to make both of their lives easier and more fun of course. This gift list has been the closest we can get to what we think our beautiful four-legged friends will suggest getting for us if they were able to communicate in our language. We hope you enjoyed this read and appreciated your dog and all that they do for you as much as we have enjoyed writing this piece.
Related articles:
Get This and So Many More Free Gifts on Our New Marketplace, Spark Resort!
ESTIMATED TIME DESIGNING AND UPLOADING THIS ARTICLE
ESTIMATED TIME RESEARCHING AND WRITING THIS ARTICLE
Try our AMAZING GIFT FINDER TOOL! Find GIFTS with 1 CLICK!