Losing a pet best friend can take its toll on a person's emotions and sometimes without them realizing it.
If your friend has just lost their pet, choosing to show support can help them cope with the loss in ways you cannot imagine.
One way to show support is by getting them a pet sympathy gift. It tells them that you understand how much they valued their pet and that you care about how they feel.
Are you looking for pet sympathy gifts? We can help.
We have compiled 14 sympathy gifts you can give to someone who lost a pet.
As an Amazon Associate we earn from qualifying purchases. We may earn a small commission for our endorsement, recommendation, testimonial and/or link to any products or services from this website. Thank you, your qualifying purchases help support our work in bringing you real daily gift ideas.
Quick Overview: Gifts for Friend Who Lost Pet
PET SYMPATHY GIFTS
1. KEEPSAKE BOX
A friend may have confided in you about the pain their pet might be going through and how euthanasia seems to be the only option. Or perhaps they may have confided in you about how old and fragile their pet is and their fears of losing him/her at any time.
One gift you can get in preparation for that day will be a keepsake box. With a keepsake box, they can store a little fur or feather of their pet. They can always feel close to their pet whenever they touch or open the box.
This Willow Tree Hug Keepsake Box will make a good sympathy gift for the loss of a dog.
This keepsake box was considered a great gift by customers that have bought it. They love the craftsmanship and highly recommend it.
2. CUSTOMIZABLE MEMORIAL STONE
They may be burying their pet soon and you are wondering what memorial gift to get. If it is a dog, cat, or rabbit, you can quickly buy this customizable memorial paw print pet stone. It can be sealed to the pet's grave or kept indoors. The memorial stone has been built to withstand any kind of weather. It also has a slot where the pet's picture can be inserted.
This memorial stone has a high rating for craftsmanship, sturdiness, durability, waterproof, giftable and value for money. Customers that bought it highly recommend it.
3. BIRD MEMORIAL STONE
If the pet is a bird, this memorial stone will be a more suitable gift. It is built with durable resin for outdoor settings and can be comfortably laid where they buried their pet.
This is a warm and lovely memorial gift. It has only positive reviews
4. PICTURE FRAME
A lovely picture frame of their pet will make a good memorial gift. You can ask for a picture of their pet and insert it into this beautiful memorial picture frame, wrap it and send/give it to them. This will love it.
A lot of customers consider this frame to be warm, sturdy, of good quality and worth buying.
5. MEMORIAL MUGS
Memorial mugs are lovely sympathy gifts. Your friend might form an association between the mug and their deceased pet. Whenever they see the mug or use it, they will remember they got it after the loss of their pet. It is not a bad thing since the mug-pet association may come with a warm feeling. You can get this 16oz pet memorial coffee mug with beautifully inscribed "Pawprints left by you" words on it. It will make a warm gift.
This mug is highly recommended as a warm memorial gift for losing a dog or cat.
6. JOYCUFF SYMPATHY BRACELET
This bracelet by Joycuff is a gorgeous sympathy gift. The beautifully inscribed words on it makes it a sentimental item. What's good about this piece of accessory is that it can be worn all the time; it blends with a lot of outfits. They will love it.
This bracelet will make a really lovely pet sympathy bracelet. It is beautiful and customers love it.
7. MEMORIAL WIND CHIMES
There is a certain comforting chill that comes with the sound of wind chimes. For some people, it makes them feel closer to the one they lost. We think you should get your friend this Pet Angell Memorial Wind Chimes, it will make a warm gift. They can hang it in the garden, on their pet favorite spot or anywhere around the house. The wing pendant on this chime can be viewed as their pet being in a better place.
Customers that purchased this wind chime view it as a warm sentimental gift.
8. MEMORIAL T-SHIRT
Invite a couple of friends and have them wear this t-shirt as a show of solidarity to the one mourning their pet. This will be a warm gesture. Another idea could be to add this t-shirt as one item in a sympathy box gift and give as a gift. The message on the shirt makes it a warm and lovely gift.
Since it currently has no customer reviews, we are uncertain about the quality of the shirt. More still, the product description provides little information about the shirt.
9. PLAQUE
A plaque that depicts the love/bond a person shared with their pet can be a gift for grieving pet owners. This Willow Tree plaque beautifully depicts the bond between a girl/lady and her horse. If you are looking for what to get your friend that lost their pet horse, this Willow Tree plaque will make a good sympathy gift.
Some recurring themes from customer reviews are; quality art, well made, great gift and lovely.  Most customers that bought this plaque consider it 'value for money'.
10. URN NECKLACE
In a situation where the pet is cremated, one lovely gift you can get for them will be this CharmSStory urn necklace. They can open this necklace, put in a little ash or even hair of their pet and wear it close to their heart. It is made with stainless steel for longevity and it is equally a gorgeous accessory.
This urn necklace is beautiful and customers love the quality.
11. SCRAPBOOK ALBUM
One cool way of preserving the memories of a lost pet is by creating a picture album. You can get this BOSS DOG scrapbook album for someone who lost their dog and join them to fill it up with beautiful pictures of their lost friend. This may give them a feeling of relief since they are able to share memorable stories of their dog with you too. This scrapbook album isn't a bad decor either.
Customers that have purchased this scrapbook album love it.
12. MEMORIAL KEYCHAIN
This personalized picture frame keychain holder is another lovely gift you can get someone as a memorial gift for a lost pet. A picture of the pet can be inserted in the little frame provided in the pendant.
Most customers were happy with their purchase although some preferred a gold keychain holder.
13. MEMORIAL BLANKET
This memorable blanket with cute inscribed words is a lovely sympathy gift. Your friend can snuggle up with it while watching tv or wrap it around them whenever they miss their deceased pet.
Customers love this blanket.
14. SCULPTED PET
A beautifully sculpted figure of their pet can serve as a decor in their sitting room and most importantly, a reminder of the amazing time they shared with their pet. This will make a perfect gift for someone who lost a dog.
This sculpted pet is rated high for durability, craftsmanship, thickness and giftable. Customers highly recommend this sculpted pet.
15. PET LOSS CARE PACKAGE
This pet loss care package saves you the stress of individually picking out sympathy gifts since it contains a good range of pet loss gifts. This Pet Loss care package contains a remembrance journal, keepsake paw pendant, candle holder and celebrating love and friendship booklets.
Customers that bought this pet loss package consider it to be a thoughtful and warm gift.
FREQUENTLY ASKED QUESTIONS
What can I get a person when their pet dies?
Learn more about how to pick a gift for someone in our article. A memorial stone, an urn necklace, a memorial bracelet, pet frame and a memorial blanket are some of the gifts we've listed in our article as befitting for the loss of a pet.
What can I get someone who lost a dog or cat?
There are lots of sympathy gifts you can get a person who lost their dog and we've listed 14 in our article. For more gift ideas, check out our article on gifts to get cat lover
CONCLUSION
Showing support to someone who lost their pet can go a long way in comforting them and one way you can show support is by getting them a memorable gift. We have made a list of 14 gift ideas that will guide you in selecting a good gift. However, just like any loss, what matters most is showing up for the person that is grieving.
ESTIMATED TIME DESIGNING AND UPLOADING THIS ARTICLE
ESTIMATED TIME RESEARCHING AND WRITING THIS ARTICLE
Try our AMAZING GIFT FINDER TOOL! Find GIFTS with 1 CLICK!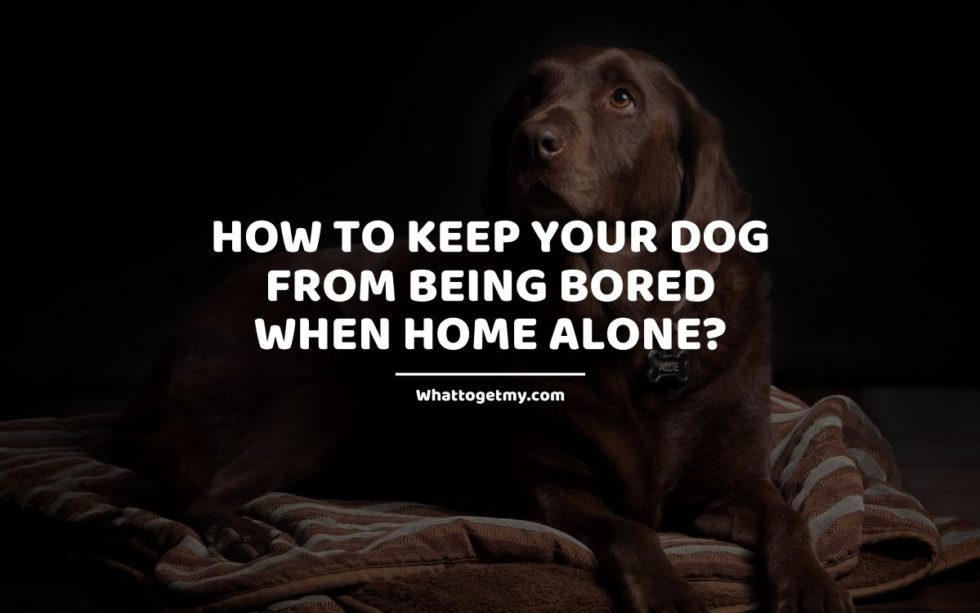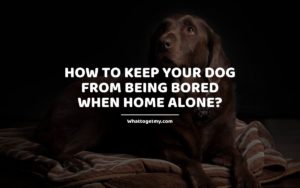 How to Keep Your Dog from Being Bored When Home Alone?
How to Keep Your Dog from Being Bored When Home Alone? WhatToGetMy Instructional Article When you're stuck at work all day, you spend quite some time worrying about your dog. When dogs aren't stimulated enough, they might get destructive and chew shoes or ruin the
Read More »