Wishing Happy Birthday to a Gardener
WhatToGetMy Instructional Article
In today's world where a lot of us are obsessed with technology, some people enjoy spending time with nature. We're talking about gardeners of course. If you know one that has a birthday coming, you need some ideas about birthday wishes. You might want to consider garden theme gifts too. Just keep scrolling and find out how to say happy birthday to a gardener.
Wishing a happy birthday with referencing someone's profession is a good thing. The choice of the profession (or a hobby) makes one's life unique. These differences between occupations can be the source of humor when you give gifts and make birthday wishes. They can also be an inspiration and encouragement for someone to pursue happiness at work.
Before you continue scrolling down the article, we'd like to note a few things:
Birthday wishes take on a whole new meaning when they suit someone's profession or a hobby. That is a way of showing your loved one that you know them very well and respect their occupation.

Working in a garden can be a hobby or a full-time job. Think about what gardening means to your loved one. If it occupies a large portion of their time or they enjoy it so much, you should definitely pick a themed gift.
What is special about gardening?
If you never planted a seed before or harvested a crop, you might ask why so many people love this hobby, or choose it as a profession. It requires hard work and it takes so much of your time. As an outside observer, you probably think it's not worth it.
Working on the field, planting seeds, and caring for the plants provide immense satisfaction. Why is that? Well, creating something new with your own two hands gives you a sense of accomplishment. On top of this, you're making something essential for life. People can't survive without plants. They are the source of life and provide us with nutrition elements while filtering out pollution. Even a little garden can take part in saving the world and help you lead a healthy and happy life.
Home gardens give you healthy food because you're the one controlling the seeds and soil. You don't have to use chemicals like the farmers in mass production. You'll get organic fruits and vegetables that won't be expensive. On top of this, the environment without chemicals will attract pollinators like bees and butterflies which are essential for the ecosystem.
We learn so much about nature when we start participating in life creating process. Gardening will open your eyes, so you can notice all the symbiotic relationships between plants, animals, and humans. You can teach your children how to nurture plants, so they can participate in the wonders of gardening too.
Along with the feeling of pride and accomplishment, comes the feeling of acceptance and peace. You'll have a feeling you belong somewhere because gardening builds a community. Gardeners are helping each other with advice and sharing the products of their work, no matter the age or type of personality someone has.
As you can see, there are a lot of reasons why people start gardening. Yes, it requires hard work but it's also very satisfying, relaxing and peaceful. It truly is a hobby that gives back. If a gardener's birthday is approaching, try to acknowledge the importance of gardening, we tried to emphasize here.
Why should you consider themed wishes and gifts?
Finding happy birthday wishes for a gardener is not easy. You invest your time in searching for the perfect message and you're probably wondering if that is even beneficial for your friendship. We think it is! It's worth receiving a wish meant just for you. It lets you know that someone is thinking about you, what you do with your free time, and above everything, respects your hobby choices. Some themed wishes can even encourage a person to be more active, and that is definitely a good thing.
Taking into account someone's hobby will personalize your gift and everyone loves personal gifts, right? There's nothing better than getting a gift that says "I know you and I care about you". When you shop for someone's hobby, you're considering the receiver's needs. You'll get something useful and helpful instead of a gift that will collect the dust on a shelf.
Birthday wishes
If you're looking for happy birthday wishes to a gardener, we'll give you one piece of advice. Be creative, that's all it takes. Don't be afraid to get a bit poetic too.
Be poetic
Try using metaphors of blossoming flowers and experiencing life. Something like "Happy birthday my friend. You're like a blooming flower that's getting more beautiful with each year" can be a great birthday wish.
Wisdom comes with age and our lives become richer. We are nurturing our minds, the same way a gardener takes care of plants. For another garden-inspired birthday wish, you can say "Take care of yourself with the same passion you're nurturing your wonderful plants".
Personalize
Think about the things your friend likes and include them in your wishes. Gardening chores such as planting, weeding, watering, and, of course, harvesting, are a great physical exercise. If your friend takes care of his/her diet too, you can write "I wish you to enjoy your garden for many years to come. You'll burn those pesky calories with ease".
If your friend is growing vegetables and following a vegan diet, use that in your wish. A nice warm wish can be: "Birthday cake might not be vegan, but drinks will be for sure! Cheers to you!"
Humorous
For someone with a good sense of humor, throw in a joke or two in your garden themed birthday wishes. It can be something subtle like "Congratulations on your birthday! Don't work too hard in your garden this year, so you don't get too dirty".
Don't be afraid to use puns. You can find a lot of them online. For example: "Happy birthday, let's celery-brate your birthday hard this year" or "Today, lettuce celebrate an amazing gardener and a true friend" are heartwarming wishes that include silly puns.
Keep it simple
You don't have to think of something witty to say. Keep it simple and say: "I wish that your garden will be full of love, health, laughter, and joy". Maybe even something like: "Best wishes, my friend! I hope that your garden will bloom this year too!" You see our point, right?
Give themed gifts
When you search for garden-inspired gifts, you need to ask yourself what kind of garden your friend has. Does he/she grow vegetables or flowers? Is your friend trying to create a perfectly landscaped backyard? Answering these questions will help you choose the most useful gift.
Tools
If you're unsure about what to buy, you can't go wrong with gardening tools. Certain tools can make a gardener's life so much easier and they're always appreciated. Garden snips, for example, are welcomed because they are frequently used and the ones your friend has might be a bit rusty.
Accessories
Gardening can be easier with simple accessories such as gloves or watering cans. For convenient gardening, gloves must be durable and breathable. With a personalized touch like bright and vibrant colors, gloves would be a perfect gift. Make gardening chores fun by getting your friend a pair of gloves and a watering can with matching design!
Useful gifts
Gathering baskets or tool totes are very useful gifts for gardeners. Your friend could have a convenient way to collect vegetables on the move or organize and store various tools. Tractor scoot is also a good choice for a helpful gift. It helps relieve pain from squatting and bending in the garden.
For a pretty landscape
To help your friend with decorating a garden and making the ideal landscape in his/her yard, get something like a beautiful flower pot or stepping stones. Choose colors that your friend likes, so they can fit the garden perfectly. Stepping stones and flower pots will bring some artwork to the garden. Wonderful garden-themed ornaments decoration can also help with upgrading the landscape of the garden.
Helping garden animals
The colorful flowers will surely attract birds to the yard. Why don't you give them a place to rest with a stylish birdhouse. You can even add a hummingbird feeder to the gift. Your friend will be thrilled to hear the beautiful sounds of singing birds every day.
If your friend already has a birdhouse, consider getting accessories that help other garden animals. Butterflies need a place to rest their wings too. You can easily find a small butterfly house to fit their needs. Or build one, why not? If you like homemade gifts and you're enthusiastic about DIY projects, check out this video:
Inspiring quotes about gardening
Flowers and plants in our homes, offices, parks, and our gardens are generating happiness. You don't have to come up with a brand new wish. Spread some joy with these inspiring sentences. You can print them and attach them to your gift card, or you can include them in text messages to make the best birthday wishes for gardeners.
To plant a garden is to believe in tomorrow. – Audrey Hepburn

Life begins the day you start a garden. – Chinese proverb

The love of gardening is a seed once sown that never dies. – Gertrude Jekyll

I'd rather have roses on my table than diamonds on my neck. – Emma Goldman

Gardens are not made by singing 'Oh, how beautiful,' and sitting in the shade. – Rudyard Kipling

I love spring anywhere, but if I could choose I would always greet it in a garden. – Ruth Stout

The greatest gift of the garden is the restoration of the five senses. – Hanna Rion

My garden is my most beautiful masterpiece. – Claude Monet

I like gardening — it's a place where I find myself when I need to lose myself. – Alice Sebol

Garden as though you will live forever. – William Kent

The glory of gardening: hands in the dirt, head in the sun, heart with nature. To nurture a garden is to feed not just the body, but the soul. – Alfred Austin

Gardening adds years to your life and life to your years. – Anonymous quote

Nothing is more the child of art than a garden. – Sir Walter Scott
Frequently asked questions
What does every gardener need?
Every gardener must have fitting tools, gloves, pruners, plant food, and quality soil.
What to buy a gardener who has everything?
When someone has everything, try to buy something that is used all the time. That way your friend will have a spare tool or an accessory to use when the first one gets worn out. You can get weeding tools, garden snips, harvesting trug, water cans, flower pots, etc.
What do you buy a gardener for Christmas?
Christmas gifts for gardeners don't have to be more different than regular ones. You can still buy gloves, tools, or other garden accessories. Adding some Christmas spirit can be achieved by choosing accessories with holiday designs and patterns. There are even some garden-themed Christmas ornaments you can get.
What can I put in a garden gift basket?
Be creative and put small things that can come handy in garden work like sunscreen, bug spray, hat, tarp, and some gardening books.
Conclusion
We hope that you'll consider all the mentioned things when you're trying to wish a happy birthday to a gardener. Now you probably understand why gardening is the number one hobby for a lot of people. Maybe you can improve your health and get rid of stress if you join your friend in his/her hobby. That would truly be an amazing gift.
If you picked an amazing message for your friend but are still confused about how to give him/her a gift card, don't worry. We have a great article on what to say when giving a gift card, so be sure to check it out.
ESTIMATED TIME DESIGNING AND UPLOADING THIS ARTICLE
ESTIMATED TIME RESEARCHING AND WRITING THIS ARTICLE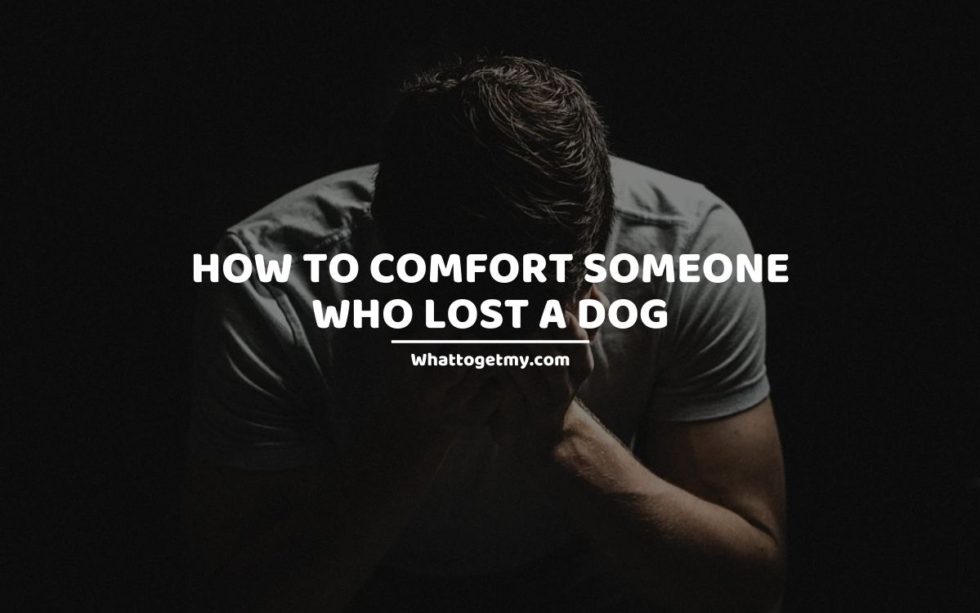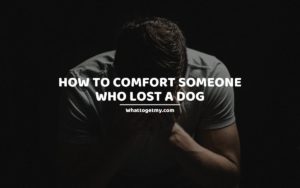 How to Comfort Someone Who Lost a Dog
How to Comfort Someone Who Lost a Dog WhatToGetMy Instructional Article People keep pets for different reasons; the benefits of keeping pets include both emotional and physical benefits. Most people consider their pets as part of their family When someone loses their pet, it is
Read More »