13 SIGNS HE WILL PROPOSE ME OR NOT?
WhatToGetMy Instructional Article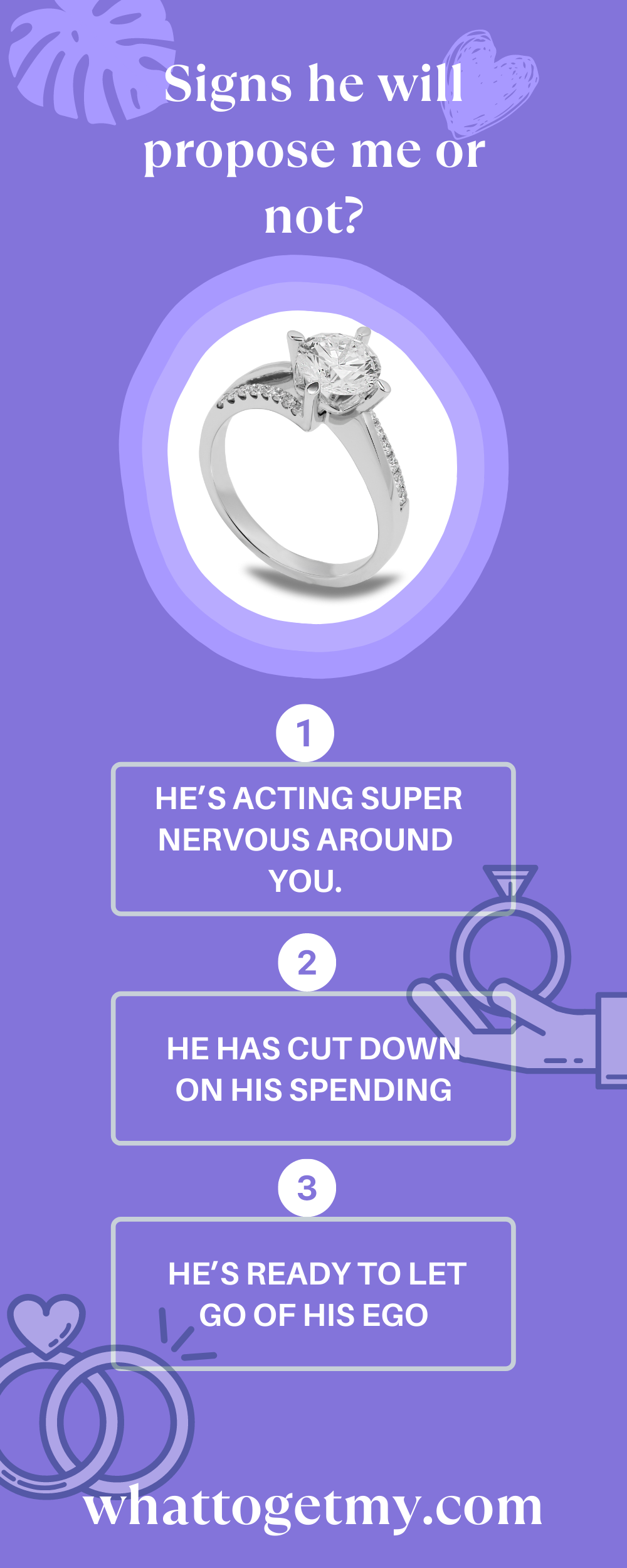 A man will always know when he is ready to get married
Whether you are in a relationship for six months or six years, a day will come when you want to plan a future with your partner. There are a lot of signs you might see to check whether your partner will propose to you or not. Most men in this modern age have a lot of ways to hide their feelings on how to propose to their girlfriends, you need to know if the signs you are getting from him are not a red flags but signs he will propose to you. 
Statistics from statista show the most popular time of the year to propose. You can see the image below to find more information.
HOW DO YOU KNOW WHEN YOUR BOYFRIEND IS GOING TO PROPOSE?
If you are unsure whether your partner will propose to you or not, read this article to the end. We have prepared 13 signs that he will propose to you.
1. HE STARTS ASKING MORE ABOUT YOUR FUTURE TOGETHER.
Are you itching to know when he will propose to you? One of the signs that your boyfriend will soon propose is that he will ask more about your future. Men do this to know if you are ready to get married or to see if you are the type of woman they want to marry. The best relationship advice for women whenever their boyfriend delays proposing to them is to look for signs of whether he wishes to propose to them or not. Below are questions your partner will ask you to see if you are ready for marriage or not; 
Do see you see me in the picture in the next 5 to 8 years?
What do you think about Anna's wedding?
What do you think about parenting and having children together?
Or make statements like this to hear your opinion: 
I think I want to spend the rest of my life with you
I can picture a great future with you
I believe we are both going to make a great parents
I would love to be with you forever
If any of this question or statement keeps popping out of nowhere, this is a sign that your partner will propose anytime soon.  
2. OTHER PEOPLE'S WEDDINGS DON'T MAKE HIM GAG.
Do you notice how well great he always reacts to other people? If your boyfriend is always eager to attend people's weddings without feeling bad about it. This is a sign that he planned on proposing soon because he loves other people's weddings and would love to have his own anytime soon. But it would be great for you to study this sign very because he might just be happy because the wedding was hosted by his friends and he has no choice but to attend the wedding.
If your boyfriend asks you questions like: 
What do you think about the wedding?
Do you like the wedding dress?
What is your view about the wedding theme?
Do you prefer a diamond wedding ring or not?
What are your wedding food choices?
Do you want short or large braid maids at your wedding?
If he asks these questions within a week of his friend's wedding or any wedding he has attended, this is a sign that he is thinking about a wedding with you later in the future and he is going to propose. 
3. HE'S ACTING SUPER NERVOUS AROUND YOU.
It is possible for you to have any idea if your boyfriend is going to propose soon because men start to act nervous toward their partner when they want to propose. He might find it hard to tell it out at once because most panic to ask their partner out. Women always know if a man is up to something, they can sense anything from a mile. If you notice that your boyfriend is getting nervous, this might be because he feels vulnerable and doesn't know how to express his feelings. Anytime you noticed that your boyfriend is acting nervous, it will be best to go easy on him. Since you are ready to spend the rest of your life with him. 
4. HE HAS CUT DOWN ON HIS SPENDING
A man who is ready to settle down will find a way to change his shopping habits and buy what he thinks is important not otherwise. He understands that his future plan will include a lot of expenses and he has to start planning already. If your notice that your boyfriend has reduced his way of spending, this is a sign he will purpose to you soon. But in some cases, this might not be the case some men do cut down because of low income or their salary is low. If you noticed that your boyfriend has cut down on his spending you can sit him down and ask about his finances.
5. HE WANTS YOU TO OPEN A JOINT ACCOUNT
If your boyfriend thinks about putting all his finances in a place where both of you have joint ownership over it, this means that he has you in this plan and wants to settle down with you.
The fact that he has created a plan which on how money can be spent is a sign that he might propose very soon. He has shown his hand that you really matter to him and he wants you to have a say in the family.
6. HE OFFICIALLY INTRODUCES YOU TO HIS PARENTS AND EVERYONE HE KNOWS
Are you worried whether he is going to propose or not?
A man who is ready to commit will always want to show you off to his friends and family. He understands that once you know his family, he can proceed with marriage and all. But if your boyfriend is afraid of getting committed, he won't take the confident surprise at any point.  Showing you off to his family doesn't mean he is fully ready to put a ring on your family but it shows a sign that he is serious about and also considering marriage very soon if things work out well.
7. HE IS SHOWING SIGNS OF WANTING TO GET COMMITTED
Your boyfriend might be prompt to get married because his friends are engaged and plans to start a family, this will trigger him to plan his next step with you. The fear of being left could make him pop the big question to check whether you are ready or not. This is a sign he wants to marry you when the time is right.
If he has to submit to peer or family pressure before proposing or get married, he might find it hard to do this on his own because a man always believe only when he is ready then he can think of marriage. Allow him to ask you when he is ready not when he is pressured by friends and family.  
8. YOUR FAMILY IS ACTING PECULIAR
There is a big chance that your boyfriend will seek help from your family or friends. When it is time for your boyfriend to propose, he understands that he can't do it alone. That is why he needs help and this can be done by people that he knows very well.
Always be on the lookout; if he plans on proposing in a loud way, your family or friends will know about it. If your family is known to always keep secrets, then they will help your boyfriend with his proposal plan.
Once you have an idea about the excitement in the house, this could be a sign that he will propose it will be great if you can let the surprise comes on its own instead of looking for a way to know what he is planning, don't ruin the surprise. 
9. HE'S READY TO LET GO OF HIS EGO
If your boyfriend is someone who is always ready to call it to quit whenever something goes wrong in a relationship, but all of a sudden he has decided to listen and work on how to improve the relationship, his mindset has changed and grown. He will propose to you very soon. 
A man who is committed to putting all his might into making a relationship work shows a sign that he is ready for marriage and he will propose soon. 
10. HE IS CHOOSING TO BE WITH YOU EVERYDAY 
Do you notice that your boyfriend has changed his routine? If your boyfriend's routine changes from normal to clinging, this is a sign that something is up about him and he is ready to settle down with you. When a man is ready to get married, he tends to spend more time with his partner and choose her over his buddies.
11. HE HAS BECOME OVERPROTECTIVE ABOUT YOU
If you noticed that your boyfriend is acting strange or act possessive whenever you flirt with another guy, this means that he is planning on proposing very soon and he doesn't want to share you with anyone.
When your boyfriend understands that it is time for him to get married, he will be overprotective about you and chase away other guys because he will see them as rivals or they want to take you away from him.  It is normal for him to get jealous of you because he knows what is at stake and he can't afford to lose you to anyone.
12. YOU GOT A FEELING THAT THE TIMING IS PERFECT
You need to watch out for the timing he chose to propose to you. If you are in a relationship with your boyfriend over time, people will always see you as a couple since your goals align with each and both families have approved both of you. The time for him to propose to you is near and the dream of you walking down the aisle will be achieved in no time.
To be sure if your partner wants to take things further, you need to make sure that his ideas align with us and he is ready to get married. Most people often get married because of society's pressure without thinking about the effect. Allow your boyfriend to be mentally, financially, and emotionally ready before you accept his marriage proposal.
13. HE IS TAKING A KEEN INTEREST IN YOUR BEAUTY AND FITNESS REGIME
If your partner is planning to host the most expensive wedding in the world for people to witness the power of his influence, he will always care about how you look during the wedding ceremony. 
The moment your boyfriend starts caring about your gym routine or he encourages you to start a beauty routine, he is preparing you for the big day because he understand that you have to look luxurious on the big day.
FAQ
HOW DO GUYS ACT BEFORE PROPOSING TO THEIR GIRLFRIEND?
If you are wondering why your man is acting weird all of a sudden towards you. This is a sign that he is going to propose to you but he doesn't know how and when to do it. He will always go out of the ordinary to show and tell you how much he loves you. He will also hope you reciprocate the love back to him as confirmation that you are ready for marriage.
HOW LONG DO GUYS THINK OR WAIT BEFORE PROPOSING?
Before a man could propose to this girlfriend he would have been planning to wait for 6-12 months, to make sure that he is fully ready to cater to his family. A man will always know that his girlfriend is also ready to get married during the period of courtship. If your man doesn't exhibit any signs from this article, he might not propose to you anytime soon.
WHY IS YOUR BOYFRIEND NOT PROPOSING YET?
One of the reasons why your boyfriend might hesitate to propose might be the fear of settling down or rejection. He might not be ready for marriage or has a lot of things to achieve before getting married. But this affects both men and women when it is time for them to get married. You can face the fear of marriage if you and your partner are in one accord.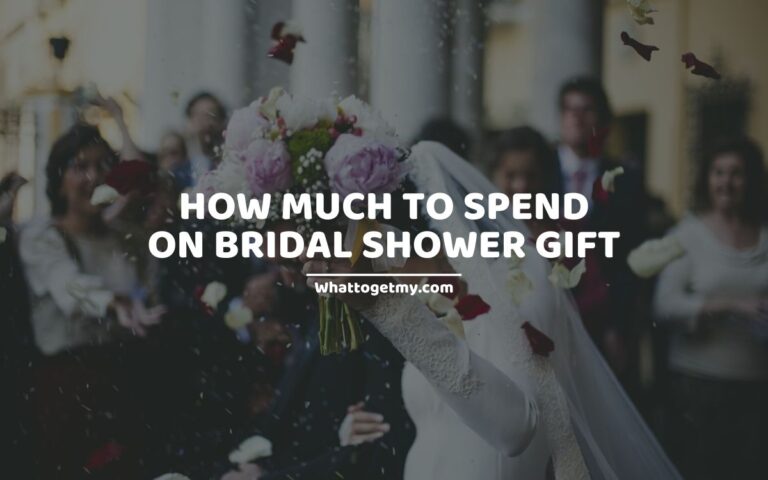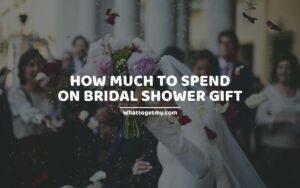 How Much to Spend on Bridal Shower Gift
How Much to Spend on Bridal Shower Gift WhatToGetMy Instructional Article There isn't per se a rule of thumb on how much to spend on a bridal shower gift. However, the norm is that $25 – $100 is normally spent on a bridal shower gift.
Read More »