Know what kind of depression you are dealing with so you can know how better to help your friend or spouse with depression. The best way to know this is to ask them what kind of depression they are dealing with and do some research on it. This article provides you with sources where you can expand your knowledge on the matter.
Once you know what kind of depression you are dealing with, you can now start shopping and giving your loved one gifts that are better suited for them.
Suicide Prevention: If you think someone is at immediate risk of self-harm or hurting another person: Call 911 or your local emergency number. Stay with the person until help arrives. Remove any guns, knives, medications, or other things that may cause harm.
If you or someone you know is considering suicide, get help from a crisis or suicide prevention hotline. Try the National Suicide Prevention Lifeline at 800-273-8255.
What is Depression?
Depression/major depressive disorder is a serious medical illness that affects the way that you feel, process, and (re)act with your emotions. The most common symptom of depression is relentless sadness, accompanied by other symptoms such as loss of interest in hobbies or activities you used to enjoy, or thoughts of harming yourself.. When a person is depressed, they may begin to neglect their life and responsibilities and this eventually affects their ability to function at work or school.
Depression symptoms can range from mild to severe  depending on the type of depression and the person it has affected. Some of the symptoms are:
Feeling sad or having a depressed mood

Losing interest in activities that once  gave you pleasure

Losing or gaining weight unexpectedly without a diet

Experiencing insomnia

Losing energy and becoming extremely fatigued for no apparent reason

Feeling worthless

Having suicidal thoughts
Kinds of Depression: Below are some of the most common types of depression, for a full list and in-depth information on types of depression, click here. It is important to know what kind of depression your friend is dealing with for you to be able to get them the best gift that will help them through their depressive episodes.
Major depressive disorder: Is the most common mental disorder. Major depressive disorder can interfere with a person's ability to do some things. For example, someone with this type of depression will find it extremely difficult to get out of bed in the morning (or at any given time) even when they really need to.
Prevalence of Major Depressive Episodes Among US Adults 2017)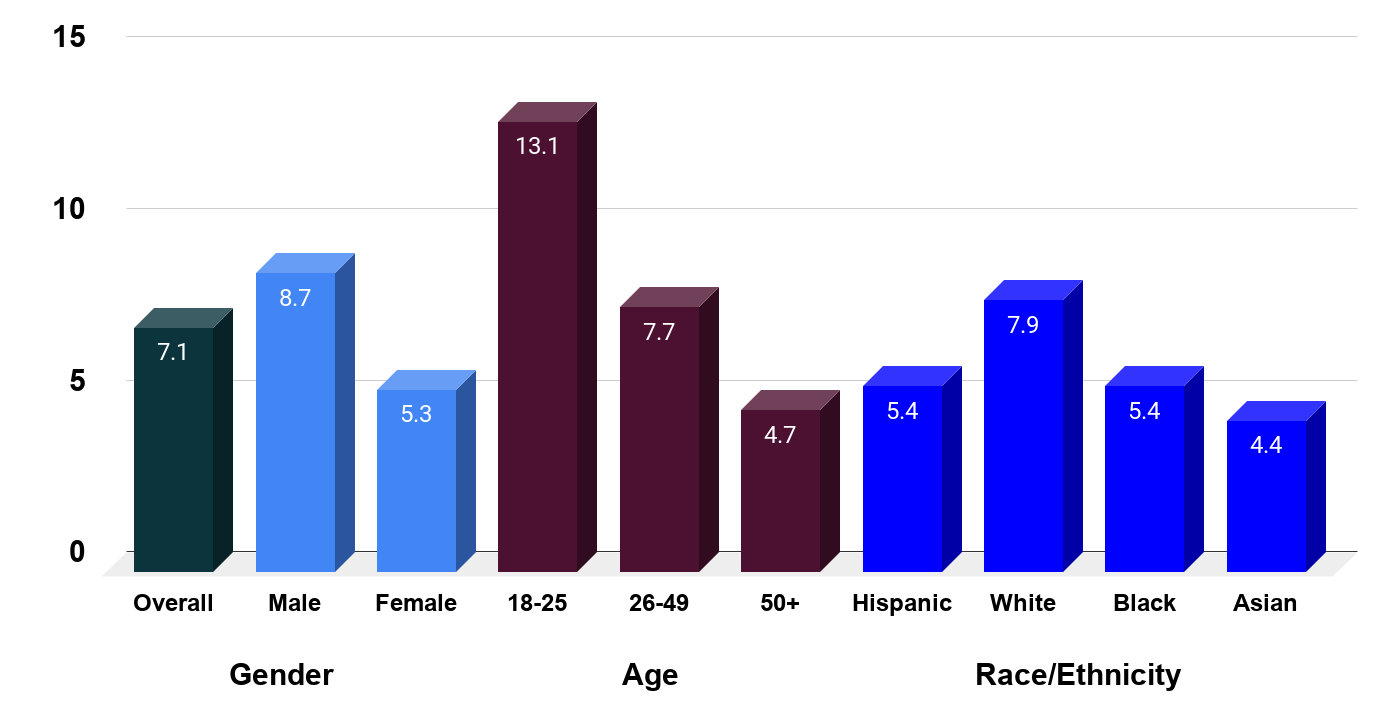 Source: www.psycom.net
Persistent depressive disorder: Also known as dysthymia is a form of depression that is chronic in nature, meaning that it comes and goes and can last for longer or shorter periods of time depending on the severity of the trigger and how the depressed person is handling it. Someone with PDD may start avoiding social gatherings, be irritated by the smallest things, and have low self esteem. 
Seasonal depression: Also known as a Seasonal Affective Depression (SAD) because it often spikes during winter time. Most people with SAD will be alright most of the year and get depressed when winter comes.
Postpartum depression: This affects women who have just given birth and especially first-time mothers. PPD is characterized with these symptoms; mother feeling detached from baby, and mother experiencing extreme anxiety, among others.
Studies have shown that women are more susceptible to depression due to hormonal changes in their bodies, however, men who suffer from depression are more likely to commit suicide than their female counterparts.
How different types of depression affect men and women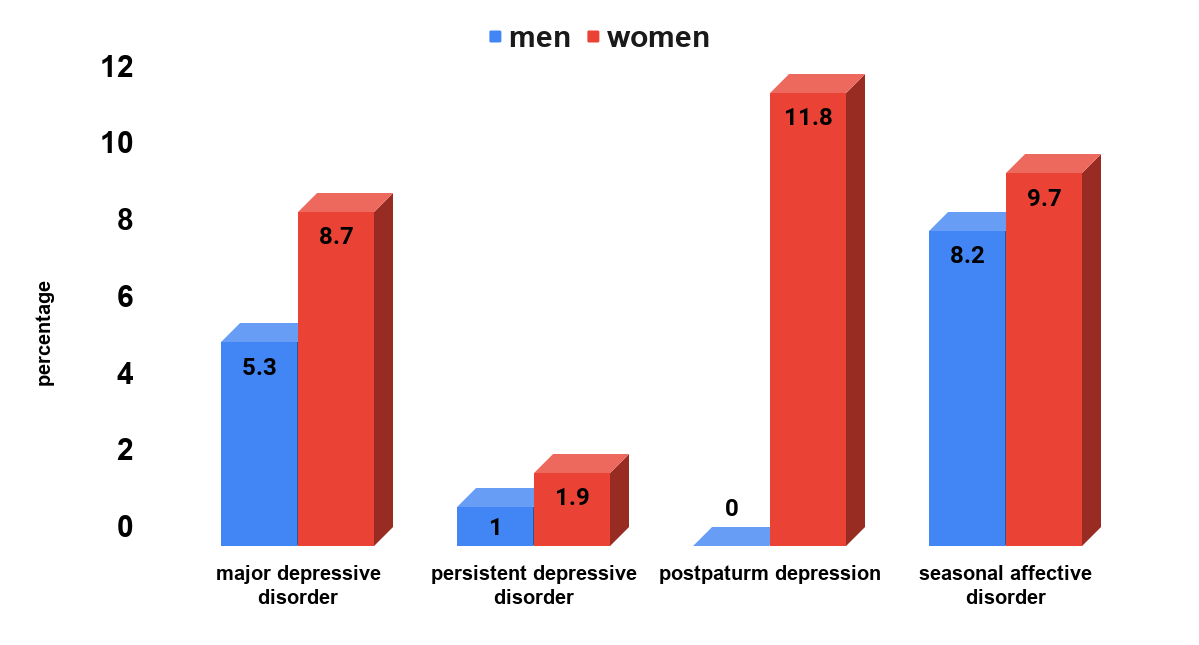 Source: www.who.int
People More Susceptible to Depression 
About 41.9% of women and 29.3% of men have at some point in their lives suffered from depression, this means that at some point in your life, if you haven't already, you will come in contact with someone who has depression. This article will guide you on what to do if someone you care about – a friend, lover, or family – gets depressed.
Getting a gift for someone with depression is one way of affirming their existence and making them feel loved and wanted. They will be grateful to you for thinking of them when they were down. So for whatever reason; your friend is feeling down, they are sad, or just because it's Tuesday, these gifts will surely brighten up their day, and who knows it just might be the thing they needed to get them out of their slump.
Thoughtful Gifts for a Depressed Friend
These are gifts that are going to help your friend deal with depression because they will affirm to them that they are loved and have people who value them and want them around. 
1. SPA DAY:
Book your friend with depression a spa day. If it is a new mom struggling with PPD, getting them a spa treatment can have a very positive impact on their mood. You can either take them to a massage place or order-in a massage to be given in the comfort of their home, whatever they are most comfortable with. Mobile Spa provides in house spa treatments anytime and anywhere in the United States. 
2. QUALITY TIME:
If you can, go and spend the day with your depressed friend. This is perhaps the best gift you can give them because depressive episodes are the loneliest times a person feels, with no hope and daunting sadness. You don't have to do much, just being there and letting them know you are there when they need you, to talk to or share anything with. You can just lay down with them, watch tv, or listen to their favorite podcast.
3. CLEANING SERVICE:
If you can't afford to be there for your friend, this is the next best thing you can give them. Send a cleaning service to their house because chances are that your friend hasn't gotten out of bed long enough to clean their house. Be sure to let them know that you have sent people over to clean and what time they should expect the cleaners to arrive.
4. RUN ERRANDS:
Do some work around the house for them. Mow their lawn, take out the trash, do their laundry, or wash the dishes. No matter how small a task, if you can do it for them, go-ahead
5. GETAWAY:
In cases of seasonal or minor cases of depression sometimes a change of scenery is all it takes. Book yourself and your friend a getaway to somewhere tropical where you can lay down under the sun and let go of everything else. Here are some fun things to do in a hotel room with friends 
6. THERAPY SESSION WITH SPECIALIST:
This is an especially amazing gift for someone dealing with depression in the early stages who hasn't been diagnosed yet. Speaking with a professional will not only help them get the diagnosis and subsequent medication that they (may) need, but it will also give them someone to talk to, in a safe space, about things they might not be comfortable sharing with anyone else. You can also book them an online therapy session.
Gifts to Make Someone Feel Better
As an Amazon Associate we earn from qualifying purchases. We may earn a small commission for our endorsement, recommendation, testimonial and/or link to any products or services from this website. Thank you, your qualifying purchases help support our work in bringing you real daily gift ideas.
Source Link: https://whattogetmy.com/gifts-for-depressed-people/
1. SCENTED CANDLES:
Aromatherapy has throughout history been considered as a natural way of healing people's minds and enhancing people's moods. Scents such as lavender and vanilla are considered soothing and have calming abilities. Scented candles for someone with depression are a great way to stimulate their senses and also amazing aides for meditation. Alternatively, you can also get them essential oils and an oil diffuser for the same effect.
These candles made from Soy burn for longer and are infused with different essential oils to deliver a relaxing and refreshing scent to your atmosphere.
The incredibly uplifting messages in the cards will sure make your friend smile. It is a thoughtful way of reminding them that they matter and you are thinking of them.
These notes are perfect for people struggling with mental health issues and are losing hope and the strength to go on with life. These little uplifting messages and affirmations just might be the thing they need to change perspective and find new purpose and meaning to life.
3. CRYSTAL GIFT SET:
Crystals are known for their healing powers and the ability to align your chakras. This gift will improve a depressed person's outlook on their circumstances.
Beautifully crafted stones that help with stress relief and energy/aura cleansing.
4. STICKY NOTES:
If you have access to your friends' apartment or living space, leave a note or notes around the house on things that they will definitely use such as mug cups, couches, laptops, etc. be as creative as you want with the notes, the idea is to make them laugh or smile.
Sticky notes with warm colors is just what you need to brighten up your loved ones' day, quite literally!
5. MONEY:
Sometimes the easiest solution to a problem is the best. Most people go into depression due to financial crises. Gift your friend with some money and let them use it on whatever they think they need at the time. You can also include this in a care package for your depressed friend.
6. POTTED PLANT:
A cactus is very easy to keep alive and it will give them a sense of accomplishment when they water it and move it into the sunlight.
7. MIXTAPE/PLAYLIST:
Compile upbeat and funky music that your friend/partner enjoys and make them a playlist. We recommend using Deezer, Spotify, and AppleMusic.
8. GARDENING TOOLS/ART SUPPLIES:
These are products that help with depression because not only are they creative outlets, they also require precision, patience, and care. A finished art project or a flourishing garden will give your depressed friend or partner a sense of accomplishment and working towards the finished product will give them a sense of purpose. We recommend using Tom Care Garden Tools for your gardening tools and US Art Supply for your artistic needs.
9. DATE NIGHT IN:
If your girlfriend is feeling down, you can make her day by having a date in. Cook her dinner, light some candles, put on her favorite movies, and enjoy the night in. Take a look at this article to help you find other ways to make your girlfriend smile.
10. LIGHT THERAPY LAMP:
Also known as a happy lamp, this lamp mimics the warm glow of the sun and it is most suitable for someone with SAD. The warm glow radiating around the room is sure going to improve their mood.
This UV free lamp comes highly recommended with reviewers on Amazon raging about the drastic effect it had on their moods and eliminated symptoms of SAD.
A depression care package made from assorted candy. Make your depressed friend feel better with these candies that they can binge eat as they watch their favourite TV show.
The packaging is amazing and this makes a great gift to uplift someone's mood.
Funny Gifts to Cheer Someone Up
You can also opt for funny gifts to cheer someone up, after all, laughter is the best medicine (right?) here are some light-hearted things to get friends who are feeling down
1. PLUMBUS:
From the AdultSwim animation Rick and Morty, a Plumbus is a fun gift for anyone. It has no real use, and no one knows what it is exactly but everyone needs one, and that's all that matters!
2. PEOPLE OF WALMART.COM COLORING BOOK:
Experience hilarity in this 37 paged coloring book based on the images from PeopleofWalmart.com. Bright colors are mood elevators so there's a bonus to this gag gift.
This coloring book for adults is hilarious and fun for people with a weird sense of humor.
Other Things That Will Help People with Depression 
You may also try to help your friend/partner who is depressed by encouraging them to partake in physical exercises as exercising has proven to elevate moods. Check out our article on How to Get Motivated to Exercise When Depressed to get some tips on how to help your friend feel up to the task. 
Frequently Asked Questions: 
Are loneliness and depression the same thing?
No, loneliness is not the same as depression. However, most depressed people are prone to seclusion during their depressive episodes and this leads to loneliness. If you are suffering from loneliness, specifically, this article might be a good start for you to start practicing self-love and how to be comfortable with being alone. 
What should I do if someone I love has shut me out due to depression?
Isolation is the go-to for depressed people. Mainly because they don't want to be a burden to you (by being vulnerable and letting you take care of them). Remember that it is nothing personal and try and help them any way you can. Leaving sticky notes around the house telling them how much you love them will go a long way. And when they are ready, and they will be, they will come to you and open up. Until then, be there for them consistently. 
Conclusion
Getting a gift for a depressed person may feel like an impossible task especially when they seem unmoved and unmotivated by anything. Spending quality time with your loved ones may be the greatest gift you can give them when they are experiencing a depressive episode. However, that doesn't mean that you cannot give them items that are mood uplifters or just generally enjoyed by adults. Remember your gift is not meant to "cure" or "heal" them from their depression, it is just a token of your love and affirmation towards their existence letting them know that you are there for them and thinking about them in their darkest times. We hope this article has guided you to some of the gifts you can get someone who is depressed.
ESTIMATED TIME DESIGNING AND UPLOADING THIS ARTICLE
ESTIMATED TIME RESEARCHING AND WRITING THIS ARTICLE
Try our AMAZING GIFT FINDER TOOL! Find GIFTS with 1 CLICK!