19 EXPERT ADVICE ON THE MOST COMFORTABLE CUDDLE POSITIONS
WhatToGetMy Instructional Article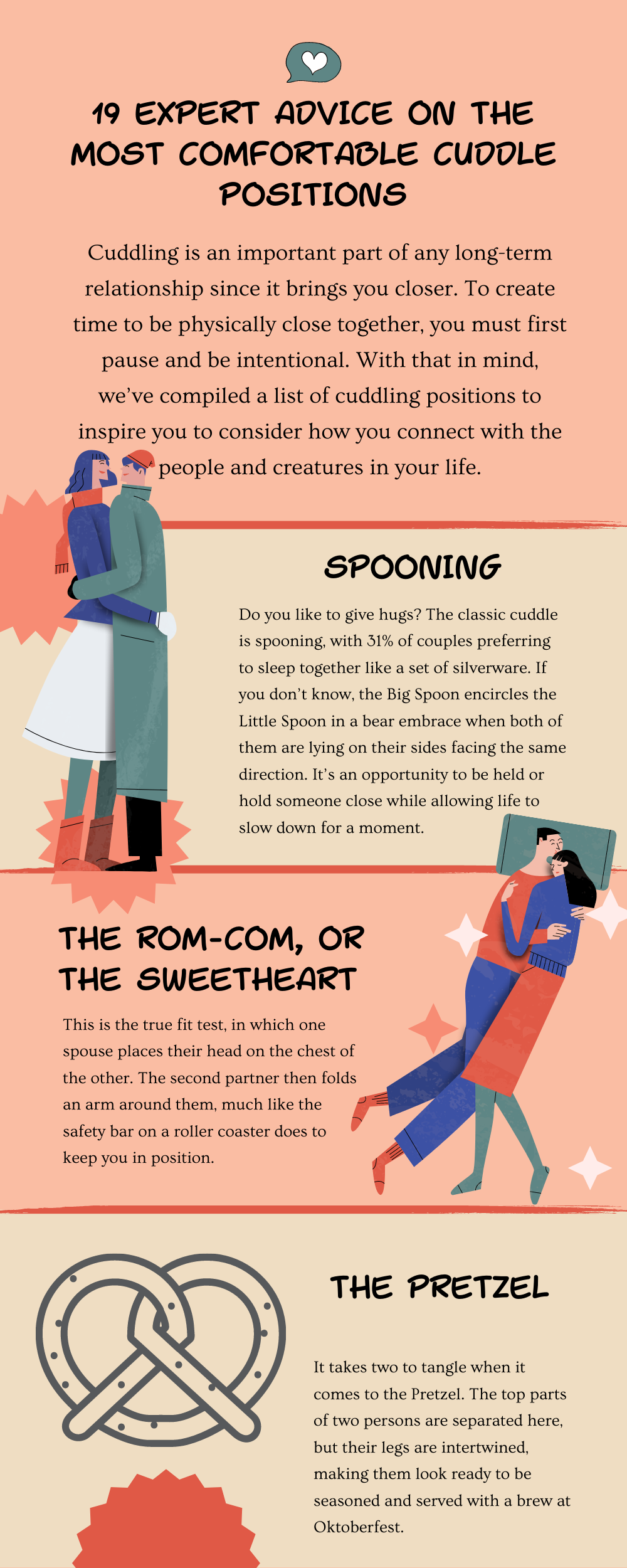 Cuddling is an important part of any long-term relationship since it brings you closer. To create time to be physically close together, you must first pause and be intentional. With that in mind, we've compiled a list of cuddling positions to inspire you to consider how you connect with the people and creatures in your life.
Cuddling is medicinal 
19 CUDDLING POSITIONS THAT WILL HELP YOU CONNECT WITH YOUR LOVED ONES
Do you like to give hugs? The classic cuddle is spooning, with 31% of couples preferring to sleep together like a set of silverware. If you don't know, the Big Spoon encircles the Little Spoon in a bear embrace when both of them are lying on their sides facing the same direction. It's an opportunity to be held or hold someone close while allowing life to slow down for a moment.
Spooning is the best way to cuddle because it allows you to feel more of your body. The Little Spoon may find it difficult to break free from the embrace because of their proximity when the Big Spoon starts snoring.
Statistics from Casper show how Americans share a bed with their partners.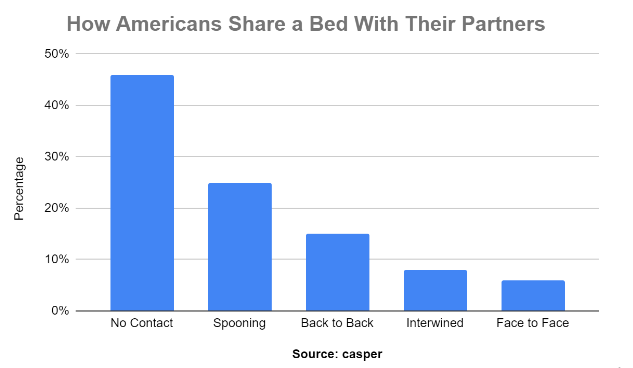 THE ROM-COM, OR THE SWEETHEART
This is the true fit test, in which one spouse places their head on the chest of the other. The second partner then folds an arm around them, much like the safety bar on a roller coaster does to keep you in position. It instinctively transports you back to when you were a child and first heard a pulse. However, huddling for warmth can result in one or both of you becoming too hot to sleep.
You want to be close, but you don't want to be suffocated by someone's breath? You're not the only one who feels this way. This stance has each individual lying back-to-back while on their sides and facing away from each other, and it is the most favored cuddling with 42 percent of respondents. This could perhaps be the back support you've always craved for.
Similar to a sleep divorce, this cuddle allows you and your partner to move freely without disturbing the other person; yet, it is approaching the borders of what we call a cuddle because the space between you is all too easy to expand.
It takes two to tangle when it comes to the Pretzel. The top parts of two persons are separated here, but their legs are intertwined, making them look ready to be seasoned and served with a brew at Oktoberfest.
The gentle pressure of your partner's leg or foot might be soothing; nevertheless, keeping your legs entangled at night can cause leg cramps, making it difficult to sleep.
THE FACE-TO-FACE CUDDLING
For cuddling, there are no chaperones. And 2% of couples take full advantage of the situation, embracing and later sleeping in a sideways embrace. Your partner is in the spotlight, and all your attention is on them.
It sometimes seems tough to find the perfect pillow. However, the person sleeping next to you might be the pillow you've been looking for all along. One person is lying on their stomach, with their partner's arm supporting and holding them close. Cuddling is about showing care for one another, and one partner is reaching out to the other.
It doesn't have to be difficult to cuddle. Two couples lie side by side with their arms held together during the Courtship. It's a modest gesture to let someone know you've arrived. Holding hands is good because it can help you become accustomed to intimacy and closeness.
This is only one of numerous sleep snuggling positions to try with your lover. You're the tree at times. You're also the sloth at times. One partner lies on their back while the other wrap their arms and legs around them in a hug that immobilizes both of you, just like the name of this cuddle suggests.
It can feel fantastic to stretch out your legs on the couch at the end of a long day. You're the King of the Castle and sitting on your sofa holding court. Your spouse lays down and drops their legs across your lap like a drawbridge while you're leaning back. This is a traditional sofa cuddle — or, to put it another way, a snuggling gateway. A suitable cuddling position for two individuals in which one of you can get a foot rub? Get the hell out of here.
This is one of the numerous cuddling positions that can help with sleep and closeness. It's one thing to be close and another to be at a Yoga Retreat. You're seated and facing your spouse before drawing them in for a deep embrace. You lock your arms and lose sight of the key.
Sync your breath and body to build a stronger bond when you're near and together.
Try one of these snuggling positions with your spouse for closeness and excellent sleep. Some days you need someone to tell you, "It'll be fine." And resting your head on your partner's lap is the snuggling equivalent of those phrases. Put on your pajamas first because you won't be going anywhere for a long.
It leads to a head rub and is a simple way to converse and comfort your companion; nevertheless, it may be too touchy for casual cuddlers.
These are excellent snuggling positions for improving intimacy and sleeping with your lover. When you have a companion, why buy a recliner? This position combines a backward bear hug and spooning-sitting-up, with one partner sitting and the other nestling inside their arms with their back to the first person's chest. Then you relax until someone needs to get up to fetch a drink.
While cuddling, you both have back support. Some partners may find it difficult to adjust to having another person's weight on their chest or legs.
Cuddling postures like these are a terrific way to increase closeness with your lover before going to sleep.
The cliché of a simple yawn and stretch has grounded a thousand love comedies. And rightly so: this positional arm carelessly flung over your partner's shoulders is an embrace without the face-to-face commitment, even if it is cheesy. It's possible to be platonic or romantic with an arm over the shoulder: It's a low-risk snuggle.
Is there a limit to how much hugging you can cram into one person? You're about to learn. It starts with a pet in your lap, but it quickly escalates as your lover snuggles up to your chest. Then you're all one warm, immovable bundle. The sheer hugging will keep you focused on your snuggle pals and present. The warmth and weight, however, may become overbearing after a while.
It's late in the afternoon on the weekend, and you're dozing off with a podcast playing in the background when your dog jumps on the bed. They huddle together. You're both stretching. You should both feel free to blame the drool on the pillow on the other.
Pets can help us relax and lower our blood pressure. You have a warm and positive little furry creature.
This is a nice position to try cuddling with your spouse. In a pinch, partners can act as a pillow. Rest your head on your partner's lower back as they read or slumber on their stomach. Then go ahead and gaze at the clouds or let your mind wander.
Cuddling without making eye contact can be less daunting, but "it can help people get habituated to the steps of intimacy," according to a study.
Because you're not facing each other, your connection may not feel as strong in this position.
These are some of the cuddling alternatives available to couples before bedtime. Relationships are similar to a game of Tetris. You're simply hunting for the ideal match. And sometimes it means lying on your partner's stomach with your head on their tummy. While catching up on the day, you can both stretch your legs.
This snuggling session can feel like an abs-day exercise if your companion runs their fingers through your hair or rests one arm casually across your chest.
Cuddling is a terrific method to sleep while also helping to enhance connection in partnerships. For youngsters, a parent lying down is a homing signal. They'll worm their way into your arms and drape themselves on your torso. You'll be completely engulfed in youngsters.
THE TEDDY BEAR'S TEDDY BEAR
Cuddling positions can help you build intimacy and get a better night's sleep. Adults sleep with plush animals in greater numbers than you may suppose. Regarding spooning, the Big Spoon has the Little Spoon to snuggle like a teddy bear, but what about the Little Spoon? This is when a dog or cat comes in useful, as they can snuggle up to a pillow in the crook of the Little Spoon's arm. Cuddle parties are excellent stress relievers, but the more (possibly) moving components you include in your evening ritual, the more difficult it will be to go asleep.
HOW TO CUDDLE? – GETTING STARTED WITH CUDDLES
Maybe your partner has expressed an interest in cuddling, or you're the one who initiates the cuddling. In any case, it's best to take things slowly at first. No matter how anxious you are, don't jump into hugging – literally, don't jump on them. To demonstrate your intent, place your hand on their shoulder, back, or waist and lightly rub it.
Make sure your hugging intentions are crystal obvious. You can put your hand on their shoulder, but that does not mean you want to cuddle with them. Instead, caress their arm; you should know what you're about to do.
Remember that hugging is frequently a stand-alone behavior that does not always imply foreplay. Start slowly and gradually increase your comfort level, not continue beyond the hugging stage. Being open and honest with your spouse about your desires is critical.
BE CONSCIOUS OF THE ENVIRONMENT.
So you've mastered the fundamentals and are ready to move on to the next level of cuddling. However, take in mind certain essential environmental aspects before making the switch. Is it sweltering outside? Because you may need to minimize your physical contact to avoid becoming a swamp creature. Is it a couch or a bed that you're on? Or is it something quite different?
The cuddling positions you can execute will vary depending on how much space you have to spread out.
MAKE YOURSELF AT COMFORTABLE.
Make sure you're comfy initially since you're about to be held down in a hug for a long time. Change into comfortable clothes or bring a warm blanket if you plan on performing some long-term cuddling during a movie or before bed. Even if you're resting on the other person, a pillow as a present might be a wonderful idea.
The PG variety: gently and endearingly stroke your partner's back, legs, or arms. This may be the same as a gentle massage. The idea is to make the other person feel at ease and interested in continuing to cuddle with you. You may want to continue the mild rubbing once you've converted to actual "cuddling" to extend the wonderful feelings you both get from it.
CONCLUSION
Cuddling is one of the most effective forms of physical affection; it promotes intimacy, displays love, and boosts happiness. Cuddling stimulates a hormone called oxytocin, which relieves stress and anxiety while also improving your mental health. Don't worry if you've fallen out of love with cuddling or aren't sure what moves to utilize. With a little practice, cuddling can be simple and enjoyable.
FAQ
MY BOYFRIEND DOESN'T LIKE CUDDLING, BUT I CAN'T GET ENOUGH OF IT. SO, WHAT SHOULD I DO NOW?
Tell him how important snuggling is to you and why you need it so much. You might also inform him about alternative sorts of "cuddling" that could satisfy your desire for physical contact. You may, for example, place your head on his lap or cross your legs across his. He can find a more comfortable position by varying the amount of physical touch in different snuggling postures.
IS GETTING AN ERECTION WHILE CUDDLING NORMAL?
Yes, getting an erection while cuddling with someone else is quite normal, especially if they are attractive to you. There isn't much you can do about it; you'll have to grow accustomed to cuddling.
IF I'M A BOY, MAY I CUDDLE MY BEST FRIEND, WHO IS A GIRL?
Yes. A platonic connection is what you're describing (a close friendship that is not romantic or sexual). If you want to snuggle with her, you should ask first to ensure she's okay with it.
ESTIMATED TIME DESIGNING AND UPLOADING THIS ARTICLE
ESTIMATED TIME RESEARCHING AND WRITING THIS ARTICLE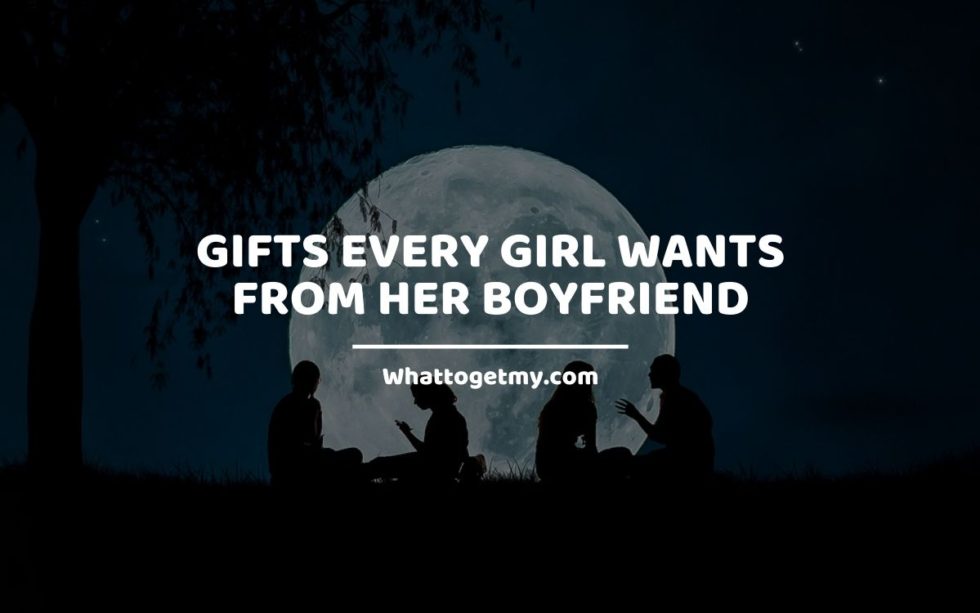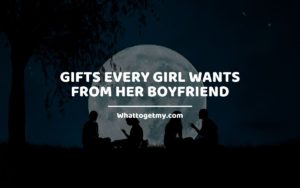 6 Gifts Every Girl Wants From Her Boyfriend
Before you can find gifts every girl wants from her boyfriend, there are a few things that you need to understand and know about your girl. You need to first know what every girl wants from her boyfriend pertaining to their relationship with them. Although
Read More »