Things to Do at a Spa Party: 10 Steps to Planning a Great Spa Party
WhatToGetMy Instructional Article
Facials, mani's and pedi's, body massages, who doesn't like a pampering party? A Spa themed party is great!
In this article, we will be letting you in on all you need to know about spa parties to help you host a good one.
Do you know that the main reason why people visit spas is for relaxation and stress relief? Imagine what a spa party will do for your friends.
Out of 1, 025 people that participated in a study by Coyle Hospitality Group, 88% of the respondents chose relaxation and stress management as the first reason for visiting a spa.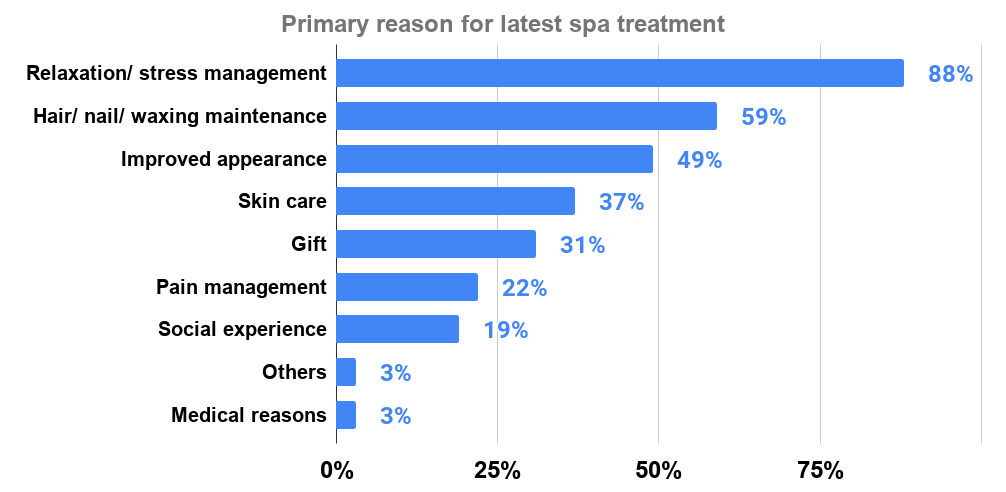 A Well-planned spa party is like a mini getaway vac with people you know. It is a great way to bond with colleagues, friends, and family in a relaxed atmosphere. Whether your guests are kids, teens, or adults, you can make your spa party an unforgettable experience for everyone.
HOW TO THROW A SPA PARTY
Throwing a spa party depends on two main factors among others; time, and money. As cool as they look and sound on the internet, spa parties are not so easy to organize. Based on your time, and money, you could make one of three decisions; outsource the planning to a spa company, plan the party in part and employ the services of professionals, or plan and execute everything from scratch.
1.

Outsourcing to a spa company
Using a spa company is good when a person knows that they do not have the time, space, or expertise to pull off a spa party. Outsourcing is also great for important occasions such as bachelorette parties, corporate retreats, farewell parties, and many more adult parties. It ensures that the quality of service everyone receives is standard. It comes with other benefits like;
It relieves you of the burden of shopping for items you might not be needing after the party

It saves time and stress,

No matter the package you choose for your guests, they will be getting body treatments from spa professionals.
There are a couple of spa businesses that offer spa party packages at budgets that suit clients. Some spa salons go as far as customizing treats, providing photoshoot sessions, and organizing food services for clients parties. However, these services don't come cheap.
Apart from the cost of outsourcing, there are other disadvantages of using a spa salon such as;
Spa businesses work with time. This means that you can only spend a limited amount of time at their salon. However, there are no rules to this. Everything depends on how much you are willing to spend. If you can buy the salon for a day, why not

Secondly, the setting might not allow for free interaction with guests. This is because clients are normally placed in different rooms for spa treatments.

Lastly, you might have little power over decoration and choice of treats.
2.

Plan in part and employ the services of professionals
This option simply means that while you take full responsibility for organizing a spa party, you can still employ the services of other professionals to improve your execution and make planning less burdensome. For example, you might decide to handle the decorations, games, and party favors while you employ caterers for snacks and drinks and spa professionals to handle spa treatments. They could also teach you guys how to make one or two spa products based on your deal. The advantages of choosing this option are;
No time constraint. Since everything occurs at the host house, guests and celebrants decide how long they want to stay at the party.

The venue allows for freer interaction with guest

You determine how the setting should be or look like

You and your guest dictate the spa treatments spa professionals should provide.  Also, you determine the choice of food and drinks.

It allows you the choice of inviting more friends than you would have if you used a spa company. Usually, spa salons permit a certain number of people at a go; between 6-10 guests. Since you are hosting the spa party at your choice of location, you can employ independent spa professionals to cater to as many guests as you wish to invite. If you have 12 bridesmaids, they can all receive spa treatments at once.
Apart from cost and a little stress, another disadvantage of hosting spa treatments outside a spa saloon is the limited choice of spa treatments.
3.

Plan and execute everything from scratch
Choosing to plan and execute a spa party by yourself is brave, achievable but tasking. It requires a lot of creativity, organization, time, and money. You have to think about color themes, decorations, treats, games, activities, and spa favors. All these will be discussed in detail under the heading 'how to plan a spa party'.
Usually, people choose to plan and execute a spa-themed party by themself when they are not the celebrant or when they are inviting just a few friends for a simple spa treatment. It makes a lot of sense too. Why would you stress so much to organize a spa party when you are the celebrant? The goal of having a spa party is to relax with friends and have fun. While you may succeed in hosting a great spa party alone, sadly, it will leave you super exhausted after the party. Secondly, you will spend on things that you might not be using again (if you are hosting many guests) and thirdly, not everyone can moderately give a spa treatment. You do not have to burden your friends to give each other spa treatments. For an adult spa party of more than 3 friends, it is best to outsource it or employ the services of others while organizing it.
HOW TO PLAN A SPA PARTY
The following tips should guide you when planning a spa-themed party;
1.

Pick a date
Try to pick a date well in advance for a spa party. This will help you to book venues well in advance, inform guests, and make any other necessary arrangements for the party.
2.

Select guests
Make a list of friends that should be present at your spa party, this will help you to select a suitable location for the party. If you are hosting a house spa party, you may also need to consider the personalities of your guest while selecting. Some friends might find it uncomfortable giving spa treatments to others.
3.

Choose location
Your choice of location should accommodate your guests comfortably as well as every activity you've planned for the party. If you will be outsourcing to a spa business, try to visit their saloon before you finalize any agreement.
4.

Send invitations
After you have picked a date, selected your guests and location, send invitations. Sending invitations well in advance will help your guests to prepare better. Your invitation card should include items that guests are expected to come with. Some of these items could be robes, slippers, towels, and grooming kits.
For spa-themed events such as birthdays or bachelorette, some celebrants choose to be extra when designing their invitation cards and this is welcomed. For example, designing invitation cards with color themes for the party will help your guests choose the right colors when shopping for your party.
5.

Choose spa treatments or packages
Making a list of the spa treatments you want your guests to receive will help you budget and plan for them especially if you are organizing a house spa party. If you are using a spa business, ask them for the packages they offer and at what cost. This will help you to select a package that suits your budget. If the costs of the spa treatments will be shared amongst your guests, you will be able to inform them on time so that they can budget for their treatment or even make a choice of spa treatments they want to receive.
6.

Pay attention to your spa party decoration
Decorations are the first thing guests notice about your party. It is where they start forming an impression about the party. It could keep your guest relaxed and ready for more or it could kill their mood and make them expect the worst from your party. Creating the right atmosphere goes a long way in enhancing the experience as well as making it a memorable one for your guest. You can achieve this by selecting the right colors and items for decoration.
For children's spa parties, bright colors and busy decors go a long way in creating a 'wow' experience for them. They are kids after all.
Choose

colors

like pink, red, blue, and purple as primary colors. Other supplementary colors you could add are white, light pink, yellow, orange, and lemongrass green. Throw in colors like black and dark brown as levelers. These colors hardly get noticed. For example, the black topper for a pink nail polish hardly gets noticed. So also, a black slipper with lots of pink designs, decorations, and glitters.

Plants and flowers

are important spa decors. They don't have to be real, artificial ones are fine. Find beautiful artificial

plants

and

flowers

on amazon.

Use colorful

spa signs

to give directions and identify items

You can use colorful

balloons

as part of the entrance decor and provide

inflatable hair bands

if you wish.

Feathers, glitters, and mirrors

are great additions to children's spa stations

Candles

are generally used in creating a more relaxed atmosphere. Instead of actual candles, you could also use

vintage table lamps with Edison light bulbs

to give the same effect. They are a lot safer. A few of them will look great. You check out these

vintage lamps

on amazon.
For an adult spa themed party, any color could work, so far the presentation is mature. Usually, the little the better. It is always good to give a natural ambiance to your party. It helps to make your guests feel relaxed which is the goal of a spa.
It's not about the color or

colors

you choose but rather, how you use them. Ensure that the colors you use complement each other. Some natural colors you may want to consider are white, milk, ash, brown and turquoise, and black.

Natural plants

like lily plants, aloe vera, Areca palms, evergreen, and Gerbera daisy are great indoor plants. They are said to keep the air clean. This will make your guests feel more relaxed.

There are a lot of natural or good looking artificial

flowers

to match your spa party color themes. These flowers will add to the luxurious look or feel of your spa party. Roses are great!

Scented candles, essential oils and incense

will help in setting the mood for your party

If it is a spa themed party for a birthday, there lots of beautiful

Helium balloons

you could add to the decor

Another great addition to your decor is

crystal pebbles

. You could make mini aquariums with them by just adding them to

glass vases

alongside

reef decors

. You can find lots of affordable

reef decors

and

glass vase

on amazon.
7.

Provide spa party supplies
Aside from identifying the specific treatments that your guests will be receiving and providing the needed products for them, there are common spa products or items that should be made available to your guests. These items are;
Warm towels

Liquid soap or bar soap for washing hands

Disposable hand towels

Hand lotions or oils

Spa bowls for deepings
8.

Identify spa party activities
Spa party activities are what keeps your guests entertained before, during and after spa treatments. Some of these activities include;
Yoga for kids

Spa hunt for kids

Movies for adults or kids

The nail polish game

Music

Karaoke

DIY bath salt, bath bomb, face scrubs, lip scrubs etcetera.
9.

Spa party food
It is common for people to suggest healthy snacks for spa parties and that is great. However, if it is a spa party for kids, please do not let these angels starve. Yes you can serve them fruit infused water, yogurt and muesli but also serve them cakes, pies, sandwiches, popcorn cookies and many more. They are there to enjoy themselves and food is part of the enjoyment. Make their little tummies happy.
For adult spa parties, there are no rules. You decide what you want your guests to eat. Some common spa party foods are; cucumber and avocado sandwiches, cream crackers, veggie, beef or chicken wrap, salads, cupcakes, gourmet pizza, and assorted seafood. Some spa party beverages are; herbal tea, appetizers, smoothies, fruit-infused water, and wine.
10.

Spa party favors
Crown your event by providing party favors, no matter how little. Do not forget that presentation is key. You can find a lot of party gift boxes on amazon. Some items you might consider getting as party favors are; scented candles, bath bomb set, makeup kits, manicure and pedicure set, facial scrubs, hand creams, essential oils, and body lotions. There are many more. For kids spa party favors, find more ideas on amazon.
FREQUENTLY ASK QUESTIONS
How to plan a spa party
There are 10 things to consider when planning a spa party and they are; date, location, guests, invitation, type of spa treatments you are preparing to offer, decorations, food, activities, spa must have (supplies), and spa gifts. Planning for all these steps well in advance will ensure that you are well organized and that you host a great party.
What do you do at a pamper party?
There are a couple of activities for pamper parties. Facials, manicures, and pedicures, DIY spa products, play and dance to music, karaoke, nail polish games, tell stories, read magazines, eat, and many more. Spa parties are a time to relax and bond with friends. It is an opportunity to learn more about your friends.
How do I plan a spa night?
Follow the 10 steps we have provided and you will have a great spa night.
CONCLUSION
Hosting a great spa party will be a lot easy if you prepare well in advance for it. Choose color themes, inform your guests well in advance, provide information about the spa, pick your activities, food, and decorations well in advance, and do not forget to plan for pathing gifts too. Pay a lot of attention to your decoration. How you blend or position your decor will give guests the right impression about your party and as well as the right tone or mood for your party. If you do not have the time, space, or expertise to pull off a spa party, it is perfectly fine to employ professionals to do that. We hope that our spa party guide has been helpful to you. Have fun!
ESTIMATED TIME DESIGNING AND UPLOADING THIS ARTICLE
ESTIMATED TIME RESEARCHING AND WRITING THIS ARTICLE