19 EXPERT WAYS: HOW DO YOU HAVE A RELAXING BIRTHDAY?
WhatToGetMy Instructional Article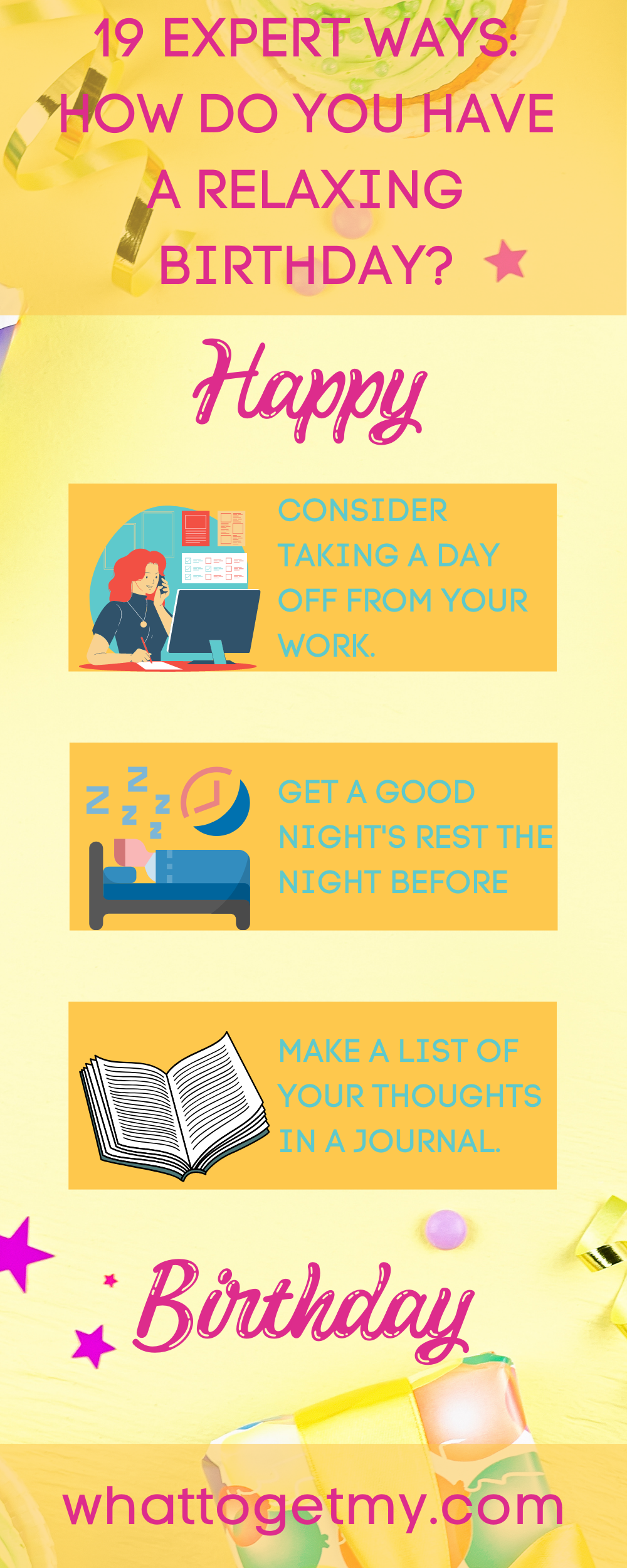 There are so many fun activities to do on your birthday, whether you choose to keep things low-key or this is your favorite day of the year. All you have to do now is come up with a birthday celebration or party plan you like. Birthdays aren't about how old you are. It's all about commemorating your achievements thus far! Make memories today that will last a lifetime, recollections that will make you smile in the future. With style, rule over your day. Enjoy the day with adrenaline-pumping adventures shared with the people you care about after another trip around the sun.
How to make your birthday relaxing? 
WAYS OF HAVING A RELAXING BIRTHDAY TO YOURSELF
CONSIDER TAKING A DAY OFF FROM YOUR WORK.
Plan and notify your employer that you will be taking the day off on your birthday. You'll almost certainly need to take a vacation day, but some employers who offer paid time out will understand and encourage you to celebrate your birthday! Make up for missed work time on your birthday by working ahead of time before the big day. You don't want to spend your birthday day running errands and catching up on work. On your birthday, only arrange meetings or chores that are required. You want your birthday to be completely stress-free.
2. GET A GOOD NIGHT'S REST THE NIGHT BEFORE.
Going to bed early may take advantage of your fresh start the next day. For the average adult, the recommended amount of sleep is between 7 and 9 hours, but depending on your demands, you may need to add an hour in either direction. Before you go to bed, don't consume too much alcohol. If you drink too much alcohol in the evening, you'll have trouble sleeping since you'll be up all night going to the bathroom.
For the evening, consider removing the alarm clock. Allow your body to take care of the rest, and only get up when you feel refreshed. Don't be scared to get a few more hours of sleep. After all, it's your day! A few additional hours of sleep feel amazing and could be just what you need to start the day off right.
INDULGE IN SOME OF YOUR FAVORITE FOODS.
Go to a nice restaurant and get your favorite dish, or order it home and have it delivered to your door. It's a good idea to call that new dinner or talk you've always wanted to try on your birthday. Many restaurants will give you a free entrée or side when it's your birthday. Take a look around the internet to see if you can find some free food! This also applies to retail establishments. Breakfast in bed is a great way to start the day. If you reside with someone, see if they'll bring you breakfast in bed. Bring something to eat.
TREAT YOURSELF TO A LUXURIOUS BATH OR SHOWER.
Even if it's normally reserved for special occasions, use a scented gel and some favorite soap. Light candles, lower the lights, and listen to music to maximize your relaxation. Scented lotions and other bath accessories are ideal for moisturizing and relaxing, whether you're taking a bath to start or end your day.
TAKE YOUR CARDS AND GIFTS OUT OF THE ENVELOPES.
By your birthday arrives, you've most likely received a few birthday cards or parcels in the mail. It would be good if you did not open them as soon as you receive them. To make the occasion more special, save them for your birthday. People are considering you!
Begin the day by selecting how to present the cards in the greatest possible way. Cards are a lovely addition to window sills and kitchen tables. Consider what you'll do with gift cards or money you received for your birthday. The day is yours to do what you want, but don't let your cash burn a hole in your pocket. Source from Enbridge shows the tradition and meaning of what birthdays meant to them.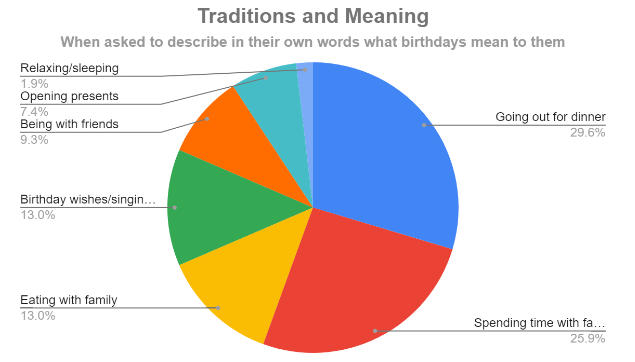 6. HAVE SOME CAKE FOR YOUR BIRTHDAY.
Purchase or bake a cake for yourself. If you're going to make one yourself, start the night before. After all, you don't want to put too much effort into your special day. If you create your cake, indulge in a guilty pleasure by spooning the leftover icing. You've earned it!
7. MAKE A LIST OF YOUR THOUGHTS IN A JOURNAL.
It's a good idea to meditate on your life on your birthday. Consider where you've been, where you are now, and where you intend to go. In your journal, write down how you're feeling and any other thoughts that come to mind.
Consider your day so far, select three additional pleasurable and fun moments and record them as a souvenir. When your next birthday arrives, you can refer back to this entry to plan an even better celebration. Make a list of your objectives by writing down the goals you've completed and the ones you still have in front of you each year gives you a useful gauge to track your progress. Your recent triumphs, your dreams, and any feelings you haven't been able to express otherwise are all things you can think about.
HOW CAN I HAVE A RELAXING BIRTHDAY WITH OTHERS? 
8. GO ON AN EXCURSION FOR THE DAY.
Get out of the house and go somewhere fun to have a good time. You are not required to have a certain destination in mind. Rambling might help you cleanse your head and organize your thoughts. Get on the way, drive to the outskirts of town or further afield. Traveling down back roads will allow you to see buildings, structures, and landmarks that you might not have noticed otherwise. Make a list of any places you'd like to visit again in the future. Road vacations also allow you to see areas associated with your family's past.
Take a trip to the beach; beaches have everything you could desire from a fantastic day: sun, waves, and warm sand. Even if it's a little chilly outside, a walk along the beach is an excellent location to contemplate. Look for a hiking trail; hiking, like the beach, is a wonderful place to collect your thoughts. Nature and other green spaces are also beneficial to both the mind and the body.
9. PLAN A LOW-KEY GET-TOGETHER.
Bring your pals together for a fun pastime that doesn't necessarily lead to intoxication. Anyone may have a fun night out bowling or playing skeeball while still having the option of drinking if wanted. You might perhaps visit a specialty restaurant you've always wanted to see.
Some leagues are dedicated to informal activities like skeeball or kickball that might provide an exciting new experience for your birthday. You may even decide to make playing a habit!
10. GO OUT TO A FEW DIFFERENT BARS.
Gather your pals for a traditional birthday party and head to the bars. If you want a more intimate setting, go to a smaller dive bar or spend the night alone. Make sure everyone knows it's your birthday! It's a fantastic method to get some free beverages.
Make sure you have a safe way to return home. If you've had a few too many drinks, take a taxi or public transit such as the bus or metro. For birthdays or other special occasions, certain taxi services offer discounted pricing. Make a call ahead of time to confirm.
11. ATTEND A WINE TASTING.
Take a trip to a local vineyard with some pals to relax, sip wine, and celebrate your birthday in style. To enjoy the most out of your wine experience, familiarize yourself with popular wine tasting practices before you go. There are methods for enhancing your wine's flavor, aroma, and even atmosphere.
Wine tours, a guided instructive (and delicious) trip around the area's vineyards, are available in areas famed for wine. These tours can also accommodate groups, which is a terrific option if you have wine-loving pals.
12. CONSIDER SIGNING UP FOR PARAGLIDING OR SKYDIVING.
Birthdays are an excellent occasion to partake in these adventurous activities. Even better, if you come in on your birthday, many skydiving or paragliding companies will give you a discount. Make sure someone captures the event on camera. Who knows when you'll next leap from a plane at 12,500 feet (4,000 meters). Plan on skydiving for the entire day. Before you take to the air, there are various safety precautions, including weather issues and a pre-jump class.
13. PAY A VISIT TO YOUR RELATIVES.
Make a spur-of-the-moment journey to see some of your relatives and see if they'd like to grab a bite to eat. We normally settle for a phone call or a birthday card from our relatives, but a visit can demonstrate your concern. If your family is scattered throughout the country, plan a family reunion. Plan ahead of time to ensure that everyone has enough time to travel.
14. GO ON A DATE WITH SOMEONE.
Make plans to spend your special day with that particular someone. You can participate in a few other things on this list, but keep it to only your spouse for a more intimate encounter.
There are numerous options for straddling between a birthday celebration and a romantic date. For instance, go on a picnic and then visit a brewery.
HAVE A RELAXING BIRTHDAY PARTY- HOLDING YOUR OWN PARTY
15. PREPARE AHEAD OF TIME.
Begin planning two to three weeks before your birthday. Send out party invites early and via various mediums, including Facebook, text messages, and phone calls. Make a party-related Facebook page or website. Add everyone you've invited to the page to establish a central point of information that will keep everyone informed about the party's newest developments.
16. COMPILE A GUEST LIST.
Determine the location of the party and the maximum number of guests that can be accommodated. Make sure your party is full of individuals you enjoy being around by prioritizing your family and close friends.
Make a deadline for yourself. When inviting a large group of people, set a deadline for accepting the invitation or limit the number of individuals who can attend the party to ensure you don't invite too many people. If the RSVP deadline is far ahead of the party's actual date, you can extend the invitations to extra attendees to accommodate those who did not respond.
Make provision for individuals who will be unable to attend. Allow them to bring one friend or invite more people than you think you can handle if you're throwing a big party. If your party is less formal and you aren't sending RSVPs, this will come in handy. If you're worried about guests bringing buddies you don't approve of, include a note on the invitation concerning plus ones. For example, you may ask them whether they want to get a plus one, allowing you to vet your guests thoroughly.
17. GO THROUGH YOUR MESSAGES.
Your family and friends will almost certainly be sending you messages about your upcoming birthday, with some even suggesting that they throw you a party. So that a surprise birthday party doesn't go to waste, let them know ahead of time that you'll be holding your own!
18. DECIDE ON A PARTY LOCATION AND TIME.
Choose a time and location that is as convenient as possible for the most participants. Consider whether your pals have other commitments, such as children or projects, and whether there will be plenty of booze. If your birthday falls on a holiday or a work day, you can celebrate on a more convenient day.
If you don't want to celebrate your birthday at a restaurant or pub and don't think you have enough space at home, ask a friend to help you with the hosting.
19. BEFORE THE BIG DAY, ORGANIZE AND PREPARE.
Before the big day, you'll need to take care of food, drinks, and decorations. Assign some tasks to friends or family members to assist in completing the project. Make some room for yourself. Move tables, chairs, and other furniture to make adequate room for the estimated number of guests. Avoid blocking exits or creating unsafe obstructions when setting up the party area. Inviting guests to bring food and beverages is a good idea. If attendees are expected to bring food and drink to the party, organizing will be easier.
Prepare the music, make a party playlist that fits the mood of the evening. Many music streaming services, such as Spotify and Apple Music, offer pre-made playlists. You may also mix and match playlists from certain prominent music stations.
CONCLUSION
Don't sulk because you didn't obtain what you wanted. Instead, be proactive and purchase that item if you truly desire it. Give yourself a break! It's your special day. Don't feel compelled to celebrate in a way you don't want to. Always opt for the sweet pleasure of spoon-feeding the leftover frosting! Anyway, it's your birthday!
FAQ
WHAT CAN I DO TO MAKE MY BIRTHDAY SPECIAL?
One option is spending it with people you care about, such as friends or family. Give them a call or send them a text if you can't meet in person. You can also use this time to reflect on how you've changed and developed over the past year or to list things you want to do or achieve before your next birthday.
WHAT SHOULD I DO ON MY BIRTHDAY IF I'M SAD?
If you're depressed, taking steps to feel more connected to people can help you feel better. Think about calling a friend or loved one and conversing with them. Treating yourself to an enjoyable day away from home might also help raise your spirits. Spend the day shopping for a present for yourself, eating supper at your favorite restaurant, and ending the day with a trip to the movies.
WHAT IS IT ABOUT MY BIRTHDAY THAT MAKES ME FEEL SO LONELY?
Loneliness on your birthday sometimes can be linked to terrible past events. Alternatively, they could result from your current birthday not measuring up to previous ones. Birthday depression, sometimes known as the birthday blues, refers to these emotions of loneliness and sadness.
ESTIMATED TIME DESIGNING AND UPLOADING THIS ARTICLE
ESTIMATED TIME RESEARCHING AND WRITING THIS ARTICLE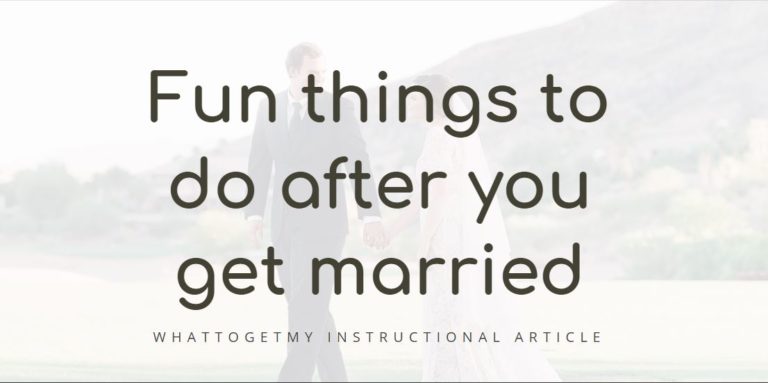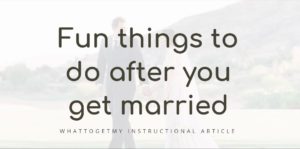 Fun Things To Do After You Get Married
Fun things to do after you get married WhatToGetMy Instructional Article If you're getting married in the very near future, you must be super very excited and nervous all at the same time. You don't want your relationship to change in any way, so you
Read More »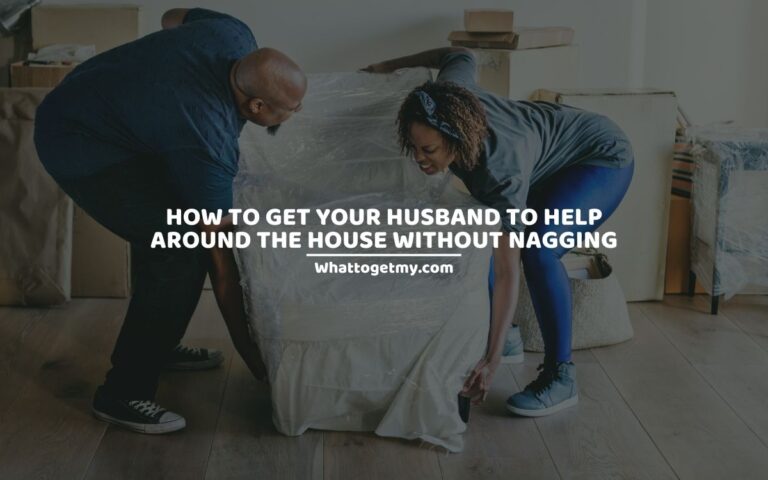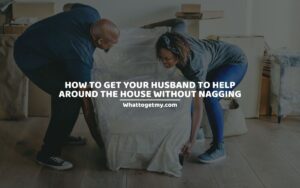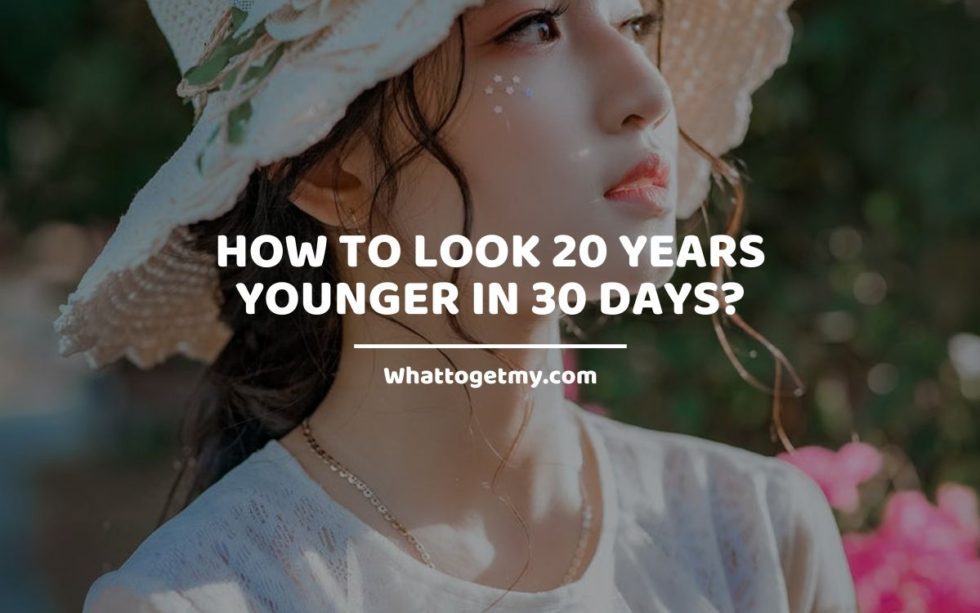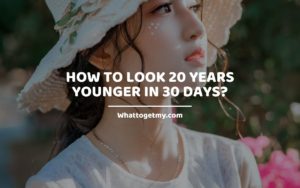 How to Look 20 Years Younger in 30 Days?
How to Look 20 Years Younger in 30 Days? WhatToGetMy Instructional Article We know you sometimes wonder how to look 20 years younger in 30 days, so we've decided to put together this article for you. Let's note from the start that you can't expect
Read More »