HOW TO DEVELOP MYSELF IN A POSITIVE MANNER?
WhatToGetMy Instructional Article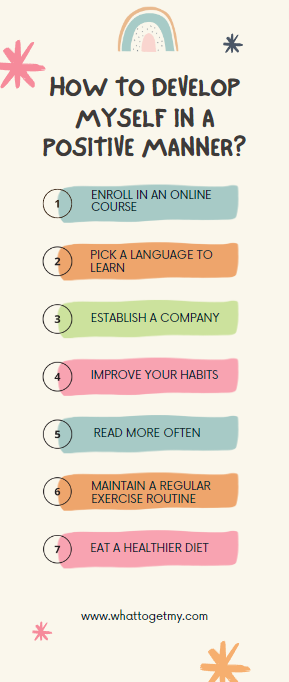 Personal development is a lifelong process that can help you achieve greater joy, happiness, and contentment; changing our habits and perspectives and learning new things isn't easy. Also, we must summon the strength to face the emotional discomfort of moving beyond our comfort zones. As a result, take it in slowly, don't take on too much at once, and concentrate on the long term. Aim for tiny successes daily that add up over time.
Research on Forbes shows the level of confidence in men and women.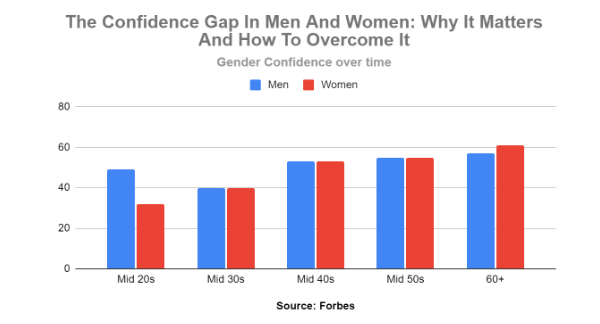 HOW CAN I POSITIVELY DEVELOP MYSELF? WAYS TO BUILD YOURSELF POSITIVELY
Aiming to improve yourself can positively impact your well-being and your connections with family, friends, and coworkers. So, let's get started. Here are 20 practical self-development recommendations if you're seeking something to do to improve yourself:
DEVELOP SOMETHING NEW TO HELP YOU IMPROVE AS A PERSON
Let's check out some self-development activities to help you gain new talents. You will never grow unless you try to achieve something above what you have already mastered.
ENROLL IN AN ONLINE COURSE
An online course is a fantastic opportunity to learn new skills, broaden your horizons, and improve yourself. Many excellent free online digital marketing, photography, and programming courses are available. For example, you may use Shopify Compass to learn how to establish an online business, or you could look into online course sites like Udemy, Coursera, and edX.
Studying a new language is a fantastic opportunity to improve yourself positively, learn about a foreign culture, and broaden your horizons. Also, studying a new language can open up new travel opportunities and introduce you to many potential acquaintances. You'll have the perfect opportunity to test your patience, perseverance, dedication, and hard work.
PICK UP A MUSICAL INSTRUMENT AND LEARN TO PLAY IT
Music can bridge up a whole new world for you; learning an instrument can be a wonderful opportunity for a healthy outlet for emotional expression, cultivating a lifelong love to connect with like-minded people, and also meeting like-minded people. So, if you've always been interested in learning a musical instrument, pick up the habit now. Plenty of free lessons are available online to help you get started. Go to YouTube and look for free classes there.
Many advantages come with starting a business; there is, however, an added benefit: you can earn money. You can launch a variety of enterprises, including freelancing, consulting, and other services. For example, dropshipping this business enables you to begin selling things online without investing any money upfront.
IMPROVE YOUR HABITS AND WORK ON YOURSELF
It's important to encourage yourself. Motivation is what gets you started. It's your habits that keep you going. So, let's look at ways to improve yourself by changing your habits.
 Is spending less time on Facebook, YouTube, or Netflix one of your wishes? Reading is a good way to pass the time. Many of the world's most successful people regard reading as a daily means of self-improvement. Bill Gates, for example, reads 50 novels every year or nearly one every week.
MAINTAIN A REGULAR EXERCISE ROUTINE
Successful people exercise regularly for a reason. It helps us stay focused and motivated by boosting our immune systems, giving us greater energy, and regulating our hormones and emotions. Consider downloading an exercise app, working out with a friend, or making a daily goal, no matter how little, if you want to start exercising frequently.
Eating healthily might be difficult when so many harmful options are available. On the other hand, our diets significantly impact our happiness, well-being, and success. What we eat can either help or harm us. Start small and focus on consistency while trying to break a negative habit. For instance, you may begin by consuming at least three different types of fruits and vegetables daily.
ADOPT A POSITIVE MEDIA MINDSET BY WATCHING AND LISTENING TO POSITIVE MEDIA
You are what you eat; it applies to everything we consume, including what we listen to and see. Every podcast and movie influence our mental and emotional states and the social media post we listen to.
According to a new study, social media harms one's well-being and increases feelings of depression and loneliness. Consider your media consumption patterns. Is there anything you regularly ingest that could be affecting your mental or emotional well-being? Changing what you listen to and see is one of the most effective methods to better yourself. So, for a change of pace, listen to motivational podcasts or watch inspiring and instructional television.
GET IN THE HABIT OF TAKING LONG, DEEP NAPS
There's so much to do these days: work, study, read books, watch TV, listen to podcasts, keep up on social media, message friends, clean, travel, shop, cook…Isn't it always like this?
Therefore, it's rather uncommon to believe that some sorts of "doing" are "resting" while others are "labor." Work, study, and cleaning, for example, are all examples of "work." And "rest" includes vacations, social media, and texting with pals. Traveling, using social media, and texting friends are exhausting! There are moments when we need to do nothing, literally, "nothing." So sit quietly, enjoy the sunset, and spend time in nature with your amazing self.
This can be unsettling at first. Learning to be alone with yourself without interruptions, on the other hand, is an important aspect of genuine self-development.
Become a better person by focusing more.
The ability to direct your attention to where you want it to go without being sidetracked by unpleasant emotions or undesirable habits is known as focus. Improving your focus is an important part of your personal development. So, here are some self-improvement strategies to help you focus more effectively.
BEGIN YOUR MEDITATION PRACTICE
Meditation, according to several credible scientific research, can help with:
Can reduce stress and anxiety.

Encourage mental well-being.

Improves self-awareness.

Increase the time it takes for you to pay attention.

Can reduce memory loss due to old age.

Create a culture of kindness.

Assist in the recovery of addicts

Improve your sleeping habits

Minimize your discomfort.
There are a variety of meditation instructors available and meditation apps that can help.
MAKE A GOALS LIST, THEN MAKE A TIMETABLE TO WORK ON
A goal without a strategy is nothing more than a dream. Put another way, turn your desires into objectives by making a plan and setting aside time to work on them. To-do list apps can come in handy.
There are numerous health advantages of keeping a journal. According to research, expressing your thoughts and feelings in this way can help to:
Ease the symptoms of asthma, arthritis, and other health problems

Enhance your cognitive abilities

Boost your immune system.

Can mitigate any of the detrimental consequences of stress.
It's also a fantastic technique to keep on track with your objectives while simultaneously increasing your feelings of thankfulness and happiness. Try journaling or use a product like the 5-Minute Journal as a starting point.
COMMIT TO A 30-DAY CHALLENGE
You can do anything for 30 days if you want it bad enough. So, what have you always wanted to study or do? Try something new for 30 days, whether establishing a business, writing a novel, or exercising every day. You might be surprised by the outcomes.
WORKING ON YOUR EMOTIONS WILL HELP YOU IMPROVE POSITIVELY
Pay extra attention to your emotions if you want to better yourself. You won't get very far in life if you don't have emotional capacities in hand if you don't have self-awareness. Suppose you can't control your stressful emotions if you can't have empathy and have productive relationships, no matter how smart you are.
Here are some self-improvement suggestions for dealing with your emotions.
FACE YOUR FEAR OF FAILING
To some extent, everyone is afraid of failing. "Everything you've ever wanted is on the other side of fear," businessman George Addair once said.
Consider working on conquering your fear of failure if you want to develop yourself. Whether it's a fear of the unknown, a fear of public speaking, or a fear of taking a risk, all of your worries keep you in the same place and hinder you from moving forward. Recognize that your fears serve as a compass, leading you toward areas where you can improve.
PAY EXTRA ATTENTION TO YOUR REACTIONS
Our emotions can easily overtake us and cause us to act in ways we wouldn't otherwise. As a result, learning to observe your feelings and manage your actions is important to self-improvement. It is not repression to learn to 'simply say no' too emotional reactions. Saying 'no' means avoiding the irritation, anger, judgment, or blame that comes with it. You won't be able to repress anything if you don't engage. Every day, sit for a few minutes and notice how you feel. You might be shocked by what you find.
FIGURE OUT HOW YOU WANT TO EXPRESS YOURSELF
It would help if you expressed yourself in life, and it is preferable to do so outside than inside. You heal what you reveal. What are some good ways to express yourself?
Art, music, writing, and athletics are just a few examples of methods to communicate your feelings. Begin to cultivate a healthy outlet.
SEEK THE ADVICE OF A LICENSED THERAPIST
Let's face it: we all struggle with our emotions from time to time. And nowadays, working with a therapist to boost one's self-esteem is fairly frequent. One of the most effective methods to improve yourself positively is to work with a licensed therapist. When navigating your emotions, these experienced specialists can offer direction and support.
RELATIONSHIPS CAN HELP YOU IMPROVE YOUR LIFE POSITIVELY
The status of our relationships has an important impact on our overall well-being. So, here are some self-improvement strategies to help you enjoy your relationships while bettering yourself.
IDENTIFY RELATIONSHIP-BUILDING STRATEGIES
What behaviors in your relationship could you improve? Perhaps you could spend more time with individuals you care about and listen to rather than speak to them? Wisdom is the reward for a lifetime of listening when you would have preferred to talk. Start practicing once you've chosen a way to improve your relationship abilities.
FIND NEW WAYS TO MEET PEOPLE
Meeting new people is one of the finest ways to improve yourself. This will not only allow you to improve your social skills, but it will also expose you to other perspectives on the world. Meet new individuals who will encourage and motivate you.
Consider joining a local gym class or yoga studio, for example, if you want to enhance your fitness.
Setting limits in your relationships is another fantastic method to work on yourself. Our relationships — and, as a result, our life – are shaped by our boundaries (or lack thereof). Your limits safeguard the basis of your identity and your right to make decisions.
Is there something you wish someone didn't do all of the time? How would you approach this situation with compassion? We feel abused and mistreated when we fail to set limits and hold individuals accountable. This is why we sometimes attack who people are rather than addressing a behavior or a choice, which is far more destructive.
CONCLUSION
It might not be easy to know where to begin with self-improvement. The advice we've provided will make a significant difference in your life. You must take baby steps and gradually gain momentum to keep going in the long run. What are your plans for today? While self-actualization and Inner Work are lifelong endeavors, your development objectives should not be overwhelming. Begin small, such as learning a new skill or prioritizing work-life balance. If you do, you'll set yourself up for success in all aspects of your life.
FAQ
WHAT ARE THE FIVE ASPECTS OF PERSONAL GROWTH?
The five aspects of personal growth include:
Mental

Social

Spiritual

Emotional

Physical
WHAT DOES IT MEAN TO HAVE SELF-DEVELOPMENT SKILLS?
Personal characteristics, personality traits, social cues, and communication abilities are examples of personal development skills. Self-improvement is a process that focuses on developing your knowledge, capacities, and self-awareness to achieve your personal goals.
ESTIMATED TIME DESIGNING AND UPLOADING THIS ARTICLE
ESTIMATED TIME RESEARCHING AND WRITING THIS ARTICLE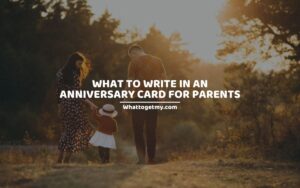 7 Ways: What to Write in an Anniversary Card for Parents
7 Ways: What to Write in an Anniversary Card for Parents WhatToGetMy Instructional Article Sending anniversary messages to parents, most times can be hard to compose or looking for the right funny anniversary quotes for parents. But what do you write in an anniversary card
Read More »