5 Insanely Convenient Ways To Send A Gift Card To Israel
WhatToGetMy Instructional Article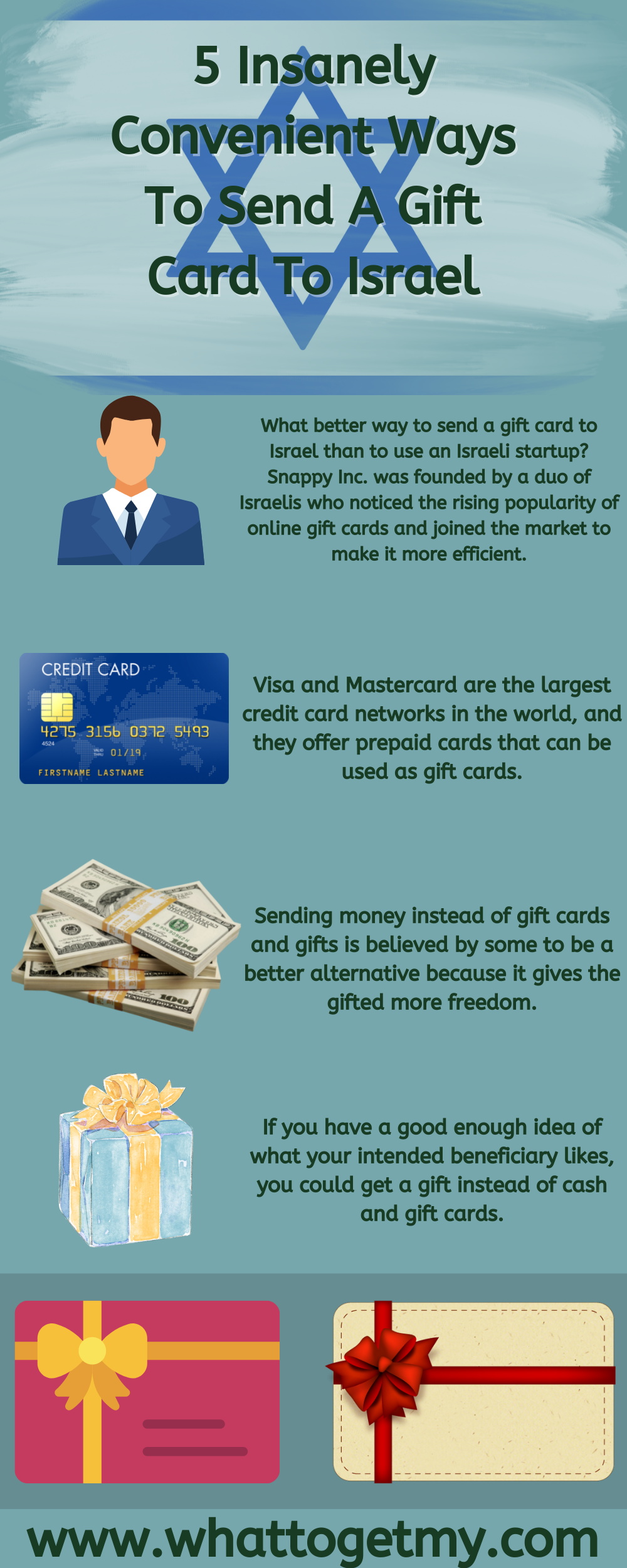 Being the homeland of Jews – who are found all over the world – there are many that have connections to Israel. Therefore, it's pretty normal to wonder how to send a gift card to Israel to show your contacts that you care.
A quick search on the internet will show you that there have been limitations on sending gift cards internationally in the past. This meant that trying to send a gift card from the U.S., Canada, or other nations, to Israel would have left you quite frustrated.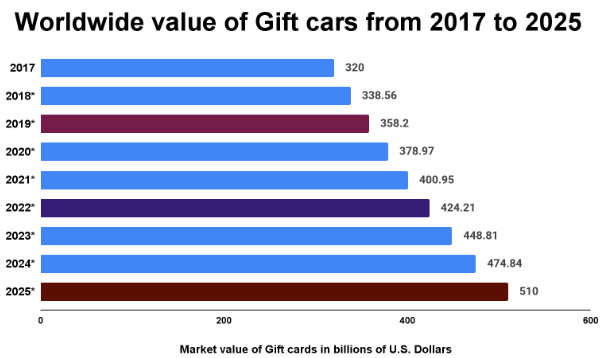 Thankfully, as shown by data from Statista, the gift card market keeps growing in value and has seen significant improvements since then. The effect – gift card shipment to Israel from the USA has become quite a breeze. 
A large part of this is thanks to the growth of online retailing in Israel, where it is estimated that over four million people purchase online. This allowed gift card companies like Snappy Inc. to develop and become quite influential.
In this article, we shall discuss some of the ways you can send a gift card to Israel so that your loved ones and colleagues can experience your love and support from far away.
1.Using a Gift card vendor 
As online retailing has grown in Israel, so has the gift card business. This has led to several companies coming up that specialize in issuing gift cards in Israel and around the world. 
Snappy Inc

 
What better way to send a gift card to Israel than to use an Israeli startup? Snappy Inc. was founded by a duo of Israelis who noticed the rising popularity of online gift cards and joined the market to make it more efficient.
As a result, they are now a famous and well-funded company that allows for gift-giving by employers to employees and general customers to just about anyone.
Thanks to their association with several leading online vendors, your intended recipient in Israel will have the option to pick a suggested gift or other similar ones from a wide range of stores. Snappy will then ship it to them. 
A gift card vendor based in Israel, BuyMe Tech. is your answer to the question, "is there a way to send a gift card to Israel?" 
The company allows you to purchase an electronic gift card for whomever you want, which the person can then use to buy goods from a wide range of stores in Israel.
However, the website is in Hebrew, so you may have to contact their customer service center for support.
Much like BuyMe Tech, La'Bayit Gifts is also based in Israel but with a difference; their website is in English, which gives you a better idea of what you're doing.
eCards are available, ranging from clothing to birthday and wedding gifts. There is also a special section for baby items, so it's a great option if your recipient is a new parent.
The main advantage of La'Bayit Gifts is that they have staff trained in English, and they deliver the gifts to your intended recipients.
2.Using an online retailer 
Online retailers such as Amazon offer some of the best options when it comes to how to send gift cards from the U.S. to Israel or anywhere else you want to ship from. They offer the opportunity to purchase gift cards that can be used in Israel at their stores.
Amazon is worth over a trillion dollars for a reason. They are a retailing juggernaut with a presence in most countries, and Israel is no exception.
They offer digital gift cards that can be purchased and sent to recipients around the world. This means that whoever you have in mind for the gift card will have access to all that Amazon has to offer. They simply need to pick an item, and Amazon will ship it to Israel for them.
However, you should note that Amazon gift cards only work on the website they are purchased. For instance, a gift card from Amazon.co.uk will not work on Amazon.com. It's, therefore, best that you get the gift card on Amazon.com for convenience.
While Amazon offers gift cards for use on Amazon alone, eBay has gift cards for several companies that can ship to Israel. So they are more of an online gift market than a retailer. 
eBay also has gift cards for stores based in Israel which is very useful if you know the gift preference of your intended recipient. 
Once you purchase the card, it can either be sent digitally or mailed to Israel; the choice is yours.
3. Using a prepaid gift credit card 
Visa and Mastercard are two of the largest credit card networks in the world, and they offer prepaid cards that can be used as gift cards for people all around the Earth. 
If you want to safely send a gift card from the U.S. to Israel, look no further than Mastercard prepaid gift cards. 
Thanks to Mastercard being accepted in most places, you can rest assured that sending one to someone in Israel will allow them to purchase items from millions of vendors.
You just need to apply for the card and then load it up with some cash. A physical card can be mailed to your recipient, or an eCard can be sent via email. 
The card comes in several designs to give it a personalized touch. It is also protected from fraudulent purchases by Mastercard's Zero Liability Protection. 
Visa arguably has more commercial reach than Mastercard, which makes it another excellent entry on how to send a gift card to Israel. 
With the Visa Virtual gift card – which is delivered instantly – your recipient in Israel will be able to access many stores around the world, which can then ship goods to them. The person could even choose to buy items from Israeli websites.
Apart from also offering fraudulent purchase protection, Visa gift cards can be customized with pictures and messages to give them a personal feel. 
4. Sending cash instead 
Sending money instead of gift cards and gifts is believed by some to be a better alternative because it gives the gifted more freedom. If you're one such person, here are some convenient ways to send money to Israel:
Founded in 2017, Paysend has since established itself as a leading financial technology company that allows customers to send and receive money across 60 countries. Israel is one of the covered countries. 
One main advantage of Paysend is that it has competitive exchange rates to ensure your recipient gets more Israeli shekel for any amount you send. Not only are the funds sent instantly, but they will also be deposited into the recipient's debit card for the most terrific convenience. 
Formerly known as TransferWise, this is a company with more than ten years of experience in the fintech sector. This has allowed them to establish connections that allow them to operate in over 80 countries, including Israel.
Wise sends funds directly to bank accounts to avoid the stress of a cash pickup, but due to regulatory approvals, the cash can take 2 – 3 days to appear. They make up for this by offering very competitive rates.
If for some reason, your recipient prefers a cash pickup, then the tried and tested MoneyGram is the way to go. With over 40 years of experience in the market, they will ensure that your funds reach their intended target safely and swiftly.
MoneyGram charges are some of the lowest in the business, and even though they offer a cash pickup, the process is so far from complicated that the recipient won't feel the time go by.
Easy to use and relatively cheap, Revolut is fast becoming the darling of the fintech world. They deal directly with Israeli banks, which allow you to send money directly to the bank account of the lucky recipient.
As with Wise, this can take between 1 – 3 days, but here you also get the option of a direct deposit into the recipient's debit card.
Like in other parts of the world, cryptocurrencies are gaining a lot of popularity in Israel, giving you another option to send cash instead of a gift card.
Simply transfer your crypto to the crypto wallet of your recipient in Israel, and they can trade it for cash or gift cards on platforms like paxful.com and bitrefill.com. It's a safe, easy, and fast method of transferring money. 
5. Send a gift instead 
If you have a good enough idea of what your intended beneficiary likes, you could get a gift instead of cash and gift cards.
There are companies in Israel that allow you to place an order from the U.S. or anywhere else, and they'll have it sent to the giftee in Israel. This way, you never have to worry about how to ship from the U.S.A. to Israel. GiftBasketsOverseas and 1800flowers are two such companies. 
For the greatest ease, however, we recommend using the "Send a Gift" option on Amazon, which allows you to purchase a gift and send it to any destination in the world. Amazon has a wide range of items on offer such as gift baskets, housewarming gifts, baby shower presents, and the best wedding items. 
This way you can be assured that the giftee gets an exceptional gift that they would love.
Frequently Asked Questions 
Does Israel Use gift cards?
Israel has many companies that accept gift cards, thanks to massive growth in the gift card market in recent times.
Apart from companies in Israel, international retailers that can ship to Israel also offer gift cards for Israelis to use and buy goods from all over the world. 
Can you buy a gift card for someone in another country?
It is very possible to buy gift cards for people in other countries. There are several alternatives for doing so, such as:
Prepaid Visa gift cards which are accepted by millions of merchants around the world. 

Prepaid Mastercard gift cards which are safe to use and can be issued virtually.

Amazon gift cards for buying on Amazon and shipping to Israel.

Israeli gift card vendors such as La'Bayit Gifts. 
Can Visa gift cards be used in Israel?
Visa is arguably the most widely accepted credit card network in the world, with millions of vendors using it to process payments.
Israel is one of the nations that Visa operates in, meaning Visa gift cards can be used there for purchases on every website that accepts payments from Visa.
In conclusion…
Sending gift cards to Israel has never been easier. While there aren't that many alternatives, the available options are pretty efficient. They will allow your intended beneficiary to get a truly special gift.
But if you find any problems when trying to send a gift card, sending cash is an easier option and will give the receiver unbridled independence in choosing an item they'll cherish and appreciate.
ESTIMATED TIME DESIGNING AND UPLOADING THIS ARTICLE
ESTIMATED TIME RESEARCHING AND WRITING THIS ARTICLE