7 Interesting and Creative Ways to Give Gift Cards to Teachers
WhatToGetMy Instructional Article
There is no doubt in any parent's mind that teachers are a very important part of our children's lives. They deserve to be given a little appreciation from the children that they teach.
The best way is to give them a small token of appreciation at the end of a school year with a gift of some sort. The gift does not need to be expensive but it should be meaningful.
The preferred types of gifts that many teachers enjoy receiving are gift cards. With that being said there are a couple of questions that need to be answered like:
What type of gift cards do they love?

How much should you spend on a gift card?

How to present a gift card to a teacher in an interesting and creative way?
But before we get into some ideas and the answers to these questions, let us first take a look at some of the things that teachers do for our children.
Teachers dedicate their lives to educating our children, they spend hours planning lessons. They attend many early morning meetings and they work late at night to grade papers. Some teachers spend their afternoons giving our children extra lessons. They get involved in coaching different sports and activities as well.
Many teachers often do more than just teach our children. They often help encourage and inspire our kids to be the best that they can be. They help children overcome certain obstacles in their lives. These obstacles could be difficulties with schoolwork or something personal. For some kids, a teacher is a shoulder for them to cry on.
So it is important to say thank you to our children's teachers as often as we can. This can be with something as simple as a thank-you note every once in a while during the school year. Small gestures help make teachers feel appreciated for all the things that they do. 
Then at the end of the year, you can give them something a little extra. This could be a small inexpensive gift like a gift card to a popular store. They can then either use it on themselves or for their classrooms.
The type of gift cards that teachers' love
Teachers love and appreciate a personalized thank you note with a gift card. Giving a teacher a gift card as a gift sounds like an extremely boring gift. But many teachers have said that they would prefer to receive gift cards to anything other gifts. They are never ungrateful for any type of gift that they receive as they know that the intentions were good. 
If you think about it a little, gift cards are a useful gift as teachers can choose items that they want or might need. 
So what type of gift cards are their favorites?
Many different surveys have been conducted at many different schools and they all found some favorites. Some of the most popular gift cards are as follows:
Target 

Amazon

Whole Foods

Starbucks

A Visa or American Express gift card

Barnes & Noble

Michaels or Jo-Ann Stores

Walmart

Jamba Juice

Staples or Office Max

Chipotle or Subway

Spafinder

Movie Theaters
Many teachers have mentioned that they often spend a lot of their own money buying items for their classrooms. These are items that help make the lessons more interesting for the kids. 
Gift cards towards these supplies for their classrooms appreciated the most and are at the top of teacher's lists. They help them spend less of their own money and still receive the items that they need to do their job.
Another popular and great option that many teachers love is the gift of a spa treatment or massage. They are always so busy taking care of kids every day that they do not get much time to take care of themselves. 
A spa treatment or massage at the end of the school year is a wonderful and much-appreciated gift.
How much to spend on a teacher's gift card?
Before we discuss the appropriate amount to spend on a teacher's gift card. First, check with the school if gifts are allowed to be given. As many schools have a policy set in place on gifts as they can be taken the wrong way. It can be seen as a bribe to influence a child's grades.
With regards to how much to spend on a teacher's gift card would depend on what the parents can afford and what they are willing to spend. The average amount spent on a gift card is usually between $25 to $100 per gift card.
We should also keep in mind how many teachers spend time with our kids throughout the year. If a child has one teacher for the entire year then it would be appropriate to spend $50 to $100. 
But if a child has multiple teachers then gift cards for $10 to $25 would be more appropriate for each teacher. If you going to give a gift to one teacher, it is appropriate to give small give all your child's teachers. Even if you or your child are not very fond of a certain teacher. 
Another thing to consider when choosing a type of gift card that you know will be used by the teacher. Don't give an amount to somewhere expensive that the teacher has to spend their own money to use the gift card. 
Ideas for giving gift cards to teachers
Handing a teacher a gift card in a plain envelope is boring and it may seem impersonal too. If you think about it, there are many different ways to make giving gift cards to teachers fun and interesting.
You can either wrap them in something special or hide them in different types of items for the teacher to find.
To give you some ideas for unique ways to give a gift card to teachers there are a couple of things to think about like:
The subject the teacher teaches

Think about a few personal things about a teacher – What are their likes and interests outside the classroom?

If the teacher has a particular line or quote that they like to say

The time of year it is, for example, The Christmas season

Think of things that relate to the actual gift card itself like if the gift card is for Barnes & Noble then think about books or magazines.
Then you can decide on the type of material you are going to use for the gift card. Examples are:
Different types of paper like Christmas wrapping paper or colored paper

Cardboard to make a type of box or sleeve

Tin cans

Glass jars

Fabric material for if you want to make something by sewing it
If you are not a creative type of person or do not have the time to sit and create something from scratch. You can buy inexpensive items to go with the gift card. There are many cheap teacher gifts in bulk ideas that would go perfect with a gift card. The most important thing is to remember to personalize it with a thank you note from you and your child.
Ideas of what you can make for a gift card
Coffee Gift Card Holder
If you have decided to go with a coffee gift card for your teacher from their favorite coffee shop. The most popular one is Starbucks as they are located everywhere which makes it easier for the teacher to use the gift card.
Get a coffee cup from the coffee shop and place the gift card inside the coffee cup and fill it with some candy.
Another idea is to take a plain coffee cup and make a personalized coffee cup sleeve. On this cup sleeve you can put anything you want from a Thank you note for being a great teacher to something funny that will make them smile.
A Bookstore gift card
An idea is to create a bookmark with a pocket to slide the gift card inside the pocket. You can design the bookmark in such a way that it matches with the gift card. 
An idea for a place like Barnes & Noble is to get hold of a magazine and look for pictures of books. Cut them out and cover the bookmark with the pictures of the different books. It would be perfect if some of the pictures of the books are of the teacher's favorite books.
Instead of covering the bookmark with pictures of books, you could cover it with positive quotes.  You could also write a Thank you note to the teacher and add a small notebook and some pens with the gift card.
An Amazon gift card
Amazon sells millions of different products and that is what makes this gift card so popular. Teachers love this type of gift card because they are able to buy anything that they wish to buy.
When it comes to finding creative ways to give gift cards to teachers from Amazon your options are wide open. 
A couple of ideas for this one are:
Fill up a glass jar with some candy and place the gift card in the center of the jar. Decorate the outside with a fun label for the teacher which could be Christmas related, the teacher's favorite saying or something to do with the class that they teach.

Take an empty toilet roll and fold it to make a pocket or pillow box to hold the Amazon gift card. Decorate the outside with a cute animal face like a cat or a dog with googly eyes. Then write a personal Thank you message on it for the teacher.

Make an amazing pop-up gift cardholder with flexible cardboard. Take two pieces of cardboard of the same size and the size of a birthday card. Fold each piece of cardboard up towards the ceiling at exactly the same size that will hold at least half of the gift card. Then attach them to each other and fold the rest over to create the card so that when you open the card the gift card section will pop up. Decorate the card with something that the teacher may like.

Photo gift card holder by making a plain card with a photo of your child on one side and a card sleeve on the other side with a personal message hand-written inside from your child.

Make a Christmas Tree ornament like a star from cardboard by cutting out two stars and pasting them together leaving enough room in the middle to slide the gift card inside.

Another idea for a teacher who loves a challenge is to buy a

Puzzle Box

or a

Brain Teaser

and hide the Amazon gift card inside.
A Target gift card
Target is another place that your child's teacher can shop from as they have a wide variety of items from electronics, home décor to small appliances. You can use some of the ideas from the Amazon gift card section
Movie Theater gift card
Everybody loves to take a break and go watch a movie and it is extremely easy to buy a gift card from the local movie theater. A creative way to give a movie theater gift card to a teacher is by making a movie theater box, fill it up with classic movie treats and of course the gift card.
Another idea is to wrap the gift card with an old medication box, for example, a headache pillbox. Decorate the outside of the box to look like a movie ticket and then wrap the box to give to the teacher.
Spa treatment gift card
A spa treatment or massage gift card is something that is loved by many teachers especially at the end of the school year. An idea for a creative way to give a teacher a spa treatment or massage gift card is to use either a glass jar or a homemade gift box. 
If you don't mind spending a few extra dollars, you can purchase mini bottles of body lotions and creams or ask for a few free samples from health and beauty shops. Place the mini items in the glass bottle or box along with the spa treatment gift card and decorate the outside.
Craft Store gift card
Teachers are always spending money purchasing craft supplies for their classrooms and a craft store gift card would make a perfect gift for them. A creative way to give the gift card to them is to make a gift card cover sleeve and attach it to a couple of basic inexpensive crafting supplies, like glue sticks, a notebook or a pair of scissors.
Finding creative ways to give gift cards to teachers can be easy as long as you spend some time thinking about the teacher and the type of lessons they teach. 
Think about the type of gift card that would best suit the teacher and take some inspiration from some of the ideas that we have mentioned in this article. The teacher will love the thought and effort that has gone into it and most importantly feel appreciated.
ESTIMATED TIME DESIGNING AND UPLOADING THIS ARTICLE
ESTIMATED TIME RESEARCHING AND WRITING THIS ARTICLE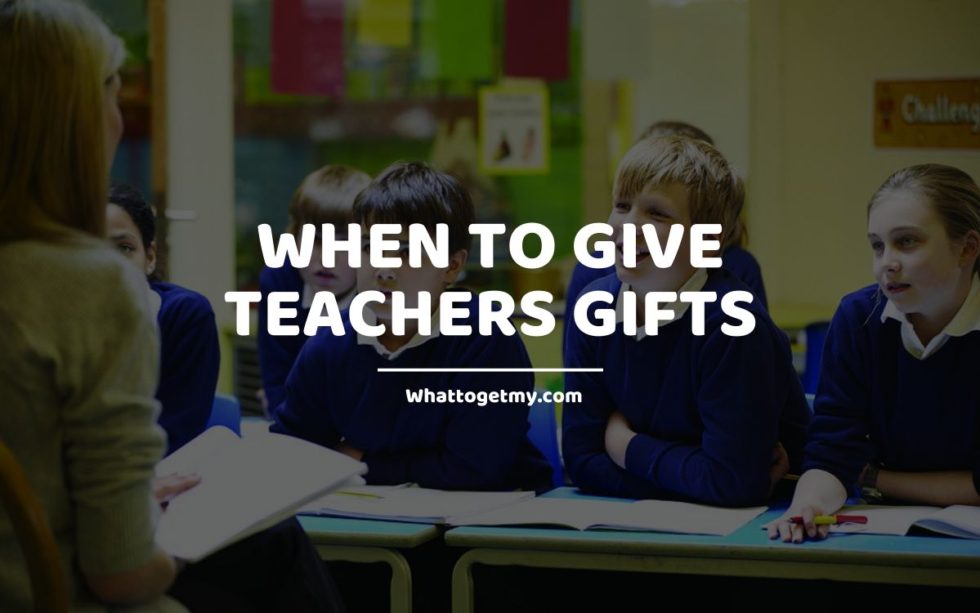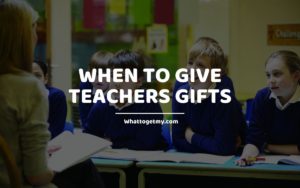 When to Give Teachers Gifts WhatToGetMy Instructional Article Most teachers don't expect any gift. They like to be appreciated for their work, of course, so they're thrilled to receive a thoughtful card from their students. However, you don't think that's enough, do you? That's why
Read More »