Teaching in a high school can be a sanity-shattering job, and to boot, high school teacher gift ideas end of year lists seem to be the last thing parents and students ask from Santa.
Parents, more than anyone else, should appreciate high school teachers and shower them with gifts all year long. Try seating next to a group of teenagers for 10 minutes. You'll agree with just about everyone else it's an excruciating experience. High school teachers are 100s of utterly annoying teens with no interest in what they have to say. Just ask any of the smartphone-carrying, bubble gum blowing, future adults if they know what's going on in class.
Most of them will tell you there are other more exciting things in life other than what the Chemistry teacher is scribbling on the blackboard.
But high school teachers put up with teens and their frustrations. They do it without downing a whole bottle of vodka like most do after a particularly rough patch at work. So, all high school teachers out there deserve a medal and end of school year gifts. In fact, every Monday of a school day should be declared Teachers' Appreciation Day, and parents and adolescents should bring gifts that teachers actually want to school.
Okay, enough hating on teens, and truth be told, a lot of aspiring adults in our high schools are not all that annoying. Sure, there are those moments when hormones are bound to act up, and your respectful teen ends up doing something that seismically disarranges a parent's life. The teen phase is part of growing up. And if you're to be honest, you were not always the household darling while you're a teen. The best we can do is understand them, and appreciate the teachers who gracefully accept to mold our youths.
And it's not easy being a teacher to an adolescent. Here are several real-life stories of the kind of challenge high school teachers put up with on a typical day at the office. Hopefully, these experiences will serve as valid reasons why you should be looking for end year teacher appreciation gifts.
#1: He's Not Looking for Self-Respecting Women
A teacher, in an unnamed high school, happened across one of her teen students at the school's parking lot. Mind you, it was in the morning.
The student was driving a Mustang with a new set of truck nuts (they're exactly what you think). The teen rolls down the window and asks the teacher what they thought of the car, presumably hinting at the obscene accessory.
Being a good teacher, she thought this would be the perfect time to instill some good sense into the young man. She said, "I think no self-respecting woman is ever getting in that car."
"That's OK, miss. I'm not looking for self-respecting women," was the incredulous answer she got for her troubles.
#2: Zip It!
A substitute teacher was trying to get a class of teens under control. No matter what he tried, the situation seemed to only get more out of hand. To be fair to the adolescents, the teacher's fly was down, but someone should have told him that, like us normal humans do.
When he yelled at the class for the incessant laughing, one student went, "Yeah guys zip it!" Needless to say, the laughter didn't stop and he didn't teach much in that period.
#3: You Misspelled Presents
During a religion class, a teacher asked his class of middle school teens what their idea of God was. One of them volunteered the answer, saying God is always around and watching them. Almost as soon as he was finished, another middle schooler shot up and replied, "Like Santa."
Being the non-confrontational teacher, she turned around and wrote 'Constant Presence' on the board. Immediately she was finished, the same teen jumped up and quipped, "You misspelled presents!"
The whole class, including the teacher, burst out laughing, effectively ending the lesson.  
That just about summarizes a typical day for most high school teachers. Between trying to keep their class under control and putting up with insolent remarks, teachers excel at their work spectacularly well, according to the numbers. According to recent trends, 80% of all high school students graduate, and 69% of them enroll in college.
Such results are worth more than the traditional cheap teacher gifts in bulk you always shop for at the end of the year, wouldn't you agree? And moreover, teachers achieve these amazing results even when faced with adversity, and an education system that is falling apart at the seams making them totally deserving for the end of the year thank you gifts.
It's for those few reasons that we present these gift ideas for teachers sure to make any end of year special. More than that, these gifts tell that special teacher how important in your child's life.
High School Teacher Gift Ideas End of Year You'll Love Giving Out (And Teachers Will Love)
So, what do you give to someone who's worked hard all year long to get your teenage daughter or son where he is today? What can be worthy of someone who has spent every waking moment trying to show your child their true potential and equip them with the knowledge and skills they'll need to unlock that potential?
We've scoured the depths of Amazon to find a few presents worthy of being gifts for high school teachers. While you'd expect most of the items here to be big-ticket items, they're not. That's because appreciating someone with a gift isn't about spending big. It's all about showing your gratitude. It is the thought that counts. And we have some pretty thoughtful gifts you'll be proud to present and teachers will be delighted to receive because they are gifts that teachers actually want.
You won't find mugs here mostly because teachers have plenty of those or knickknacks and ornaments that can be regifted or let to collect dust in the arctic. What you'll find are truly considerate end of the school gifts for your teachers.
We've also taken the time to categorize the gifts since it's the end of the year, and most probably your high school teachers will be doing one or more of these activities.
As an Amazon Associate we earn from qualifying purchases. We may earn a small commission for our endorsement, recommendation, testimonial and/or link to any products or services from this website. Thank you, your qualifying purchases help support our work in bringing you real daily gift ideas.
Quick Overview: Gifts For High School Teacher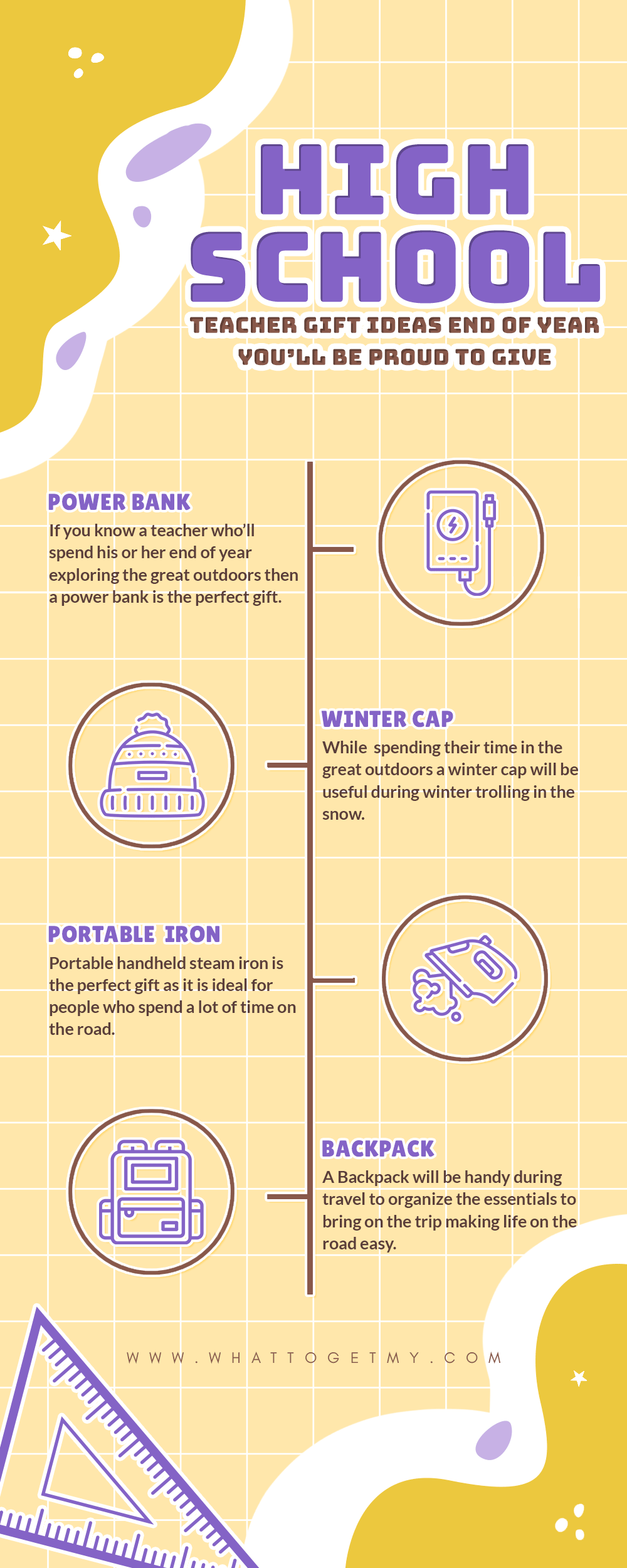 Source Link: https://whattogetmy.com/end-of-year-high-school-teachers-gifts-ideas/
Category #1: The Winter Teacher
It's mostly winter at the end of the year, and you can bet that the teacher you have in mind for a present gets up to some creative winter activities. Here are a couple of gifts that can make their winter festivities all the even merrier. In fact, if you're looking for how to surprise someone with a gift at the end of the year, these presents should work perfectly.
1. Letouch Rechargeable Hand Warmer 5200mAh Power Bank
If you know a teacher who'll spend his or her end of year exploring the great outdoors, then you probably know someone who needs all the warmth they can get. End of year often means cold weather. So, if your favorite teacher is going to spend a month at a cabin, then this rechargeable hand warmer is the perfect end of the school year gift for that teacher.
This rechargeable hand warmer also makes for the perfect gift for people with Raynaud's Syndrome or arthritis.
2. Amyker Bluetooth Beanie, Bluetooth 5.0 Wireless Knit Winter Cap
Although they might be spending their time in the great outdoors, that doesn't mean your favorite teachers shouldn't get to enjoy music while trotting in the snow. This winter beanie comes with Bluetooth earphones to keep the party going.
It can get a bit lonely when you take a vacation to that remote cabin in the woods. This Bluetooth beanie is the perfect companion.
Category #2: The Vacationer
No doubt teachers need some time off from their busy schedule, and a vacation is just what the doctor ordered. Here are a few end of school gifts for teachers you can get to make any retreat as fulfilling as their work. These also double up as perfect gifts for someone who likes to travel.
1. iSteam Powerful Handheld Portable Steam Iron
If you know a teacher who's going to do a bit of traveling or vacationing over winter, then this portable handheld steam iron is the perfect end of school year gift. It is ideal for people who spend a lot of time on the road and won't get a chance to do their laundry until they check into a decent hotel.
That doesn't mean they have to put up with wrinkled clothes because they can't do their laundry in the motel they just checked into. With this portable steam cleaner, your favorite teacher will always have an ironed shirt or blouse handy during their vacation. Customers love the steamer it heats up in under 60 seconds and sanitizes apparel during steam cleaning.
Make sure you get a voltage converter and an adapter plug should the teacher encounter 220v outlets during their trips.
2. Large Hanging Travel Toiletry Bag
Help that teacher who likes to travel at the end of the year organize their toiletries with this handy hanging bag. This teacher's end of year gift has ample space to fit all the essentials a man or a woman would want to bring on a trip. It is also foldable allowing it to fit conveniently in a suitcase if they don't want to carry it on a plane.
Gifting this hanging bag to a teacher who loves to travel tells them you're not only giving them a present for gift-giving sakes. It tells them you've done your homework and you're willing to go the extra mile to make life on the road easy for them. It is the least you can do for someone who spends most of their days molding your child.
3. ZOMAKE Ultra Lightweight Packable Backpack
Of course, a large hanging bag won't solve all the luggage problems for your favorite teacher. They'll need an extra bag to fit  the rest of their stuff. That's where the ZOMAKE ultra-light backpack comes in. The bag has a capacity of 20 liters to help keep things organized. It comes with 10 other little bags to keep items separated and easy to reach.
If you are wondering what to give a teacher at the end of the year for their travelling needs, then this should definitely be your first pick.
Category #3: The Movie/Book Enthusiast
Winters are often followed by a flood of new movies and best-selling works of fiction and non-fiction. Here are a couple of presents that agree with that teacher who loves to spend her time reading books or watching movies. Some of these can double up as gifts for musical theater lovers.
1. Winter: The Complete Series
If you happen to know a teacher who likes to binge watch TV shows (maybe your teenage daughter or son is always talking about how Mr. Adams is always talking about a particular TV show?), this is the perfect end of year gift. Winter is a TV detective series set that's both thought-provoking and thrilling. It is the best gift for folks who can't get enough of mysteries and the perfect companion on those snowy winter nights.
You'll want to buy it in the DVD format otherwise, you'll have to subscribe to Acorn TV and share it with the giftee.
Frequently asked questions
Can these gifts be given at any other time besides the end of the year?
Yes of course, if you find any occasion that is better or more appropriate than the end of the year you can definitely choose to give the gift at that moment.
Are these gifts appropriate for primary or secondary school teachers too?
These gifts can be appropriate for primary and secondary schools teachers if you believe they have invested a lot on your child's development and education and are worth a thoughtful gift like the ones mentioned above.
Conclusion
Those are some of the high school teacher gift ideas end of year surprises you might want to check out. Just remember, the more thought you put into the gift, the more your favorite teacher feels rewarded.
ESTIMATED TIME DESIGNING AND UPLOADING THIS ARTICLE
ESTIMATED TIME RESEARCHING AND WRITING THIS ARTICLE
Try our AMAZING GIFT FINDER TOOL! Find GIFTS with 1 CLICK!