When to Give Teachers Gifts
WhatToGetMy Instructional Article
Most teachers don't expect any gift. They like to be appreciated for their work, of course, so they're thrilled to receive a thoughtful card from their students. However, you don't think that's enough, do you? That's why you've decided to give your kid's teacher a gift. After all, he/she is the one responsible for his well-being when you and your partner aren't around. One thing you don't know is when to give teachers gifts. Should it be on a special occasion, a holiday, or any day is fine? Teacher gift-giving etiquette is tricky, but don't worry, we'll explain everything you need to know about the right time to give gifts to teachers.
Before we get further down the article, we'd like to note a few things:
If you want to give your kid's teacher a gift, you'll need to learn how to set clear boundaries. Some things like personal items or clothes are inappropriate.

Teachers' favorite gifts are, as we mentioned, the one made by kids to show appreciation. Whether it's making a card, a drawing or a bracelet, you'll need to 

teach your kid how to give back.

You can always choose to pool money with other parents, so you can get one quality gift.
Should you give gifts?
You might think that gifts are always welcomed, but let's examine whether you should buy gifts to teachers or not.
Most teachers said that gifts are not needed. Some people can't afford them and if everybody is buying presents, then there's too much social pressure on less fortunate families. However, if you give them a gift they wouldn't refuse to receive it as long as it's not too expensive. You want to bring them joy, not make everybody uncomfortable with excessive generosity.
A thank-you card is always welcomed! Every kid should make one to show appreciation to his/her teacher. As a parent, you can add a gift to that card, that's your decision.
Giving a gift is a great way to show thanks to the person who's been there for your kid the entire year. Teachers spend half their day with your child! They are helping him/her grow up to be a doctor, scientist, an artist, etc. They work long hours for low wages and aren't generally appreciated in society, so it's up to the parent and kids to show them the gratitude. We can all agree that you shouldn't get an expensive gift, but it is needed to give one, no matter how small it might be.
What present should you give?
If you're been carefully reading, you already know that the gift you give to teachers shouldn't be expensive. It should be a small but well-thought-of gift. We'll give you some examples:
Thank-you notes
As mentioned, thank-you notes can be a thoughtful standalone gift. They also might be attached to another gift like chocolates. Time and effort you and your kid will put into making a thank-you card is the gift that can melt any teacher's heart!
Help your child be crafty. When making  a card, try to specify what things you're both grateful for (improving math skills, encouraging the love for literature, etc). Acknowledging the teacher's contribution to your child's development will mean so much to him/her.
Note that high school teachers have the toughest time. Working with teenagers is hard on its own, but not getting any positive feedback from your students is even worse. Encourage your teen to write a thoughtful card that can make a huge impact on his/her teacher's day.
Gift cards
When choosing a gift for teachers you can always get a gift card for a local coffee shop or office supply store. What every teacher needs is a constant flow of caffeine and supply for class. We know that it's the school's job to provide essentials for the class but often that's not the case. Teachers give their own money to provide all the needed supplies like pencils, markers, sticky notes, etc. Some even spend up to a thousand dollars annually on school supplies, so it's nice to help them with it when you can.
If you'd like to get something for them and not the class, a gift card for a nice restaurant or a movie theater could be a great option too. Include your kids in your choice making. They might know what kind of places his/her teacher visit. Also, it's best to let your kids give gift cards to teachers.
Don't worry about how much to spend on teacher gift cards. Consider that a gift card should cover at least one meal in a restaurant or 1-2 items in a store. Anything more than 20$ is excessive, so let that be the top limit.
Gifts to avoid
Don't give mugs as gifts to teachers. Anything that has "#1 teacher" on it should definitely be avoided. They already have so many of those items, trust us.
Don't try to surprise a teacher with a home cooked meal. We're not suggesting that your cooking is bad, we're just concerned about safety. Some people have allergies you don't know about, so it's best to avoid giving unlabeled food as a gift.
When should you give teachers gifts?
Everyone likes to be surprised and so do the teachers. Unfortunately, you can't randomly pick a day to give the teacher a gift. Why you might ask? Well, it's simple actually. If your kid stands out and gives his/her teacher a gift alone, it would seem inappropriate. Somebody can think that he/she is trying to "buy" a grade. Some schools even have strict policies about gift-giving. Be sure to check them out beforehand.
What should you do then? You'll need to find a special occasion for giving gifts. The type of holiday might even influence your choice of gifts. Let's consider the following gift-giving opportunities:
Christmas (and other religious holidays)
Christmas gifts are always appropriate. Some schools even promote the holiday spirit, encourage kids to share and organize small parties for the kids. It doesn't matter if your kid's teacher celebrates Christmas, Hanukkah, or another holiday. You're not giving a gift related to religion anyway.
We'd like to also mention that you shouldn't wait for the last day to give a present because the teacher might go on a holiday sooner than it's expected. You should let your child bring a gift one or two weeks prior to Christmas vacation.
End of the School Year
When the school year is ending, people are getting emotional. If the students and the teacher won't see each other next year, it might be appropriate to get the teacher a goodbye gift. For the end-of-the-year gift, you should choose something that can spark memories like a photo album with pictures and quotes from the students. It would be best to plan the gift together with other parents and children. Don't worry about how much to spend on the teacher's end-of-the-year gift because you're allowed to spend a bit more if you're getting a combined gift with other parents.
Teacher's Day
The Teacher's Day is established to remind us of the important role teachers have. They educate our youth and try to set them on the right path. However, they're not always recognized for the hard work they do. We're not talking only about the salary. Recognition should be wider than a monthly paycheck. Society needs to give more respect to the teaching profession. That's what this holiday should be about.
You can show your care with gifts, of course, but it might be better to start a group project or a fundraiser, so the teachers in your school could have better working conditions. That means gathering money for school supplies, giving them more breaks, etc. It's not only up to the school administration to fix everything. You, as a parent, can come help out in school, for example at homecoming dances, Christmas parties, or some other event that needs to have an adult chaperone.
Valentine's Day
Most teachers use a holiday like Valentine's Day to teach kids about caring for another person. They think it's important to show kids what love can be like, even at a young age. Classroom projects like making valentine cards or trading gifts build a healthy and friendly environment. A small gift for the teacher might be okay if other parents agree, but the holiday is not about the teachers. It's about a gift exchange between classmates. Make a decision depending on the opinions of other parents.
Teacher's Birthday
If you know the date of the teacher's birthday, you should definitely consider giving a gift. It shouldn't be personal of course but a small token of affection or a gift card. Note that other parents might not know about the date of the birthday, so try to notify them in advance.
Thanksgiving
Thanksgiving is not the most typical gift-giving opportunity. It might be odd to give a gift to a teacher on Thanksgiving but it wouldn't be inappropriate. Consider helping your kid make a handmade centerpiece or a Thanksgiving-themed photo frame.
Frequently asked questions on when to give teachers gifts
What do teachers really want for gifts?
Teachers would appreciate any gift a kid has made. Other welcomed gifts are supplies for the classroom, gift cards, gift baskets, etc. 
Is it weird to give your teacher a gift?
It's not weird to give teachers gifts but you should wait until the school term is over and grades are registered. That way there wouldn't be any bias when grading papers. 
Is giving gifts to teachers good?
A little ornament or a card that a student has made just for them is something teachers will cherish for a long time, so gifts to teachers are definitely a good thing. 
Is wine an appropriate teacher gift?
Giving a teacher a bottle of wine is completely acceptable. If the teacher doesn't drink alcohol, they can choose to re-gift the bottle.   
Do you give gifts to middle school teachers?
Middle school teachers usually do not receive as many gifts as elementary teachers but they'll surely appreciate the gifts when they do receive them.
Can I give a teacher cash?
Giving cash to a teacher isn't appropriate because it seems like bribery.
Conclusion
We hope that now you have a better idea about when to give teachers gifts. Remember that not every occasion is perfect, so choose the time for giving carefully. Overall the most important thing is teaching kids to appreciate the people in their life, whether those are teachers, grandparents or other people close to the family.
Holidays are the best time to spread joy, so try to open your heart and be more generous and kind. There are a lot of ways to show generosity to others, so don't hesitate to try.
ESTIMATED TIME DESIGNING AND UPLOADING THIS ARTICLE
ESTIMATED TIME RESEARCHING AND WRITING THIS ARTICLE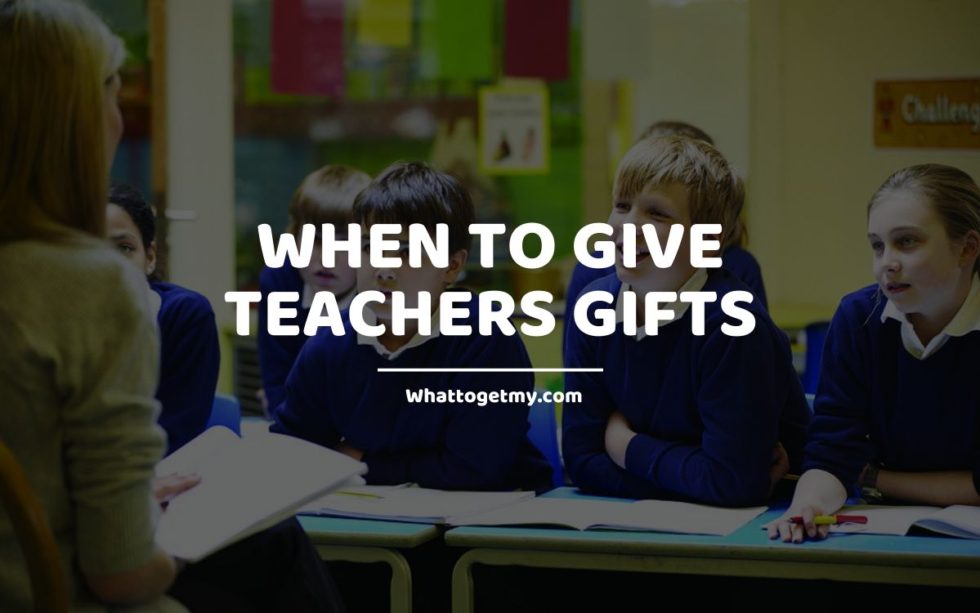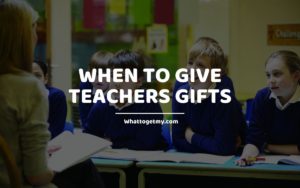 When to Give Teachers Gifts WhatToGetMy Instructional Article Most teachers don't expect any gift. They like to be appreciated for their work, of course, so they're thrilled to receive a thoughtful card from their students. However, you don't think that's enough, do you? That's why
Read More »