How to Teach Your Child to Give Back
WhatToGetMy Instructional Article
These days, parents talk a lot about teaching children to give back. There was a time when generosity and kindness were merely considered as traits that children should learn about. Math, science, and sports, that's okay, but generosity? Why should you spend time teaching your child that? Luckily, times have changed. Parents now know how important it is to teach children to give, to be more generous and kind. That's why we composed this article. We heard a lot of parents asking questions like "How do you teach your child to give back?" They are concerned about not doing things right or missing something in the process. The truth is, you don't have anything to worry about as long as you focus on the right activities. To help you with that and make you more confident about the education process, we have listed some activities for both children and parents. All you need to do is to follow our suggestions on how to teach your child to give back, and you'll become a real pro in a matter of minutes!
If you're in a hurry, check out these quick but very important tips:
Focus on

teaching kids about giving

from the youngest age. Even preschoolers understand the concept of kindness and generosity and benefit from being involved in them.

Bring a

spirit of giving

into your child's soul by making donations. It can be really anything, from money to old tech stuff and clothes. It's important to give generously whatever and whenever you can, and not about how much.

Don't underestimate the power of the random act of kindness. It's enough to show your child how much he/she can do daily to make people happier. A jar of homemade cookies or lemonade served to the neighbors can make all the difference in the world.

When you

teach charity

, you need to make things interesting and set an example. Be a role model for your child and come up with a unique and fun way for your child to make donations.
Giving Stuff and Monetary Contributions:
A Good Old Classic Way
Making Monetary Contributions
Of course, you want to teach your child how important it is to give monetary contributions to those who need help the most. It's a first and crucial step in teaching kids to give. However, don't just make a contribution and let things slide away. Make a thing out of it! Prepare and plan, involve your child in a process of choosing a non-profitable organization you'll be giving the money to. We also recommend setting money aside daily. This way, your child will feel he/she is making a difference every day and feel the importance of it. By setting a dollar or two every day, your child will get excited and he/she won't be able to wait for the date to give that to charity! If you just take a certain amount of money one day and give it to charity, the initial thrill and happiness will go away quickly.
Giving money to charity is one of the ways to show generosity to others and teach your child how to give back to the community. However, it's not the only one, and we have more of them coming up, so keep reading!
Giving Old Stuff
Another thing you can do is to teach your child to give old stuff. Sit together and sort old toys and clothes. Your child probably won't use most of these things again, yet they would mean the world to some children out there. Still, don't push your child into giving away favorite toys, even if he/she doesn't use them anymore. You want to teach your child to give willingly, without the sense of loss. Your child should feel good about the act of giving, so he/she can build a generous trait on positive feelings.
Giving Gifts
You can also teach your child to give back within a family circle. It's quite simple. Children are likely to get tons of gifts for Christmas, birthdays, and other events. Here it is crucial to teach them how to exchange gifts and show appreciation.
For example, you can sit together as a family and build a strategy on giving gifts to extended family. Make things more interesting for the kids! Let them discuss potential gifts they can give to their cousins, aunts, uncles, grandparents, and other family members. Here's an actual example that will clear things up for you. Come up with a game similar to Secret Santa. Put the names of family members in a hat and draw one name each day. Then, discuss what would be an appropriate gift for the person whose name you draw out of the hat. Sounds fun? It actually is, and kids will be delighted! By playing a game, you make things more interesting for the kids, while also making them feel good about giving stuff to others. It's a win-win situation!
Here you'll find some similar ideas that involve gift-giving: What to Do Instead of Secret Santa.
Giving Your Time and Effort:
Another Important Approach
Volunteering
As the headline suggests, it's crucial to teach your child that generosity is not all about giving money to charity. It also means investing time and effort to make someone's life easier or happier in any way possible. Therefore, talk to your child about volunteering. We say talk because it's important for your child to be comfortable with the action. Now, we have some suggestions for volunteering for you:
Animal Shelter
You and your child can help furry friends! That will make your little one super happy and also teach him/her how important it is to give time to a good cause and treat animals properly.
Nursing Home or Retirement Community
Spending time with older members of the community can be quite beneficial for your child as well as for the elderly. You can even indulge in a DIY project and make cards for the elderly. That will certainly surprise them, and your child will give something more than his/her time too!
Clean-Up Day
If you join the clean-up day, you'll get your child outside and teach him/her about the importance of respecting and preserving nature. Clean up parks and other public areas, have fun together, and learn something new!
Help the Neighbors
You know that you don't have to stick with actual organizations and institutions, right? You can also teach your child a lot if you make him/her understand how important it is to help people who are close to you. So, come up with a plan and scout the neighborhood looking for some work!
Here we'll list some of the benefits of volunteering just to remind you of how important is to involve your child in the activity:
Kids who volunteer are more likely to have greater respect for others and more appreciation to the community they belong to.

Volunteering demands physical and psychological involvement, which is beneficial for children's health. Volunteers are likely to be more physically active and have healthier and more positive thoughts.

Volunteering also helps people feel more like part of society. This is very important if your child is an introvert and you want to work on his/her social skills.
See what we mean? There are many reasons why parents should insist on teaching their children not only about the importance of volunteering but also 'giving back' in general.
Personal Interests
When teaching children to give, don't forget about the child's interests and talents. Children learn faster and easier in a more comfortable environment and while being properly stimulated. You can do this by simply following their interests.
Here's an example – if your child loves art, have him/her donate art stuff to children who can't afford buying toys, crayons, sketching books, and other similar stuff. You can also plan and organize a charity event with your child. If your child, for example, loves playing sports, organize a sports tournament. This way, you won't only inspire your child to chase his/her dreams and be more active but also teach him/her generosity. You'll get to include neighbors and their kids in the process too. Of course, all the money gathered at the event goes to charity.
Do you get now where we're heading with this? Allow your child to indulge in his/her favorite activity and help others too. Here, your child will be learning to give his/her time and effort rather than money and material stuff. We don't say you shouldn't teach your child to make monetary donations. It's just about showing your child that he/she can give something that is as valuable as money – time and effort.
We wrote about these things in the article How to Make Orphans Happy. Make sure to check it out, we have no doubt it will give you even more ideas.
Healthy Habits
Did you know that there are a lot of phone apps you can use to give to charity by simply being physically active? That's right, you don't have to spend a penny yet you'll make donations! All you need to do is to track your activities such as walking, running, swimming, or cycling. You'll earn approximately 25 cents for every mile to give to non-profitable organizations. Isn't that awesome?
We think that including your child in this activity is the smartest thing you can do. These days, with technology improvements, it's hard to get children to be physically active. They are glued to the screens all the time. By using an activity tracker app, you can inspire your child to be more active and generous at the same time!
The chances are, your child already has a phone. Install the app on it as well as on your device. Once it's done, get out and spend some time with your child! You'll enjoy tracking the money earned for charity and your child will be delighted with the process!
FAQ: Frequently Asked Questions
Q: How do I teach my child to be generous?
A: You can do it through daily acts of giving. It's enough that you show your child how important it is to give stuff to those in need. Be a role model. Give material things, money, or crafts. Show your child how good it feels to help people.
Q: What does giving back teach you?
A: When you teach your child to give, you're teaching her/him a lot of other stuff at the same time. The generous acts connect people to the community, increase self-esteem, develop empathy, better communication skills, and much more. All in all, your child is becoming a better person while learning to give back!
Conclusion
We hope you've found all the information you need in our article and that you're now all set to start working with your child. Remember, the key on how to teach your child to give back is to consider her/his interests and talents. Make sure your child is comfortable with the activity. Include all family members and make giving actions daily routines – you don't have to perform donations daily, you only need to think and talk about them regularly. This way, your child will be more conscious about the act and adopt it as a part of his/her character.
Lastly, we have only one thing to remind you of – don't forget that working with adults to be more generous is just as important as teaching children to give. All generations need to put in some effort to be more kind and generous. The only difference is that children are just in the process of learning, while adults need to be reminded of this.
ESTIMATED TIME DESIGNING AND UPLOADING THIS ARTICLE
ESTIMATED TIME RESEARCHING AND WRITING THIS ARTICLE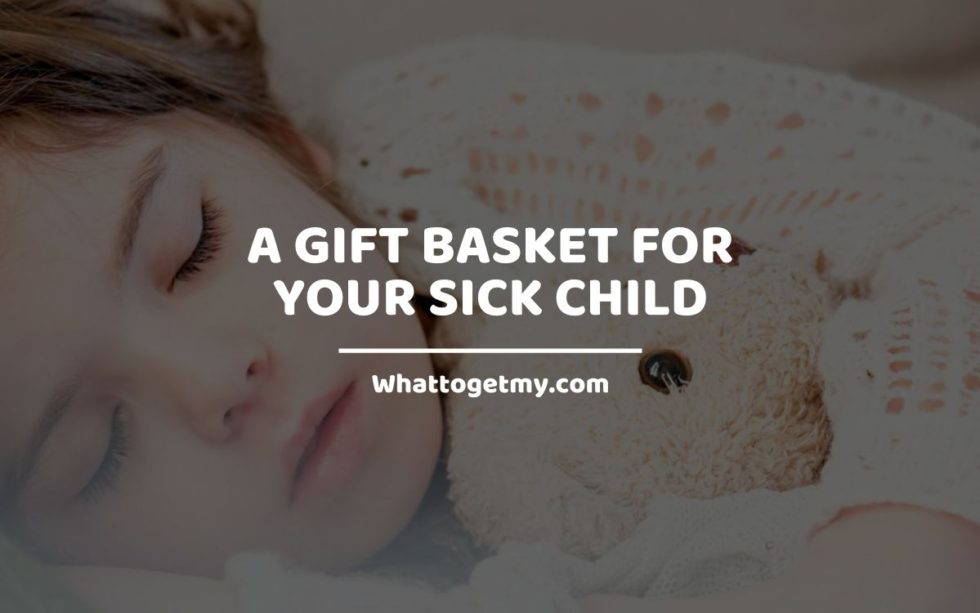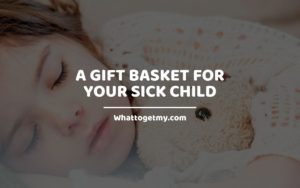 A GIFT BASKET FOR YOUR SICK CHILD
A GIFT BASKET FOR YOUR SICK CHILD WhatToGetMy Instructional Article If you have a sick child, you know it can be difficult for both you and your child because nothing breaks your heart more than to see your child feeling utterly miserable and all you
Read More »