A baby baptism, also called christening, is a formal event during which a child receives the Christian name and is welcomed into the faith. It's a significant and sacred occasion that means a lot not only to parents but to closest friends and family too. Being invited to a baby baptism ceremony is a great honor. It shows the guests that you consider them part of the family and that you want them to be there to share the joy with you. Besides, the ceremony is worth attending as it celebrates the beginning of a new life and turns out to be truly beautiful.
Now, being invited to a ceremony and attending is one thing, but being a godparent is something completely different. By asking someone to be a godparent to your child, you're giving him/her great honor. You're basically telling the person that you consider him/her one of the most important people in the family. How is that? Well, a godparent is a person who should be a friend and a mentor to the child for a lifetime. Godparents are somewhat like "other parents" who should support a child and be there for him/her always. So, when a person accepts to be a godparent, he/she is also giving you great honor. He/she is accepting to commit to your child in a certain way and also admits affection to your family.
As you can see, the thing goes both ways. Therefore, it's completely normal that some kind of gift-exchange is established between parents/children and godparents. Both parts want to show how much the event and the relationship mean to them. However, finding a suitable gift might be a little difficult. You don't want to get the first thing you laid your eyes on in the store. A gift for godparents should be meaningful and memorable. Luckily, we can help you with that!
We listed 8 must-have godparent gift ideas for baptism. Before you skip to them, make sure to check out a few extra tips:
Keep in mind that gifts for godparents should be meaningful. You should highlight the

importance of a child-godparent

relationship and make it more special. With a thoughtful gift, you'll also make memories from the very first day, that is to say from baptism.

Don't hesitate to spend a few extra bucks on gifts for godparents. You'll be giving a gift to a future mentor of your child. He/she deserves something memorable and long-lasting.

Consider getting a meaningful card to compliment the gift. Nothing makes a gift more memorable than a beautiful card you can personalize on your own.
As an Amazon Associate we earn from qualifying purchases. We may earn a small commission for our endorsement, recommendation, testimonial and/or link to any products or services from this website. Thank you, your qualifying purchases help support our work in bringing you real daily gift ideas.
Quick Overview: Meaningful Gifts for Godparents at Baptism
Bright Zeal Bonsai Lighted Tree to Complement Home Interior
If you're looking for godparent gift ideas for baptism, we have a perfect one! It's a beautiful decoration tree with LED lights that will complement every interior. What makes this an ideal gift for godparents? Everything! The item will last for many years and light up the house, reminding a godparent about a special role he/she has in one child's life.
The tree has a bonsai shape and adjustable branches, so you can set it up at your convenience. There are 48 LED crystal petals that will light up the area and amaze the user every time. The item works on batteries, it's easy to operate, and completely safe.
Surprise a godparent with this beautiful light tree that will complement the interior and last for many years. It's beautiful, relaxing, and memorable. Who could ask for more?
Lights4fun Candle Lanterns for More Enjoyable Nights
We have another beautiful decoration to recommend, and you'll love it! We're talking about LED candle lanterns that are modern and incredibly stylish. A godparent can set them up wherever he wants and move them around the house at his/her convenience. The lanterns are battery-powered, so there won't be any issues with tangled cords. They even have a 6-hour timer. As we said, they are convenient and create a beautiful atmosphere!
Make a godparent's home more beautiful with these modern LED candle lanterns. They are highly portable and therefore convenient for every room in the house. The lights are powerful, relaxing, and unique. With them, a godparent will enjoy a beautiful and relaxing atmosphere for quite some time!
Seiko Traditional Clock to Mark a Long-Lasting Relationship
We have a universal product to recommend, the one that makes a perfect baptism gift from godparents or for them. Is there a more memorable gift than a classic traditional clock? We don't think so either! The one we have in mind has a gold pendulum, ornamental dial, and a wood case. It strikes each hour of the day and plays melodies on the quarter-hour. Of course, you get to control the volume and silence the clock if necessary. The clock has an antique design with a beautiful wooden surface that looks and feels super smooth. All in all, the clock looks amazing and works flawlessly. You can't go wrong with giving it as a gift.
Seiko offers a unique and traditional clock that makes a perfect addition to every home. It's a memorable gift that will most certainly last for years. Besides, it's very elegant and a godparent gets to show off among friends and family. So, if you're looking for a meaningful and memorable gift, waste no more time and get the Seiko watch for godparents!
Fossil Men's Watch for a Fashionista Godfather
If you want to surprise a godfather, look no further! Fossil never fails to produce high-quality accessories that make a perfect gift for any occasion. This particular model has a round stainless steel case in gold-tone. It's subtle yet noticeable enough to collect compliments. The leather band is colored in deep navy blue which makes the clock look even more elegant. There's no way that a godfather won't like it! The watch has three separate dials and a timer. It's water- and shock-resistant, which ensures durability. As we said, it's just perfect!
The Fossil watch is one of our favorites products on the list. This particular model is classy, well-made, and durable. It would make every godfather super happy! First of all, he gets to show off among his friends and family. Secondly (and even more important), he'll always be reminded of a very special child in his life.
For more similar ideas, you can take a look at our article Fossil Watch Gift Set for Couples.
EFYTAL Sterling Silver Necklace for Baptism
Waste no more time and get a godmother this beautiful necklace that represents friendship and love. The necklace is made of sterling silver and proves to be of high quality. It won't change the color, cause skin irritation, or rust. That makes it rather durable, but you'll also get a 5-year warranty just in case. The necklace is handcrafted, which makes it even more personal, and packed in a cute box. You can give it as a gift right away!
The Efytal beautiful necklace will remind a godmother of the special bond she has with her goddaughter. It's a unique and meaningful gift that's just perfect for baptism!
Feyarl Vintage Jewelry Box for Godmother's Essentials
Now we have a gift for the very best godmother in the world! It's a classy jewelry box with a floral engraved surface. The material doesn't rust or fade, and it proves to be very durable. The box itself is quite roomy, and it can accommodate rings, bracelets, necklaces, and more. It even has dividers to keep the stuff organized and a locket for more safety. It's just cute and convenient at the same time!
You'll definitely surprise a godmother with this antique jewelry box. It's a thoughtful gift that looks amazing and provides a lot of room for storing jewelry and other essentials. She'll definitely use it for many years and love the elegant design!
Jumway Mug Set as a Godparents Announcement Gift
If you're on a tight budget yet you want to get something for godparents, we have just the perfect thing for you! It's a set of two beautiful mugs with The Godfather and The Godmother prints. They even have convenient little spoons and lids. How cool is that? One mug is colored blue while the other one is pink. They are both stylish and quite durable. You can't go wrong with giving them as a gift!
Those who want to get a memorable gift on a budget for godfathers should definitely check out this set of mugs! It's well made and incredibly stylish, which makes it suitable for baptism. Also, godparents will always think about you while drinking their morning coffee!
Bath Body Gift Basket to Spoil a Godmother
The Purelis bath set is for those who want to get a gift basket for godmothers. It's one of our top picks for many reasons. First of all, the set includes so many items! It includes a shampoo, a conditioner, a body lotion, a hand creme, bath salts, and much more. A godmother will definitely enjoy discovering all these products and using them to relax after hard working days. Another reason why we like this set is the overall quality of the products. All the included products are made to nourish and nurture the skin, making it perfectly relaxed and smooth. Lastly, the set is packed in a convenient package, so you can give it as a gift right away! As we said, this is one of the best baths sets on the market at the moment.
If you want to spoil a godmother and help her relax, get this amazing bath set. She'll love the high-quality products that nourish and soothe the skin, and she'll get so many of them! They'll definitely help her have a soothing bath and relaxing spa treatment at home.
Conclusion
We hope you like our ideas for gifts for godparents at baptism! All the included products are of high quality and well-rated among buyers. We tried to pick products that are both meaningful and useful or at least perfect for decoration. You'll surely find something unique and ideal for the event.
Lastly, we recommend making some kind of surprise when delivering a gift. This way, you'll make things more interesting and memorable. You also get to retell the story to your child from his/her baptism! For more ideas on the topic, make sure to check out the following article How to Surprise Someone with a Gift.
P.S. If you want to find out what is a good baptism gift from a godparent, so you can pick yours accordingly, take a look at this article: What do you get a boy for his baptism.
ESTIMATED TIME DESIGNING AND UPLOADING THIS ARTICLE
ESTIMATED TIME RESEARCHING AND WRITING THIS ARTICLE
Try our AMAZING GIFT FINDER TOOL! Find GIFTS with 1 CLICK!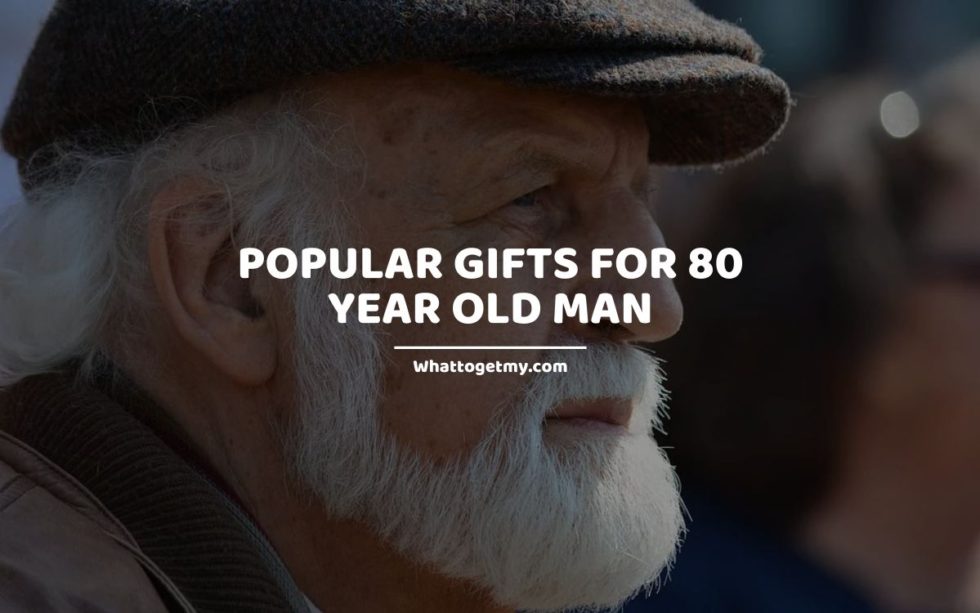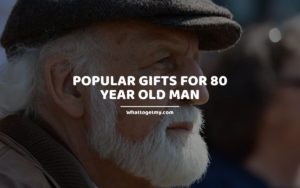 Popular Gifts for 80 Year Old Man
Your grandpa's birthday is approaching and you want to show your love for him through a gift. The problem is you don't know what would an elderly man want for his birthday! That's why we are here. We researched and found some amazing products that
Read More »