You are looking for the perfect gift for a son, daughter, or friend that will be attending architecture school or university for their first year. Or maybe you have a young child that is interested in drawing and designing buildings and you want to help them explore their passion some more by getting them architectural gifts for kids.
But let us first take a look at some of the qualities of architecture students.
Architecture students are known for their great attention to detail and an amazing sense of style. They have a number of skill sets that are extremely important for them to succeed. Some of these skills are:
Math and science skills

Design skills

Drawing skills

Analytical and problem-solving skills

Team-building skills

Good communication skills

Great listening skills

Excellent negotiating skills

Visualization skills

A deep passion for their work

Are extremely competitive
Finding the right type of birthday gift for architecture students or any other occasion to suit their skill sets can be extremely difficult. But there are a couple of options that you could consider. You could choose something that plays to their future profession or something that fuels their passion.
When coming up with architecture related gifts, think of something practical that will help make their life as an architecture student a little easier, especially if they are just starting with architecture school you could maybe look at giving them some of the essential architecture accessories and resources that they may need to study.
Another option is maybe something that they can have a little fun with like, for example, a building set or maybe even some interesting architecture books that they could enjoy reading.
Essential things that an architecture student needs
When an architecture student attends school or university for the first time, there is usually a long list of things that they will need for their first year. They would appreciate receiving some of these things as gifts for architects and designers as it can work out to be quite pricey for them to purchase them all at once. These things are:
A good quality set of drawing pens and pencils

Mechanical and note-taking pens

Good quality soft erasers for pencils and pens

Feet-inch calculator

Superglue and spray glue

Scale, Steel, L-square and T-square rulers

Drawing set with a protractor, compass, and triangles

Cutting mat

Modeling scalpels, knife set, and cutters

A drawing tube

Tracing paper

Light table

Tape measure and/or laser distance meter

Drawing board

A good desk lamp

A Mitre box kit

A toolbox

Various books: Architect, metric, sketch and notebook

Architect student bag

Laptop, tablet, and earphones

The student's favorite architect books
As an Amazon Associate we earn from qualifying purchases. We may earn a small commission for our endorsement, recommendation, testimonial and/or link to any products or services from this website. Thank you, your qualifying purchases help support our work in bringing you real daily gift ideas.
Quick Overview: Gifts for architecture students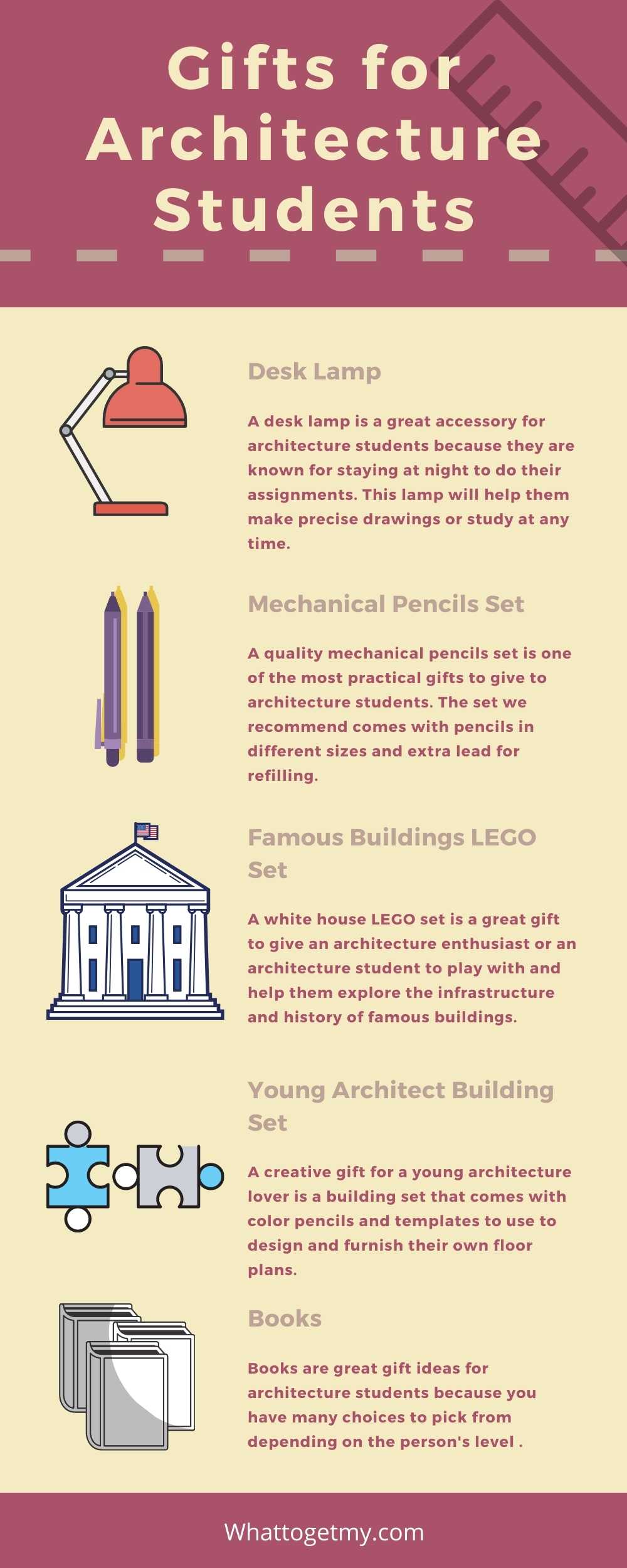 Source Link: https://whattogetmy.com/gifts-for-architecture-students/
Some gift ideas of some of the essential things
Pentel Arts GraphGear 1000 Premium Gift Set
This is a set that will impress the architecture student in your life. It consists of 4 top quality mechanical pencils with lead refills of 4 different thicknesses and erasers. The pencils are easy to hold and are comfortable to work with and have a retractable tip ensuring that the lead does not break easily, making it a practical gift for an architect or an architecture student.
The majority of customers that have purchased this Pentel Arts GraphGear 1000 Premium Gift Set, love it. They like how comfortable it feels and the weight of it in their hands while sketching.
TaoTronics TT-DL16 Stylish Metal LED Desk Lamp
This high quality durable stylish metal LED desk lamp will make a cool addition to any architecture student's desk. It is constructed with all metal and has an adjustable head and arm. The controls are easy to use and they give you a wide selection of color and brightness to choose from. It will return to the previous setting when you turn it on, and there is also a memory function for one favorite setting. As an added bonus there is even a USB port for them to charge their cell phone.
Those customers that have already purchased this TaoTronics TT-DL16 Stylish Metal LED Desk Lamp love how stylish it looks and how easy it is to use. They like having the choice of the various light colors and the brightness levels to suit their needs.
Alvin, Portable Drafting Boards
This portable drawing board will allow architecture students to create drafts anywhere. It offers a comfortable smooth drawing surface and aluminum straightedge with rubber edges. It is lightweight and easy to set up with folding metal legs to prevent it from collapsing and it does not take up a lot of space. People can use it as an architect graduation gift too because it is something an architecture student will really need after they graduate.
Many customers that have purchased this Alvin, Portable Drafting Boards have found that it is a decent-sized drafting board that is dependable with a working parallel straightedge and a great flat surface to work on. It is a super cool and useful gift to give to an architecture student or an architect.
Something that is fun for an architecture student
A gift idea for if you are looking for something that will excite and impress your architecture student when they have some time off would definitely be building sets like the one below
LEGO Architecture 21030 United States Capitol Building Kit
You have an architecture student who loves to build things and enjoys a really good challenge. This LEGO Architecture United States Capitol Building kit will make the perfect gift for them. This is a massive, beautiful model with tons of great detail and 1,032 pieces. It also includes a collectible brochure containing information about the design, architecture, and history of the building.
Customers that have purchased this LEGO Architecture 21030 United States Capitol Building Kit love it. They find that the experience of building it to be a lot of fun and therapeutic for architecture lovers.
Bookshelf ideas for an architecture student
Every architecture student needs to take some time from their incredibly busy schedule to read books about their passion. You can never go wrong with giving books as gifts to an architecture student. You can give these books as a birthday gift or graduation gift for architecture students. Many of these architecture books will give them some helpful insight into architectural concepts, design, theory, history, and construction. Here is a list of some of the best architecture books for students that are in no particular order.
101 things I learned from architecture school by Matthew Frederick

Architectural Graphics 6th Edition by Francis D. K. Ching

Thomas Heatherwick Making

Building Construction Illustrated

by Francis D. K. Ching 

Operative Design: A Catalogue Of Spatial Verbs

by di Mari, Anthony

Yes is More. An Archicomic on Architectural Evolution by Bjarke Ingels

S, M, L, XL

 

by Rem Koolhaas, Bruce Mau, and Hans Werlemann

Architecture: Form, Space, & Order

 

by Francis D.K. Ching

The Architecture Reference & Specification Book: Everything Architects Need to Know Every Day

by Julia McMorrough

A Pattern Language: Towns, Buildings, Construction by Christopher Alexander, Sara Ishikawa, Murray Silverstein, Max Jacobson, Ingrid Fiksdahl-King, and Shlomo Angel

Towards a New Architecture by Le Corbusier

Design Like You Give a Damn 2: Building Change from the Ground Up 

by Cameron Sinclair, Architecture for Humanity
101 Things I Learned in Architecture School Hardcover 
This little book of "101 things I learned in architecture school" is a great gift for architecture students. It is laid out in a simple and clear way and explains what to expect as an architecture student. Giving you design concepts and the design process that can be easily understood with some nice and clear examples therefore making it one of the best gifts for architecture lovers too.
Many customers that have purchased the 101 Things I Learned in Architecture School hardcover find it to be an amazing little book. The book gives some basic short lessons with illustrations making it easy to understand some key terms and the concepts of architecture.
Something for a young future architect
It is important to help a child develop their interests further, especially if they show an interest in something that could turn into a successful career for them later on in life like architecture. If you are looking for some gift ideas as to what will help them to continually learn more and to enjoy what they are doing. A perfect gift idea would be to give them a building set or two or some books about architecture for kids that they could read and learn.
Scientific Explorer Young Architect Building Set
If you are looking for ideal architecture gifts for a young student who is interested in this field, then go for this building set. With the included templates and colored pencils, they can plan and design a floor plan, build and furnish their floor plan as many times with as many designs as they would like. A manual that teaches them the basic principles of architecture is also included with this set, helping them to understand a little more about what they are doing.
Customers who have purchased Scientific Explorer Young Architect Building Set have found this set to be a lot of fun. It introduces them to architecture, it is educational and a great way for them to be creative and to use their imagination.
Some great book ideas about architecture for children
Iggy Peck, Architect by Andrea Beaty (For ages 5 and up)

The LEGO Architect by Tom Alphin (For ages 10 and up)

The Future Architect's Handbook by Barbara Beck  (For ages 8 – 12)

The Story of Buildings by Patrick Dillon (For ages 9 – 12)

Draw 50 Buildings and Other Structures by Lee J. Ames (For ages 8 – 12)

Who Built That? Modern Houses by Didier Cornille

(For ages 10 – 13)

Under Every Roof: A Kids' Style and Field Guide to the Architecture of American Houses by Patricia Brown Glenn (For ages 10 – 18)

13 Architects Children Should Know (13 Children Should Know) by Florian Heine (For ages 8 – 12)

Cool Architecture: Filled with Fantastic Facts for Kids of All Ages by Simon Armstrong

(For ages 12 and up)
Frequently asked questions
Are these gifts suitable for architecture students in any year?
Not all of them. Some of the gifts are more suitable for architecture students who are closer to graduating or even architects while some other gifts are more suitable for freshmans or students who are yet to join this field.
Can these gifts be given to engineering students too?
Engineering is a much broader field than architecture so no, these gifts are not appropriate for engineering students.
Conclusion
To make finding gifts for architecture students easier on yourself decide whether you would like to give them something essential to their studies, something that is fun or some interesting reading material that they will enjoy. And if you have a young future architect on your hands, there are some amazing books and building kits that will interest them.
ESTIMATED TIME DESIGNING AND UPLOADING THIS ARTICLE
ESTIMATED TIME RESEARCHING AND WRITING THIS ARTICLE
Try our AMAZING GIFT FINDER TOOL! Find GIFTS with 1 CLICK!