25 Fun Online Thanksgiving Games For Elementary Students
WhatToGetMy Instructional Article
Thanksgiving means different things to different Americans. According to one 2018 survey seen on Statista (and shown below), at least 70% considered it a good time to be with family and enjoy some family time together. For others, 49% according to the same survey, thanksgiving is a good time to have a good meal.
And at least 50% of a select number of Americans surveyed in 2018 (according to another survey seen on Statista) considered it very important to celebrate thanksgiving.
If you fall in the category of the 50% who love celebrating thanksgiving and you have children, you would agree that keeping them engaged and busy with the things they love would go a long way to ensuring you also enjoy thanksgiving. In this article, you will find a wide selection of thanksgiving games and activities to keep your children occupied. You will find,
You would also like this exciting related article on Things to do on Thanksgiving without family.
2 Thanksgiving Interactive Games.
Interactive thanksgiving activities are especially great for (large) family thanksgiving gatherings and/or dinner.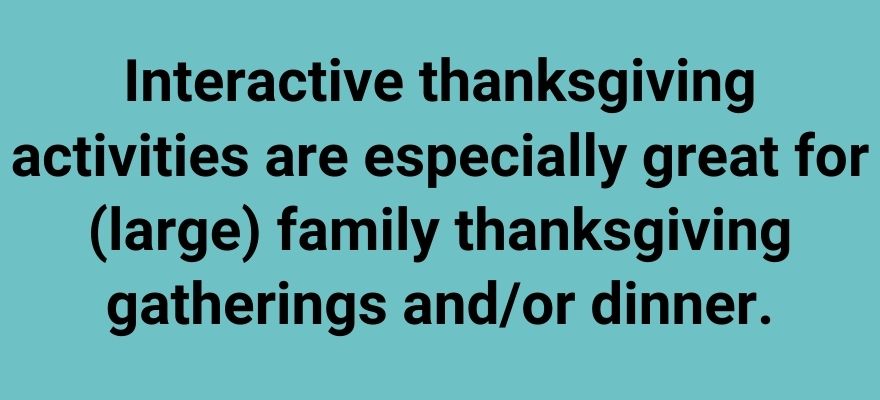 These thanksgiving interactive games are a great way for the family to bond and remind each other of what they are thankful for as a family.
1. Thanksgiving conversation card games.
Conversation cards always make for good interactive games at family gatherings. These Tabletop Family Gathering Conversation Cards are great conversation cards for Thanksgiving.
2. Thanksgiving jokes cards.
Thanksgiving is always a good time to gather around and laugh at very corny and cheesy jokes. Jokes allow everyone to interact and laugh together.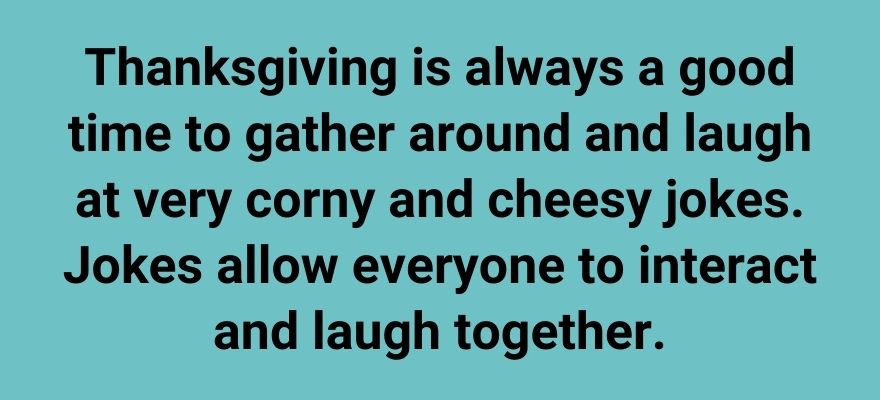 For a good selection of joke cards to choose from, you can check out the following joke cards from Amazon that come highly recommended:
2 Thanksgiving Educational Games.
And who says games cannot be educational too. With elementary students especially, it is always a great idea to keep them engaged with games that also have an educational dimension to them. Have them try out any or both of these two Thanksgiving educational game(s).
3. Thanksgiving dinner gratitude games.
Make the Thanksgiving dinner with the kids fun with any of these thanksgiving dinner gratitude games:
Gratitude scavenger hunt.
Put a spin on the traditional scavenger hunt by making it a scavenger hunt about gratitude items.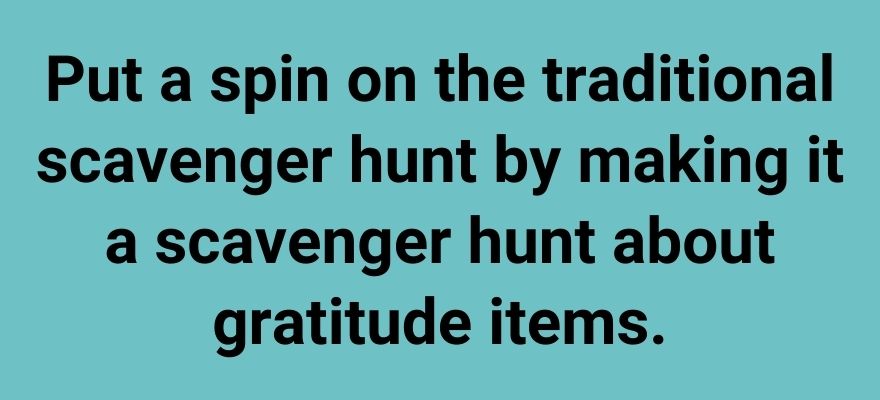 Make a list of gratitude items that the children should find and let the hunt begin.
This is a pretty simple game to play. Get several small boxes which you can call the gratitude boxes. Have some of them filled with Thanksgiving treats while the rest are left empty. The catch is that your participants are unaware of which boxes have treats and which ones are empty. They each take turns to punch a box. The one who punches the box with a treat gets to eat the treat and the one who punches an empty box gets to say what they are grateful for. With each player taking their turn, a box is removed. And on and on until each participant has played their turn.
4. Gratefulness rock painting.
This is a pretty cool and engaging educational game that would be loved by the kids. It would give them the chance to show their artsy and creative side. Buy a set of painting rocks and water paints and brushes and give them some gratitude words and themes to paint on the rocks. Check out these cool Painting Rocks from Amazon to get them started.
You can also find other cool thanksgiving educational games here.
5 Thanksgiving Classroom Games.
Would your elementary students be in school on Thanksgiving day? Then let them have a great time with any of these 5 Thanksgiving classroom games.
Check out our other school activities-related articles for your elementary students – Fitness activities for elementary students and Career awareness activities for elementary students.
5. Turkey hunt.
The students will enjoy playing this game that is a hybrid of hide and seek and a scavenger hunt. Draw a turkey on a dozen or more flash/index cards. Divide the students into two (or more) teams and then appoint a leader.
Have all the students leave the classroom (or large room) while the leader quickly hides the cards. The students are then let back in and the hunt (search) begins. The team that finds the most turkeys wins the competition.
You can make this more exciting for the students by having them make the turkey cards themselves. You can use it as a way to get them excited about Thanksgiving by having them design the cards in the weeks leading up to Thanksgiving. In that way, they are already put in the mood for Thanksgiving before it arrives.
6. Pass the corn game.
For this game, you will need two cobs of super-dried corn. Divide the children into two teams and have them form a line. This should give you two lines. The goal of the game is to see which team will be the first to have the corn in front of the line first without the corn touching the ground.
Starting from the back, let the students pass the corn from person to person. This sounds too easy, right? Not so fast hahaha. Here's the tricky part – they can pass the corn with any part of their body except their hands. Yes, you heard right. No hands. And they must not drop the corn. The team that drops the corn loses and the game has to start all over again. And therein lies the fun. It would be bouts of laughter and giggles trying to move the corn cobs without hands and without dropping them.
7. Good old egg race.
The good old egg race is a classroom game that would be fitting on any occasion.
Divide the student into two teams. You will need a dozen or more eggs and two teaspoons. Divide the egg equally among the teams. Each member of the team has the task of trying to move each egg from one end of the room to the other with the teaspoon without dropping the egg. Again, they cannot use their hands to carry the teaspoon. They can only use their teeth. 
8. Thanksgiving Pictionary for children.
Pictionary is a fun game where people try to get what their mate is drawing without seeing what is being drawn. Make it fun with a Thanksgiving theme where they have to draw Thanksgiving objects like turkey, potatoes, and the likes.
It is a very simple game that requires nothing more than a good Pictionary card game set like this one from Amazon. The set comes with the easel board that is needed and the picture cards. Divide the students into teams and let the drawing and guessing begin.
9. Traffic Yam (Sweet potatoes).
You will need a tuber of raw yam (sweet potato). Each player is given a yam which is then placed on the ground on one side of the room. A line is drawn either with washable paint or something visible on the other side of the room.
The goal is to have each player move their yam from the side of the room where it is, to the other side where the finish line appears. They can only move their yam from that end to the next by pushing it with a spoon and nothing else.
This is another super fun game. They are allowed to push other people's yam in other directions as a defense mechanism to ensure that only their yam makes it to the finish line. The first player to get their yam to the finish line first wins. This is another game that can get pretty hilarious.
You can find more fun thanksgiving classroom games to play here.
5 Thanksgiving Websites For Elementary Students.
There are several Thanksgiving websites for elementary students, but these 5 stands out from the rest.
This website gives you access to 3 fun Thanksgiving websites for elementary students, each with different fun Thanksgiving educational games and puzzles.
Scholastic is another great learning resource for elementary students. This website is dedicated to all things Thanksgiving, for elementary students. It tells them the story of Thanksgiving and has interactive educational activities too.
Find a dozen more Thanksgiving educational materials to use for your elementary students, on this website. This website is more tailored for teachers who teach at elementary schools.
And for a website where you can find a dozen more thanksgiving websites to keep your elementary students busy, this is the resource page to check out.
Mrswinterbliss has a good list of educational and interactive thanksgiving games that would keep your elementary students very much engaged during thanksgiving.
This article on Real fish games online for free might interest you.
2 Thanksgiving Computer Games.
Maybe your elementary students are more computer game students. Check out these two sites with exciting Thanksgiving computer games.
On this site, you will find more than a dozen thanksgiving free games for your students to play on the computer
For a different variety of Thanksgiving computer games also check out this website. The beauty of the computer games on this website is that they are all educational computer games. Thus, your child gets to learn at the same time.
You may also like this related article on Online games to play with students on zoom.
4 Thanksgiving Themed Video Games.
Playing video games is another favorite Thanksgiving pastime. We understand wanting a video game that reflects the Thanksgiving mood. And that is why these 4 Thanksgiving themed video games are just the right ones to have fun with on Thanksgiving day.
17. Assassin's Creed III: Remastered.
Assassin's Creed III is a fight for freedom. Think of the American revolution of the 1700s and immerse yourself in that fight as we remember and remain thankful for the fight that gave us the America we have today. Thanksgiving seems like a good time to get a feel of what that revolution must have felt like.
Buy Assassin's Creed III: Remastered on Amazon by clicking here.
18. Madden NFL 21.
American football is another Thanksgiving favorite. Bring this sport to life in this Madden NFL 21 video game that comes with better graphics and gameplay than previous editions.
You can buy the Madden NFL 21 on Amazon here.
19. Overcooked! 2.
Thanksgiving is all about cooking. And you can't get enough of a cooking frenzy than Overcooked! 2. This is a wild and thoroughly enjoyable Thanksgiving themed video game to enjoy with the kids.
Check out this link on Amazon to buy any version of your choice.
20. Mario Kart 8.
Think of Super Mario on steroids and a go-kart when you think of Mario Kart 8. This is an all-time favorite video game for any type of occasion. This video game will keep the children on the edge of their seats as they whizz around in their video game go-kart.
Buy the Mario Kart 8 on Amazon here.
2 Thanksgiving Typing Games.
If your child's idea of Thanksgiving games is a typing game instead, keep them occupied with these 2 Thanksgiving typing games.
21. ASCII Art.
ASCII Art is a pretty cool typing exercise that can be performed on any document like Microsoft Word or Google docs. Find your favorite Thanksgiving picture and paste it on Microsoft Word. In your paste settings, paste it in such a way that the picture does not move. Then type on the picture following the outline of the picture. For easy-to-follow directions on how to do this, click here.
This website has an exciting selection of Thanksgiving typing games that can be played on any device.
3 Google Thanksgiving Games.
If you are looking for Google Thanksgiving game sites, then check out these 3 sites.
This website has exciting easy to play Thanksgiving games with instructions.
Another awesome website with a good selection of Google Thanksgiving games.
Computer cafe is great for educating the kids on everything they need to know about Thanksgiving in a fun and friendly interface that also comes with exciting games and activities.
Frequently asked questions.
1. What are good Supersites For Elementary Students?
Check out these 2 websites for good Supersites for elementary students – Humbleisd.net and Eugeneairport.com.
2. Do you know of any good Thanksgiving free games?
All the Thanksgiving games listed in this article are free games to play.
3. How about Thanksgiving online activities?
All the websites listed in this article have exciting Thanksgiving online activities that the children can enjoy.
Conclusion.
Thanksgiving is a holiday we celebrate for different reasons. Whatever your reason might be, keeping your elementary students occupied with games is one sure way of enjoying Thanksgiving with them. The games and activities listed in this article will be enjoyed by elementary students of all ages.
ESTIMATED TIME DESIGNING AND UPLOADING THIS ARTICLE
ESTIMATED TIME RESEARCHING AND WRITING THIS ARTICLE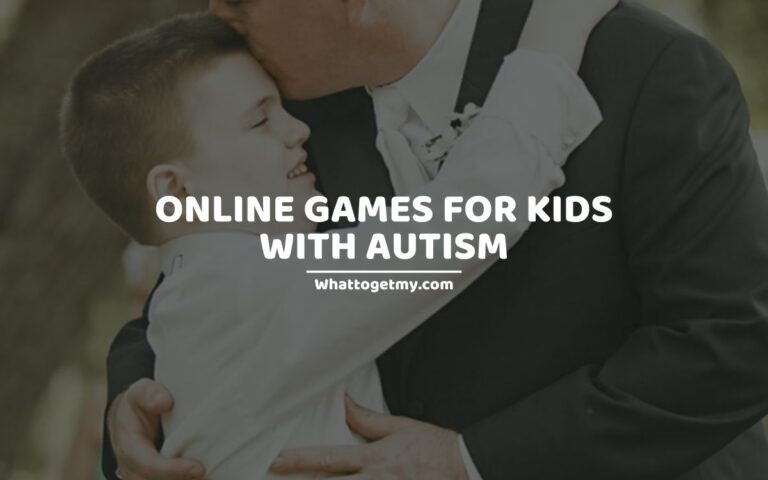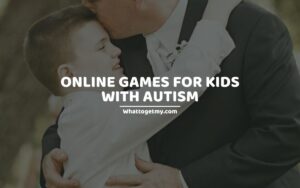 11 Online Games for Kids with Autism
11 Online Games for Kids with Autism WhatToGetMy Instructional Article Autism is a disorder that affects people's ability to communicate and identify human behavior. Games and activities are important for autistic kids because they help them develop skills that will help them fit in better
Read More »