How Much to Spend on Wedding Dress: 11 Ways to Ensure You Get the Wedding Dress of Your Dream
WhatToGetMy Instructional Article
The wedding gown industry is a billion-dollar industry in the United States of America alone, and according to a study published on Statista following a survey that was conducted from 2012 until 2021.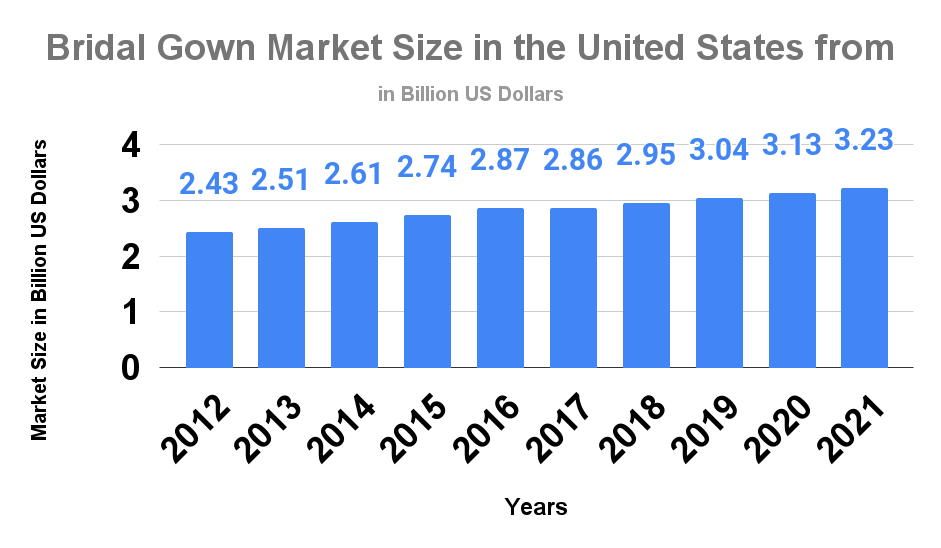 So what does this mean for you as you plan your wedding and are looking for the perfect wedding dress for you?
Well, first things first, as a growing industry, the implication is that the wedding gown industry is attracting more producers. This means that the more people are emerging and making wedding dresses, the more options you, as a consumer, have – and the more options you have, the better your choice for a wedding dress that satisfies both your style and fits into your budget.
On that note, let's get into some of the things to consider before making a purchase on your wedding dress to ensure that you are satisfied with your final pick for your big day.
WHAT TO LOOK FOR IN A WEDDING DRESS BEFORE CONSIDERING BUYING IT
1. FABRIC
The avg wedding dress cost largely depends on what sort of fabric the dress has. The more elaborate the dress is, the more expensive it is going to be. Therefore, you need to decide what sort of fabric you want for your dress long before you even set up your budget for it. Satin, for example, is more expensive than cotton but less expensive than lace. This means that a satin wedding dress is going to be cheaper than a lace wedding dress but more expensive than a wedding dress made out of cotton fabric. It is important that you know the fabrics in the hierarchy of most expensive to the very least so that it makes it easier for you to decide what fabric you want your dress made in.
2. EMBELLISHMENTS
The additional add-on's on a wedding dress determine how expensive the wedding dress is going to be. While you are still planning on what kind of wedding dress you want, you need to consider what type of embellishments you want on it because that will determine what range your budget for the wedding dress should fall under.
3. DESIGNER
Another thing that influences wedding dress price range is designers. The more high-end a designer for a wedding dress is, the more it will cost. So if you are trying to spend less on your wedding dress, look for an up and coming designer, or a no designer wedding dress – you can find a lot of those on websites such as Floravere and BHLDN. The best thing about these online retailers is that they allow you to try on the dresses you choose until you find the dress that you want for your big day.
4. ACCESSORIES
The more accessories and details you want to add to your wedding dress, the more it is going to cost you. Therefore how much you want to accessorize will influence how much your wedding dress is going to cost. While the normal wedding dress price might be within your budget range, you should consider what the accessories are going to cost you and budget for them as well.
5. SEASON
The season in which you are planning your wedding to fall will influence the pricing of your wedding dress. This is so because there are some rare wedding dresses that are made special for seasonal weddings. Therefore, if you want cheaper seasonal dresses you should look into last season's fashion dresses – you can still find the best and most fashionable dresses at a low cost.
HOW TO DECIDE HOW MUCH TO SPEND ON A WEDDING DRESS
6. HAVE A BUDGET
The average budget for wedding dress is $1600 in the United States of America according to a 2020 Brides American Wedding Study. Therefore, you need to set a budget for your wedding dress that will make the most financial sense to you and your partner.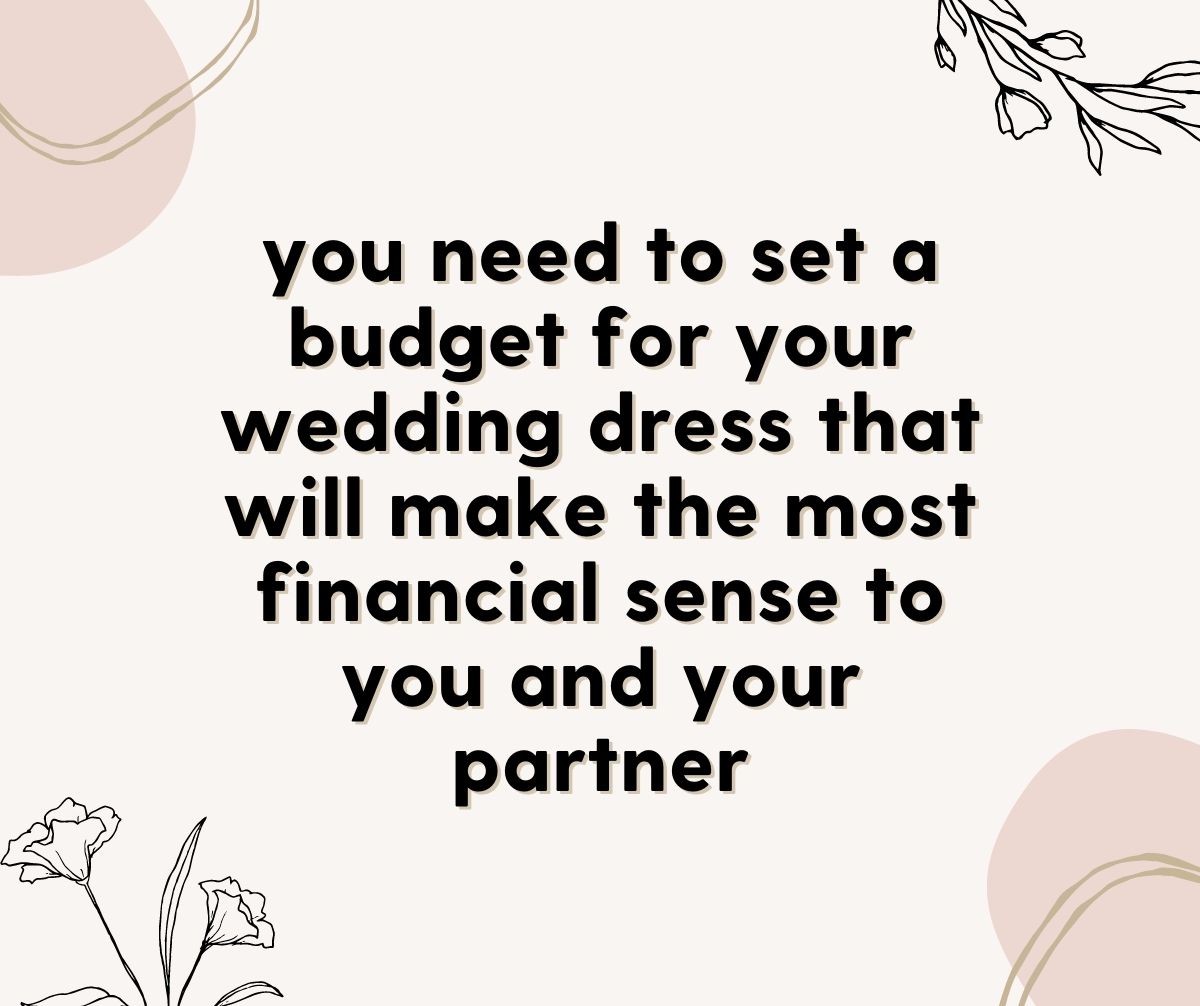 If you want to splurge, you can spend a little (or a lot) on the wedding dress – or if you are budgeting on the low side, you can set your goals close to the average range, and that way you will have a better chance of getting an amazing dress for low.
Find out more here on how to plan a wedding with step-by-step instructions.
7. NEGOTIATE
Even when you have set your budget closer to the average wedding gown cost, you should always leave room for negotiation. Negotiating gives you the opportunity to talk the price down for your desired dress and therefore get it at a discounted rate  – which is very good especially when you are planning a wedding because every penny counts. 
When negotiating, you can present facts such as comparison to other marketplaces that sell the same brand or designer wedding dress, appealing to pity – sell them a story (usually one about your love life with your significant other) people respond to stories that are beautiful and touching. Here are a few more ways to master the art of negotiation! Good luck.
8. HAVE OPTIONS
When you go out shopping for wedding dresses, it is important to have options of dresses that fit in your range. This will help you select the best kind of dress for you even when you think you know what kind of dress you will want for your wedding, trying on different ones will help you make the right decision for your wedding dress based on both your style and budget.
However, it is also equally important to know what you want and have baseline specifics for your desired wedding dress because having too many options is a double-edged sword. When you don't know what it is that you want exactly, you can go down a rabbit hole that will leave you more confused than with answers.
Therefore, list down all the things you want your wedding dress to have before you start looking at shops and online stores. This way, you will know exactly what to look for in the vast pool of your options both online and offline.
9. LOOK FOR NEW DESIGNERS
If you want to still look good but in less expensive wedding dresses, then you should consider looking for or at new designers who are usually just as good (if not better) and talented as the well-known and established designers. This is not to say that these designers will be absolutely cheap or even affordable (dependent on your budget) however, they are much more affordable in prices than established designers such as Vera Wang.
10. VISIT TRUNK SHOWS
If you are looking for lower prices on wedding dresses, then you might want to visit trunk shows. Truck shows sell designer wedding dresses for a discount. find out where in your area you can find these trunk shows and set the date to visit when they pop up for a discounted designer wedding dress.
11. CONSIDER RENTING
You can rent perfectly good wedding dresses for under $1000. The best thing about renting is that a wedding dress is a once-off type of dress, you wear it on one occasion and you are done with it – at least for a very long time. If you do not want the sentimental value of keeping the dress, then renting one out for your big day may be the most financially sensible thing for you and your partner to do.
TYPES OF WEDDING DRESSES AND HOW MUCH THEY COST
1. GYPSY WEDDING DRESS
Gypsy wedding dresses often range between $8500-$20,000 depending on make,  material/fabric, designer, and accessories. However, you can also find cheaper and more affordable options on online platforms such as Etsy
2. WATTERS BRIDAL GOWN
Watters bridal is a fashion-forward store for wedding dresses that are chic and stylish. Their prices range anywhere from $1900-$2500. They have beautiful wedding gowns that are affordable and will still make a statement on your big day.
3. ENZOANI GOWN
An Enzoani gown will only set you back about $2500 for your wedding. As an up and coming wedding dress designer, their designs give you (the bride) the chance to look good for less in carefully designed and curated wedding dresses.
4. NEKTARIA WEDDING DRESS
Nektaria brands itself as "audacious and luxurious" and their wedding gowns live up to the brand. Their price ranges go from anywhere between $4000-$15000. Nektaria wedding dresses are amazing and come in different styles, cuts, and fabrics.
5. VERA WANG WEDDING DRESS
Perhaps the most notable brand on our list is this; Vera Wang. Established in 1990, Vera Wang quickly gained traction and recognition for her unique designs and bold fashion statements when designing her wedding gowns. Today, a well-established brand and most celebrity go-to wedding gowns, a Vera Wang dress will set you back anywhere between $7,000-$23,000.
FREQUENTLY ASKED QUESTIONS
1. How much is the average wedding dress
If at this point you are still wondering how much do wedding dresses cost? The short answer will be anywhere between $800-$25000. The price of the dress depends highly on other factors such as designer, fabric, and accessories amongst others. In the article, we have highlighted some of the designer wedding dresses, both well established and up and coming. However, for the purpose of your research, here are a few more stores you can visit in search of your perfect wedding dress. Elysee Wedding Dresses, Romona Keveza Wedding Gowns, Michael Cinco Wedding Dress, Maggie Sottero Wedding Dress, Lazaro Wedding Dresses, Ines Di Santo Wedding Dress, Angel Sanchez Wedding Dresses, Lace Wedding Dress, and Allure Crepe Wedding Dress
2. How much are custom wedding dresses
Custom wedding dresses will cost anywhere between $2,000-$8,000 depending on what kind of dress you want and who you want to make it for you. It is relatively the better option for a wedding dress that is unique and hence meaningful to you. If you are looking for inspiration, here are a few creative things to do with your wedding dress.
CONCLUSION
In conclusion, this article has talked about, in great detail, the prices of wedding dresses – what you should consider when setting a budget for your wedding dress and what you should expect when it comes to price ranges. Aside from the details of bridal gown prices, the article has also given future brides resources and links to other online stores where they can search for their desired gowns and compare prices before making the final purchase and in this way ensuring that they get the best price of wedding gowns
We hope that the information provided to you in this article will make your journey searching for the right dress a little less tasking and a little more fun – just one less thing for you to stress about before your big day.
ESTIMATED TIME DESIGNING AND UPLOADING THIS ARTICLE
ESTIMATED TIME RESEARCHING AND WRITING THIS ARTICLE