17 Things to Do with Toddlers on Long Island
WhatToGetMy Instructional Article
WHAT CAUSES ANXIETY?
There are factors that cause some people to develop anxiety and not others, these are called risk factors.
1.
Genetics
You are more likely to develop anxiety disorders if someone in your family has (had) an anxiety disorder, more specifically one of your parents.
2.
Environmental Stress
Environmental factors such as money problems, racial discrimination, and general poverty increase the risk of a person developing anxiety disorders. College students are among the highest group of people that develop anxiety disorders due to academic pressure.
3.
Childhood Trauma
People who went through some sort of childhood trauma are at high risk of developing anxiety disorders especially if the trauma is never confronted or healed.
4.
Low Self Esteem
Having a low view of the self can affect how you see and relate to the world around you and this can result in anxiety disorders such as social anxiety where the person reclines back into themselves and shuts down the world for fear of being judged by others.  Here is what it means to have low self-esteem and how it can be fixed.
HOW TO EXPLAIN ANXIETY TO YOUR PARTNER
Trying to explain anxiety to someone who doesn't understand can be quite hard for a number of reasons; the first one being that most people who have anxiety do not know how to express what they feel in words, and the second reason is that anxiety may be hard to grasp for someone who has  never had to go through it. These reasons, therefore, make it hard to explain anxiety and depression to someone. However, if you have anxiety and you want your partner to understand what you go through on a daily basis, you are going to have to learn how to communicate your needs and let them know how they can help you if they are willing to.
1.
TELL THEM YOU HAVE ANXIETY
Perhaps the simplest way is to tell someone you have anxiety. As obvious as this sounds, it is also the hardest part about explaining anxiety to your partner. This is because there is still a lot of stigma around mental health and being vulnerable with someone enough to open up this part of yourself can also be quite stressful ergo anxiety-inducing. Find a way to explain anxiety to your partner that you are also comfortable with.
2.
TELL THEM HOW YOUR ANXIETY AFFECTS YOU
When you are finally done with explaining anxiety to your boyfriend, the next step will be to explain to him how your anxiety affects you. So, how do yoou explain anxiety to your boyfriend? Well, that depends on what kind of communication method works for the both of you. First, you have to know what type of anxiety you have. Anxiety disorders are generally characterized by having extreme worries or fears that take over a person's life to a point where they start affecting his/her daily life activities. When someone has anxiety, it is usually an indication of some other condition such as; panic disorder, phobias ( agoraphobia or claustrophobia), post-traumatic stress disorder (PTSD), and social anxiety disorder (social phobia). Explaining to your partner what kind of anxiety you have and how it affects you is a way of letting them know that some of your reactions might be anxiety triggered as opposed to a reaction to the situation at hand.
What are the most prevalent anxiety disorders in the US? Source Link: Anxietyhub.org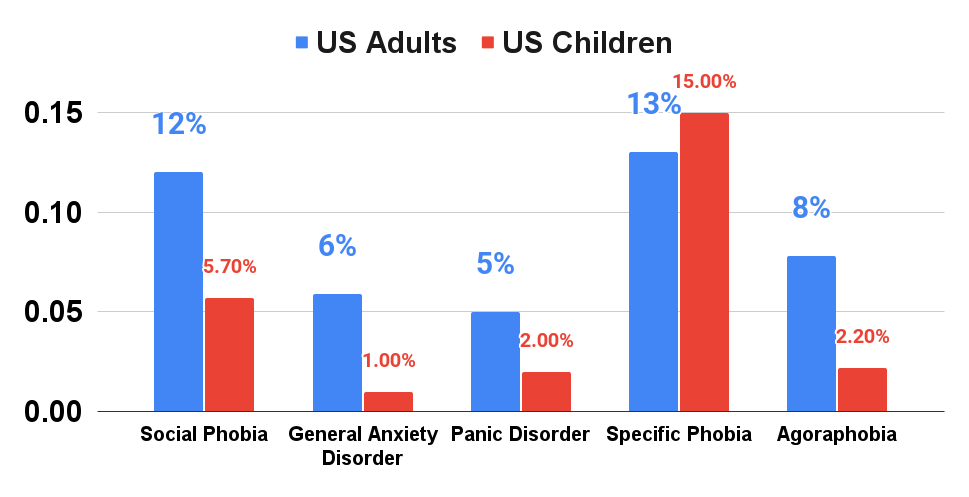 3.
TELL THEM WHAT TO EXPECT WHEN YOU ARE ANXIOUS
After you are done explaining generalized anxiety disorder to someone and trying to make someone understand anxiety, it is important to also let them know what to expect when you are anxious. This is a good way to let them know how to approach you when they notice you are not being quite yourself and how you might respond to them during this time. Tell them whether you need time alone or if you would like company during this time. This will help them navigate how best to be there for you when you are not feeling quite like yourself.
4.
TELL THEM WHAT THEY CAN DO TO HELP WHEN YOU ARE ANXIOUS
Another way you can help someone understand anxiety is to tell them what they can do to help you feel better when you are feeling anxious. Just as you know that bringing you hot soup helps you feel better when you have a common cold, it is also very helpful to let the people around you know what brightens your day when it has been shrouded in an anxious cloud. Do they send you quirky memes? Get you some comfort food? Perhaps blend you some fresh juice? Whatever your remedy for your anxiety is, sharing it with the person you are dating is a good way to let them help you when you need it.
5.
TELL THEM WHAT THINGS TRIGGER YOUR ANXIETY
Explaining anxiety to spouse is already hard and explaining your triggers can be harder especially if you do not know what triggers your anxiety. However, if you are aware of your triggers and you are in the process of explaining anxiety to someone, mentioning to them what triggers you ensures that they are able to navigate around it and actively avoid words or actions that will trigger you – this way both you and your partner know what to expect when certain things are said or done.
6.
WRITE THEM A LETTER
A great way to explain your anxiety is to describe anxiety in writing. There are many ways to describe anxiety in writing such as messaging and emailing, however, we recommend writing them a letter. Aside from letters being so romantic, they also give you a lot of room to say exactly how you feel, comfortably without being anxious about the recipient's immediate reaction. A letter is a great form of communication because if they want to remember anything about you and your anxiety, they can always look it over and remind themselves on what to do or how to act to help you get better.
7.
EXPLAIN TO THEM WHAT YOUR COPING MECHANISMS ARE
When you are done explaining anxiety to others, you can now begin to explain to them what coping mechanisms you have developed over the years that help you get through every day. The more specific you are about your coping mechanisms, the higher the chance of your husband (or wife, or boyfriend, or girlfriend) to understand and explore with you new ways you can cope with your anxiety.
It is good to find coping mechanisms that incorporate your partner especially if your lives are intertwined. For example, if you live together or share a child and have to see each other regularly, then having coping mechanisms that encompass the both of you is the healthy thing you can do for your relationship.
WHAT YOU NEED TO KNOW IF YOU ARE DATING SOMEONE WITH ANXIETY
In order for you to understand someone with anxiety efficiently, you need to understand what it means to have an anxiety disorder. Knowing the signs of anxiety can help you realize when someone you love is having fearful thoughts or feelings and guide you on what you can do to help them and make them feel better.
1.
UNDERSTAND WHAT ANXIETY IS DOING TO YOUR PARTNER
When someone has tried to explain anxiety to you as their  loved ones your duty is to honor that information and do some more research to help you understand further what your partner might be going through. By understanding what anxiety does to your partner, you might be well equipped to comfort someone with anxiety because you understand them better.
2.
UNDERSTAND HOW YOUR PARTNERS ANXIETY CAN AFFECT YOUR RELATIONSHIP
Understanding how to talk about anxiety and how anxiety affects your partner can change and affect your relationship with your partner. When you try to understand how anxiety affects your partner, you are being attentive and compassionate, both qualities that people look for in the people they want to dedicate spending the rest of their life with.
3.
RESEARCH WAYS YOU CAN HELP YOUR PARTNER
Because explaining anxiety to someone can be hard and people with anxiety might not always know how to explain what is happening to them or why they react to certain things the way they do, researching about anxiety can help you understand your partner better and find solutions that will make their lives easier.
4.
SET BOUNDARIES
In as much as you want to be a good partner and help your partner navigate through their anxiety easily with you by their side, it is also quite healthy to set boundaries. That way, you get to have your own space to deal with your own mental health without having to take care of someone all the time. Being in a relationship with someone who has anxiety does not mean that you become their caretaker, it only means that your relationship will go through hurdles sometimes because of their anxiety and you should be prepared for those and not necessarily become their caretaker overall. Setting boundaries with your partner will let them know what you are comfortable with and what you are not. Setting boundaries will also help you become a better partner to your spouse because you will know what to say and not to say to someone with anxiety.
PS: Someone having a mental health issue is not permitted for them to mistreat you. If you feel like you are being abused or mistreated by your partner and they guilt trip you into staying because of their mental health, you need to get away from them as soon as possible because they are manipulating you and your emotions and it is not your job to stay and try to fix them. Get them professional help if you think they might be a danger to themselves or others.
FREQUENTLY ASKED QUESTIONS
1. How to tell your parents you think you have anxiety?
Telling your parents that you have anxiety is important because it helps them understand you better. You can either call a family meeting and tell them in person or you can adopt one of the ways mentioned above and write them a letter, a text message, or an email. Communicate in a way that you are comfortable with, and use a lot of descriptive words so as to help them understand what you are going through especially if you suspect your parents do not or have never had to deal with anxiety before. However, if you have anxiety, chances are that either one or both of your parents also suffer from anxiety because research has shown that anxiety can be hereditary – which means it can be passed down through genetics. Nevertheless, do not assume that your parents will know what you are talking about and try to be as precise and as descriptive as you possibly can.
CONCLUSION
In conclusion, this article has shown you how to explain anxiety to someone who doesn't understand and several ways in which you can show them how to help you (should you need it) when you are feeling anxious. Knowing your triggers and finding coping mechanisms for your anxiety can go a long way in helping you live a much better, fuller, fear-free life with your partner.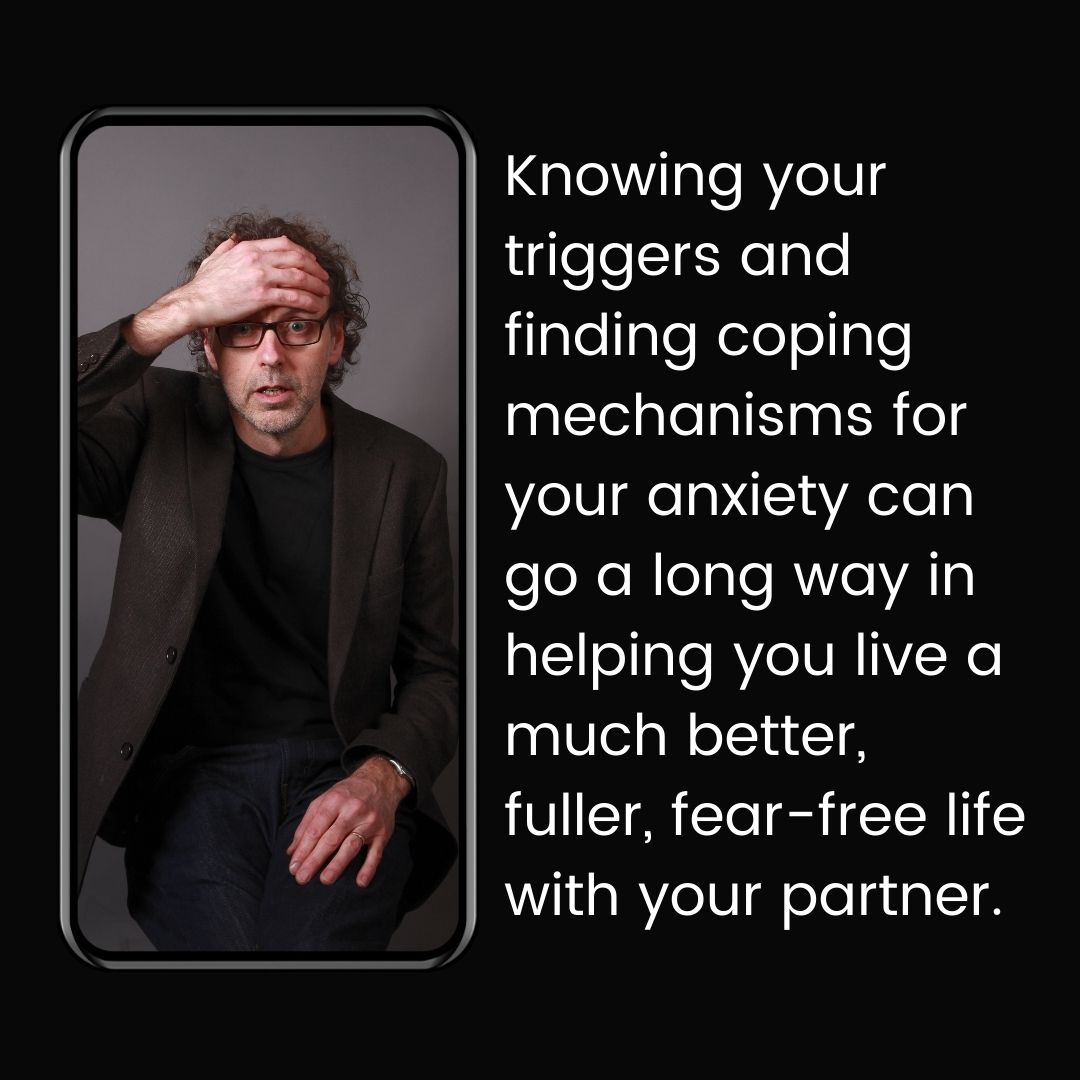 The article has also shown you how to begin understanding anxiety in your partner and how to set healthy boundaries to ensure that your needs are not buried beneath theirs just because they are dealing with a mental disorder. You are valid, too,  and your relationship should be equal.
ESTIMATED TIME DESIGNING AND UPLOADING THIS ARTICLE
ESTIMATED TIME RESEARCHING AND WRITING THIS ARTICLE