How To Plan A Swell Holiday Trip
Oftentimes, we get so lost in numerous tasks that we forget the place of fun and excitement. People now care more about their jobs than they do about taking some time off, and they forget that going on a vacation is a great way to rejuvenate and relax.

Not only will you get a break from your normal routine, but you will also be able to experience new things. Not only will you be able to see new sights, but you will also be able to enjoy new foods and company. Vacations have many benefits, and they are a great way to recharge your batteries and get ready for the next chapter in your life.
Let's face facts, people care more about their jobs than about vacations and taking a break lately. Understandably, it is hard to imagine a hop in hop-off bus tour, hiking, or walking tour when there is always one task after another. Apart from imagining and planning the right vacation, it is even more difficult to go there for it. The US working class and, indeed, other working-class individuals around the world are taking less time off, causing various mental and physical health challenges. When work is overwhelming, and your work-life balance feels out of whack, it's time to ask yourself, "Should I go on vacation?" Vacation offers many health benefits, but factors prevent people from taking a break. 
For example, layoffs and lean staffing make it difficult for people working on getting away. Some fear that vacation will make them appear less committed than coworkers. The seven health benefits of taking a vacation outweigh the stressors of planning a getaway. Apart from the health benefits of going on a vacation, it also gives you an escape from your boring routines; for example, you may not need to worry about preparing your family meal, as some tour programs already have that covered. 
Before you finally travel on vacation, it is important to plan your journey appropriately. On the eve of that long overdue vacation, you must take the following steps to have a swell time wherever you travel. One cannot really have a great time while on vacation if one constantly worries about the state of affairs at home. Below are some items to cross on your to-do list before heading out.
Before you go on that vacation:
Alert your credit card company
To ensure your credit card works while traveling, your company needs to know your travel plans. If you've waited this long, you may have to call instead of submitting an online form.
And there's one other very important thing. "Make sure you have enough available credit on your credit cards," said Tammy Levent, CEO at Elite Travel Management Group.
Contact your cell phone company 
 There are various telecommunication practices, according to several telecommunication companies. Hence, you may need to consult your cell phone company to ascertain what provision is obtainable. But while you plan to travel abroad, you need to call your service provider to help you set up the cheapest plans for making calls, sending text messages, and accessing the internet from your smartphone. 
Notify your home security system operator 
If you are away for a week or two, you need to notify the security system in your community. When you do this, they may be able to pay special attention to your residence and, in fact, detect foul plays, if any, in your absence. If you ask your security officials, they may do extra runs in your vicinity to ensure everything is going fine. 
Confirm all reservations.
Double-check all your reservations: your flight, hotel, car rental, restaurants, attractions, and any other services or experiences you've planned. You want to avoid surprises at the check-in counter.
If you have access to a printer, it's a good idea to print out confirmations. If you don't, write down confirmation numbers (and customer service phone numbers) and keep the paper accessible in your wallet or carry-on.
Check the weather 
This may seem pretty obvious, but checking and double-checking the weather forecast is important. If there is a pattern of extreme weather occurrences in the location you have picked for your vacation, you may need to plan for a different location or a later date for your vacation. 
Eat, throw out, or give away any perishable food
The last thing you want is to return home to a stinky fridge. Also, run the dishwasher, take out the trash, and clean the sink to be sure there's no food in the drain that could rot or attract bugs while you're away.
Place a hold on your mail delivery
This is a smart move if you're going away for more than a couple of days, Levent says. Alternatively, you could arrange for a neighbor to collect your mail until you get home.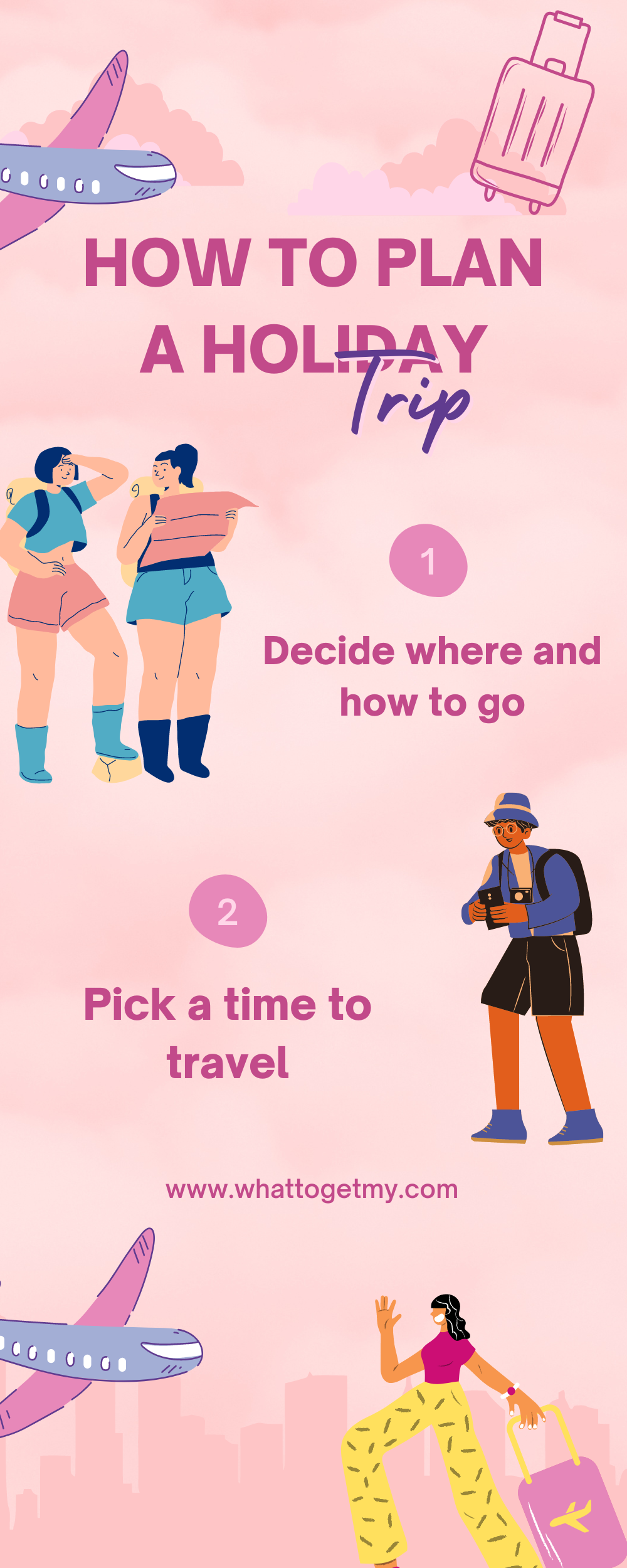 Reasons why you should go on a vacation
We get so overburdened with work that we forget the place of fun and relaxation. Work can wear one out if not given a break. Going on a vacation will dramatically reduce whatever stress has built up over time. Stress doesn't help you see things. But when you take a break, you understand how to balance your work and life and decrease the effects of stress and any signs of burnout. Below is a list of benefits associated with going on a vacation.
1. Vacation reduces stress
Whether you are experiencing burnout or are embattled with pressures at work, taking a break and going on a vacation is a way to cool off and unwind for some time. Stress doesn't help you see things. But when you take a break, you understand how to balance your work and life and decrease the effects of stress and any signs of burnout.
2. Vacation helps to improve our health 
It has been proven statistically that men who go on vacation occasionally will improve their life expectancy by 20 percent. The State University of New York at Oswego, after surveying 12,000 men, came up with the foregoing conclusion. According to an article by the New York Times, you increase your rate of dying soon by 21 percent when you do not take any annual vacations.
3. You are open to new perspectives and ideas.
Going on vacation opens us up to new ideas. Because our minds and bodies are refreshed, we are stimulated to think in a new way, conceive and interpret concepts like never before, and, most importantly, it helps us see life from a new perspective. In such a period away from work, you can see the world from a holistic angle rather than a lopsided angle. You could be pushed to read a business book, learn new cultures and change your perspective to one that will help you gain a better vision as you return to your everyday job.
4. You offer yourself some family or self-time 
It is unarguable that a fulfilled life is mostly measured by self-actualization or, rather, how you appreciate yourself and how you appreciate those around you. Going on vacation may be an effective instrument to bring you closer to your family and other loved ones. Indeed, only a few things can offer you the opportunity to be closer to your family. Doing a vacation affords you a time of self-reflection and self-check. You get to discuss how to push for a better relationship with your family.
Just know that it is important to be selfish sometimes. The old saying goes, "all work and no play makes jack a dull boy." In a way, we are social animals meant to spend and challenge ourselves from routine. Getting out of your comfort zone and experiencing something new is good for your body, mind, and those around you.
5. You become happier 
A recent study reveals that taking some time off may improve your happiness if, in fact, you take some time off your stressors. If one of your stressors is your job and you go on a vacation without actually taking time off work, this may do nothing to get you the happy state you had hoped for, before the vacation. In that study, people who took a vacation were happier than those who did not after 1.500 Dutch adults were surveyed. It was further concluded in that study that the happiness spoken of ensued from the wild anticipation and excitement involved in their vacation. It is revealed that even after returning from the vacation, the elation was sustained.  You have spent so much time being such a good student, now is the time to let off some steam. 
Some of the things to do when on vacation 
When planning your vacation, it is important to consider a few activities available to you while you are away. You must choose an activity or a set of activities you are passionate about. Doing this could help you maximize the vacation period. Some activities to choose from include the following;
1. Hop on, Hop off Bus Tours
2. Cooking Class or Food Tour 
3.  Experience the Local Flavor 
4. Airbnb Experiences
5. Day Trips  
6. Airport Layover City Visit 
7. Airport Layover City Visit 
8. Segway Tours
How to plan a holiday trip
Planning is crucial to experiencing the best vacation ever. Once an objective is set, proceed to plan for the actualization of your goals through the following actions.
1.   Decide where and how to go
Understanding where and how to go on your vacation is a function of many factors. Before making any decisions, you need to ascertain how much time and money you can afford for this vacation. It would help if you also decided whether or not you are traveling alone or with friends and family. Is your work flexible with when you can leave, or do you have a set time frame when you can travel (e.g., a teacher)? Finally, you need to decide on the activity you would love to engage in. 
In a nutshell, it is important to be able to answer these questions because of the following reasons;
1. It helps you psychologically. The mental benefits of setting a good goal are enormous. Having a goal destination gives you something to work for when preparing for your trip.
2. It determines practically every aspect of planning. No vacation destinations are alike, meaning each destination will change how you tailor your budget and itinerary.
2. Pick a time to travel
Nomadic Matt says that while picking a time for your travels, it is important to be very flexible. He further added that, while picking a time, it is twice as important to consider the following traveling seasons; 
"If you want to find the best time to travel to a destination, consider these three things about the location:"
Peak season is the time of year when most tourists visit a location. This is often due to good weather and holidays surrounding it (e.g., the Grand Canyon or Mount Rushmore in the summer). Flights and accommodations tend to be the most expensive during this time.
Off-peak season: is when most tourists aren't visiting a destination — typically due to weather (e.g., a ski lodge in the summer). You'll normally find affordable flights and accommodations during this time, but on the flip side, there's usually a reason for it being "off-peak." In some countries, off-peak can mean a monstrous monsoon happens nearly daily.
Shoulder season: This is the time between peak and off-peak — and a good time to take advantage of the benefits from both seasons.
3. Narrow it down to a specific Destination
It is essential that have a target destination in mind, after you cross the huddle of picking a region. To pick the right destination, you need to consider the activities and atmosphere of the places in the region go  for the particular destination that where you will find most or all of those activities.
4. Decide on the perfect amount of time away 
More time away does not necessarily mean you would have the best holiday/vacation experience. You could spend a relatively short time and have the best get away of your life. Plan and decide on the tmie it will require for you experience maximum fun, in light of the activities that you have planned to engage. 
5. Take Care of the Practical
Another tip on how to plan the perfect vacation is to get practical things out of the way as early as possible. This includes making arrangements for pets or getting someone to watch your home. This is also the time to make sure you have everything you need for the trip such as special clothing, any medications you're going to need, tickets to special events, etc.
FAQs
1. What is the benefit of going on a vacation?
A vacation can be a great way to relax after a long workweek. It can also be a great opportunity to network and meet new people. It can give you a break from your everyday routine and help you clear your head.
2. What are the dangers of not going on enough vacations?
Relaxation In this fast-paced society, it seems that there is never a break from work. Many Americans work more than one job and often work overtime to make ends meet. All this extra work can lead to a lot of built-up stress and tension. This is where the importance of vacations comes into play.
3. Where is the best place to go for vacation?
Nowadays, many people go on vacation. Choosing the best place to go on vacation can be difficult. Depending on what somebody is looking for in a vacation, certain places are better than others. There are many factors to consider when choosing a vacation spot. However, in my opinion, Hawaii is a really nice place to start. Hawaii has many different activities, places to see, and things to eat. No matter what somebody is interested in, they will be able to find something to do in Hawaii.  Hawaii's weather is also very nice, making it a great place to go on vacation.
ESTIMATED TIME DESIGNING AND UPLOADING THIS ARTICLE
ESTIMATED TIME RESEARCHING AND WRITING THIS ARTICLE
Try our AMAZING GIFT FINDER TOOL! Find GIFTS with 1 CLICK!
Try our AMAZING GIFT FINDER TOOL! Find GIFTS with 1 CLICK!
Try our AMAZING GIFT FINDER TOOL! Find GIFTS with 1 CLICK!