It is very challenging to get toddlers items and gifts for Halloween
You must abstain from getting them anything with high levels of sugar in it and also artificial sugars and flavorings
Read this article to find out what items you can get for a toddler for Halloween that is safe and healthy.
Halloween baskets for babies
If you are wondering what to include in a kid's Halloween basket, you are not alone. It can be very challenging to include a toddler in Halloween activities when the general rule is "no candy for toddlers." However, you can still get them toys that are themed around Halloween and help them understand what the holiday is all about. Toddlers love learning through stimulation, you can use this information to get them their gifts for Halloween.
As an Amazon Associate we earn from qualifying purchases. We may earn a small commission for our endorsement, recommendation, testimonial and/or link to any products or services from this website. Thank you, your qualifying purchases help support our work in bringing you real daily gift ideas.
Quick Overview: Halloween Baskets for Toddlers
Source Link: https://whattogetmy.com/halloween-gift-baskets-for-toddlers/
1. 

Halloween rubber ducks
These glow in the dark rubber duckies are the perfect gift for a toddler because they are thematic to Halloween and also fun for kids to play with during bath time.
Pros.
They are easy to clean

They are all different so you get a variety of ducks

They are high-quality

They are easy to clean
Cons.
The ducks may be considered too small for some people. Make sure you read the size chart before purchasing

They need to be placed in direct sunlight to activate their glow in the dark feature
Product Summary: These rubber ducks are safe to use in water and do not pose as a choking hazard to the toddler.
2. 

Playdough
Children love playing with playdough. They can build and mold anything from their imagination with it. It is reusable and non-toxic.
Product Summary: This playdough is non-toxic and therefore does not pose any immediate danger to the child if they ingest it, however, supervise your child when they are playing so they do not eat the dough.
3. 

Playdough container
You will need a container to put away your toddler's playdough after they are finished playing with it to preserve it for the next time they may want to play with it again. These containers are great for that because they maintain the integrity of the dough without drying it out or making it stickier.
Pros.
They are nice and sturdy

They work as intended

They are high-quality

They are clear so you can see which colors are in which containers
Cons.
They are very fragile and therefore break easily

Some customers complained about the size of the jars being too small from what they anticipated. Make sure to check the size chart before making any purchases
Product Summary: These storage jars are perfect for storing playdough because they have air-tight lids which help preserve the dough's consistency.
4. 

Wooden animals
This Melissa and Doug farm friend set comes with a collection of 10 different farm animals. This can be useful, fun, and educational for a toddler.
Product Summary: There are facts about each animal that can be very informative and educational to the toddler. The animals are made of solid polished wood which makes it safe for the children to play with without getting any splinters.
5. 

Stickers
Stickers are great for toddlers to play with. They help with motor skills and also enhance their imagination and creativity.
Pros.
They are non-toxic

They easily stick and peel off so you can clean up easily if they get on the walls or furniture

They have a variety of designs which make them suitable for all toddlers

They are vibrant and colorful
Cons.
Some customers complained that the stickers fall apart easily

some of the stickers are too small and can pose a choking hazard to the toddler
Product Summary: These stickers are great for parents who want to reward their children for good behavior. They are also great for parents who like to give their toddlers freedom of expression and imagination. They are versatile in their use and can be used both for educational purposes and for entertainment.
Halloween gift ideas for toddlers
Feel free to also include the following items in your Halloween gift baskets for kids:
6. 

Plastic Fruit Bag
This is a great learning tool for your toddler to know the different fruits there are. It is educational and also fun to play with. You can tell them which fruit is which and ask them to identify it in a pile of other fruits.
Pros.
They are very realistic looking and detailed

They are long-lasting and high-quality

They do not pose a choking hazard to the toddlers

They are quite educational
Cons.
They are not accurate in size compared to real fruits

Some customers complained of a foul smell which goes away after washing and rinsing. However, it was still an inconvenience
Product Summary: These plastic fruits come in a large tote bag which makes them easy to pack away when learning and playtime are over. There are over 17 pieces of fruits in the bag that can help with speech development in your toddler.
7. 

Dried fruit
In as much as we all like pretend fruits, nothing beats the real thing. This pack of assorted dried fruits is very nutritious for a toddler and easy for them to eat and swallow.
Pros.
It is very well packed

It is made from high-quality edible fruit

It is very nutritious

It is delicious
Cons.
There are raisins which some people may not like very much

The packaging wasn't so great for some customers

Some people found the fruits too sweet and have reason to believe there are artificial sugars added to the dried fruit
Product Summary: It can be added to other food such as cereal and oatmeal to give it flavor. It can also be added to baked goods such as cookies for a healthy alternative.
8. 

Sugarless candy
The last thing you want your toddler to be on Halloween is sugar high – strangers will give your kid any kind of candy that they have but you can control what kind of candy they eat. This sugarless candy is delicious and a better alternative to your toddler's Halloween night if you do not want them to have a sugar crash.
Product Summary: This sugar-free candy is great for toddlers because it will prevent them from getting cavities at a young age when their teeth are developing. It also helps the parents by not having them deal with a child that is on a sugar high – which can be exhausting and impossible to control and bring down.
Spooky basket ideas
The items below can be very good to include in a spooky basket for your toddler:
9. 

Pumpkin plastic pails
Staying on theme with Halloween, these orange pumpkin toys are a great gift for a toddler when going trick or treating. They can put all their candy in it. Its size is perfect so that they do not get too much candy, or too little, just enough.
Product Summary: These pails are realistically designed to look like a carved pumpkin jack-o-lantern. They can also be used as decorative jack-o-lanterns by placing led lights inside them.
10. 

Haunted house
This take-along haunted house is very eerie and also fun to play with. It has hidden attics and skulls and potions within itself, your toddler will love playing with it.
Pros.
It is unisex

It is great for make belief and playtime with your toddler

It is easy to clean up after play

It is sturdy and durable
Cons.
Some houses arrive with missing pieces

Some of the  figurines are too small and can be choking hazards to toddlers

The house needs to be assembled which can be a tiring albeit unnecessary task for some parents
Product Summary: This haunted house has a lot of the original scary monsters such as vampires, ghouls, and evil scientists. It also comes fully decorated for Halloween with spider webs and spiders hanging from above it
11. 

Halloween squishy toys
This gift set of squishy toys has 6 monster toys perfectly themed for Halloween. Your toddler can play with them and even sleep cuddling them, if they wish to.
Product Summary: These squishy toys are perfect for sensory development in your child. They are slow rising and have a very comfortable feel when touched.
Halloween cookie baskets
The following are suitable for inclusion in your Halloween cookie bouquets for your toddlers:
12. 

Non-sugar cookies
These sugar-free cookies are great for healthy desserts. It comes in 3 varieties of flavors; Chocolate Peanut Butter, Double Chocolate Brownie, and Peanut Butter.
Product Summary: These cookies are gluten-free, sugar-free, and are ketogenic friendly. They are the perfect treats for healthy family desserts.
13. 

Cookies
Once in a while, throw your toddler the metaphorical bone – in this case, that would be cookies with sugar in them. Just make sure to regulate how much they take and how often they take them.
Product Summary: This cookies variety pack comes with different cookies in mini packs which is great for regulating the sugar intake of your toddler.
FREQUENTLY ASKED QUESTIONS
1. What should I get my toddler for Halloween?
You can get your toddler any number of things/items that have been listed in this article. Always make sure that you are putting the safety and health of your toddler first before anything else. Check out this article for more ideas on what to get a toddler for Halloween.
2. What can I put in a kid's Halloween basket?
You know your kids very well,  you know what they like and dislike – so you should always start there when deciding what to include in your kid's Halloween basket. These can be things such as their favorite toys, coloring books, and of course, candies. After this, it is okay to include items you think your child might like that also expand their knowledge and understanding of the world around them. Depending on how old your child is, you may want to include numbers, letters, and even books to the items in the basket.
3. Can you take a 2-year-old trick or treating?
Generally, it is advisable that you do not take your 2-year-old trick or treating. This is because most people hold the view that you should not be feeding your toddler sweets and artificial sugars. However, you can take your toddler for Halloween just for the fun of it – dress them up in a cute spooky outfit and go with them and the rest of the kids for trick or treating. This is especially good for families that have older kids who want to go trick or treating, it is a way of letting the children bond with each other and have fun together.
CONCLUSION
When getting a Halloween basket for toddlers, remember that they cannot have as much sugar as the grown kids, so it is safe to stick with items that are inedible and vary in educational purposes. However, if you do get them edible treats, stick to non-sugar candies and cookies — and on the off chance that you do get them sugar candies, make sure you regulate their intake.
ESTIMATED TIME DESIGNING AND UPLOADING THIS ARTICLE
ESTIMATED TIME RESEARCHING AND WRITING THIS ARTICLE
Try our AMAZING GIFT FINDER TOOL! Find GIFTS with 1 CLICK!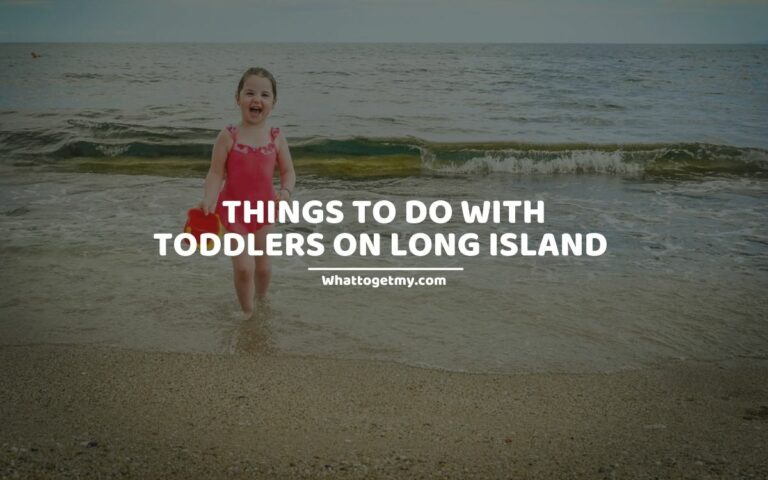 17 Things to Do with Toddlers on Long Island
17 Things to Do with Toddlers on Long Island WhatToGetMy Instructional Article As parents, you need to do activities with your toddler to keep them entertained and occupied, but also as a way to spend time with them so that you may grow the bonds
Read More »