What to Wear to a First Communion?
WhatToGetMy Instructional Article
Most churches dictate what is appropriate to wear during a first communion ceremony. This is done so that people can dress conservatively and in a manner that will be acceptable by the church
Whenever buying clothes for yourself or your child(ren) for a holy communion ceremony, always remember to select clothing that is comfortable and that will make you and your child(ren) feel confident in your own bodies.
Read this article for more tips on what you can wear to a first communion that is respectable, conservative, and will be approved by the church.
WHAT'S A FIRST COMMUNION?
The first communion is a celebration that is highly practiced in the Roman Catholic and Anglican churches. This celebration occurs as a rite of passage and is symbolic of allowing one's life to become the same as Jesus Christ. The communicants eat bread and drink grape juice to symbolize the body and blood of Jesus Christ. This is a ritual drawn from the last supper of the Lord in which Jesus fed his disciples bread and wine and told them that these were his flesh and blood (Luke 22:19-20). Whenever a Christian eats the Eucharist, they are making a commitment to the Lord to follow in His steps and lead a life as He did. The first communion ceremony is the first time that a person, usually a child, will have their first Eucharist. It is a special and important moment in a young Christian's life because it sets the tone for the child's life as a Christian devoted to their faith. Results of a study conducted in 2009 by the Center for Applied Research in the Apostolate (CARA) showed that 92% of all catholic adults had celebrated their first communion.
Which of the following sacraments have you celebrated? | Source: Georgetown.edu​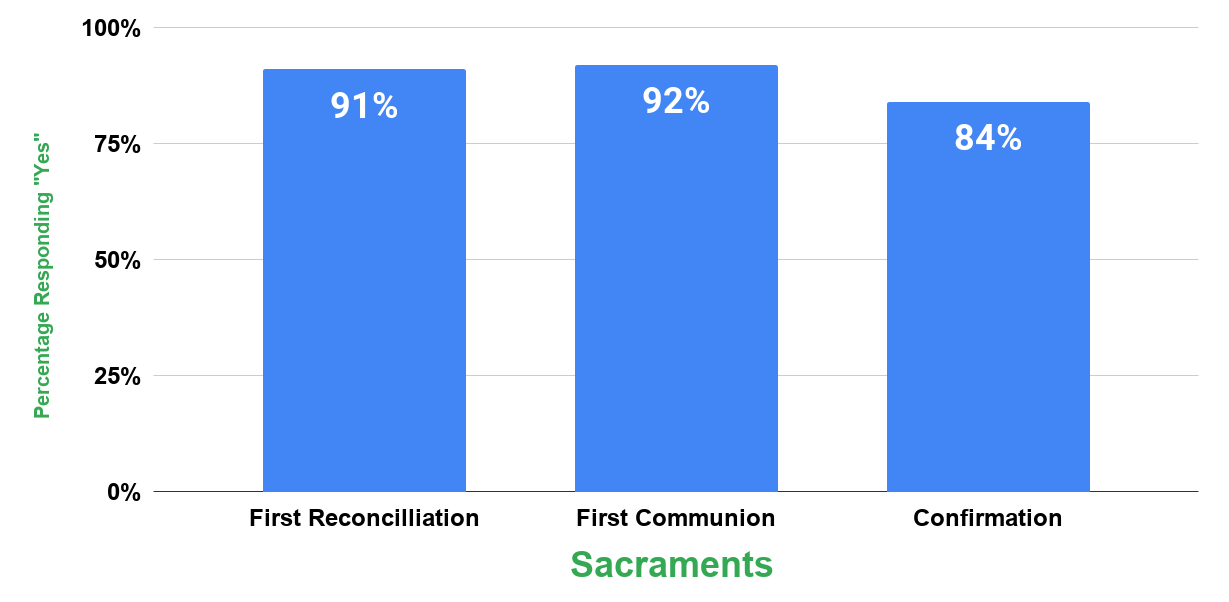 HOW TO DRESS FOR A FIRST COMMUNION PARTY
What to wear to a communion party depends on the church rules and also the rules set by the parents or legal guardians of the child or person whose communion it is. Although, it is common for girls to be required to wear white dresses for their communion and boys to wear suits in dark colors.
For the child whose communion it is, most churches will recommend or highly suggest that you dress them in decent attire; something conservative and modest. For girls, this comes down to dresses and for boys, it is usually two-piece suits. Although you must first ask your child what they are comfortable wearing before buying them new clothes for the big day. If you cannot afford to buy a traditional communion dress for your child, you can always recycle old white dresses that she might have. For example, if your child has ever been a flower girl in a wedding party, you may want to reuse the dress she wore for that occasion as her dress for communion – of course, assuming she hasn't outgrown the dress.
Alternatively, you can choose to get your clothes from a thrift shop. The idea is to make your child look and feel good for their special day without having to break the bank. The most important aspect of these outfits should be that your child should be and feel confident and comfortable in them.
FIRST COMMUNION ATTIRE FOR GUESTS
If you are a guest attending a first communion, remember to follow the first communion dress code. It is important to keep in mind that this is a religious event and your outfit needs to reflect this. You need to keep your outfit as conservative as possible.
For women, you must consider your body size, height, and shape in order to determine what would constitute as conservative for you. Traditionally, it is expected that women should wear dresses that have long sleeves, or have shawls that can cover their arms. As for height, the dress should go below the knee and it should not have too long a slit. As per your personal style preference, you might consider adding accessories to your outfit but remember to keep those to a minimum and not be too flashy. You may also add gloves, and fascinators to go with your dress. And lastly, for shoes, most women prefer wearing high heels but you can wear any shoes that you are comfortable in. This is also a perfect first communion outfit for mothers who choose to lead by example for their little girl or boy communicant.
For men, you must wear a suit in dark, solid colors – blue and black are the most popular. Do not wear jeans, golf shirts, t-shirt, or sneakers to the communion ceremony. In short, wear your Sunday best when attending a holy communion. When you are a father of a boy communicant, you may choose or prefer to dress the same as your son. Not only will this look very dashing, but it will also set a good example for your son on how to dress presentably as a man to a decent event. You will be setting the standard for formal dressing at events for your son.
FIRST COMMUNION DRESS FOR GIRLS
For a girl's first communion dress the tradition is to pick a dress made from pure white fabric as this symbolizes the purity of the child's soul. The girl's communion dress is usually accompanied by a tiara and a white veil. The outfit can also be accompanied by white stockings or knee-high socks – depending on weather and preference. However, it is important to note that some churches might be lenient about the dress code and not strictly want white dresses. In this case, ivory or pink dresses are suitably allowed for the first holy communion dresses for girls as long as they observe the rest of the modest dress code.
When it comes to choosing the shoes, you can give your child the freedom to choose whether they want to wear traditional pumps or if they want to wear other flat shoes in white (as long as they are closed-toe shoes) – this is because at the ages of 7-14 when most children receive their first Eucharist, is also the age that most children are finding themselves and it is important to give them a voice and choice for this monumental day in their life so they do not feel left out of the decision-making process. The shoes have to be flat-heeled because high heeled shoes are not perceived as "Church appropriate" and aside from that, it may be hard for a child to walk properly with a high heeled shoe.
WHAT DO BOYS WEAR FOR FIRST COMMUNION?
For a boy's first communion outfit, pick-out light or dark grey suit (or any solid dark colors, really), a white button-down shirt to wear underneath, a solid color tie, and finish off the look with some black closed shoes. Just as with a girl child, it is also important to involve the boy child when it comes to choosing their outfit, and in this case, you can choose to give them freedom on the color of the tie that they are going to wear.
When choosing the shoes for your child's first communion, look for shoes such as Brogues, Chukkas, Leather Boots, or Loafers. These shoes are generally considered decent wear and they will pair well with a boy's communion suit. There is no need to buy new shoes for your boy's first communion if you already have shoes that will look presentable and appropriate paired with your child's suit. The important thing to remember is that the outfit looks presentable for the church.
Remember that unless the church specifies a specific color of the suit, you have leeway to choose any color for your child as long as it is solid and dark. However, do not dress up your child in the following clothes, polo shirts, t-shirts, plaid shirts, shirts with prints (flowers, cartoon characters, etc.), jean trousers, any kind of shorts, sneakers, and rain boots.
FREQUENTLY ASKED QUESTIONS
Is makeup allowed at first holy communions?
Yes, makeup on adult women is allowed to be worn at a child's first communion. However, keep it to a minimum and avoid bright colors when it comes to your eye shadow. Do not, under any circumstances, put makeup on a child as this is not acceptable with most churches no matter how lenient they may be about the dress code.
Should I bring gifts to a first communion?
Yes, it is customary to bring gifts to the communion ceremony. You can buy the gifts, make them yourself, or even write a short poem to read aloud at the ceremony for the communicant. Here is an article to guide you more on what to give for the first communion. (THIS LINK IS NOT YET UP)
How do I prepare my child for their first holy communion?
The first thing you will need to do to prepare your child for their first communion is to tell them about the Eucharist and what it means to receive the holy communion. Children are quite inquisitive, so it would be helpful for them if you answered their questions – yes, even the hard to answer ones-  and refer to the bible whenever necessary. This will prepare them mentally on what is about to come and it will help them understand the importance of communion in a Christian's life.
The other thing you can do to prepare your child is to help them read their bible and also their Eucharist book to help them understand Jesus: who he was and what he did for humanity. This will prepare them to understand why they need to dedicate and commit their lives to live the way that Jesus did.
You can also prepare your child for their holy communion by taking them to mass frequently. These church visits will ensure that your child understands their religion and have time to connect with its teachings.
CONCLUSION
When choosing what to wear to a first communion always consider white communion dresses for girls. These can be accompanied by 1st communion veils as well as gloves. Make sure that the first communion dress has sleeves or if not it has a shawl or jacket that can help to cover up. For boys, on the other hand, make sure that their attire is appropriate and decent. Do not dress them up in their casual clothes. And finally, as a guest at first communion, make sure your attire is conservative and church appropriate observing the length and fit of it as well.
ESTIMATED TIME DESIGNING AND UPLOADING THIS ARTICLE
ESTIMATED TIME RESEARCHING AND WRITING THIS ARTICLE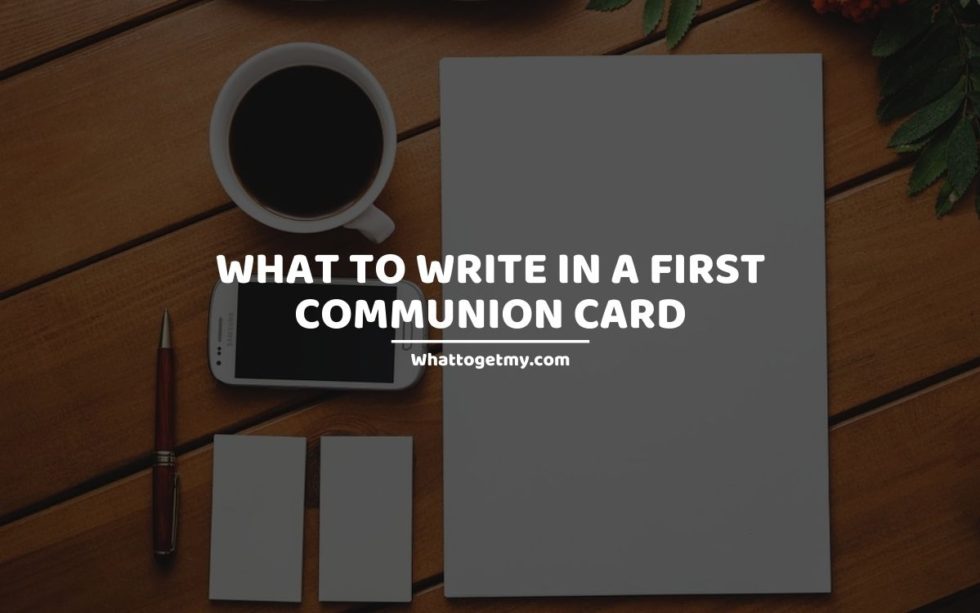 What to Write in a First Communion Card
What to Write in a First Communion Card WhatToGetMy Instructional Article The first holy communion is a milestone that most people in the Roman Catholic Church celebrate. It usually involves younger people of ages 7-9 although anyone at any age can make the decision to
Read More »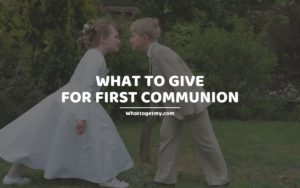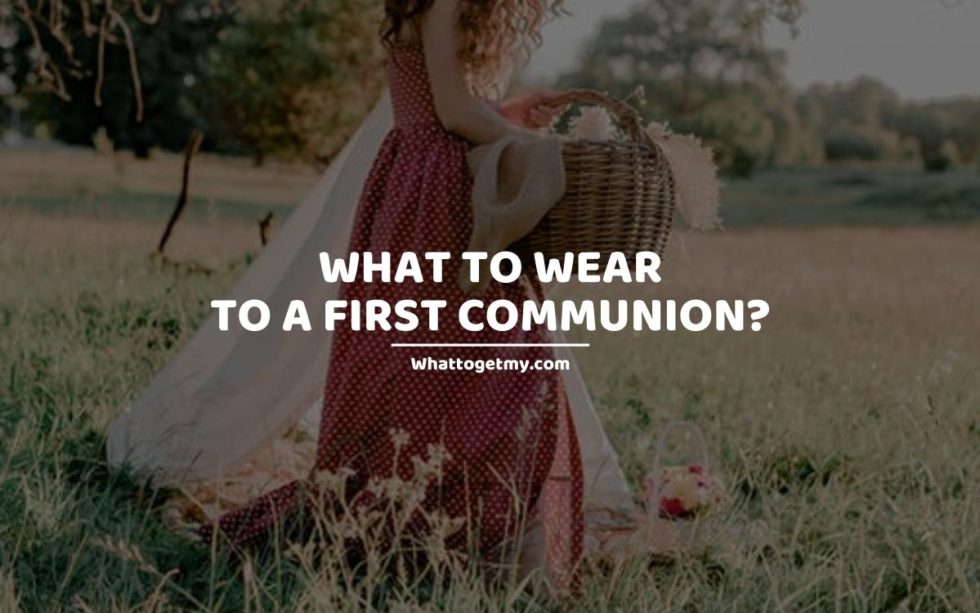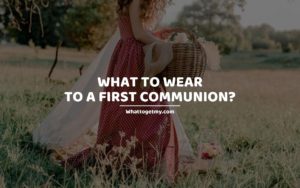 What to Wear to a First Communion?
What to Wear to a First Communion? WhatToGetMy Instructional Article Most churches dictate what is appropriate to wear during a first communion ceremony. This is done so that people can dress conservatively and in a manner that will be acceptable by the church Whenever buying
Read More »