As an Amazon Associate we earn from qualifying purchases. We may earn a small commission for our endorsement, recommendation, testimonial and/or link to any products or services from this website. Thank you, your qualifying purchases help support our work in bringing you real daily gift ideas.
Quick Overview: Father's Day Gifts for Gamers
1. 

OCULUS QUEST ALL-IN-ONE VR GAMING SET
Take his VR gaming experience to a whole new level. We are talking about convenience and fun in one package. Firstly, this Oculus quest allows for mobility because it's wireless. The visuals are sharp and real-like. It comes in 2 storage capacities, 64GB, and 128GB and of course, one costs more than the other. It gives more than 2 hours of game time which is short but it also comes with a powering cable that allows a person to charge the device while playing. Another thing that is loveable about this gaming set is that it allows you to mark play boundaries that allow the system to notify you when you are crossing. This prevents you from getting hurt while wearing the VR. The entire package includes a VR headset, touch controllers, power adapter, eyeglass spacers, and an Oculus insight tracking system.
Product summary
This is a good gaming set. A gamer dad will be thrilled with this gift
2. 

RAZER HUNTSMAN GAMING KEYBOARD
This Huntsman gaming keyboard is like a standard keyboard with some cute touch-ups like the optical technology that adds a lot of beauty to its overall appearance of the keyboard, the backlit light also makes it easy to type on the keyboard even in a dark room, and it has hybrid onboard storage that allows you to save up to 5 profiles without internet access. There is a suggestion that this keyboard is best suited for Windows as opposed to Mac when trying to configure the Synapse 3. The keyboard however looks and feels sturdy and the branding is topnotch.
Product summary
Definitely worth buying for a gamer dad.
3. 

ACER HELIOS 300 GAMING LAPTOP
Maybe it's been a while since he spent on a gaming laptop. He is hoping to upgrade but not anytime soon. You can surprise him this fathers day with the Acer Helios gaming laptop. It has great reviews so far. The design is hot, both the surface and the key deck illuminate. The screen clarity is amazing, it has a solid CPU and a good thermal system. The battery life is kinda ok but it would be nice if it provided more than 4 hrs of running time. This laptop comes highly recommended.
Product summary
The overall outlook of this laptop is fantastic. It accommodates different users.
4. 

RAZER NAGA PRO WIRELESS GAMING MOUSE
This wireless Razer Pro gaming mouse is aesthetically pleasing. Its unique build is probably one reason to get it as an alternative mouse for a gamer dad. It has 3 interchangeable side plates and some programmable buttons. It has been ergonomically built to support the fingers while in use.
Product summary
Considering the reviews we've read about this mouse, we think that the mouse might be a bit costly. Secondly, it should act as an optional gaming mouse.
5. 

FATHERS DAY GAMER DAD T-SHIRT
Here is a funny t-shirt for gamer dads from children. The blocked letters/words and game controller pad design is perfect. This t-shirt also comes in different mature colors.
Product summary
This is a cute shirt for dads
6. 

SPACE OFFICE GAMING CHAIR
If he doesn't have a comfortable gaming chair yet, you can add to his comfort by getting him one of these. It is a well-padded chair that is covered with high-quality PU leather. The chair has adjustable arms and great wheels. The padding is soft and comfortable, which allows a person to sit and work for a long time without body ache. It is best suited for people of small to average weight.
Product summary
This is a really good chair and reasonably priced too
7. 

CURVED 49" GAMING MONITOR
Looking for a good holiday gift? Go big and get him this 49" gaming monitor. Let him experience gaming and movies in a whole new way. This monitor has a good inbuilt speaker, good screen resolution, adjustable height, and a remote. He can split the screen into two. The curved design is absolutely beautiful.
Product summary
Impressive item
8. 

5T P10-GAME DRIVE
With this 5T game drive, he can worry less about deleting some of his games to create space on his PC. he can store over a hundred games in this drive and can easily access them too. The size and build are fantastic, the drive is sturdy and portable.
Product summary
Great external drive for gamers
9. 

SUPER MARIO TUBE SNAPBACK CAP
This Super Mario cap is stylish. The color combination is great, it doesn't look childish. The design is well stitched and positioned. It has a snap closure that allows one to easily adjust the cap to size.
Product summary
Customers are impressed with the quality of the cap. It is worth getting.
10. 

EDIFIER S1000DB SHELF SPEAKERS
The wooden and black color design of these speakers provides a mature ambiance to any setup. The audio quality, volume range, and strong bass are impressive features that make these S1000DB speakers fantastic for gaming and movies. Good bonus if he loves music too.
Product summary
We highly recommend it.
11. 

STAR WARS MILLENNIUM FALCON WAFFLE MAKER
If he loves waffles and is a star wars fan, well, this is a cute and fun gift for him. A few customers see this waffle maker as a nerdy gift. Nerdy or not, it is just a fun breakfast gadget. However, we do not recommend it as a first option when choosing a gift for a gamer dad. This is a "by the way" gift. What we really love about this waffle maker is that the waffles come out well-shaped as the falcon.
Product summary
Fun breakfast gadget
12. 

LEGO SITH LORDS BUILDING KIT
Get him something to play with aside from video games. This Lego 'Dark Lords of the Sith' art kit is a good project to work on. The kit includes 9 canvas wall decor plates, a star wars signature plate, a brick-built LEGO frame, a unique hanging element, and a piece separator.
Product summary
This is a great kit to work with
13. 

PLAYSTATION VR BUNDLE
If it's not a PS5 or an Oculus quest VR bundle, it should certainly be this Playstation VR Bundle. It is a great gaming set that comes with a VR headset, camera, camera adaptor, 2 move controllers, Marvel's iron man VR Voucher, and VR Demo collection 3 vouchers. It has a fun storyline, powering up Iron man is fun. A gamer dad will have an exciting time with this Playstation VR bundle.
Product summary
It is a quality gaming set.
14. 

BLACKSHARK V2 PRO GAMING HEADSET
This is a super comfortable wireless headset for gamers; it is not loose or tight, it sits just perfect on the head. Perfect for people with an average to big head. It has adjustable and well-padded headbands and ear which helps to remove tension from the main headset. The Titanium 50mm sound drivers guarantee an overall sound quality which equally makes it great for gaming. It comes with a detachable mic.
Product summary
Awesome gaming headset. Definitely worth getting for a gamer dad
15. 

PLAYSTATION WATER BOTTLE
What of this cute PlayStation water bottle? It is a quality 16oz metal bottle that comes with 2 reusable stickers you can put on your gadget. It looks amazing. It is a great item for collectors too.
Product summary
Great bottle and gift for a gamer dad.
16. 

MAFIA DEFINITIVE – XBOX ONE
What most customers love about this game is its storyline. Whether it is challenging or not, it has been a pretty fun game for so many customers. If a gamer dad does not already have it, get it for him. It will make a pretty cool gift.
Product summary
Interesting game.
17. 

TRAVEL BACKPACK SUITABLE FOR GAMING LAPTOPS
One thing is for sure, he'll be needing a sturdy bag to carry his gaming laptop and other gadgets. If he already has one, it is still a great idea to get him another. Having an alternative bag won't hurt, would it? It is a large and spacious bag. The back and hands of the bag are well padded for better support when it is carried. The color combination is great, they fit in as formal laptop bags.
Product summary
It is a quality bag that can serve multiple purposes.
18. 

2021 CASECUBE 1080P FHD WEBCAM
If he is an active online gamer, consider getting him this Angetube 1080P Webcam. It has good lighting, fast autofocus, good screen resolution, rotational cam, privacy protection function, and beauty enhancement features to make his online presence worthwhile.
Product summary
It is a good webcam and will make a good father's day gift for an active online dad.
19. 

BLUE LIGHT BLOCKING GLASSES
They usually spend a lot looking at screens, get him blue light blocking glasses if he does not already have one. It reduces digital strain, the possibility of macular degeneration, and aids with clarity of vision. These Sleepzm blue light blocking glasses also aids with sleep. They can be fitted over prescription glasses too.
Product summary
Its sleep-inducing effect is a good plus for gamer dads that barely get enough sleep. Also, check out these Swanwick blue light blocking glasses.
FREQUENTLY ASKED QUESTIONED
1. What should I get my gamer dad for Christmas?
LEGO Sith Lords building art kit, Gamer dad t-shirt, a Webcam, a 49" curved monitor, a gaming headset, or an Oculus Quest all-in-one gaming bundle. These are all comfort gifts for dads. The LEGO building art kit is a stress reliever and a good way to keep his mind active on other fun activities. The T-shirt is cute, a 49" monitor will keep him blown if he does not already have one. The bigger the screen, the bigger the experience.
2. What's a good gift for a gamer boyfriend?
Playstation VR bundle, Super Mario tube snapback cap, 5T game drive, a gaming laptop, a newly released game, or an Edifier S1000DB shelf speaker are lovely items to get for your boyfriend as a gift. It will be a good idea to pay attention to his gaming needs; for example, is he still setting up a gaming room or office for himself? What is he lacking in the office? Does he spend a lot of time looking at the screen? Is he a big-time thrill seeker?
CONCLUSION
There are lots of exciting gifts to get a gamer dad and we've listed 19 of them. We love the Oculus gaming bundle, Gaming laptop, Lego art kit, and 49" monitor and we think they would really make a great father's day gift if he doesn't already have them. We hope that our gift list has been helpful to you.
ESTIMATED TIME DESIGNING AND UPLOADING THIS ARTICLE
ESTIMATED TIME RESEARCHING AND WRITING THIS ARTICLE
Try our AMAZING GIFT FINDER TOOL! Find GIFTS with 1 CLICK!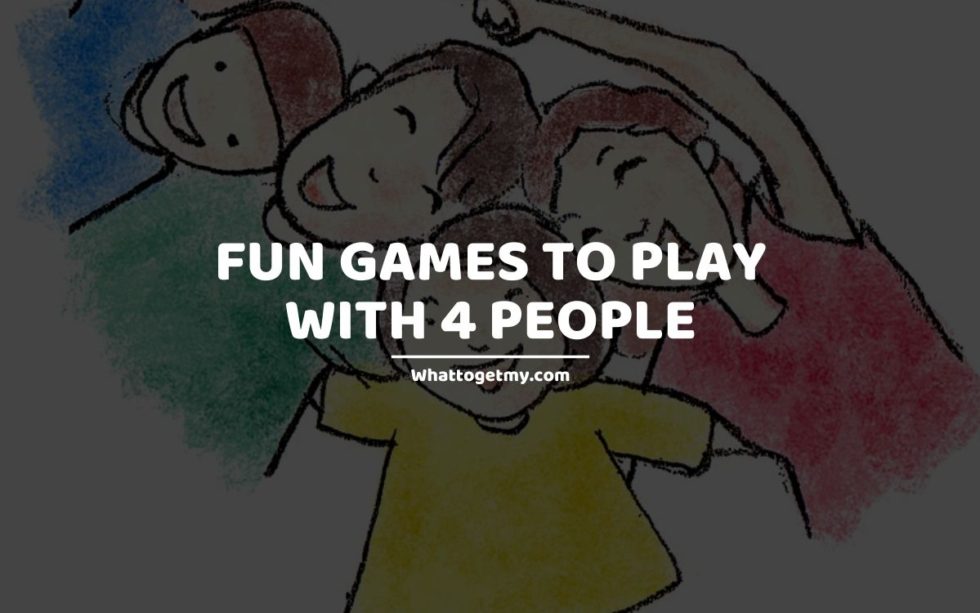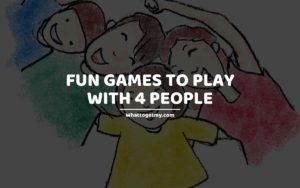 12 Fun Games to Play With 4 People
12 Fun Games to Play With 4 People WhatToGetMy Instructional Article Games are always a great idea when you want to add some fun in any setting. With 1000s of games available in the market, it might be overwhelming to choose the right game for
Read More »