Are you a mother- or father-in-law? Are you thinking of the best Father's Day gift for your son-in-law?
Does he seem to have everything? Are you finding it hard to decide which unique gifts to get?
If so, we promise to help you get over your dilemma as we take you through an impressive list of worthy gifts to honor and celebrate that son-in-law for raising those well-bred kids and for being such an outstanding father.
Whether it's a gift for a young or future son-in-law, these gifts would work just fine.
As an Amazon Associate we earn from qualifying purchases. We may earn a small commission for our endorsement, recommendation, testimonial and/or link to any products or services from this website. Thank you, your qualifying purchases help support our work in bringing you real daily gift ideas.
Quick Overview: Best Father's Day Gifts for Your Son-in-law
1. 

More Quiet with the Sony WH-1000XM4 Noise Cancelling Headphone.
We all live in a shouting and screaming world, constantly under attack from the ceaseless barrage of deafening sounds all around us – from our neighborhoods to cars in traffic to machines in our workplaces to airplanes at airports, and even the harmless chatter of friends and family.
Exposed to these ear-shattering sound levels, everyone runs the risk of going deaf.
Having kids, pleasurable as it can be, exposes us to even more noise. Kids, by their very nature, are walking home theatres: bouncy and full of life but annoyingly obstreperous. And that can rattle even the indulgent father.
In these situations, gifting your son-in-law the Sony WH-1000XM4 noise cancelling headphone can make all the difference.
Designed for both the music and non-music lover, the Sony WH-1000XM4 heads the queue of high quality headphones with great features to wow and delight the calm-seeking but noise-anxious dad.
Product summary and recommendation.
Besides its lack of water resistance capability, the Sony WH-1000XM4 Noise Cancelling Headphone has almost no other flaws. If anything, it's the perfect headphone for both the audiophile and non-audiophile. Your son-in-law will love it.
2. 

Get the 16 0Z Pint Craft Personalized Beer Glass as a Personalized Father's Day Gift for Your Son-in-law.
With studies showing the average American male consumes no fewer than 23 gallons of beer, it's easy to see why dads stock up their fridges with so many beers: they're fun, tasty and refreshing.
After a long hard day of work, there's nothing dads love more than to sit with their buddies and bond over a few beer bottles.
Father's Day present dads yet another opportunity to relish their beers as they relive the beautiful memories of fatherhood.
Buying this personalized pint craft beer glass mug as a personalized Father's Day gift for your son-in-law will not only enhance his beer-drinking experience, but give him something to treasure and remember you by whenever he drinks his favorite beer.
Product Summary and Our Recommendation
This beer glass is made from durable glassware, has an elegant shape, and a weighted base for stability. Not to mention, it is individually gift-wrapped and engraved with a vibrant colorful ink digitally printed.
Other than the sole complaint from a customer that the etching on the glass isn't as conspicuous as it should be, this personalized beer glass has far more positives than negatives. It's worth your money.
3. 

The Bulliant Leather Reversible Belt May be the Pleasing Gift for Your Future Son-in-law.
Dads are lovers of style and good fashion, never missing the chance to buy the latest in fashion to complete their wardrobe collection. They have a love affair with leather belts because they add a sense of completeness to their dressing.
When shopping, they might go for a black or brown one depending on what color of shoe they would be wearing.
But we all know how uncomfortable it can be choosing belts to match shoes before an important outing. The reversible belt – a belt with both black and brown colors – can help them get out of this pickle.
The Bulliant leather reversible belt does that.
Getting this belt will ensure your son-in-law won't have to worry about switching belts or go shopping for more as he dresses up for Father's Day.
Product Summary and Recommendation
One customer who bought the belt complained the buckle broke within four months of use. But even that doesn't detract from the belt's quality and excellent features as many other customers can confirm. It's definitely a must-have.
4. 

Grab the Fitbit Versa 2 Health and Fitness Smartwatch
Is your son-in-law ignoring his weight?
Does he exercise often?
Is he getting enough sleep?
Would you like to see him live a healthier lifestyle?
If you are nodding to these questions, then you need to stop worrying and take action.
Get him the Fitbit Versa 2 health and fitness smart watch.
This peachy smartwatch leads the way for the best heart rate monitors according to reviews, and here's why.
It does everything you'd expect from a smartwatch and more: it's great for creating alarms, setting bedtime reminders, checking the weather, and above all, tracking the heart-rate throughout the day and having the results displayed on the smart watch's home screen.
Product Summary and Recommendation.
The Fitbit Versa 2 health and fitness smartwatch is the best multi-tasking smart watch by a long way, with an extensive array of features to optimize one's life – from tracking exercise to sleep to heart rate, this watch does it all.
It's just the perfect Father's Day gift for your son-in-law.
5. 

The Dodow Sleep Aid Device Can be a Thoughtful Father's Day Gift for Your Son-in-law
If your son-in-law is battling with the hydra-headed monster of wakefulness, there's something you could do to help him slay it once and for all and get back his beauty sleep.
What he needs is the Dodow Sleep Aid Device.
Have him detonate it by his bedside and watch with delight as wakefulness is blown to smithereens.
No, I am not kidding you. And yes, I mean every word of that, minus the detonation part.
"How is that even possible?" someone might ask. The Dodow Sleep Aid Device has been described as a device made by insomniacs for insomniacs.
 Sleep experts have credited it with helping over 500,000 people fall asleep.
By touching its top and inhaling and exhaling, the device lulls users to sleep with its slowly pulsing blue light.
Product Summary and Recommendation
This sleep device, besides its many innovative features, has helped over 500,000 people sleep better. That's a helluva of stat for a new sleep device. There's every chance that anyone who has the courage to buy this device might uncover the mystery of sweet sleep.
6. 

The Leatherman Wave Plus Multitool Ticks Every Box for an Excellent Father's Day Gift for Your Son-in-law
Why does the Leatherman Wave Plus Multitool tick every box for an excellent Father's Day gift for your son-in-law?
If you've got a son-in-law who embodies the "do-it-yourself" movement and likes to fix or repair faulty things around the house, then the Leatherman Wave Plus Multitool could be his trusty side-kick whenever he has to do those fixings.
You might not believe this, but this instant toolkit has over 18 tools including pliers, replaceable wire cutters, wire stripper, knives, saw, spring-action scissors, screw drivers, and can and bottle openers, to name just a few.
With such a vast array of useful tools to pick from, it's hard to imagine a better Father's Day gift for your son-in-law.
Product Summary and Recommendation.
Nearly every customer who has purchased the Leatherman wave plus multi-tool has had nothing but positive things to say about their experience with this product. Without a doubt, it is a well-crafted tool for a Father's Day present.
7. 

Let Him Have the Handheld Geniani Deep Tissue Massager for Back, Body, Shoulders, Neck and Sore Muscles.
If it's hard for you to buy a Father's Day gift for your son-in-law, then getting this great would end that dilemma.  
We all know the importance of a good massage to our health and wellness: we've heard all about its therapeutic influences, how it's the perfect antidote to stress and fatigue, and what it does to relieve pain and improve circulation.
But how many times have we scheduled an appointment at the spar, but then found ourselves back at home with the kids watching our favorite HBO thriller?
We can point to our tight schedules or numerous family engagements as the reason we can't get some pampering at the spar. But what if we didn't have to leave our homes? What if we could have our very own in-house spa?
The Geniaini Deep Tissue Massager makes this a dream come true.
This lightweight cordless handheld massager, lasting for up to 120 minutes, will offer stressed-out dads a life-time's worth of pampering. It offers quick relief from stress and pain and penetrates deep into body tissues, as it soothes inflamed tendons and joints.
Product Summary and Recommendation
The Geniani deep tissue massager is one of the few massagers out there that does what it says. Lightweight, powerful, and easy to use, this device has certainly lived up to the hype, as you will see when you check the customer reviews section on Amazon. We would gladly recommend you get it.
8. 

The 4-Pack Tile Essentials Bluetooth Tracker and Items Locator
Parents lecture their kids for being clumsy, but don't they do that at times?
They might leave their office keys at home and blame a colleague at work for misplacing them. Or they might accidentally kick their car keys under the sofa, and then interrupt their significant other's reading to ask if they've seen them.
Or they would leave their smartphones in the kitchen and scold the kids in the living room for taking them.
As parents, this is a familiar experience for us all. We might think of them as momentary lapses in judgment, or things we often experience during a typical bad day. But in many cases, they can just be bad habits.
Like most of us, daddies can just as well get into the habit of misplacing things.
But with all the family drama they have to deal with, who can blame them for losing things?
If this is a habit of your son-in-law, there's no need to get mad at him.
What he needs is the 4-pack Tile Essential Bluetooth Tracker and Items Locator.
The 4-pack Tile Essential Bluetooth Tracker and Items Locator can be a unique Father's Day gift for your son-in-law.
With a sticker for his remote, mate for his keys and backpacks, and the slim for his wallets or notebooks and everything else, this nifty device will KO his carelessness and ensure nothing he misplaces is ever lost.
Once the tracker is in place, items misplaced at home could be found in seconds.
Here is the lowdown on the 4-Pack Tile Essentials Bluetooth Tracker and Items Locator.
Product Summary and Recommendation.
This 4-pack tile essential tracker works really well and is great for finding nearby devices no matter how hidden. By any standards, it could be an exceptional Father's Day gift for your son-in-law. Don't wait anymore. Just go and get it.
9. 

Buy the Instant Pot Duo Evo Plus Pressure Cooker as a Father's Day Gift for your Son-in-law
A healthy lifestyle is basic to living the good life. But part of living healthy is being able to cook our own meals, and not having our favorite fast food joint on speed dial.
But with so many demands on our time, how can we find the time to cook those yummies?
Eating out may seem like the way out, but not a sensible one for any parent who wants to raise a strong and healthy family.
Instant Pots are a hit with most busy parents today because they reduce greatly the time required to cook. Not only are they lifesavers, but they are also time savers. By sheer functionality, the average Instant Pot does the work of seven separate common kitchen appliances.
But how about getting one that does ten?
Isn't that just unbelievable! The Instant Pot Duo Evo Plus Pressure Cooker fits the bill for a kitchen appliance that would make a great Father's Day gift for your son-in-law.
Product Summary and Recommendation.
If you are looking for a Father's Day gift for a son-in-law who enjoys treating the family to one of his favorite recipes, then getting this Instant Pot would grant his biggest wish. What's more, they'll also stand to get access to over 1000 of their favorite recipes by downloading their free app for iOS or android devices.
10. 

The DL Men's Memory Foam Slippers Father's Day Gift for Son-in-law
Yes, when at home we all enjoy trotting around the house in our slippers, but can someone remind me why exactly we do?
We wear them for comfort and warmth. To avoid the horrors of walking barefooted and head-butting the wall when we slip on a banana peel left carelessly by one of our children. Maybe we want our houses squeaky-clean or to keep from sampling the latest itchy foot infection.
But whatever our reasons, there's no denying that life without our slippers would be like the earth without sky – gloomy and colorless, and quite frankly unlivable.
That's perhaps why presenting your son with the DL Men's Memory Foam Slippers on Father's Day would make their indoor lives far more enjoyable.
Product Summary and Recommendation.
Tip-top and comfy, the DL Men's memory foam is a great choice as a Father's Day gift for your son-in-law. And what's more, it's surprisingly inexpensive.
11. 

Home Game: An Accidental Guide to Fatherhood by Michael Lewis.
If you can't decide what gift to buy your son-in-law who seems to have everything, then you can't possibly go wrong buying him a book. Not just any book, but real a parenting thriller from your archetypical dad.
One that snapshots the foibles, the highs and lows, the beautiful and ugly, and the frightful and chucklesome aspects of being a 21st century parent.
Product Summary and Recommendation
Frank, lighthearted and unputdownable, Michael Lewis's book speaks to the heart of parents and reminds them that being a parent doesn't mean having all the answers.  He doesn't write from an armchair, but inventories his own experience raising his kids.
An excellent Father's Day gift for the son-in-law who has it all, wouldn't you say?
Go grab your copy.
Frequently Asked Questions
1. What is a good gift for my father in law?
If you got a gift from your father-in-law for Father's Day and you would like to return the favor by getting them a unique or personalized Father's Day gift as well, you could give your father-in-law any of the gifts on this list. After all, they are daddies just like you, so anything that works for you just might work for them.
2. How much should I give my son in law for his birthday?
While none of the gift ideas mentioned in this article are for birthdays, nothing stops you from giving any one of them to your son-in-law on their birthday.
But if your son-in-law is hard-pressed and you would like to help, you could absolutely make a gift of money. But note that depending on the tax laws in your jurisdiction, you may be required to pay tax on your money gifts.
In the United States for example, the IRS requires paperwork for cash gifts above $15,000. So if you are US based, you would be advised to give cash gifts under $15,000 to avoid the hassles of doing paperwork.
3. What should I buy my son?
It doesn't matter whether you are looking for gift ideas to buy your son-in-law, father-in-law or son, the gift ideas on this list would be just as ideal for any one of them. If you are wondering what to buy your son, you can choose from any of the items on our list.
4. Can a son in law gift to father in law?
Why not? Absolutely! It's not anymore inappropriate to buy gifts for your father in law than it is to receive gifts from them. Father's Day can just as well be a great day for sons-in-law and fathers-in-law to exchange gifts. We are certain whatever you pick from our list for them would be well received.
5. What do you get someone that has everything?
Are you frustrated with the tedious process of finding gifts for someone who seems to have everything? Don't be! Getting the right Father's Day gift for your son-in-law may be time-consuming, but it doesn't have to be. What you have to do is pick any one of our gift ideas. Trust us, you won't have any reason to regret your decision.
Wrapping it up
Gift-making is more of an art than a science. And because there are so many gifts we could give, it can be overwhelming deciding which ones are best.
The best gifts aren't often the most expensive. If anything, they can cost you the least money. You may be looking for the funny, best, unique, great or thoughtful Father's Day gift for your son-in-law.
But finding them takes some effort, time and thoughtfulness on our part. We've saved you the needless rigmarole by giving you a head-start on what gifts to get for your son-in-law for the upcoming Father's Day.
ESTIMATED TIME DESIGNING AND UPLOADING THIS ARTICLE
ESTIMATED TIME RESEARCHING AND WRITING THIS ARTICLE
Try our AMAZING GIFT FINDER TOOL! Find GIFTS with 1 CLICK!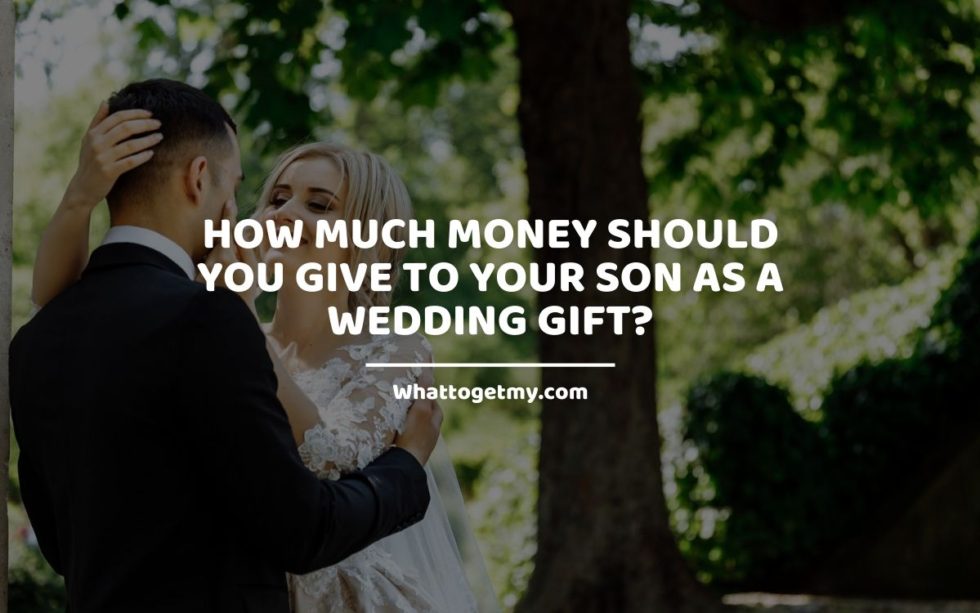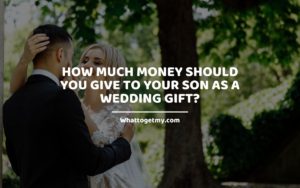 How Much Money Should You Give to Your Son as a Wedding Gift?
How Much Money Should You Give to Your Son as a Wedding Gift? WhatToGetMy Instructional Article Wedding finances are a delicate subject. Gift-giving and receiving etiquette is changing over time. Cash gifts weren't common before, and now it's completely appropriate to ask for money instead of gifts
Read More »