Nice Things to Say to Your Mom on Mother's Day
WhatToGetMy Instructional Article
There is a reason we are so eager to say nice things to our moms on Mother's Day.
Like Father's Day, Mother's Day isn't just another holiday on the calendar: It's a special day set apart for mothers and anyone else who has played a mothering role in our lives – moms, stepmoms, godmothers, grandmas, and mothers-in-law.
On Mother's Day, we honor and drink to the influence and greatness of mothers of all kinds by saying nice things to our mothers and sending them inspiring Mother's Day cards, messages, greetings and wishes to remind them just what they mean to us.
If you are up for it, in addition to signing Mother's Day cards and greetings, you might also want to cap off the day by giving any mother in your life some treat. Roses for her. Breakfast in bed. An exotic weekend getaway. Or a little sentimental gift for her.
There are more Mother's Day celebration ideas out there than you can choose. But to avoid getting zigged when you should have zagged, we recommend you start first by letting that mother know just how much you appreciate her efforts in raising you. Nothing will give her more joy than her hearing you say nice things to her about the lovely way she's looked after you.
Here is a list of nice things to say to your mom and the other mothers you care about on Mother's Day cards.
Mother's Day Messages for Mothers: Nice Things She Would Like You to Say to Her
To the best mom in the world, with love, from your darling son or daughter.
To my biggest believer, most dependable friend, ever constant supporter, and favorite momma, with all my love, from your dearest child. Happy Mother's Day!
I owe everything I am to you, both the good and the bad – the charming looks, the infectious smile, the unshakable self-confidence, the mental toughness, the positive life attitude and even the mulish stubbornness. Thank you for raising me to be the nearly perfect child. Happy Mother's Day!
You would easily win the contest for the most amazing mom in the world for the way you raised us, and for making the toughest job in the world look that easy, and for doing it so lovingly. What a wonderful mom you are!
Before I was born, I never had the chance to choose who would be my mom. Given the choice, I wouldn't have chosen anyone else, because you were divinely the best choice. Happy Mother's Day!
Mom, thank you for loving me, for believing in me, for caring for me all these years, and for devoting your life to seeing me have a proper upbringing. And thank you for putting up with me when other moms would have walked away.
Mom, you taught me how to love, how to clean up after myself, how to do my homework, how to make my bed, how to make my own decisions, and how to live with their consequences, and so many other things. And by following your lead, I have become the person I am today. Thank you for being such a dazzling role model to me. Happy Mother's Day!
To the most outstanding mom in the world, here's wishing you a happy Mother's Day.
Happy Mother's Day! May this day bring you all the joy, happiness, laughter and pleasant memories you've brought into my life!
Thank you mom, for giving me life. If I could give you anything in return, I would give you the whole world, because you mean that much to me. Happy Mother's Day!
Erich Fromm once said "Mother's love is peace. It need not be acquired, it need not be deserved." Thank you mom, for loving me unconditionally.
Mom, all my life you've stood like a lofty lighthouse by the sea, helping me steer clear of trouble with your timely cues and guiding me to harbor with your expert counselling. Happy Mother's Day!
As Abraham Lincoln observes "I remember my mother's prayers and they have always followed me. They have clung to me all my life." As you celebrate Mother's Day, mom, I want to thank you for all your thoughts and prayers for me from birth to this day. Happy Mother's Day!
Mother's Day Greetings from Sons to Moms: Nice Things to Say to Her When You Can't Seem to Find the Words
In the famous words of Donald E. Westlake "Who's a boy gonna talk to if not his mother?" Mom, thank you for always lending me your ear through the difficult times. Happy Mother's Day!
Mom, you have always told me that you will always love me, no matter what. Today as you celebrate Mother's Day, I make a vow to always love you, whatever the cost. Happy Mother's Day!
Mother's Day Wishes From Daughters to Moms: Nice Things to Say to Your Mom When She's Your Everything
In her book, Owlet, Emma Michaels writes, "If you remember yourself, you will remember me. I am always a part of you. I am your mother." How can I ever forget you, mom? Your love and tenderness? I might as well forget my name. Happy Mother's Day!
You have seen me at my best; you have also seen me at my worst. But you still chose to love me regardless. No one else could love me more. Happy Mother's Day! You are loved!
Smiling through pain, patient in difficulty, calm under pressure, selfless and understanding, you have been an extraordinary mom to me. I can't imagine life without you. Thank you for being my mother. Happy Mother's Day!
Mother's Day Wishes for Your Grandmother: Nice Words to Say to the Wonderful Granny Who Gives You a Bear Hug Even When You Stink
We've sat by your side as you regaled us with stories of our family's great past. You've helped unleash the spark in us. We've run to you whenever we've needed comforting. You've encouraged us to take pride in our family's unique identity. We can be ourselves or take our time when around you. That's why we can't do without you, grandma. Happy Mother's Day!
Janice Elliot-Howard said "There are grandmothers out there who would move heaven and earth for their grandchildren." I know you would do anything just to see us happy. I wish for nothing more than to see you live a long and happy life. To the most amazing grandma, Happy Mother's Day!
Grandma, you are the best. Thank you for the gifts, for making us the focus of your attention, and for lavishing on us your love and time. We heart you. Happy Mother's Day!
As Byron Pulsifer rightly observes "The coach, the counselor, the cuddler, the friend, the caregiver, the reconciler, or the dazzler of the sweet temptations are all natural and becoming roles that this grandmother plays with the skill of a master symphony director." Grandma, you're our hero for playing such an important role in our lives. Words can't express my gratitude. Happy Mother's Day!
Mother's Day Messages for Your Godmother: All of the Nice Things You Could Say to that Godmother Who Inspires You to Be Your Best Self
You've been my trusty confidant, wise counselor, and ever-present protector.  It gives me great delight to know I can always talk to you about anything and everything. Thank you for being my second mother. Happy Mother's Day!
The bond that links us together may not be blood-related, but it's natural and unbreakable nonetheless. For me, you are family. To the beautiful woman who has shown me what it means to be a shining light, Happy Mother's Day!
Nice Things to Say to Your Stepmother for Mother's Day
Being my stepmother can't have been easy. But you've stepped up to the plate brilliantly. We've had fun together. You've made me feel secure and protected. And with your care and love, I've grown into an exceptional person. Happy Mother's Day!
As Leigh Anne Tuohy brilliantly puts it, "Families don't have to match. You don't have to look like someone else to love them." Over and over again, you have shown me that a mother's love can come from anywhere, even from someone other than their biological parents. Thank you for looking after me. Happy Mother's Day!
Warm Words for Your Mother-in-law for Mother's Day
I see a part of my husband in you, and I see a part of you in him. A jewel like my husband could only have been cut from your sparkling gemstone. Thank you for letting me be a part of your extraordinary family. I am always thinking of you. Happy Mother's Day!
They say mothers- and daughters-in-law relationships are supposed to be difficult. But from the moment we met, you made me realize that ours would be the only exception. You've shown me nothing but love and more love. Happy Mother's Day to the most companionable mother-in-law in the world!
I walked into your family with so much baggage – unnerving doubts and unsettling anxieties. I didn't even know what to expect. But you took me in hand and made me feel right at home from my very first day. Thank you for everything. Happy Mother's Day!
You have a big heart. And that's why you can create room for all of your wonderful children and still make enough room for me and your children. What would our life be without you? We wouldn't want to find out. Happy Mother's Day!
Mother's Day Greetings from Husbands to Wives
You are a lily planted in the garden of my life. Being with you has added color, warmth, meaning and fragrance to my life. You are irreplaceable. I can't imagine a more worthy mother for my kids. Happy Mother's Day, Beautiful!
All the words in the word can't express how grateful I am to have you in my life. All the flowers in the world aren't enough for a gift to you. You will always hold a special place in my heart. I join the kids on this important day to honor and celebrate you. Happy Mother's Day!
You've been more than just a wife to me. You are the mother of my kids, the love of my life, and the one with whom I want to spend the rest of my waking moments. Happy Mother's Day, Sweetheart!
My life isn't the same without you in it. You are my sunshine, the star of my life and my life's very foundation. You've changed my life with your kindness and tenderness. Today, I want to remind you what a wonderful woman you are. Happy Mother's Day!
For making me a proud father, I cherish you. For being a caring and thoughtful mother, I admire you. Thank you for bringing so much joy and laughter to my life and that of our kids. For this and many other things, we acknowledge you. Happy Mother's Day to My Dearest!
Sometimes I wonder what I would be without your loving me. Without your hugs and kisses. Without your whispering sweet nothings in my ears. Without your toothsome meals. Or without our movie nights. With you, my life is complete in every way. What a gem you are! Happy Mother's Day, Honey!
Honey, you have told me jokes to lighten my mood on my bad days. You've put your gentle arm around me whenever I am scared. You were always there to help me get back on my feet whenever I have fallen. You've been a tower of strength to me all these years. Thank you for always being there. Happy Mother's Day!
FREQUENTLY ASKED QUESTIONS
1. What Should I Write to My Mom?
Thinking of what to write to your mom on Mother's Day?
You are in great luck because we've covered everything you could possibly write to her in this post, including all the sweet things to say, plus nice messages, happy greetings and inspiring wishes. If you've not made up your mind on what to write on your Mother's Day card, we suggest you read through what we've shared here again for clues.
2. How Do You Wish Your Mom on Mother's Day?
Figuring out how to wish your mom on Mother's Day may seem like a daunting task, but it's not rocket science. All you need is someone to point you in the right direction. This post contains some of the best and most inspiring Mother's Day wishes you would ever need.
3. How Do I Write a Letter to My Mum on Mother's Day?
Maybe you have read through our list of nice things to say to your mom on Mother's Day but have opted instead to express your profound feelings of gratitude in a letter to your mom. That's a great idea! But how do you write that letter? Well, you can do it in much the same way you write every other letter.
You can write her a handwritten or online letter.
In such a letter, you could begin with your address, the date, your mom's address, the salutation, an opening, and the body, and wrap things up with the closing. There are also countless websites offering excellent guides on how to craft a letter for such occasions. Why not have a look?
4. How Do You Write a Thank You Letter to Your Mom?
We all owe our mums a debt of gratitude for raising us to be the adults we are today. Mother's Day is just the occasion to express those pent-up emotions by penning down a classy letter to our moms in appreciation.  We've provided hints on how to write a truly inspiring letter to our moms on Mother's Day in our answer to the question before this one.
5. How Do You Thank Your Mom for Everything?
You can thank her in a Mother's Day Card or in a personal letter. But whatever you do, be sure to let her know what she's done for you and how grateful you are. And don't hold anything back as well.
6. How Do You Make Your Mom Feel Special?
So you have been thinking a lot lately of how to make your mom feel special? If so, now is the time to match those big thoughts of yours with some decisive action. Yup, you heard us right. She can't know how special she is unless your thoughts translate to some action. In this post, we've dealt with the whole shebang thing. Lucky you!
ALL IN ALL
As you look forward to having a great time on Mother's Day with that special mother in your life, it's important to take the time now to think about what you would write on your Mother's Day card to her. In this post, we've given you a mile-long list of greetings and messages to cover your every need.
ESTIMATED TIME DESIGNING AND UPLOADING THIS ARTICLE
ESTIMATED TIME RESEARCHING AND WRITING THIS ARTICLE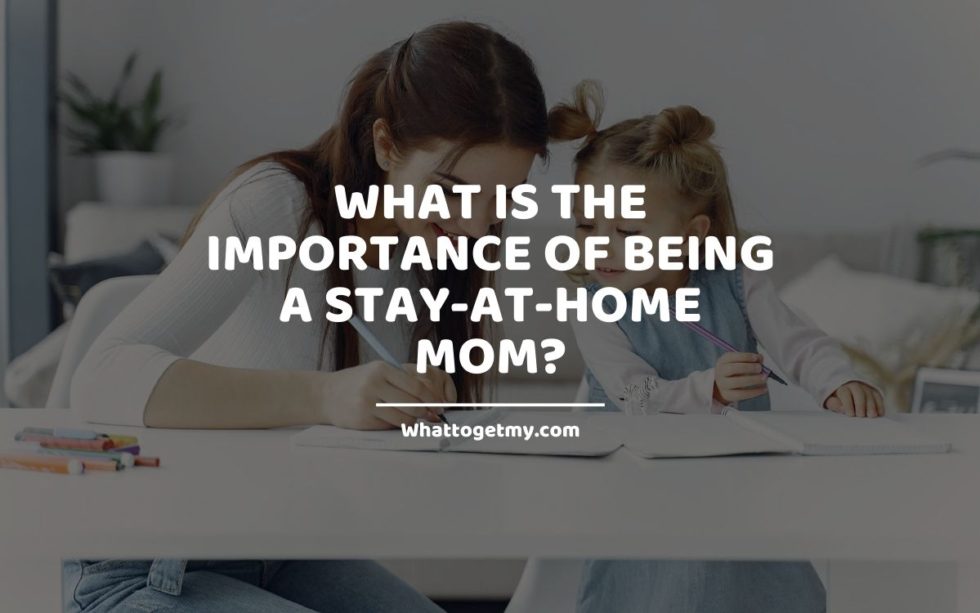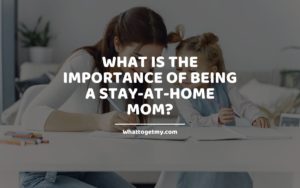 Importance of being a stay-at-home mom
What is the importance of being a stay-at-home mom? WhatToGetMy Instructional Article What is the real importance of being a stay-at-home mom? Is it important at all? These questions are often simplified and not adequately answered. A lot of people only talk about the benefits
Read More »