12 SIGNS THAT YOU ARE INSECURE ABOUT YOUR BODY
WhatToGetMy Instructional Article
Body insecurity refers to dissatisfaction with one's physical appearance. A person with a bad self-image believes that their body isn't good enough. But that is a very basic description. Symptoms might range from being dissatisfied with your appearance to feeling overwhelmed.
At a certain point in our lives, we discover that most of us have felt insecure about our bodies. We all struggle whether we're in our awkward adolescent years, have recently given birth, or gained more weight than we'd like! Having a positive body image for your health and self-esteem cannot be overstated. We've developed strategies to think about your body more positively to assist you in breaking free from a negative thought cycle.
Check out what it means to be self-conscious about your body. We also have a list of the best coping strategies and possible reasons and symptoms to watch out for.
HOW TO KNOW IF YOU ARE INSECURE WITH YOUR BODY?
Symptoms of body insecurity differ greatly from person to person, some of which we should be aware of. You may be suffering from body insecurity if you have the experience the following signs:
You may feel worthless or unattractive.

You may have unrealistic beauty standards or ambitions.

You prioritize your attractiveness over your health; your physical appearance determines your self-worth.

Go to great lengths to achieve a specific body weight or garment size.

Think you'd be happier or more fulfilled if you had a lower body weight

You spend excessive time and effort attempting to "enhance" your appearance.

Fears or anxiety about your appearance has caused you to alter your life or schedule.

To "correct" physique imperfections, you have extreme eating or fitness habits.

You either seek out others' views on your appearance or avoid addressing it altogether for fear of

exposing deficiencies

.
WHAT TO DO WHEN YOU ARE INSECURE ABOUT YOUR BODY
Insecurity about our bodies might span from our thighs and stomachs to our faces, arms, and other aspects of our bodies. Insecurity about one's appearance comes in waves. There are days when you feel semi-comfortable with how I appear and days when you feel like nothing looks good on your body or blends well with your face. The goal is to accept all bodies, regardless of size. Here are some suggestions for overcoming body insecurity:
PUT A STOP TO YOUR NEGATIVE THOUGHTS AND WRITE THEM DOWN.
Take a moment to pause when you have negative thoughts about your body. What were you doing at the time the thought occurred to you? How do you feel when you think about it? It's critical to notice when you're experiencing negative thoughts about your body image and what provokes them so you can improve them in the future.
For example, you might be trying on clothes in a dressing room when you believe, "None of these items will fit me since I'm too big. I shouldn't be trying on things in the first place." What are your thoughts on this? Hurt? Angry? Sad? 
MAKE A CONSCIOUS EFFORT TO CHALLENGE YOUR NEGATIVE THOUGHTS.
Replace each negative idea with a positive one. You are not obligated to accept these negative beliefs! Examine whether you're being fair to yourself or if those thoughts are beneficial to your well-being. Would you alter something like that for a friend? 
Listed below are ways in which you can change the way you think about unpleasant things about your body:
"This clothing doesn't make me feel very confident, but I have other clothes."

"The fact that these clothes don't fit doesn't imply I should give up completely. Try on a few different outfits."

"While I don't enjoy how my arm muscles sag, these arms allow me to lift my children or hug someone."
LIST OUT THE THINGS YOU LIKE ABOUT YOUR BODY. 
Instead of focusing on what you don't like, shift your focus to what you want. Spend time making a list of all the things you like about your body. You might list physical characteristics or something your body can do. When you're feeling insecure, go over your list to remind yourself how great your body is.
DRESS IN CLOTHES THAT ARE COMFORTABLE FOR YOU.
Find a style that you like and that makes you feel confident. A lot of pressure comes with keeping up with the current fashion trends, even if they don't suit your body shape. You may also believe that you must fit into a smaller size to look your best. Toss these misunderstandings out the window! Choose clothes that are comfortable and stylish and that fit you well. You'll feel more appealing, and it will reflect in your appearance. 
Don't be afraid or ashamed to buy clothes in a size that fits you perfectly. You'll likely discover that they provide additional support and are more suited to your physique.
BE RESPECTFUL TO YOUR BODY.
Eat well-balanced meals, exercise often, and get enough rest. You can be tempted to change your body image if you don't have a positive attitude toward it. This may include dramatic measures such as crash dieting or a demanding workout plan if you're overweight. Instead, focus on taking care of your body. Eat healthful foods that you enjoy and keep active when you're hungry. Protect your body against harmful habits such as drinking or using drugs. 
Make time to look after your needs since treating your body is a means of cultivating your mental health.

6. PARTICIPATE IN THINGS THAT YOU ENJOY OR THAT HELP YOU UNWIND.
Exercise, meditate or do something else that makes you happy. Try to do something active that makes you feel good. You can jog to feel stimulated, or you might perform yoga to relax your mind. You'll love your body more for all it can do this way. Remember to include these activities in your list of body-positive activities.
7. RECOGNIZE YOUR INNER POWER AND CHARACTER.
Remind yourself of your wonderful characteristics daily. You don't need to have a breathtaking body to have a lovely character. Consider one of your character characteristics at least once a day; you might be empathic, determined, or inquiring. Then remind yourself that these characteristics have nothing to do with your physical appearance. 
Consider persons you admire or who have been known to be famously wonderful throughout history. Do you admire them for their looks or the fantastic, caring, or thoughtful things they've accomplished?
8. DISCUSS YOUR PHYSICAL INSECURITIES WITH YOUR COMPANION.
If physical intimacy makes you uncomfortable, be honest about it. When you're in a physical relationship with someone, many people get nervous, especially if they'll be seeing you naked. Have an open conversation about your feelings to help you feel more confident in your body and more at ease with your spouse. Then talk about what you're both comfortable with. 
"I truly like you, and I'm thrilled with how our relationship is going," you can begin by adding, "but I get incredibly uncomfortable and anxious when you see me without my shirt on."
9. SURROUND YOURSELF WITH ENCOURAGING INDIVIDUALS.
Avoid those who make you feel self-conscious about your body or feel you have a body problem. Maybe you have a family member or a friend who often tells you that you're too thin. Avoid spending time with them because it can be difficult to ignore their comments. Instead, surround yourself with friends and family who love you for who you are rather than how you seem. 
You don't have to fight with your friends or family about the problem unless you want to talk about it. "I'm not particularly interested in coming to your party," you could say if you're going to converse. You have a habit of making me feel horrible about myself.
Research from shemazing shows that body shaming comes from people who are closest to us.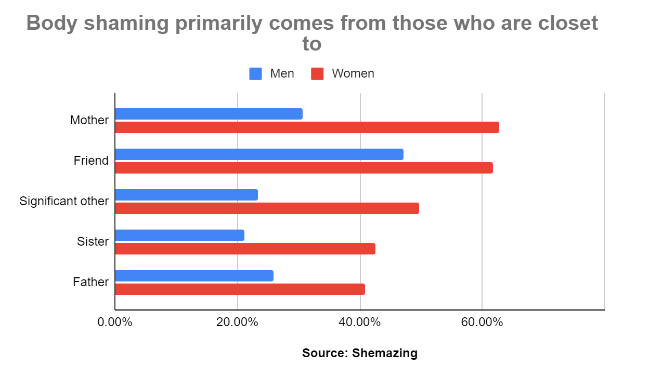 10. STAY AWAY FROM OR DISREGARD INACCURATE SOCIAL MEDIA PORTRAYALS.
Users that only share idealized or "perfect" bodies should be unfollowed. If you read through Instagram or Facebook multiple times a day and only see photoshopped images of individuals, you may begin to feel pressured to modify your appearance. Avoid the embarrassment and divert your attention to other sites. If you're having difficulties limiting your internet time, try using an app that tracks how much time you spend on different websites.
11. LIMIT THE NUMBER OF TIMES YOU EXAMINE YOUR PHYSIQUE.
Reduce the time spent in front of the mirror by skipping the daily weigh-ins. Obsessing over your appearance, especially if you're worried about things you can't change, can make it difficult to establish a positive self-image. Stay off the scale, avoid wrapping a measuring tape around your waist, and avoid looking in the mirror to avoid being worried. Focus on your health rather than your size and shape.
12. SPEAK WITH A MEDICAL PROFESSIONAL.
If you're depressed about your appearance, seek treatment. If your negative sentiments about your body make you feel worse, speak with your doctor or a therapist. Negative self-esteem is rather common, and healthcare professionals can assist you in overcoming these sentiments through cognitive-behavioral therapy or group therapy. 
Your doctor may prescribe anti-anxiety medication if you're worried about how you appear and if it's harming your operation capacity.
CONCLUSION
Above all, exercise patience. It will take time for a change, rehabilitation, and healing to occur. Set goals, but don't make them too ambitious; you're not competing against anyone other than yourself. Remember that you are more than your problems and that everyone is rooting for you on your quest to become your greatest self!
Self-acceptance is a difficult concept to grasp, yet it is also one of the most liberating. When you go through the forest, you are mesmerized by the beauty and individuality of all organisms, rather than comparing trees and flowers. You're no different; you're stunning just the way you are.
FAQ
WHAT DO YOU DO WHEN YOU FEEL INSECURE ABOUT YOUR BODY?
Exercise or do something else to make you feel good. Try something active that you enjoy to feel better. You may jog to feel invigorated or practice yoga to relax. You'll be more appreciative of your body's abilities this way.
HOW DO YOU KNOW IF YOU ARE INSECURE ABOUT YOUR BODY?
You're embarrassed with yourself.

You're self-conscious about your appearance.

You don't think you're good enough.

Every chance you have, you compare yourself to others.
WHAT DO YOU SAY TO AN INSECURE GIRL ABOUT HER BODY?
Listen carefully and compassionately to what she has to say. Encourage her to see her body as a tool, not merely a product with a certain appearance. Discuss her body's capabilities, both physically and sexually, and sensually, rather than just how it looks. Tell her she's gorgeous if you think she is.
ESTIMATED TIME DESIGNING AND UPLOADING THIS ARTICLE
ESTIMATED TIME RESEARCHING AND WRITING THIS ARTICLE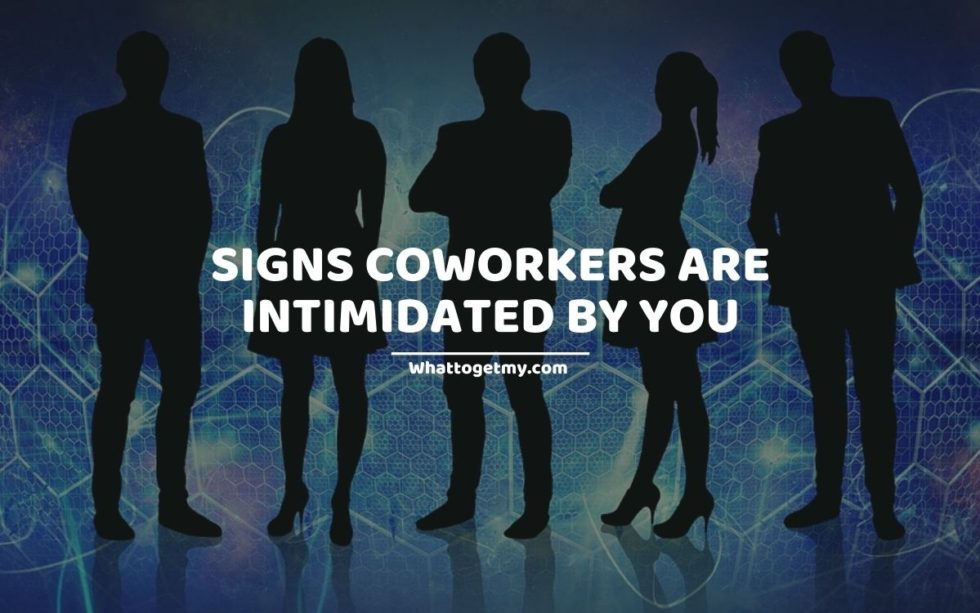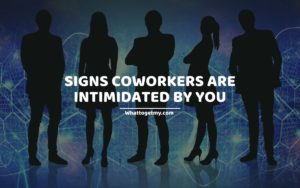 5 Signs Coworkers Are Intimidated by You
5 Signs Coworkers Are Intimidated by You WhatToGetMy Instructional Article Workplace rivalries are common and most people don't even realize they have people who do not like them in their workplace. This article has come up with 5 signs that your coworkers are intimidated by
Read More »