17 Things to Do with Your Spouse at Home
WhatToGetMy Instructional Article
We know that spending quality time with your spouse increases the chances of your relationship working out for the both of you because it creates better bonds, mutual interests, and spending time with someone we enjoy has been proven to make us visibly happy.
If you are wondering what fun things there are to do with a spouse when you are both at home, then this article is for you.
THINGS TO DO AT HOME WITH YOUR SPOUSE
1.
Watch TV.
Perhaps the most obvious activity to do with your spouse is to watch TV with them while cuddled up next to them. You can decide to either watch a new show or movie you've both never seen before or watch a favorite sitcom you both find hilarious. 
2.
Play Board Games
Board games are fun and they can be even more fun when you play them with your significant other and add alcohol to the mix to make it even more interesting. Here are some fun games to play with your spouse at home; Cards Against Humanity, Monopoly, Chess, and Checkers just to mention a few.
3.
Have a Cooking Competition
Bring out the Ramsay Gordon in you and challenge your spouse to a cook-off! To make it fun, limit the ingredients and get as creative as you possibly can with what to make based on the ingredients that you have.
4.
Create a Memory Book
Now that you have the time, you might as well create a memory book from all the photographs that you have saved from your childhood, and in the early years of your union. If you have more time still, you may go ahead and make those memories digital for easy storage and convenience.
5.
Have a Photoshoot
Get dressed (or undressed) and have a mini photoshoot around the house. It doesn't have to be the perfect photos but the experience should leave both of you feeling good about yourselves and boost your self-esteem, too.
6.
Have an At-Home Spa Day
Spoil your spouse and hire a professional masseuse to come and give the both of you the spa day experience in the comfort of your homes.
7.
Have a Picnic
A great way to bond with your significant other is over good food and drinks. Pack up a picnic basket and set up a picnic in your living room or backyard – whatever is convenient for you.
8.
Take a Bubble Bath Together
Another one of the romantic things you can do with your spouse is to take a bubble bath together. It is such an intimate activity that will bring passion to your love life and make you feel closer to your spouse.
9.
Take a Virtual Museum Tour
If you are both into museums but can't get to one for whatever reason, feel free to take any one of these virtual tours which give you a similar experience as though you truly were at your favorite museum.
10.
Take a Walk Around Your Neighborhood
Walking side by side with the love of your life can be such a liberating and calming experience. Just to exist next to them in nature, with the breeze gently flowing over the both of you. It is a feeling of serenity.
11.
Star Gaze
Another activity you can do to maximize spending time with your spouse is to stargaze. There is something romantic about the night sky and the twinkling stars.
12.
Do a Workout Routine
Find a workout video on YouTube and try out the moves to see if you can get into it and if you can then go ahead and do the whole routine. And even if you do not quite get the steps, it sure will be fun to try.
13.
Make (And Drink) Cocktails
Make each other cocktails and drink them while rating your cocktail-making skills. You can also add board games to this to make it a fun and interesting night.
14.
Clean Out Your Closet
One of the best things to do with your spouse is to clean out your house but especially to clean out your closet. Just imagine all the clothes that you don't need anymore that you can donate and make someone else's life better?
15.
Give Each Other Space
In as much as it is amazing to spend quality time with your spouse, it is also paramount that the two of you spend some time apart and take personal space. This will help you create a stronger bond with your significant other as well as keep your identity and individuality.
16.
Do Your Taxes
Might as well get technical and get doing taxes out of the way. A  couple that gets its taxes in order stays together – or however, that old adage goes. Seriously, this shows maturity and responsibility and if/when you have the time, do your taxes.
17.
Have a Dance Party
Nothing is more freeing and liberating than playing some good music on blast and losing yourself to the rhythm. Being able to dance with abandon in front of someone shows that you are comfortable around them.
FREQUENTLY ASKED QUESTIONS
1. What do you do when you and your spouse have nothing in common?
What happens when you realize that you have nothing in common with your spouse? This phenomenon is quite common and happens to a lot of couples who have been together for extended periods of time – somehow along the way, they lose interest in the topics they used to share, or simply outgrow each other. And as bleak and hopeless as this may sound, there is a way you and your spouse can find activities to do together that you both enjoy.
Make time to get to know each other all over again – go on date nights, take walks together, or choose a hobby that you are both interested in that gives you common interest and possibly a new topic of discussion. You start small and work your way up, slowly building as you go.
2. How do you help a spouse with depression and anxiety?
Having a spouse that struggles with anxiety and depression can make you feel helpless when they are going through it because you may feel you do not know how to help them. For the most part, depression and anxiety isolate a person and it can be quite frustrating and lonely to feel so detached from the love of your life.
Although your feelings are valid, it is important to remember that their depression is not about you specifically, and you can try to make them feel less alone and less anxious by being there for them even when it seems like they are not aware you are there. You should affirm them and let them know that you are there for them for whatever they may need.
If the situation worsens, suggest to them about seeing a psychotherapist to get proper treatment. Mental health should be treated the same as physical health and in the event of worsened symptoms, consult a specialist and possibly get medication for it.
Percent distribution of severity of depression symptoms in the past 2 weeks among adults aged 18 and over: United States, 2019. Source: Cdc.gov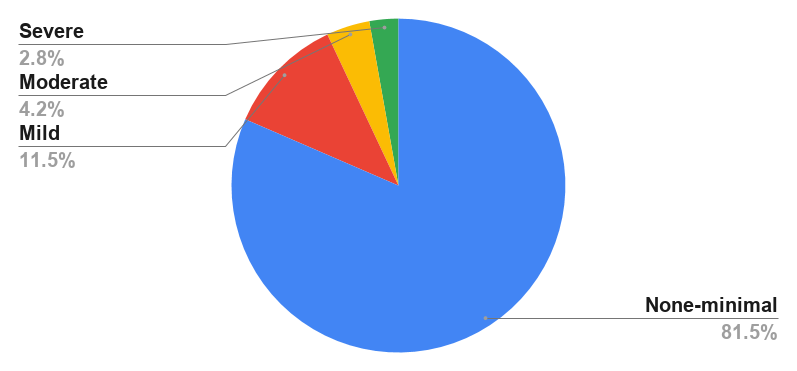 Other things you can do to connect with and make your spouse feel better are; acknowledge the small tasks that they do even if it is as small as getting out of bed in the morning or picking up the laundry that has been laying around for the past week – the first sign of a lifting depressive episode is cleaning up the surroundings and when you acknowledge this, it will give your spouse the drive and push they need – just make sure you say this in a positive light and not come across as exasperation.
You can refer to our articles on how to comfort someone with anxiety and how to help a man with depression for more in-depth information on how to deal with a spouse that suffers from depression and anxiety.
3. What are some intimate games to play with your spouse?
Whether it is for an anniversary or just needing to spice up your romantic life, there are many games you can play with your spouse that will bring you closer together. You can play question games such as 20 questions, where you and your spouse have to each answer 20 questions but they get intense and racier as you go.
Alternatively, you can play the naughty dice game, perform a striptease, role play your fantasies, and act them out, too.
CONCLUSION
In conclusion, there are a lot of nice things you can do for and with your spouse when you are at home. Some of the activities listed above are to make your sex life better, while some of them are to strengthen your friendship, and overall connection to each other giving your relationship nicely rounded and balanced characteristics. We hope that you have found one or two activities that you would like to try with your spouse.
ESTIMATED TIME DESIGNING AND UPLOADING THIS ARTICLE
ESTIMATED TIME RESEARCHING AND WRITING THIS ARTICLE