19 WAYS TO BE HIS PEACE AND PROVIDE STABILITY
WhatToGetMy Instructional Article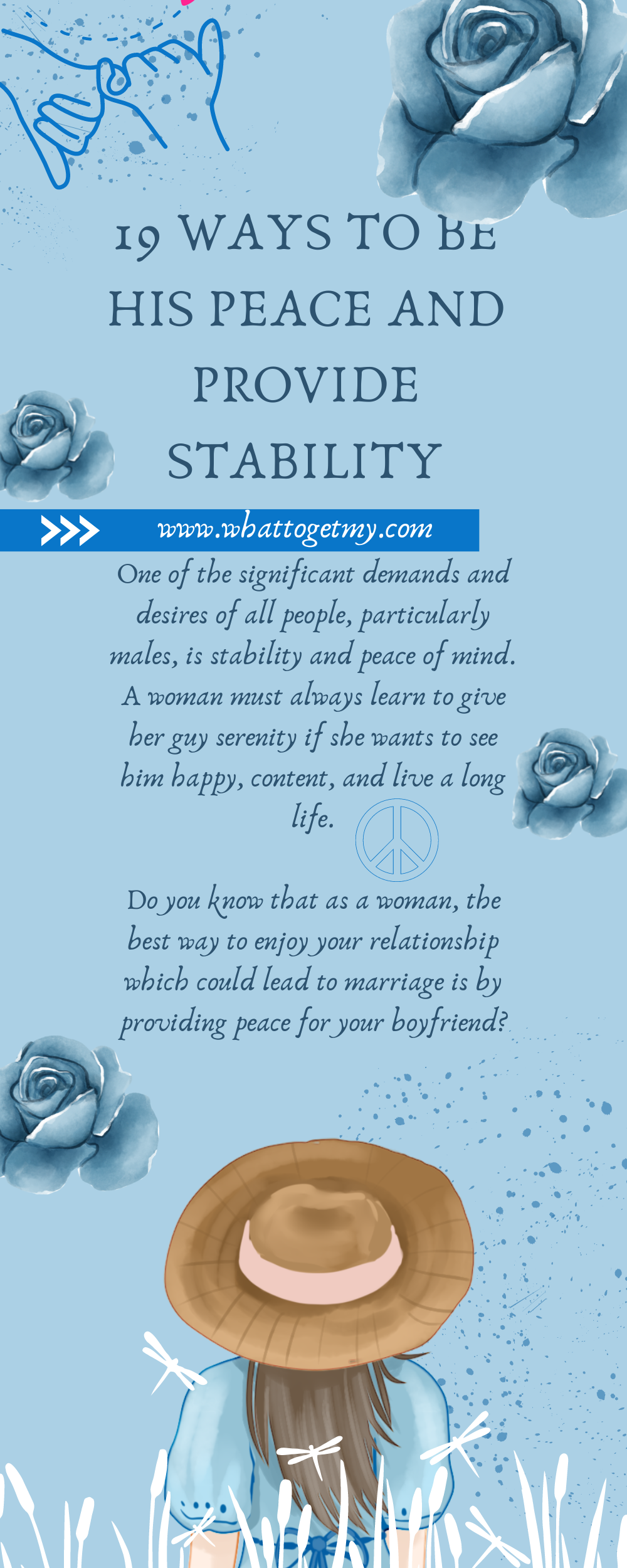 Being a man's peace suggests that you intentionally try to provide him peace, joy, and optimism whenever you are near him or communicate with him. Don't express everything wrong to him when you're telling him about your day; reserve that for your girlfriends. He will perceive you as refreshing if you provide him brightness and light rather than pour your pessimism on him.
Making peace is not simple. It's not just "keeping the peace" or keeping your lips shut to avoid conflict. Instead, it's a purposeful, active condition of being that necessitates you to make thoughtful, occasionally challenging decisions about the direction of your relationship. It takes strength and resolving to seek and build peace.
One of the significant demands and desires of all people, particularly males, is stability and peace of mind. A woman must always learn to give her guy serenity if she wants to see him happy, content, and live a long life.
Do you know that as a woman, the best way to enjoy your relationship which could lead to marriage is by providing peace for your boyfriend? Statistics from relationshipsinamerica show the percentage of people who preferred to be married.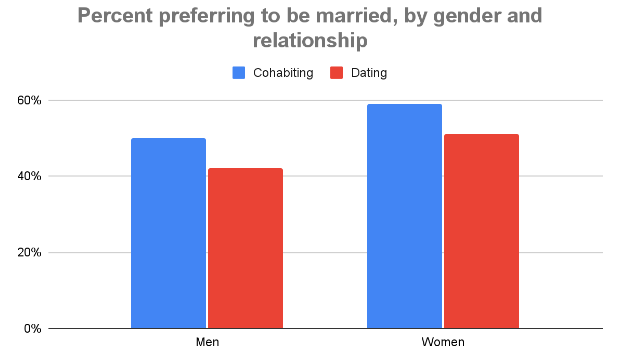 EXPRESS HOW MUCH YOU LOVE HIM.
Let him know that you are his biggest supporter and cheerleader at all times. It's not difficult to express your affection for him, and it's not even more challenging to demonstrate your adoration for him. Do it by telling him "I love you" or performing small gestures like cooking for him or leaving him nice notes.
SHOW HIM RESPECT AND EVERYTHING THAT CONCERNS HIM.
One of the most important wants for guys is respect. In actuality, people place a higher value on their respect than they do on sentimental items.
RESPECT HIS EFFORTS, REGARDLESS OF HOW INSIGNIFICANT THEY MAY SEEM.
You never realize the sacrifices he makes for your happiness and comfort. Making your partner feel appreciated regularly is a terrific method to make him happy. Please take note of the little details about him, such as his new haircut. You can also prepare a meal, bring him coffee, or express your love and miss for him. These small gestures will undoubtedly help him become happier.
You don't know that people are observing. Please keep him in the highest respect and never give anyone the chance to treat him with contempt.
REFRAIN FROM RESPONDING TO HIM WHEN HE'S ANGRY, ESPECIALLY.
That can dent his ego and enrage him even more. You can always revisit him and discuss the situation after he feels better. To maintain harmony, on the other hand, you occasionally need to check yourself. Do you frequently talk before thinking and say nasty things as a result? Is it sometimes difficult to control your emotions when things get tough? It will be helpful to know when to keep your mouth shut and to stop and think about what to say before you say it if you want to find peace first.
ADDRESS HIM ADEQUATELY AND CALMLY WHEN DISCUSSING THE MATTER.
Talk like the refined lady you indeed are. No rule says you have to be rude and offensive to make a point or convey a message. There is none, my sweetheart, so be polite when you speak. You would earn his respect if you did this. Keep your negative thoughts to yourself, especially when talking about sensitive subjects. Keep in mind that you love the other person and be respectful. The focus is on your intention and tone. Talk lightly and softly. Politeness is essential. The most important thing is to speak honestly. Avoid making a critical or defensive comments as these can intensify a fight. You may need to speak things to your spouse that they don't want to hear.
When your partner reacts in hurt or rage, you know it will also hurt you. Place all your cards on the table when you approach this person and do so lovingly. If this person has a problem that harms your family, marriage, or even them personally, you need to bring it up. It could be an addiction, destructive conduct, or a variety of other things. You may have to speak up for your spouse's safety. If they choose a terrible course, your marriage will suffer.
It doesn't matter if your spouse did anything wrong alongside you; whether you're willing to take responsibility for your actions and express regret first is essential. If you need to reconcile with your spouse, do it now rather than waiting for them to approach you. If your partner has been holding back, this will allow them to respond in kind.
Avoid taking accountability for the choices you make or cruel remarks you make to your spouse will only cause the wounds to swell and get worse over time. It's best to suck it up and say you made a mistake, even though you may not have to admit wrongdoing. If you're ready to own up to your mistakes when you apologize, your partner will likely forgive you sooner.
AVOID SWEEPING THINGS UNDER THE MAT
If there is an unresolved tension within your marriage, sooner or later, it will grow until it becomes too much for you to handle. Issues shouldn't be swept under the rug, avoided, or put off; instead, they should be confronted and acknowledged so they won't continue spreading.
STIMULATE YOUR SPOUSE'S ABILITY TO OVERCOME PROBLEMS WITH YOU.
You and your partner can establish peace by working together to resolve your differences, challenges, and problems. If only one of you is dealing with your challenges, that could cause resentment and tension between the two because you are more powerful together than you are separate. Put your minds together to develop strategies and concepts that will take you away from conflict and toward a joyous, peaceful existence.
PAY CLOSE ATTENTION TO HIS WORDS. BE MINDFUL OF HIS BODY LANGUAGE AND LOVE LANGUAGES.
They would help you better comprehend him. Don't just keep babbling here and there, uncontrolled like a parrot. Give him space to speak, and pay attention as he does. You do realize that communication requires attention. It's not an excellent idea to take your guy for granted. Instead, focus entirely on him and create a sense of desire for him. Drop the phone and pay attention while he speaks. He demands your full attention because every minute you spend with him is crucial.
SHOW HIM, LOVE. EVEN MEN ENJOY BEING SPOILED.
Call him by his nicknames and observe his toothy grin. When he performs tasks for you, thank him. Give him attention and appreciation even without reason. Also, surprise him with gifts. Boys also enjoy receiving compliments, not just girls. Who wouldn't appreciate hearing that they have beautiful looks or are intelligent? The myth that men don't care about their appearance is no longer valid. Compliment your partner and tell him what you enjoy, what drives you crazy about him, or how handsome he looks in that white shirt. He'll undoubtedly smile as a result of it.
WHEN HE NEEDS IT, GIVE HIM TENDER, PASSIONATE LOVE.
Another necessity of every man is sex. His stress and anxiety from the day's activities should be reduced. Allow him to rest his head on your thighs and breasts occasionally. It has a subconscious calming impact on the mind.
REDUCE YOUR WHINING, DEMANDS, AND COMPLAINTS.
Alternatively, there are even more successful ways to argue your point and achieve your goal. You don't need to bug that man who has decided to adore and love you with his entire being. Don't use your repeated complaints and unreasonable demands to send the young and innocent man to an early grave. Remember that you are still his helpmate. Stop overreacting to everything; restrain yourself sometimes by keeping your mouth shut.
Stop mucking things up and expecting the family to be peaceful when no one is perfect. The instant you use arguing and fighting to create beautiful moments between you and your sweetheart, stop being annoying and maintain control no matter what is happening around you. Learn to ignore problems in your relationship; not everything you require will cause you to react negatively and become a nagging woman that no man wants.
DON'T HURT HIS EGO; INSTEAD, FEED IT.
Men don't tinker around with their egos. Don't abuse him or disregard him. Watch out since familiarity has a way of making you take things for granted. Avoid getting too comfortable with him to the point where you lose sight of who you are and even forget that he is still the man in the relationship—your man and your one-of-a-million boyfriend.
WHEN HE RETURNS HOME EACH DAY, ALWAYS GREET HIM WITH A WARM EMBRACE.
After a long day, welcome him with a warm hug, and a glass of water to cool him from the day's stress. That would soothe his anxiety and give him a sense of worth, need, and affection.
WHENEVER NECESSARY, GIVE HIM SOME SPACE.
He can relax, clear his mind, figure out solutions to issues, and then create appropriate plans for the future with its assistance. After coming to work or finishing their business, men require space. He's worried about his problems; you want to tell him about your problems. He may not have the strength to talk because he needs time to recuperate and relax his mind, spirit, soul, and body after a long day worrying about you and the kids and appeasing a demanding boss. Instead of viewing your husband's need for solitude as a sign of rejection, consider it an opportunity to restore his nearly depleted emotional state. Once he is restored, he will speak to you.
BECAUSE HE IS A KING TO YOU, TREAT HIM ACCORDINGLY.
You know, a monarch cannot exist without a queen. Consider him to be such, and then observe how he treats and adores you as the one and only genuine queen of his heart forever.
FINALLY, PRAY CONTINUOUSLY FOR THAT SPECIAL MAN IN YOUR LIFE.
Always fill in the space for him. Assist him with prayer. Act as his backbone. Be the lady who persistently makes pleas on her man's behalf. Always entrust the Almighty with your man's endeavors and watch Him protect, guide, provision, and, of course, bless him abundantly and in all ways. That is a prayerful woman's power.
CONCLUSION
Man does anything to achieve peace if he so desires. Men don't make peace jokes. It is the cause of so many guys staying up late or leaving their relationships. Without realizing it, you will choke a man and expel him from your life if you don't know how to give him calm.
The key to true love is to learn to be understanding and appreciate anything your partner gives you, no matter how big or tiny, and to start doing the right things at the appropriate times. Make the necessary sacrifices to get the success of your partnership. Since nobody is perfect and we all make mistakes in life, if apologizing will help your relationship work again, swallow your pride and do it. If you sincerely love your man. Smile more. Forgive your partner. Giving your spouse peace of mind and loving them will make space for genuine friendship and love, so try to contribute to making your relationship function and stay forever.
META DESCRIPTION
When both partners unconditionally embrace and accept each other with all of their faults and failings, they are in a loving and peaceful relationship. 
FAQ
WHAT ABOUT A WOMAN DOES A MAN FIND APPEALING?
Men require affection and love. When their partners hug, kiss, smile at, and verbally express their appreciation for them, males frequently feel the most loved by the women in their lives. In many cases, more so than women, males also experience love and connection through their sexuality.
CAN YOU FIND PEACE IN LOVE?
True love brings harmony, not dysfunction, to the world. Recognize that joy is love. They are meant to complement one another. No, you won't always agree with your family members, but you may rest assured knowing that your relationship is unbreakable.
ESTIMATED TIME DESIGNING AND UPLOADING THIS ARTICLE
ESTIMATED TIME RESEARCHING AND WRITING THIS ARTICLE