8 Career Awareness Activities for Elementary Students
WhatToGetMy Instructional Article
Career awareness activities for elementary students can help you broaden your students' horizons. Introducing various career opportunities is crucial for students' growth and development. Elementary students don't need detailed explanations for each career option. You just need to give them simple examples and encourage them to explore their interests. Students can also benefit from hearing people's experiences.
Talking about different jobs is an introduction to understanding the complex working world. In addition to the fun activities, sparking conversations with students will encourage their fantasies. They'll start thinking more than "What will I be when I grow up" and picture possible future lives. The first step in the career path is dreaming and these activities might help your students visualize future scenarios.
Before we get to the article, we'd just like to mention a few things:
When you're deciding what activity to try, don't be afraid to experiment a bit. Combine 2-3 activities according to your students' needs. The best teachers are flexible and adaptable.

You can make separate

career lessons for elementary students

or just incorporate various activities in your regular lesson plan. It all depends on how much liberty with the curriculum your school gives you.

The students' career options are limited by the things their family, friends, and media present. However, you can introduce them to new occupations other than a doctor, teacher, singer, and actor.
Why start in elementary school?
It's never too early to start doing career and college awareness activities for elementary students. In elementary school, kids learn about the world around them. They discover new things and explain the ones they encounter. When you present a variety of jobs available, students will connect them to real-world people and situations. They can even start imagining their future occupations.
Children tend to choose careers based on what they see and hear in the world around them. Television, the internet, and other media have a huge influence on their choice. They might narrow the options or present a particular profession as exciting and interesting.
Teachers need to expand students' horizons and introduce them to a lot of different occupations. When kids know about many career options from the very beginning, they can make a well-informed decision in the future.
In elementary school, children learn how society functions, so naturally, they're trying to find their place. That's why they should also learn about "life skills" such as taking responsibility, proper communication, collaboration, etc. You can help them develop these skills with some team-work and leadership activities.
How to start?
Before getting to college and career activities for elementary students, you need to explain to your class what career actually is. Talk to the students about their interests and then connect their interests with some existing jobs.
For example, if one student mentions that he/she likes drawing, spend 10-15 minutes talking about how some adults use art to build houses, design clothes, or make movies and cartoons. Introduce careers such as graphic design, architecture, photography, etc.
If students feel like their interests connect with real-world career options, they're more likely to be more engaged in discussions. Try also connecting school subjects with certain professions (math class with engineering, biology with medicine, chemistry with a forensics). Students need to realize that the skills they're currently learning in school can be very useful for them when they're adults.
When you're sure that your students have grasped the basic career-related concepts, you can try some of the career activities for elementary students to see how they will respond. Note that some students will be more interested than others and that's completely normal. Maybe you can encourage everyone with some motivational activities too.
Questionnaires
As we said, the best way to introduce various career options is to connect them with students' interests. Naturally, you need to determine what they like with the help of questionnaires. Elementary students might need some assistance to collect their thoughts and place them on paper, so make sure you're patient and helpful.
Choose age-appropriate personality and preference tests which can be entertaining for kids. You don't even need to analyze the results because these questionnaires are just stepping stones to productive conversations. Questionnaires are only one element of career education for elementary students.
Group discussions
You can provide more career information for elementary students by having discussions in your class. Make a list of questions and go through them together. These questions are great for sparking conversation:
Would you rather make things or sell things?

Where do you prefer to do your homework, inside the house or in your backyard?

Is your school close to your home? Do you prefer walking or having your parents drive you to school?

What are your favorite school subjects?

Do you prefer working alone or in a group?
Encourage students to also ask questions. They can ask you about the reasons you became a teacher, what are your interests, etc. The key to productive discussion is honesty and enthusiasm, so just relax and create a comfortable environment in which children can share thoughts.
Classroom speakers
Every career is significant and students should be informed about it first hand. The most valuable insights about career students get from classroom speakers. Have individuals express the reasons why their career is special.
When you invite members of your community to come and speak in your class, be sure to have engaging questions ready. You can also ask the students to come up with some questions. The following questions will spark the discussion and encourage your students to think about careers.
What career did you think about when you were young?

How did you make this particular career choice?

Who helped you with your decision? Did your parents support your choice?

What was your favorite school subject?

What knowledge from school was particularly useful for your job?

What's your favorite thing about your job? What things about your job you don't like?

How did your career start?
Guest speakers can influence the class immensely. That's why these discussions are such a great teaching opportunity. You also have the chance to introduce non-traditional approaches to career. For example, invite a female engineer or a male nurse to come and speak in your class. They can share personal experiences that are valuable for dispelling common myths around career choices.
Learning from professionals
One more way to learn from professionals is by joining them throughout the working days. Ask people in your community would they be interested to have 3-4 students follow them for a couple of hours. Children will learn first hand and discover all sorts of career options.
Choose any work setting that can guarantee the safety of students. Children will have fun whether they're discovering food services or IT companies. You just need to make sure that employees are friendly and happy to spare a few hours for students' questions.
This is a creative way of learning about people's personal growth stories. Naturally curious, kids want to know "How do you become a chef, engineer, or lawyer?" What steps these people took and what obstacles they've overcome.
Mentorships
Elementary school can be a good time to start discussing possible mentorship choices. Mentorship programs put an accent on learning through experience. It can be more beneficial to connect one student with one career professional than having groups of students follow professionals in their workday.
Mentors can teach their proteges all sorts of things. They can give them "life lessons" as well as professional guidance. However, it's not easy to organize mentorship programs, especially when young kids are involved. As a teacher, you need to find enthusiastic people that are trusted, responsible, and willing to teach. You also need to check your students' attention span and decide the amount of time the mentorship programs should last. The structure of the program should also be decided.
On top of all other classroom responsibilities, you might not be able to organize this program by yourself. Don't hesitate to ask the entire school staff for help. Convince everyone how beneficial mentorship programs are and inspire the people to come up with new ideas.
Watching educational videos
Students learn from textbooks very slowly. Especially those that are visual learners. They need more engagement and interactive videos as well as online games can provide a great way of exploring careers. It's all about stealth learning! Kids will have fun and absorb things they see.
To find resources you can check out official government websites for education, or you can browse popular streaming sites. There's a lot of quality content out there! For example, check out these two videos.
Daydreaming
It's never a bad idea to encourage kids' creativity. Have them fantasize a bit and describe their vision of the future. You can talk about flying cars, of course, but try to focus on career options. Ask kids whether they can picture the possible jobs they'll perform, where would they live, etc. After thinking for a while, they can draw pictures or write simple reports about their wishes for the future.
Dress up
Use Halloween, Christmas, or any other opportunity for children to dress up. Encourage your students to be creative, so you don't end up with 10 doctors and 5 police officers in your class. Spend a few days talking about interesting professions, then write them all on pieces of paper.
Put the suggestions in the hat and have each kid draw a paper. After it's decided what roles students will have, help them do a small research. Use real-life examples, videos, and pictures, to show them what the usual workday looks like. Get parents involved too, so students can make realistic costumes.
Try some role play activities. Form a little "classroom city" with children as citizens. When they dress up as career professionals give them assignments. Play pretend and teach them in person what their job duties are.
Frequently asked questions
When it's a good time to start with career awareness lessons?
You can start at any age as long as your materials are easily understandable. In elementary school, you can start with simple activities, like those we mentioned in this article. As kids get older, cover more complex issues regarding careers, introduce new jobs, present the concept of a job market, teach soft skills, etc.
How do you teach kids careers?
See what your students respond to and adapt. If they like to talk, organize engaging discussions, and if they respond better to video materials, watch educational videos together. Discover their hobbies and interests and encourage them to pursue careers that can fit those interests.
What are career development activities?
Career development activities help people improve the skills needed for certain careers. You can start with these activities in school because a lot of jobs require soft skills, so teach the students about teamwork, communication, and collaboration, as well as presentation and problem-solving skills.
Conclusion
We hope that these career awareness activities for elementary students will inspire you to create a dynamic learning environment. Children will learn a lot from their teacher, especially when they're young. Your role is to guide them and give them positive encouragement. Advise students about exploring their interests and hobbies, participating in community events, and forming lifelong habits.
Having an active childhood can be very beneficial, so ask your students to do simple activities before school. When they start the day actively, they'll be even more eager to learn while in school.
ESTIMATED TIME DESIGNING AND UPLOADING THIS ARTICLE
ESTIMATED TIME RESEARCHING AND WRITING THIS ARTICLE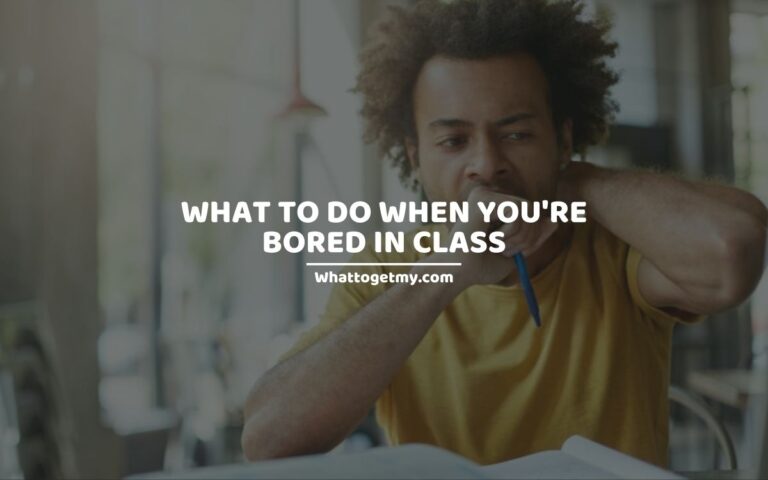 11 Things; What to Do When You're Bored in Class
11 Things; What to Do When You're Bored in Class WhatToGetMy Instructional Article I'm bored at school what can I do? Ever occur to you that there are a lot of fun things to do in classroom when bored hit. School sometimes might seems like
Read More »