Things to Do in The Morning Before School
WhatToGetMy Instructional Article
Do you want a nice productive start of your day? Consider these things to do in the morning before school. Stop rushing in the mornings and learn how to enjoy getting ready for the day ahead of you. Wake up earlier and use those extra minutes to do something fun (or useful). Just a bit of planning is all it takes to make mornings the best part of your day.
Before we get to ideas, we'd like to mention a few things:
If you feel tired and have

trouble waking up

, check out our article to see more useful advice. You can become an early riser with little effort.

Some people have difficulties while trying to fall asleep, so consequently, their mornings aren't that good. If you want to avoid restless nights, scroll through this article on

how to stop thinking while sleeping

.
Seize the day
Seizing the day means making the most of today and the morning is the best place to start. Getting up early and establishing a healthy morning routine before school can help you kickstart your day in the best possible day.
You might ask yourself, is it important to wake up early. We say that it depends on you and your type of personality. If 15 minutes of sleep means a lot to you, then feel free to sleep in. However, you could try waking up earlier and engaging in an enjoyable activity. You might end up liking it more than snoozing. Explore what works and what doesn't work for you personally. We're here only to give you suggestions and it's up to you to utilize the given advice.
Picture this morning rush – you're running around the apartment getting ready, looking for things, stressing out, and you end up missing something when you get out of the house. Now, try to visualize an alternative. You've got everything ready the night before (prepared clothes, packed the books, etc). You get up 20 minutes earlier, get dressed, and enjoy your breakfast while watching your favorite sitcom. When it's time to go, you grab your prepared backpack and head for school without worries. You're refreshed and ready to seize the day in front of you.
Instead of worrying about how to get ready for school in the morning fast, give yourself an extra 20 minutes, and prepare in advance. Take into consideration the usual amount of time you need to get ready. Can you do something the night before to make that timer shorter? Do you feel rushed when getting ready? Start by realizing that you can have the time for everything if you just organize it properly. Planning the morning routine before school can help you use time efficiently and you'll ease the stress.
The night before
If you get ready the night before school, the morning gets easier. The preparation won't take you much time – you would approximately need 20 minutes. This small "sacrifice" will help you to enjoy the mornings, so don't hesitate to incorporate these activities into your bedtime routine.
Pack the bag
Put in your backpack necessary books, homework, notebooks, school supplies, keys, and other items you need for the next day. Not only will this save you time in the morning but it will also decrease the chance of forgetting something important. When you get up, you're sleepy and groggy, so you probably don't think about that science project due for today. Pack it the night before to remove any possibility of leaving it on the table.
Choose your clothes
Check the weather forecast and pick an outfit for school. You can hang them up somewhere convenient, so you can get dressed quickly in the morning. If you have a school uniform, make sure it's clean and ready. This will prevent a small panic attack in the morning when you have "nothing to wear".
Prepare lunch
Prepare your lunch and put it in the fridge. Pick something simple for lunch that can be prepared ahead of time. You could make a sandwich or pack some dinner leftovers. If your parents are in charge of preparing your lunch for school, suggest they make it the night before, so you can all have a more relaxing morning routine. Set a reminder to take the lunch out of the fridge. A sticker or a phone notification can be very helpful.
Shower before bed
Showering in the evening will save you some time. You'll wake up fresh and ready to go. However, if cold showers help you wake up, you might want to keep them in your morning routine. Note that washing your hair should be done the day before school because drying it can take too long.
Charge your devices
If you use a laptop, tablet, or phone in school, you need to make sure they're charged. There's nothing worse than getting out of the house and noticing you have 1% of the battery left. If you leave your electronics overnight to charge, you'll avoid the possibility that you miss your alarm clock. Your phone will be charged, so the alarm will surely ring. Putting the phone across the room also means you'll have to get up and turn off the alarm (which prevents hitting that snooze button).
Go to bed early
If you have to get up early for school, going to bed on time will provide you enough sleep. Note that you need to have approximately 8 hours of sleep for proper function, so consider this when planning your sleep schedule.
Make the morning enjoyable
Whatever you choose to do before school, make sure you enjoy it! Starting your day with positive activities will lift your mood and help you get through even the difficult days. Mornings might not be your thing, but if you have something fun to look forward to when you wake up, they can become much easier.
People enjoy different things. If someone enjoys morning walks, you might prefer sipping tea at the terrace. Finding the motivation to study and facing the new school day isn't easy. Inspiring and enjoyable activities will surely give you enough boost to tackle the day ahead.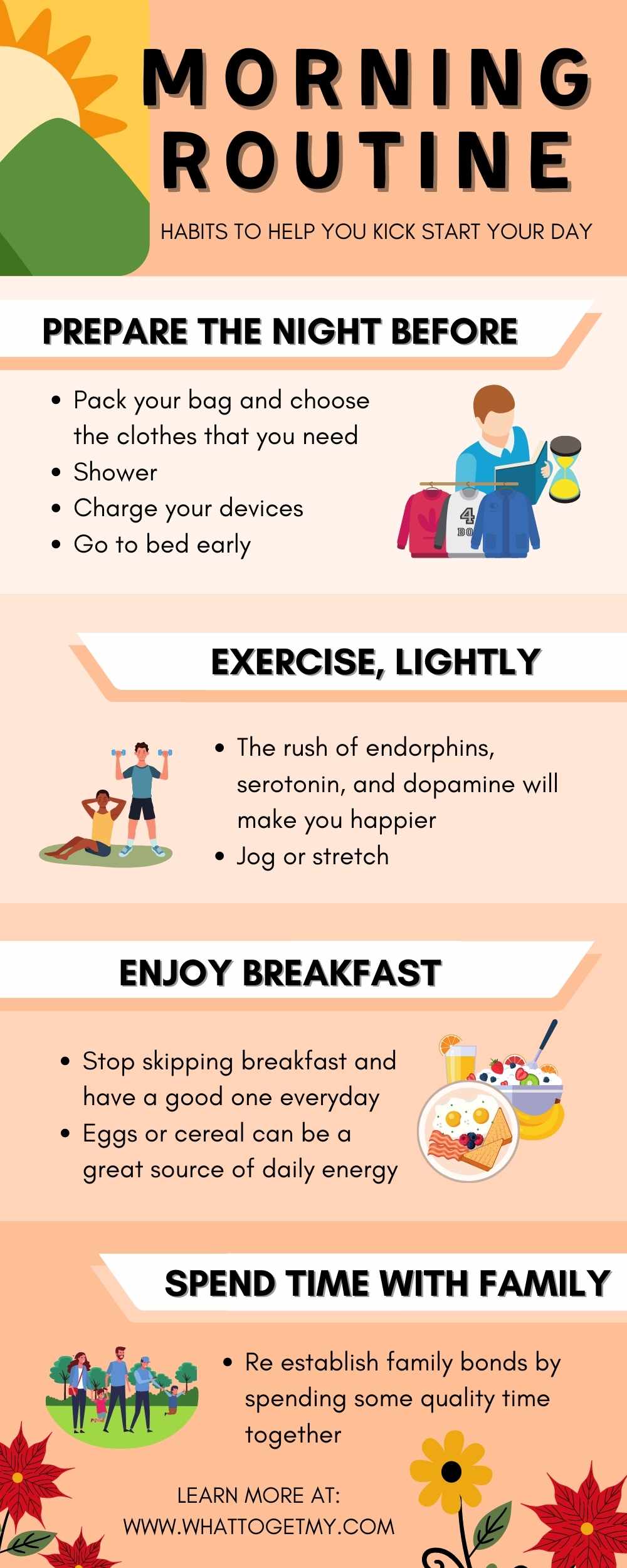 Source Link: https://whattogetmy.com/things-to-do-in-the-morning-before-school/
Things to do before school
If you don't know what to do before school, check out the activities below for inspiration. Note that you don't have to do anything extravagant at the start of the day. Simple and ordinary activities can give you just enough enjoyment and morale boost to kick start the school day.
1. Light exercise
A morning workout before school will instantly wake you up and put you in a better mood. Don't believe us? Ask those morning joggers for their opinion. They all exercise because it makes them feel good. The rush of endorphins, serotonin, and dopamine will make you happier and more optimistic. Exercise will give you energy for daily challenges more than coffee ever would.
Exercise is good for you whether you work out in the morning or the evening. However, if you find yourself skipping exercise later in the day, you should know that you're not alone. People often feel too tired and exhausted to work out in the evening, so they opt to exercise in the morning when they're rested and fresh. Try it sometimes, for at least 15 minutes. You'll be surprised to see the results.
2. Spend time with family
Sometimes busy schedules prevent us from connecting with our loved ones. You can reestablish family bonds by spending some quality time together. If you want to spend more time with your family, consider doing simple things in the morning with them. That can be playing a silly game with your younger sibling or chatting with your parents.
3. Enjoying breakfast
People often rush when eating breakfast. That's not only unhealthy but it takes the pleasure out of family meals. Try to enjoy breakfast at ease. Get rid of all distractions and simply be in the moment. If you encourage the entire family to dedicate time, you could share the meal together, chat, and enjoy each other's company.
Start by taking the initiative to make breakfast for the entire family. It doesn't have to be anything complicated as long as it's healthy and nutritious. Things like eggs or cereal can be a great source of daily energy. If you want to do something special, try making pancakes. In combination with fruit, this can be a perfect breakfast your family would love.
4. Browse the internet
Although most people don't recommend checking your phone as soon as you wake up, nothing stops you from browsing the internet after you get ready for school. Checking to see what's going on online, scrolling social media, and watching memes can be very relaxing. As we already said, you should do something you enjoy in the morning, so have some screen time if you want.
5. Watching a show
If you have 20-30 minutes to spare, you could catch an episode of your favorite show. Watching something fun and entertaining can be a great way to start your day. Check out a simple sitcom or a twitch stream – whatever you enjoy more. You could also watch some cartoons with your little siblings provided they also finished getting ready.
6. Morning chores
Finish something in the morning that needs to be done throughout the day to take the pressure off your shoulders. For example, tidying up your room in the morning, allows you to relax after you get home from school.
You could help out your parents with some of the usual morning chores too. Something that doesn't take much of your time, like emptying the trash can or feeding the pets, can help your parents immensely.
7. Homework revisions
If you weren't fully focused on your homework the day before, you can check it in the morning. Revisions help you notice small mistakes, so you can perform better in school.
8. Reading
We're not suggesting that you commit 45 minutes of your time to read but you could try catching some book (or a comic) for at least 10-15 minutes. You could perform a simple experiment. Break one novel into small milestones and tackle one each day. Reading only ten pages a day can allow you to finish a book in a month. Don't get distracted though, set a timer, so you don't miss the school bus.
9. Make lunch
If you didn't prepare lunch the night before, try making a nutritious meal for school in the morning. You could make something fresh that doesn't require a lot of time like salad or cooked veggies. Ask your parents to help you out, so you could spend more time together.
Morning routines for kids and teenagers
As you can see, having a steady morning routine will make your life easier. When you plan your morning activities, you end up having more time to do the things you enjoy. Instead of rushing to get ready, prepare things the night before and get up earlier than usual.
For an efficient routine, try planning the essential activities first (getting dressed, brushing teeth, eating). Depending on the time left, add a few relaxing activities (checking social media, reading, watching TV). Calculate the necessary time and add 10 extra minutes, just in case. Set the alarm and you're ready.
You could write everything on paper or use a phone app, whatever works for you. Stick with making a daily schedule for a couple of weeks. After these activities become a part of your routine, you won't have any problems getting ready for school on time.
Conclusion
We hope that these ideas will help you enjoy your mornings. Remember, there are a lot of things to do in the morning before school if you get up earlier and try to seize the day. Having a steady and healthy routine is especially important when you're just starting school. Help your younger siblings be a responsible student with advice you've read in this article. Also, try to encourage them with simple gifts for starting school.
ESTIMATED TIME DESIGNING AND UPLOADING THIS ARTICLE
ESTIMATED TIME RESEARCHING AND WRITING THIS ARTICLE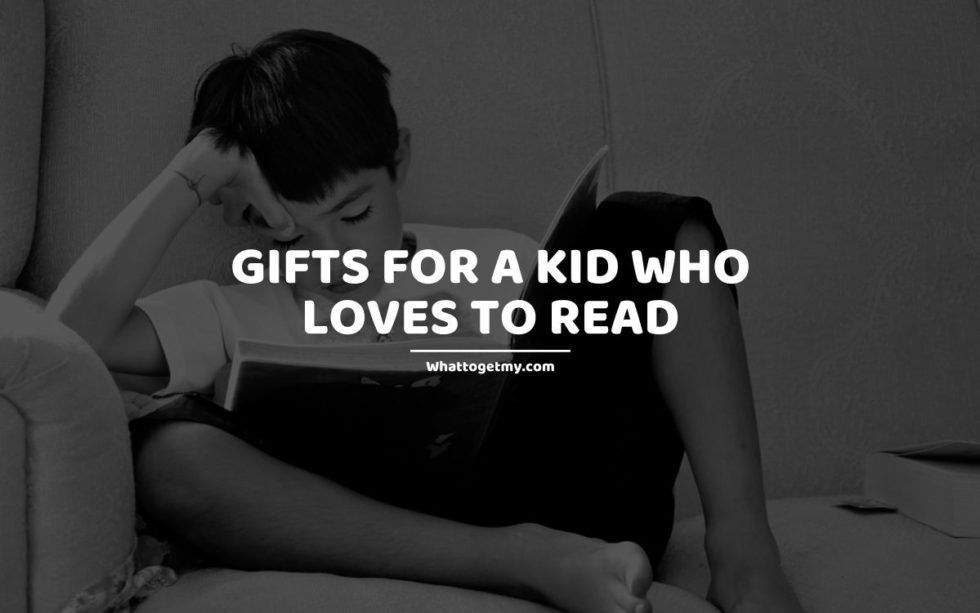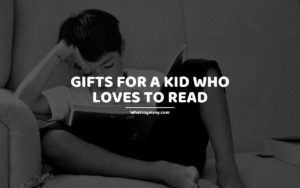 Gifts for a Kid Who Loves to Read
With technology development, we are all drawn away from books. We read online news, listen to music, watch movies, and TV shows, which leaves us less time for reading books. However, older generations know that incredible feeling of paper under the fingers. Nothing can really
Read More »