What To Distribute On Birthday In School | 23 Classroom Birthday Treats Ideas
WhatToGetMy Instructional Article
This article offers useful guidance and insight on the best birthday treats to bring to school when next you want to celebrate your child's birthday in school. It will also point out some useful factors to consider such as the Healthy, Hunger-Free Kids Act of 2010.
You will find the following school birthday treat ideas in this article:
Unique and healthy school birthday treat ideas;
Prepackaged school birthday treats that are healthy; and
Non edible/non food birthday treats for school.
Wanting to celebrate your child's birthday in their school by bringing birthday treats is normal and understandable given that school is where your child spends the bulk of their time outside the home. School is the other place where the bulk of their social lives are molded. And this article will help you do it right and point you in the right direction of the best birthday treat ideas for school.
You may also like these birthday related articles for children – How to celebrate first birthday without a party and Where to take kids for their birthday.
What To Bring To School For Birthday Treats and 3 Important Factors To Consider.
Before deciding to take birthday treats to distribute on your child's birthday in school, there are about 3 important factors to be aware of and take into consideration in deciding what to bring to school for birthday treats.
1.
The Healthy, Hunger-Free Kids Act of 2010.
In 2010, Congress passed the Health, Hunger-Free Kids Act which has now tried to regulate the type of foods that children should be eating in schools. The purpose of this piece of legislation is to ensure that what children consume in school is largely made up of healthy nutritious food. This was because of the alarming amount of sugary foods children were consuming in school which in turn led to serious health concerns like obesity. Just for interest sake, the two charts below give a good idea of what the calorie intake of children at school was before the legislation and after the legislation.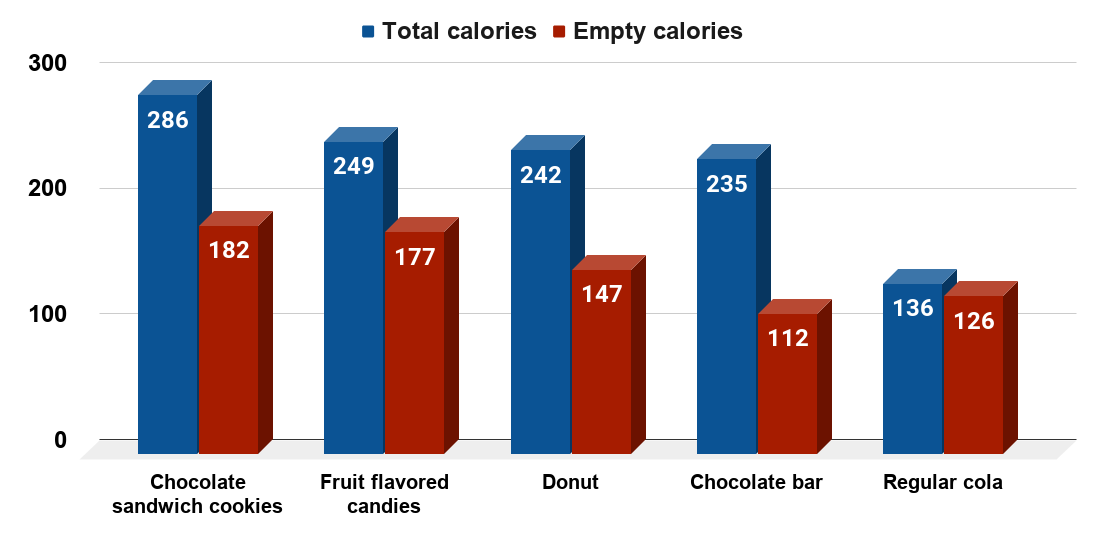 School snacks after 2010 Healthy, Hunger-Free Kids Act by calories. (U.S.., 2017). Source: Statista​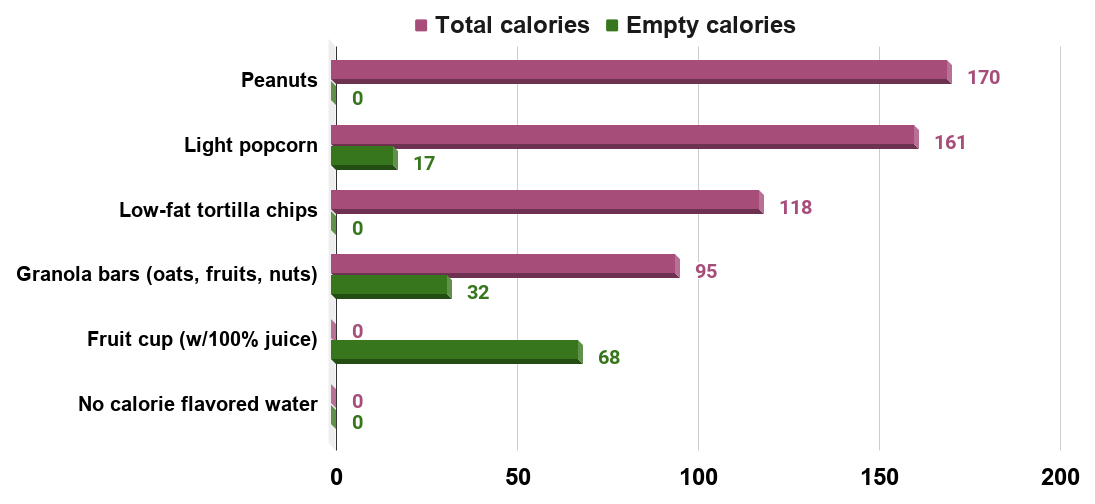 While this piece of legislation does not affect you so much as a parent, because it is meant mainly to regulate the schools themselves, it however has an impact on what you may be allowed to bring to school for birthday treats. This is because some schools have taken steps to ensure that their efforts at monitoring the healthy food intake of school children aren't thwarted by parents bringing sugary and processed food to school especially on occasions like birthday and Halloween. And so, some schools have stopped parents from bringing sweet birthday treats to school.
And the purpose of the legislation is a good one. This is why we also believe that the best birthday treats for school should be healthy birthday treats. And we will give you a good list to choose from in the next section.
2.
The School's Policy On Birthday Treats in School.
And the first factor to consider is the reason for this second factor. As pointed out earlier, some schools have taken measures to ensure that they comply with the piece of legislation mentioned earlier. This has led some schools to only accept non food birthday treats. It is therefore advisable to find out from your child's school first, what their policy, if any, might be on bringing birthday treats to school so that you do not expend your energies in getting edible birthday treats only to be told that you would not be allowed to bring them to the school.
3.
Food Allergies That Some Children May Have.
This is the last and also a very important factor to consider. This 2018 chart from Science News shows that as much as 7.6% of school children have food allergies.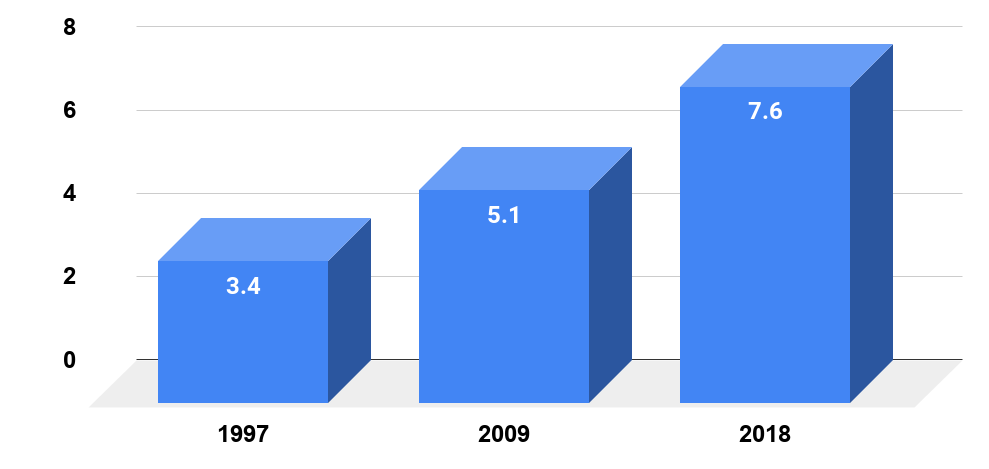 This factor is another reason why some schools have stopped parents from bringing birthday treats because for starters they do not know the specific allergies each child has beforehand.
And secondly, children who can't enjoy a birthday party at school because of their allergies often felt left out and downcast and the school also wants to guard against that feeling. And given that you as a parent would not even know what type of birthday treat a child might be allergic to, this also creates a nightmare for you in knowing what to buy as classroom birthday treats.
This is why non food birthday treats are usually the best in schools because food allergies are a very real concern in schools, and you don't want your child's birthday at school turning into a nightmare because a child or two reacted to the birthday treat you brought to school.
9 Unique and Healthy School Birthday Treat Ideas.
Now that you know the important factors to consider, assuming your child's school allows for birthday treats, these 9 unique and healthy birthday treats are great birthday treat alternatives to go for. Not only are they still sweet, but your child will also not find them embarrassing to share with their friends at school. And not to mention that they are also allergen-free meaning that even children with allergies don't have to feel left out.
1.
Fresh fruits.
Fresh fruits are a great healthy birthday treat for school because not only are they packed with the right type of sugar for children (and indeed adults), they allow you so much leeway in terms of creativity and presentation. How you decorate and present them is very important. Some great ideas of how to make it more appealing to young schoolers:
Fruit skewers are always a winner especially if you have berries on the skewer. Beautifully decorate the skewers in a way that makes them appealing;

Dipped fruits are also another great way to serve fruits to make them appealing. You can decorate with smarties or M&Ms for instance and then freeze it for the dip to solidify. The smarties and M&Ms will make it extra appealing to the young ones;

You can arrange the fruits beautifully in a muffin/cupcake wrap. That way it feels like cupcakes and would make the children feel like they're having cupcakes;

A fruit salad packaged in small smoothie cups and beautifully displayed is also an appealing sight that would get the children excited to have fresh fruits.

Tarts with a very thin base and covered in fruits are always a yummy treat. These are not too difficult to make and this

easy recipe of a French fruit tart

will give you a yummy fruit treat that the children will be clamoring for.

You can cut fruit like watermelon for example in the shape of ice cream and stick pop sticks to make them look like ice popsicles. This is another winner and favorite at school parties where healthy birthday treats are supposed to be served.
2.
Light popcorn.
Freshly popped corn without the caramel coatings that the prepackaged ones are known for is another great healthy birthday treat for school. And these will not cost you too much or take up too much time. To make it more appealing and exciting, have the popcorn served in nice birthday popcorn containers. Here's a good selection on Amazon to choose from.
3.
No calorie flavored water.
These are a healthy alternative to sugary beverages like cola and are still sweet. From the earlier charts in the first section, one can easily see that with the calorie contents in colas, it is not advisable to serve them to children, even if we wanted them to let their hair down for one day. The reason why it is good to use healthy alternatives like no-calorie flavored water is to also start early to get children into the idea of embracing healthy food and drink options.
4.
Frozen yogurt.
Frozen yogurt is another yummy healthy birthday treat for children at school. Although it must be said that most frozen yogurt sold by the stores are packed with the same amount of sugar that you are trying to avoid with beverages like colas and ice cream. And since this is the case, it would be better to make the frozen yogurt yourself with plain unsweetened yogurt combined with frozen fruits. Plain unsweetened yogurt has a very low-calorie content. The frozen fruits will supply the right amount of sugar needed, and thus make it a healthy alternative. And it will still be very yummy. Not to mention that doing it yourself also allows you the liberty to add little fancy decorations like smarties to make it more appealing and give it a birthday look.
If you are looking for helpful recipe ideas on making a healthy frozen yogurt, you can check out this easy healthy frozen yogurt recipe.
5.
Sandwiches.
How can sandwiches be nice as a birthday treat you might ask? It is how you present it. Here are some ideas.
Peanut butter/Nutella smiley face sandwich.
You don't need to stack them up in the traditional way sandwiches are made. Rather spread them out. Rub a generous spread of either peanut butter, or Nutella, or jam on it, and then use snacks like smarties or pretzels to decorate the topping by arranging them in the shape of a smiley face. To make the bread more enjoyable, you can lightly toast it before applying the spread on it.
This one is a favorite and that is because it uses three healthy ingredients – your bread and vegetables like cucumbers and meat such as bacon strips. Roll the bread around the vegetable and bacon strip and voila you have a sushi birthday sandwich. Here's a pretty cool recipe to provide more details.
Ham and cheese sandwich cubes with a fruit skewer.
Children love a good old ham and cheese sandwich. Cut them up in pretty nice cubes and stick a small fruit skewer on top and you kill two birds with one stone.
Star-shaped window sandwich.
This sounds exotic, right? That's because it is. You use two slices of bread to create a delectable sandwich that is in the shape of a star with decorations inside it. Here is the recipe for how you can create it. We tried it out and it is delicious and we are sure your child will love it too.
You can ditch the traditional sandwich for a sub filled with yummy goodies that the kids will love. And if you need inspiration, here is an amazing recipe that we have tried because of how easy it is to make and not to mention also very yummy.
6.
100% fruit juice popsicles.
Ditch the calorie-filled ice-cream for a yummy and enjoyable fruit juice popsicle. These are also easy to make and should preferably be made by you because the commercially sold ones are filled with sugar and are still unhealthy. Check out this easy homemade fruit pops recipes and fresh fruit juice popsicle recipe ideas for inspiration on healthy and yet yummy fruit juice popsicles for your child's birthday at school.
7.
Smoothies.
Smoothies are another great alternative to unhealthy ice cream. They are also easy to whip up. It is best to prepare them on the day so that they are fresh and healthy.
8.
Healthy cupcakes, brownies, and cookies.
You might wonder if it is possible to have healthy cupcakes, brownies, and cookies. And the answer is yes. What makes them healthy is the type of flour used and the other low-sugar contents that are used to make it. The beauty of these healthy alternatives is that they still come out looking delicious and inviting and your child wouldn't be the wiser about the contents which are great for them.
Here are some healthy ideas with links to recipes to guide you on what they contain and how to make them.
This healthy cookie is made with white whole wheat flour, fruits like raisins, and no sugar, but honey. Check out the recipe here.
This one is an American favorite and will be loved by the kids. The chief ingredient in this cookie is peanut butter. If you're looking for a recipe, you can check out this recipe.
Banana cupcakes with cream cheese frosting.
This yummy cupcake is made with real bananas and no sugar. You can get the recipe here.
This awesome yumminess is just the perfect birthday treat for school. You can top it with strawberry slices. Get the easy to make recipe here.
A healthy option that still tastes great. Get the easy to make recipe here.
If you are wondering if zucchinis will ever taste great in brownies, only a trial will convince you. Try out the recipe which you can get here, and you will be blown away.
You can have your child help you in making these amazing birthday treats. They will enjoy the baking experience and also be happy to be a part of making their classroom birthday treat.
9.
Trail mix without nuts.
Trail mixes are another great alternative because they are made up of dried fruits. This treat option isn't however without its risks, and the biggest risk is that some children may be allergic to it, especially if it contains nuts. So, be sure to take one that doesn't have nuts. There is also the other risk of the contents not being fresh. Also, check it out that it is fresh before taking it to the school.
4 Prepackaged School Birthday Treats That Are Healthy.
Prepackaged school birthday treats have the advantage of being easier to manage both in terms of logistics and cleaning up. The following 4 items are the best-prepackaged school birthday treats that are still healthy.
10.
Low-fat tortilla chips.
These healthy tortilla chips alternatives are still as enjoyable as the regular tortilla chips, but with fewer calories. Amazon has a good selection and variety that you can check out here.
11.
Veggie/vegan chips.
Veggie chips are also another healthy alternative to regular chips in terms of the calorie content they have. A good selection with different varieties can be found here.
12.
Pretzels.
Pretzels may not be the greatest option because of their salt content but they are still healthier than regular chips due to their low-calorie content. Having a mini pretzel as a birthday treat will not be harmful to the overall healthy diet of a child. This pack of mini pretzels that you can find here has just the right amount.
13.
Granola bars.
Granola bars are a better health alternative to regular chocolate bars. And you can get ones that are coated in chocolate without compromising on the health benefit. For a good chocolate-coated granola bar that will be loved by the kids, check out this one.
Non Edible/Non Food Birthday Treats For School.
When it comes to non food birthday treats, you can't go wrong with small gifts like stickers and small inexpensive toys. Work with the teacher in seeing how they can incorporate the birthday into class activities for the day. She could give your child a celebrant sash or crown to wear and have the class draw something nice for the celebrant.
Some cool inexpensive toy ideas you can give out as non food birthday treats for school are:
14. Fun Puzzle Balls for Kids.
16. Emoji Plush Pillows Mini Keychain
17. Food Cake Dessert Puzzle Erasers
18. Squishy Toys.
20. Flying Paper Planes.
21. Temporary Glitter Tattoos for Kids.
22. Glow Party Bracelets with Connectors.
Frequently Asked Questions.
What are some easy treats to make for school?
All the treats in the healthy birthday treats section are also easy treats to make for school. You can especially settle for the fresh fruits, sandwiches, and healthy cupcakes, brownies, and cookies. And for liquids, the low-calorie flavored water or just ordinary water or smoothies should do. Remember that the key is to keep what children eat as healthy as possible.
What are some healthy birthday snacks for school?
The snacks in the prepackaged school birthday treats section are also healthy birthday snacks to opt for if you don't want to prepare something. If you are open to preparing food items then check out the easy and also healthy options in the healthy school birthday treat ideas section of this article.
How about treats for school parties?
All the treats in this article are great treats for school parties.
What is a good birthday snack for school?
All the snacks in the prepackaged and healthy section are also good birthday snacks for school because they are healthy yet yummy.
Closing Thoughts.
Always remember that when it comes to taking birthday treats to school, you should be mindful of the school's policy and the fact that there are children that are allergic to certain ingredients like nuts and the likes.
The 23 classroom birthday treat ideas in this article caters to all the concerns that any school will have as regards keeping the food that children eat at school healthy. They are also allergen-friendly. They are equally less messy and would not be a nightmare for the teachers to manage.
ESTIMATED TIME DESIGNING AND UPLOADING THIS ARTICLE
ESTIMATED TIME RESEARCHING AND WRITING THIS ARTICLE