How To Celebrate First Birthday Without A Party
WhatToGetMy Instructional Article
Celebrating your baby's first birthday without a party is normal and is beneficial to you and your baby. Read on to find out the benefits of having a first birthday without a party.
However, even without a party, there are three important things that every child must not be denied on their first birthday. Read on to find out what they are.
And finally, you can still have a ball of a first birthday without a party with any of our four exciting party alternatives to celebrate your baby's first birthday.
According to a 2019 survey, 89% of Americans believe it is important to celebrate a birthday, although the study is silent on what kind of activities count as birthday celebrations. The same study also revealed that birthdays are the next favorite holiday celebrated after Christmas, by 18% of Americans.
How Important Is It To Celebrate Birthdayss? (U.S. 2019). Source: Credit Loan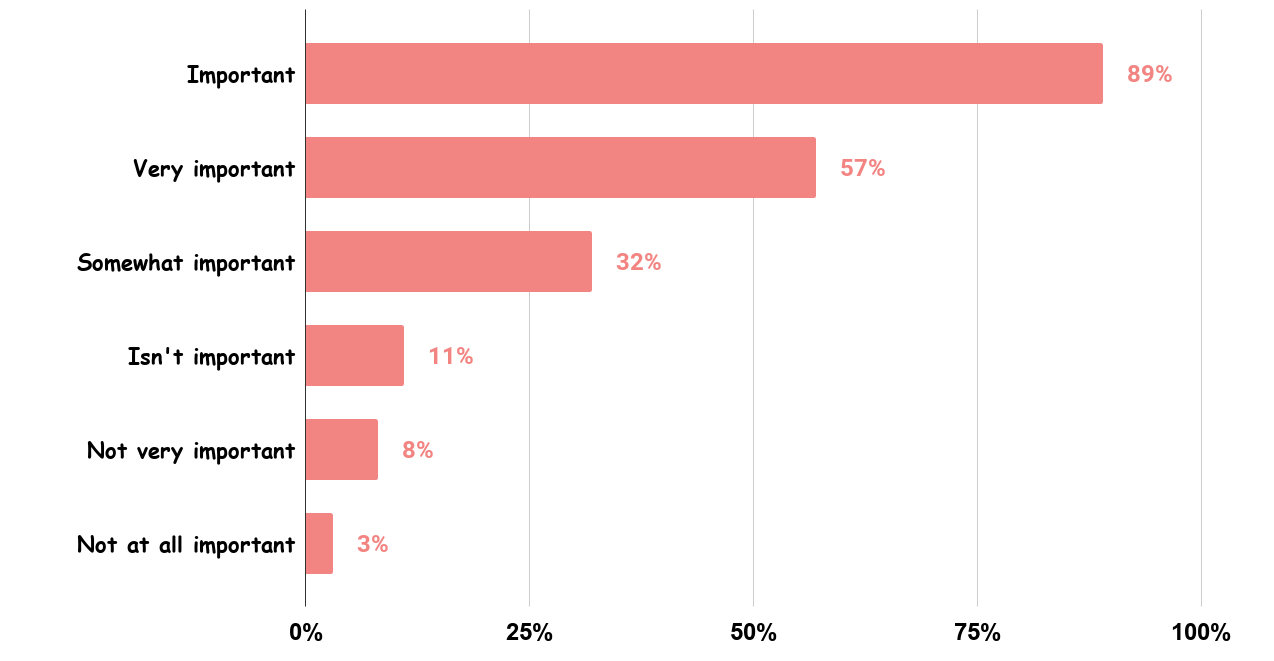 American's Favorite Holiday To Celebrate. (U.S., 2019). Source: Credit Loan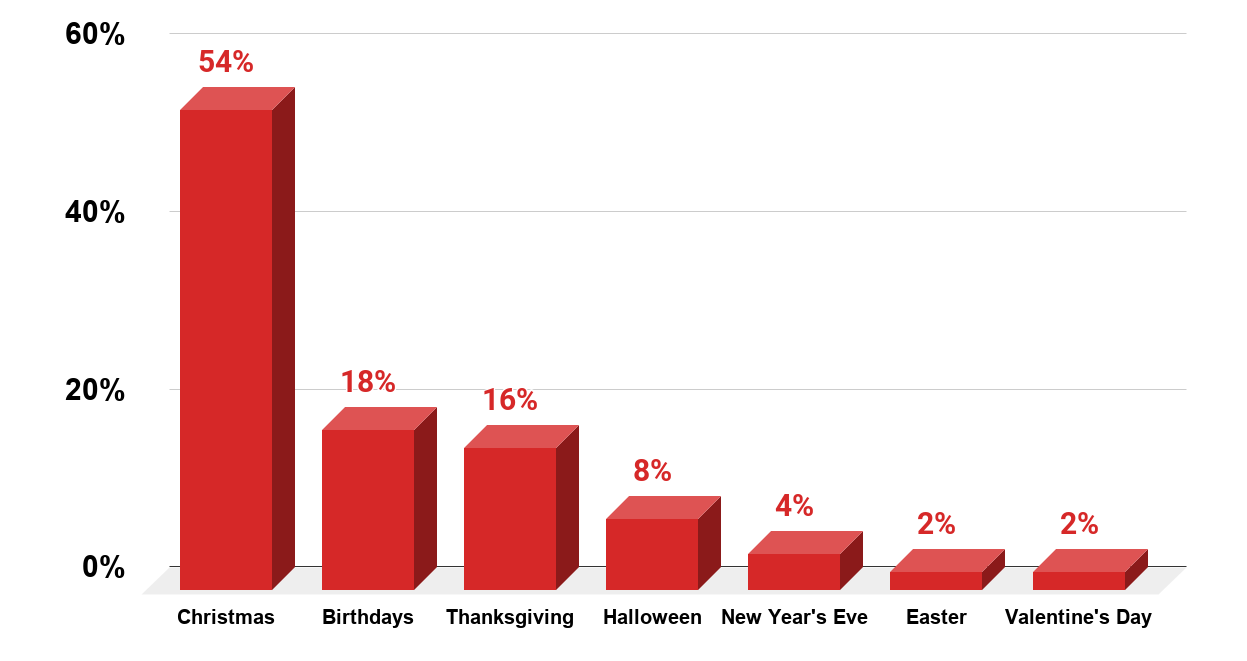 Celebrating a birthday without a party still counts as a celebration. However, knowing how to celebrate a baby's first birthday without a party can sometimes be challenging because celebrating a baby's first birthday party has become such a huge part of our culture that it would almost seem out of place and maybe wrong not to have a first birthday party. These figures should not however pressure you at all into feeling the need to have a first birthday party. However, it is important to point out from the outset that there's nothing wrong with celebrating your baby's first birthday without a party. As we will show you shortly, there is a world of benefits to not having a first birthday party.
Why You Should Have A First Birthday Without A Party And Its Benefits.
In case you were wondering if there are any benefits to not having a first birthday party, these quick facts and figures will hopefully convince you that there are good reasons and benefits to a simple first birthday celebration without a party.
3 Main Reasons Why You Should Have A First Birthday Without A Party.
1. Your Baby Does Not Understand What's Going On.
This is the chief reason why having a first birthday party is unnecessary. At 1 year old, your baby is still too young to appreciate or enjoy all the fanfare and buzz about a birthday party. If anything they may feel overwhelmed with all the adult presence and attention suddenly being foisted on them.
And so, at the end of the day, you end up realizing that the first birthday party was more your party than your baby's party. When this is considered, if you have to give yourself a party, is the first birthday party the type and theme of party you would want for yourself? Most likely not. This is the main reason why you should give that first birthday party serious second thoughts.
2. An Unnecessary Cost.
Birthday parties can be a rather expensive affair, as the chart below (based on a breakdown by Lenzo) shows.
An Amazing Birthday Party For A Child Will Likely Cost You Between $300 – $10,000 Because Of These Costs (2018). Source: Lenzo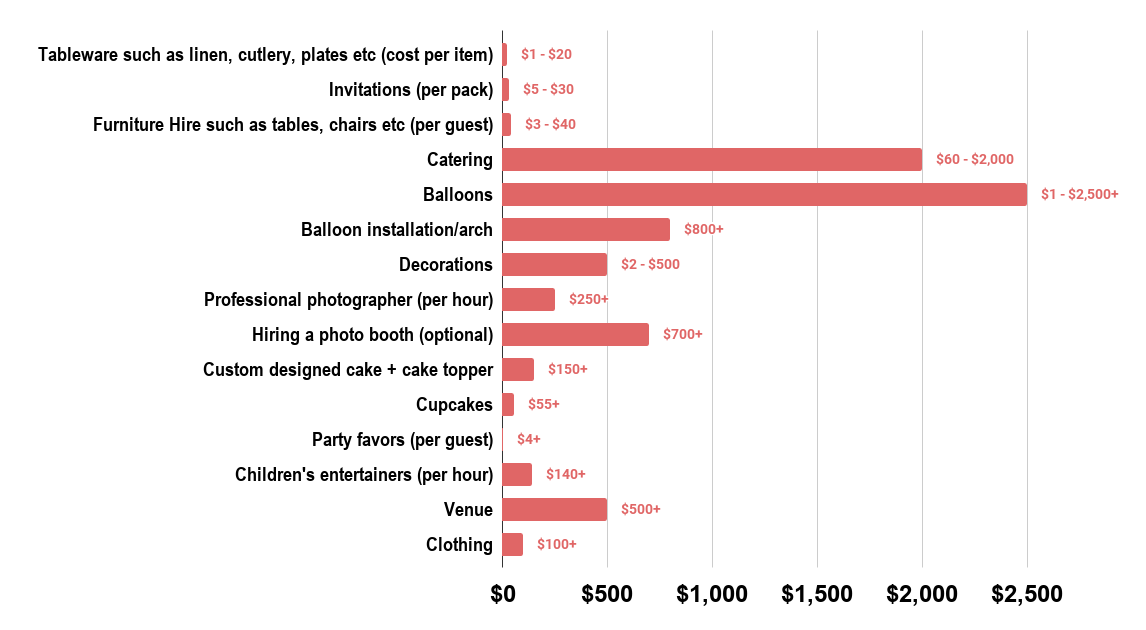 And a first birthday party is not spared of these expenses if you want to have a proper birthday party.
Because of the number 1 chief reason, there is no doubt that all the above expenses become an unnecessary cost. There is no point in spending so much on a party that your baby will not even appreciate, when you could settle for simple first birthday ideas without a party, with exciting party alternatives that your baby will appreciate and enjoy.
3. There Will Be At Least Three Other Milestone Birthdays For A Party.
You will have plenty of other birthdays to have a party for, and at that point, your baby would have grown up to appreciate and enjoy a birthday party. There will be the milestones of 16 years, 18 years, and 21 years to celebrate. And in between those three, you will have a chance to have a party by the time they turn 2 years old and upwards.
Since you will have many more other birthdays to celebrate, why not save the money for the first birthday party towards these other birthday parties where they will at least enjoy the party. And if the 5th or 6th birthday seems like a long time to wait, you don't have to wait that long. You can have a 2nd birthday party, and by that age, they will enjoy and appreciate a birthday party better.
2 Main Benefits To Having A First Birthday Without A Party.
Now that you have the reasons, what are the benefits of not having a first birthday party? There are two main benefits:
1. You Get To Spend Quality Bonding Time With Your Baby And The Family.
This allows you to understand your baby better. It also gives you a chance to do other activities with your baby which they can appreciate and enjoy. These activities will in turn enhance your baby's cognitive growth and development. It is not difficult to see that this is an all-round win-win for everybody.
2. Savings Towards Your Baby's Upbringing.
Another great benefit is that you get to save some money towards your baby's upbringing in that year. According to a 2015 survey, it was estimated that on average, it will cost each American parent at least $12,000 in a year to raise their child.
How Much Does It Cost To Raise A Child? (U.S/Canada, 2015). Source: Measure Of A Plan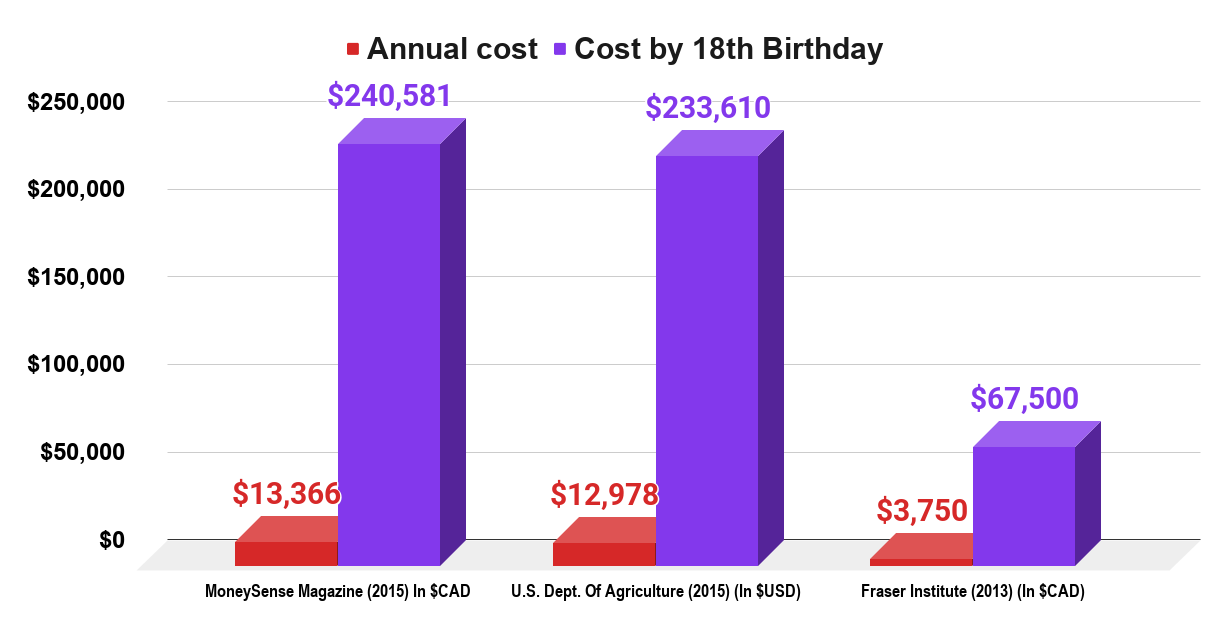 And as you'll imagine, that cost has increased significantly since then. Now imagine that you would have spent at least $1,000 on one party, which is a $1,000 saved towards your baby's cost of upbringing for that year. Is it really worth it to spend all that much on a party your baby would not even appreciate, or is the money better spent on baby supplies that would benefit the baby more in that year?
What Every First Birthday Must Have Even If There Is No First Birthday Party.
Even though you will be celebrating a first birthday without a party, there are three things that every baby's first birthday must-have. You can say that it will be a travesty to deny your baby these three must-haves on their first birthday. These three things are:
First Birthday Cake.
Whether or not you have a first birthday party, a baby should not be denied their first birthday cake. Even a no first birthday party must have a first birthday cake. A baby's first birthday is not a proper first birthday without their celebratory cake. Whether you have a quiet dinner at home or go out to the zoo or park, their first birthday cake must be present.
First Birthday Balloons.
Children love their balloons, and babies are no different. A first birthday balloon is a golden opportunity to introduce them to the thrills and excitement of balloons because we all love balloons even if we pretend as adults not to love them. Even if a baby does not understand what is going on at a party, one thing that will always get their attention at any party is the balloon. Even if it is a balloon or two, there should be balloons at your baby's first birthday celebration.
First Birthday Picture(s)/Video(s).
How else will you convince your baby when he/she grows up, that you celebrated their first birthday? These pictures are also good memories to keep for reminiscing. It is important to capture all your baby's joy and excitement at the first birthday celebration you held for them.
And you don't even have to go as far as hiring a professional photographer. You can invest in a good budget mirrorless camera like the Canon EOS M100, or if it is too pricey in an Instax camera like the Fujifilm Instax Camera which still takes good photos the traditional way. Whatever happens, you must take a picture or two. And if possible, also take a video with your phone (if you don't have a good video camera). It won't cost you much.
In all the exciting party alternatives we suggest, all three must-haves must be present and are present.
How Do You Celebrate Your Baby's First Birthday Without A Party? 4 Exciting Party Alternatives To Celebrate Your Baby's First Birthday.
If a milestone like a 16th birthday can be celebrated without a party, there is no reason why a first birthday cannot be celebrated without a party. According to the earlier 2019 survey we referred to, 16% of Americans don't even bother with traditions and celebrations on their birthday.
Favorite Birthday Traditions (U.S., 2019). Source: Credit Loan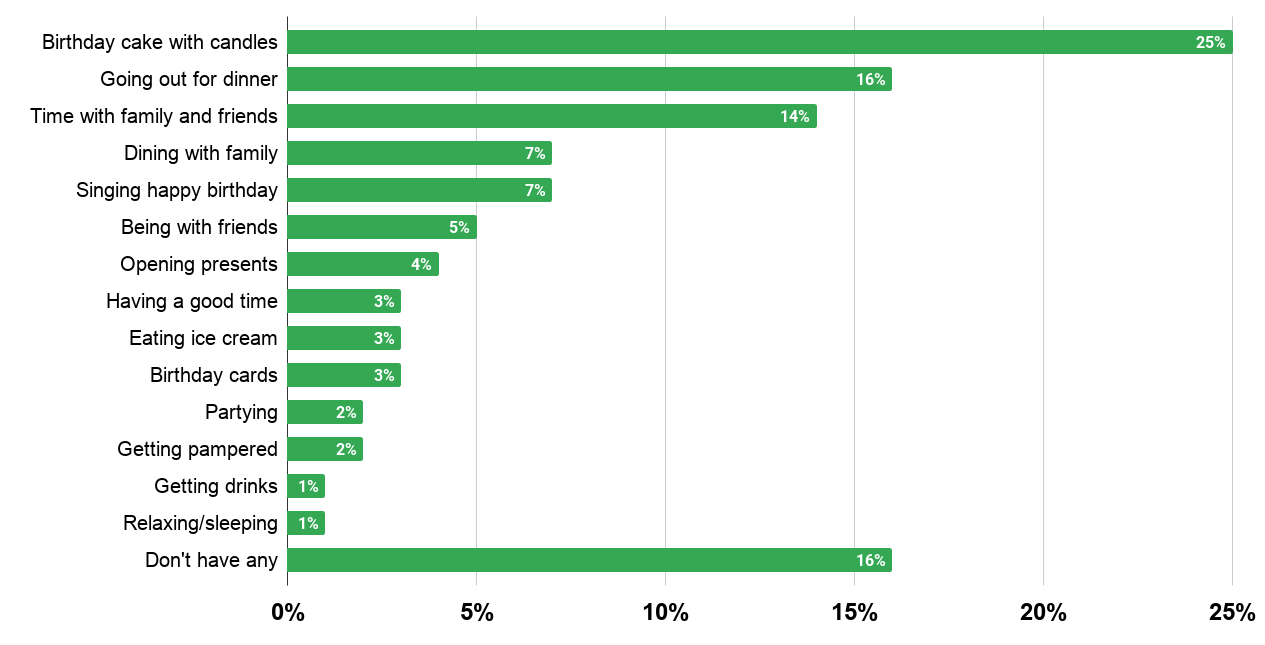 There is therefore no need to feel pressured to have a first birthday party. Here are 4 exciting and inexpensive birthday party alternatives to celebrate your baby's first birthday:
1. Take The Baby Out To Their Favorite Restaurant.
Okay maybe not theirs, but yours, since they are too young to know the difference between great tasting apple tart crumble and one that isn't. Think of it as an excuse to dress up and go out to spoil yourself and your family to a nice meal in a nice restaurant.
You can tell the restaurant that it's your baby's first birthday and see what arrangements they can make for you in terms of bringing a birthday cake to your table and singing for your baby. Remember to capture the moment with your camera.
To make it even more exciting, you can reserve seats in advance and request for one or two first birthday balloons on the tables and/or chairs just to jazz up the outing a little and give it a first birthday vibe.
2. An Outing To The Amusement Park.
Take your baby and his/her little brother(s)/sister(s) to the amusement/theme park and have them enjoy the rides. There are some exciting and fun activities that you can do with your baby at the amusement park, and which they will thoroughly enjoy and engage with.
You may also consider speaking with one of the restaurants in the park to allow you to decorate a section of their restaurant with some first birthday balloons to celebrate your baby's first birthday. You can even have them bake you a cake and while bringing it out have some of their staff members sing along. The beauty of this type of celebration is that you have a crowd without having to feed them.
Your baby and his/her siblings, if any, will also have a great time and loads of fun at the amusement/theme park while celebrating their first birthday at their same time.
Don't forget to capture each moment with your camera.
3. Take Them Out To A Zoo Or A National Park Or Aquarium.
First birthdays do not have to always be about elaborate decorations and lots of colors. The concept of color can be quite fluid and relative depending on how one looks at it. A zoo and/or national park is very colorful with nature and is a good place to take your baby for their first birthday.
Your baby's first birthday can be a great opportunity to get them fascinated with mother nature and the wild. With the zoo and aquarium, it will be a wonderful opportunity to show them the land and sea animals they've been seeing in the color books they have at home. Most children tend to take to a love for animals and the wild with such visits.
And remember that the first birthday balloon must be present. Have the first birthday balloon with you on the ride to the zoo and/or national park. And don't forget the camera for amazing pictures and videos. You could also talk to the management of the park to see if they have provisions to have a little cake and a little first birthday fanfare/song. Some establishments usually offer that kind of value-added service.
4. Have a Baby Day At Home.
Think of it as your house party of three – daddy, mummy, and baby (or more if your baby has siblings).
What will this party have? Lots of canvas paint, lots of children's toys, some balloons, and a birthday cake. This will be a day to get messy with your baby.
Gather his/her siblings and tell them that for their little brother/sister's first birthday they have the chance to create as much mess as they want in playing with their baby brother/sister.
Set up the play tent outside with the first birthday balloons, and bring out the toys and paint. Let them have a go at it, and join in too. It is great for the baby to have mummy and daddy playing and getting messy with them. You will be amazed at how much fun your baby will have with you, your spouse, and their siblings and how much family bonding happens as a result. Your baby will get the chance to play and express him/herself with painting and who knows you may just have a Leonardo da Vinci in the making.
Remember to record videos of how much fun your baby is having at this time.
At the end of the messy and fun time, just before they doze off, bring out the birthday cake and take a picture or two. If they are too tired for the birthday cake on that day, you can finish the celebrations the next day with the birthday cake and pictures with their birthday cake. Remember, that birthday cake is very important.
With all of this fun yet inexpensive party alternatives, you still get to celebrate your baby's first birthday. And in the case of some of the activities, you get to spend quality time bonding with your baby, and nothing could be more fulfilling and rewarding than that.
Frequently Asked Questions.
Do you know of any good first birthday themes?
A first birthday may be too early to start having a themed celebration since the baby would not appreciate or enjoy the party very much. Notwithstanding, as pointed out in this article, they must still have their first birthday cake, first birthday balloons, and first birthday pictures. You can decide to make a theme out of these three first birthday must-haves.
You will also like this children's birthday theme article – Double Trouble Birthday Party Theme.
Conclusion.
Having a first birthday without a party is good and beneficial for two main reasons – it gives you a chance to bond with your baby and it saves you a lot of money.
All 4 party alternatives suggested in this article are both fun, exciting, inexpensive, and most of all beneficial for your family.
ESTIMATED TIME DESIGNING AND UPLOADING THIS ARTICLE
ESTIMATED TIME RESEARCHING AND WRITING THIS ARTICLE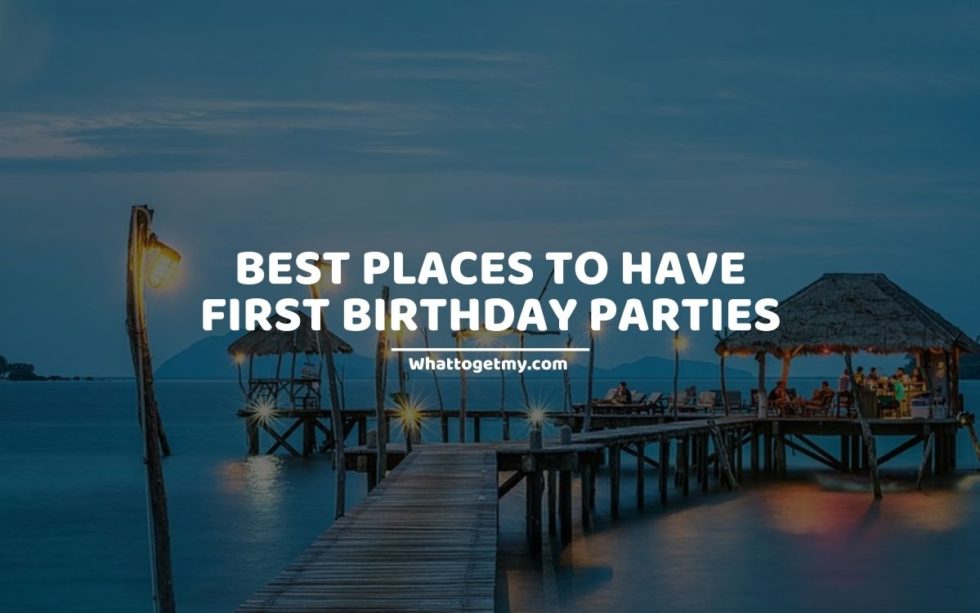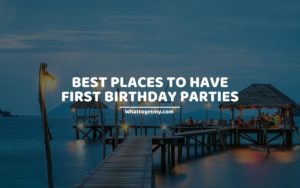 9 Best Places to Have First Birthday Parties
9 Best Places to Have First Birthday Parties WhatToGetMy Instructional Article A baby's first birthday party is a milestone that most parents celebrate. This is because, as of 2010 in the USA, 6.15 percent of every 1,000 births end up dying before the age of
Read More »