EXPERT ADVICE ON DIALOGUE QUESTIONS FOR COUPLES
WhatToGetMy Instructional Article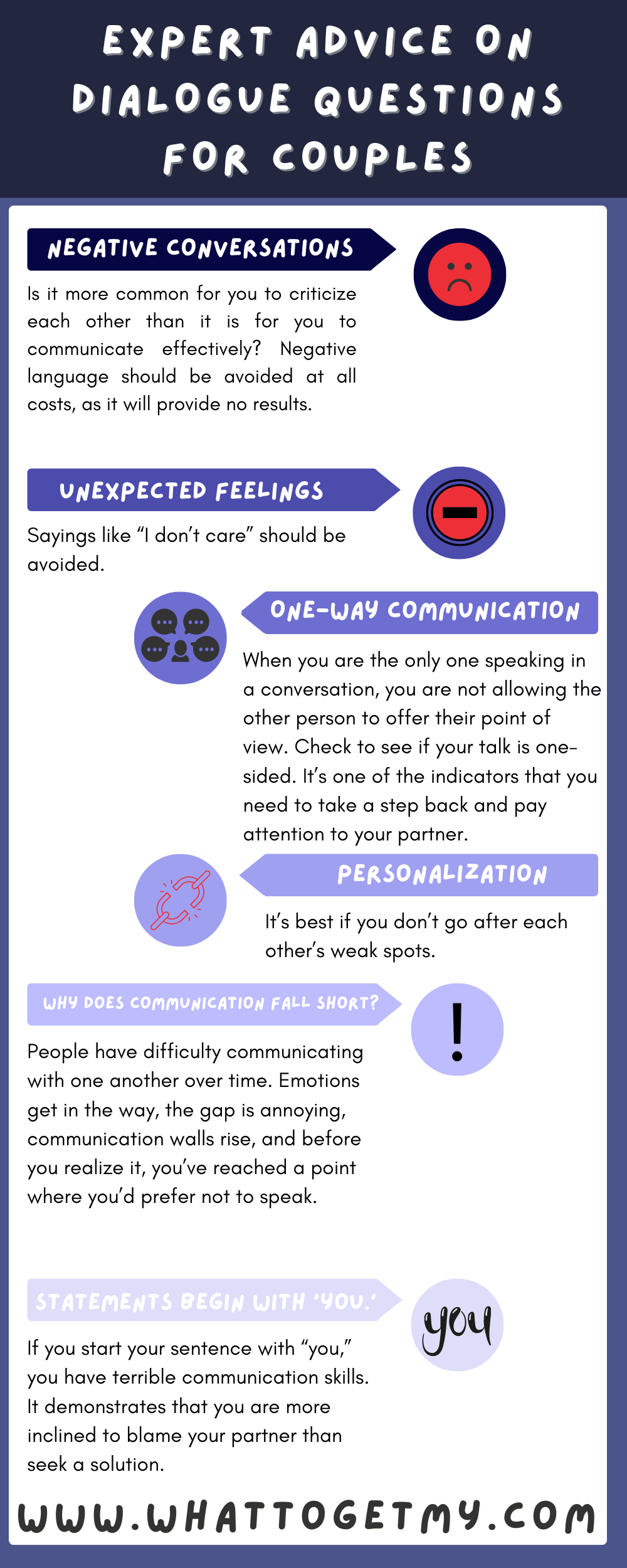 Any good partnership relies on effective communication. These questions to ask are ideal for connecting with your significant other in a meaningful way, from dinner chat to pillow talk. Even the most head-over-heels-in-love couples run out of things to say from time to time. Don't worry, and it's perfectly normal. After all, it's easy for the conversation to dry up when you spend so much time together. Do you find yourself at a loss for words? These conversation starters are ideal for getting people talking.
Use these couple's questions to spark new conversations and keep your relationship fresh and intriguing.
THE BEST DIALOGUE QUESTIONS FOR COUPLES
What can I do to make you feel more at ease in my life?

What do you think our relationship's goal is?

How do you think you'll react if I say no?

Are you aware that you have a choice?

What makes you feel a sense of kinship with me?

What exactly do you not want me to know?

What happens next in the dream?

What does a perfect relationship look like for you?

What is it about my

behavior that irritates you

the most?

What is the most important lesson you need to take away from me?

What steps can we take to address our most pressing issue?

What is it that you don't want me to ask you?

What can I do to help you?

What is it that draws us together?

What would make you feel more at ease?

What do you think you're assuming about me?

What's the difference between your ideal relationship and the one we have now?

Is it possible that I'm meeting your requirements?

What is it that you are most scared of?

When are you the happiest?

To you, what does closeness imply?

Is it true that we don't spend enough time together?

On a scale of one to ten, how effective is our communication?

What can we do to improve our communication skills?

Do you think I'm giving you enough attention?

How do you prefer to be loved?

What are your interests and passions?

What does it being passionate mean to you?

What does it mean to be open to being hurt?

What's the most important aspect of our relationship?

What part of our relationship do you find the least appealing?
Relationship dialogue problems – Why does communication fall short?
People have difficulty communicating with one another over time. Emotions get in the way, the gap is annoying, communication walls rise, and before you realize it, you've reached a point where you'd prefer not to speak.
Fortunately, communication is a relatively simple cure, although it takes time. Because communication is such an important aspect of our daily lives, it is crucial in a relationship. It's sometimes difficult to comprehend why things aren't getting better despite all of the communication. This may be the case when a relationship's communication skills are poor.
The appropriate communication can help you accomplish amazing results in your relationship and keep it healthy.
But how can you identify if you need to enhance your communication skills? Take a look at these five indicators to help you:
When you are the only one speaking in a conversation, you are not allowing the other person to offer their point of view. Check to see if your talk is one-sided. It's one of the indicators that you need to take a step back and pay attention to your partner.
Is it more common for you to criticize each other than it is for you to communicate effectively? Negative language should be avoided at all costs, as it will provide no results.
One of the signals that you need to enhance communication is if either of you are invalidating the other's sentiments. Sayings like "I don't care" should be avoided.
Statements begin with 'you.'
If you start your sentence with "you," you have terrible communication skills. It demonstrates that you are more inclined to blame your partner than seek a solution.
When either of you feels like personal attacks are being made while chatting, this is one of the indicators you both need to improve your communication. It's best if you don't go after each other's weak spots.
TIPS FOR SUCCESSFUL DIALOGUE FOR COUPLES– 19 STRATEGIES TO IMPROVE YOUR RELATIONSHIP'S COMMUNICATION
How can you improve your relationship's communication? Here are some suggestions for couple dialogue tips for increasing communication in a relationship through dialogue.
ELIMINATE BARRIERS TO COMMUNICATION
Establish an open line of communication. When it comes to communicating in relationships, there are no barriers. Openness is required for effective communication. The fact is, you don't break down boundaries just because you want them to. They don't vanish just because you say.
One technique to improve communication in a relationship is to break down barriers through gradual transformation. Start by reducing criticism, blame, and defensiveness from verbal encounters regarding communication hurdles in partnerships. Only when both parties are at ease and safe can they be open.
Source from yougov shows statistics of people cutting ties or trying to get along in a relationship.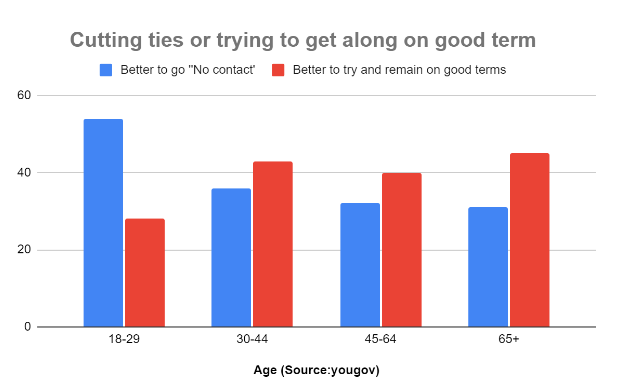 Bringing up the past is a surefire way to irritate someone. When anything elicits a negative reaction, it's time to put it down. Because living in the past has a detrimental impact on the present, communication in relationships must remain in the present. Keep any conversation, even the most unpleasant ones, calm and courteous by focusing on the matter at hand as one of the strategies to improve communication in a partnership.
Small disagreements quickly become enormous arguments when referred to in the past. Before you know it, utterly insignificant things are spoken, and your relationship suffers. There's no need to elevate a minor issue.
PAY MORE ATTENTION TO WHAT YOU'RE HEARING THAN YOU'RE SAYING.
Learning the value of listening more than speaking is another crucial method to increase communication in a relationship. You will gain a greater grasp of the other person's perspective if you take the time to listen and digest what they are saying, and they will understand you if you do the same.
In the moment's excitement, we tend to pick up on small snippets of what someone says but miss the big picture. This leads to individuals feeling misunderstood, and as we all know, misconceptions cause frustration and create hurdles that are difficult to overcome. Give talks more structure by not interrupting them and focusing on what they're saying rather than what you will say next.
PAY ATTENTION TO NONVERBAL CUES
Nonverbal communication is as vital as verbal communication, if not more so. Work on body language in a relationship to improve communication. Our body language and gestures are self-evident. Crossed arms, a symptom of being closed off or feeling assaulted, positioning the body away, a sign of defensiveness, and a lack of eye contact, a symbol of dishonesty or disinterest are just a few instances.
Pay careful attention to the individual with whom you are conversing. Communication is similar to dance in that both parties must take cues from one another. Take the cue if you feel you should back off or divert the conversation elsewhere. When two people can read each other, they become closer because they share a common knowledge of boundaries.
NEVER UNDERVALUE THE POWER OF HONESTY.
One of the ways to strengthen a relationship is to communicate openly and honestly. In a partnership, honesty is essential for communication. Maintaining honesty in touch in a relationship is one of the relationship communication skills and techniques to improve communication in a partnership.
Honesty entails more than just telling the truth. It also entails being open and honest about your feelings and perspectives. Remaining real is one approach to improving communication. Enhancing communication in a relationship involves establishing a connection in which communication isn't a problem in the first place, and both parties seek to enhance their communication skills.
Don't forget timing when you execute the recommendations for better communication or how to communicate effectively in a relationship. When promoting healthy communication in a partnership, timing is crucial, as an out-of-time talk and an inappropriate tone may wreak havoc on marital bliss.
ALWAYS ENGAGE IN FACE-TO-FACE COMMUNICATION.
Even the most insignificant matters must be discussed face to face. In a relationship, having a face-to-face chat is one of the most successful communication methods. Calls, texts, and emails only leave loose ends because they can be unclear at times. It's easy to misinterpret what someone says, especially when communicating via text or email. These types of relationship communication serve a role, but one of them isn't having meaningful conversations.
TAKE A DAY OR TWO TO THINK ABOUT IT.
When you're outraged about something, you naturally want to express yourself. So, how can you better communicate with your partner about the split or discord in your relationship? Do it, but take a day or two to calm down and consider the situation.
Wait, even if the temptation is overwhelming. You, not your rage, should be the one to speak. In a relationship, anger is only negative and accusatory. Practicing a 24-hour rule is one way to increase communication in a relationship.
Here's a fast suggestion for mastering the art of relationship communication. If an error on your lover's side won't affect your relationship in the next 24 hours, then refraining from complaining is the best way to improve communication in a relationship.
RECOGNIZE YOUR OWN EMOTIONS
It's normal to want to talk about a problem as soon as it arises, but you need time to allow effective communication in a relationship. Make sure you're clear about your feelings before communicating with your significant other.
Sit for a bit and think about what's on your mind. Emotional awareness might help you clear your mind and speak more effectively. You can explore your feelings and keep a daily journal of how you feel.
It will do you no good and merely add to the existing misery unless the entire objective of starting the conversation is to achieve a solution or a resolution. So, before you start talking, decide to fix the situation. Once you've decided on a goal, neither of you will stray from it.
It's crucial to draw boundaries in a relationship. It expresses how the spouses would like to be treated by one another. It also identifies the personal values they wish to safeguard. When spouses have differing viewpoints, they can do so by asking for permission, being honest, and showing respect.
Shouting and screaming won't help you. It will only result in more tense discussions. So, speak slowly and patiently, and if your partner begins to blame you for something, pause the conversation rather than becoming enraged and shouting back. If necessary, ask for a break-out loud.
It's up to you to psychologically appraise the scenario at this point.
Written words can often work more magic than face-to-face interactions. Remember to leave lovely notes for your lover in their most-frequented areas as one of the fundamental techniques to boost communication in a relationship. It might be hidden under a closet, a refrigerator door in a car, or anywhere else.
You can make broad love sentiments, apologize for prior transgressions, or tease them with your sex intentions.
In the partnership, avoid being snarky or condescending. This will demonstrate that you have negative feelings for your partner, which will only undermine the relationship.
While amusing banter is encouraged, crossing the line will result in insult jokes. When tempted to make a snarky remark, partners should be aware of their behaviors and wait a few moments to find appropriate statements.
SELECT THE IDEAL LOCATION
In the privacy and comfort of your own home, you must overcome communication concerns. Avoid fighting in public or on social occasions if you have a problem. If you're both angry, avoid talking in public and wait until you're both homes. This will also give you and your partner some time to relax.

16. RECOGNIZE YOUR PARTNER'S REQUIREMENTS
Most problems arise when spouses do not comprehend each other's requirements. You must pay close attention and ensure that both spouses' needs are met. This can be achieved by calm dialogue, which can improve relationship satisfaction.
17. DO NOT INTERRUPT EACH OTHER.
When you want to start a discussion, don't just start talking because you want to. Don't bother your spouse or expect them to stop what they're doing to talk. Instead, inquire if they have a moment or if you two may speak later. Beginning a conversation with an interruption introduces an unneeded annoyance right away.
18. USE POSITIVE LANGUAGE.
It is critical to let the other person know you are truly engaged in the conversation as one of the most important techniques to increase communication in a relationship. It will allow people to express themselves freely. You might nod your head to convey your agreement or smile to show your interest from time to time.
19. RATHER THAN REACTING, RESPOND.
Responding requires emotional intelligence as well as thought for the discussion's outcome. Reacting, on the other hand, can have both positive and bad connotations and is entirely based on emotions. Finally, among the techniques to strengthen communication in a relationship, remember not to react rashly to whatever your partner says. It would help if you answered calmly and gently to their concerns.
CONCLUSION
To learn how to communicate successfully, remember that good communication skills can make a relationship run more smoothly and efficiently. It will also offer a lot of transparency to the relationship you have with one another. So, practice good communication in relationships and create a stronger love tie, trust, and empathy in your relationship by learning to speak with your partner.
FAQ
WHY DO COUPLES STRUGGLE TO COMMUNICATE?
The goal of conversation should be understanding, not agreement, rather than getting defensive and not listening. Most couples believe they should be able to reach an agreement, but this can lead to a slew of issues, and it's quite likely that you won't agree most of the time.
WHAT ARE THE BENEFITS OF COMMUNICATING IN A RELATIONSHIP?
Communication is crucial in any relationship because it helps you properly convey your feelings, opinions, and expectations. Many people avoid communicating because they are afraid of rejection or upset or losing their partner, family members, or friends.
WHAT ARE THE SEVEN TRAITS REQUIRED FOR EFFECTIVE COMMUNICATION?
According to the seven Cs, communication must be 
clear, 

concise, 

concrete, 

correct, 

coherent, 

courteous, and 

complete.
ESTIMATED TIME DESIGNING AND UPLOADING THIS ARTICLE
ESTIMATED TIME RESEARCHING AND WRITING THIS ARTICLE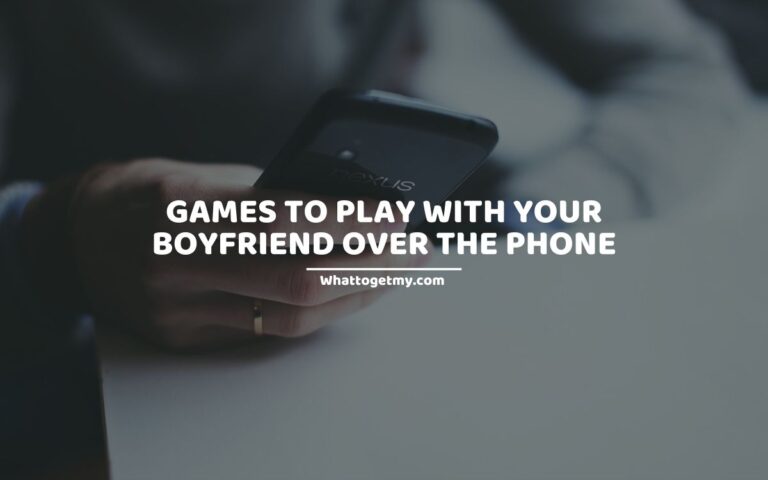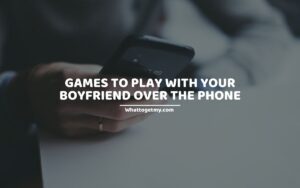 13 Games to Play with Your Boyfriend over the Phone
13 Games to Play with Your Boyfriend over the Phone WhatToGetMy Instructional Article If you find yourself away from your boyfriend for whatever reason and you still want to stay in touch and entertained with each other, then games via texting should be the obvious
Read More »